Okinawa Island: Getting there and around
How to travel between Okinawa Honto and Tokyo
By air
JAL, ANA, Skymark, Solaseed, Peach Aviation and Jetstar Japan operate many flights per day between Tokyo (Haneda and Narita Airports) and Naha Airport. Flight duration is 2.5 hours. The regular one way fare by JAL and ANA is around 48,000 yen, while their discount tickets are typically between 21,000 and 37,000 yen, and air passes can cost around 10,000 yen. One way fares by the cheaper airlines Skymark, Solaseed, Peach Aviation and Jetstar Japan are typically between 5,000 and 29,000 yen.
By ferry
Ferry operation between Tokyo and Naha has ceased operation for passengers and is now a cargo-only ferry.
Above fees and schedules are subject to change. Be sure to check current yen exchange rates.
Getting around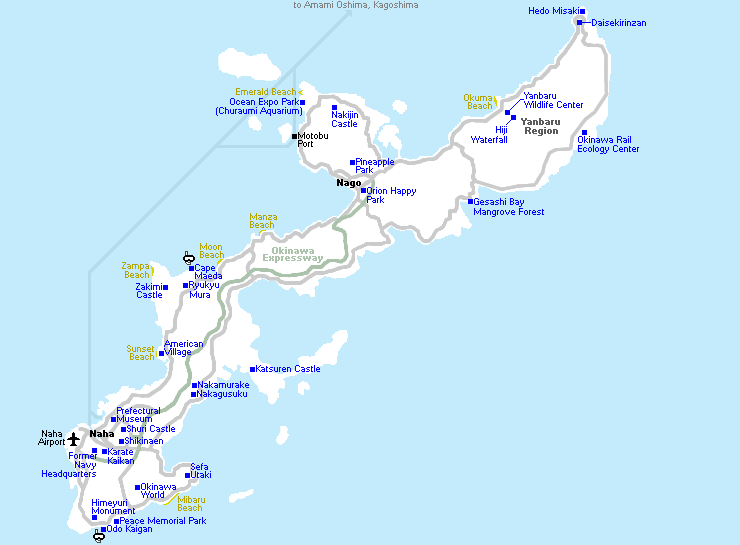 Due to poor public transportation, a rental car is the recommended means of getting around Okinawa Honto, especially when accessing sights outside of central Naha. Rental car outlets can be found at Naha Airport and in major cities. Note that traffic can be heavy in Naha and central Okinawa, especially during the morning and evening rush hours on weekdays. To get from Naha to northern Okinawa, take the Okinawa Expressway, which extends from Naha to the northern city of Nago (about 1000 yen one way).
Public transportation on Okinawa Honto is limited to buses, with the exception of the Okinawa Monorail in central Naha. The bus network is quite dense, but finding the right connections can be complicated. Furthermore, service can be infrequent on some lines. The main hub of the bus network is the Naha Bus Terminal, but some of the lines can also be boarded at the airport.
Two of the most important bus lines are the number 111 and 117, which connect Naha Airport and Naha Bus Terminal via the Okinawa Expressway with Nago Bus Terminal in northern Okinawa. Nago Bus Terminal is the hub for accessing the sights of northern Okinawa Honto, such as the Hiji Waterfall. While line 111 terminates at Nago, line 117 continues beyond Nago to the Churaumi Aquarium.
Also of interest to visitors to northern Okinawa are the Okinawa Airport Shuttle and the Yanbaru Express, two express bus lines that connect Naha Airport and central Naha with the Motobu Peninsula, including the Churaumi Aquarium. Separate airport limousine buses connect Naha Airport with some of the leading resort hotels across the island, including Manza Beach, Moon Beach and Zampa Beach.
Note also that the daily ferry between Naha and Kagoshima stops at Motobu Port on the Motobu Peninsula along the way, and can be used to travel between Naha and the Motobu Peninsula. The one way ferry ride takes two hours and costs under 2500 yen. The ferries depart from Naha Port near the Naha Bus Terminal and Asahibashi Station on the Okinawa Monorail.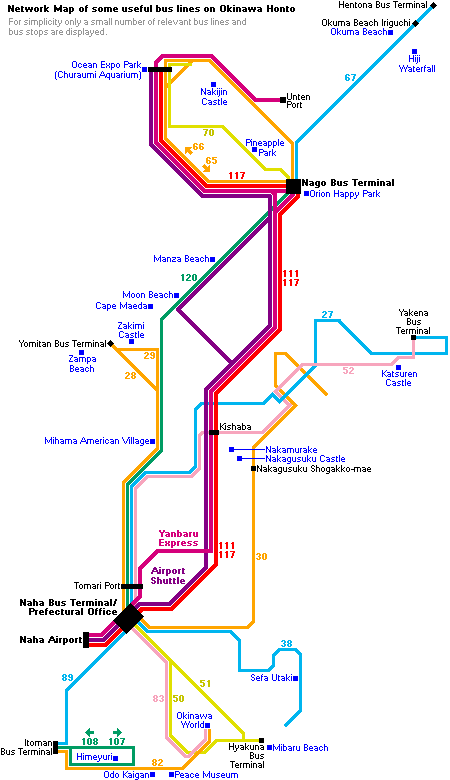 Questions? Ask in our forum.
Hotels around Okinawa Island
Top rated on Okinawa Island
powered

by