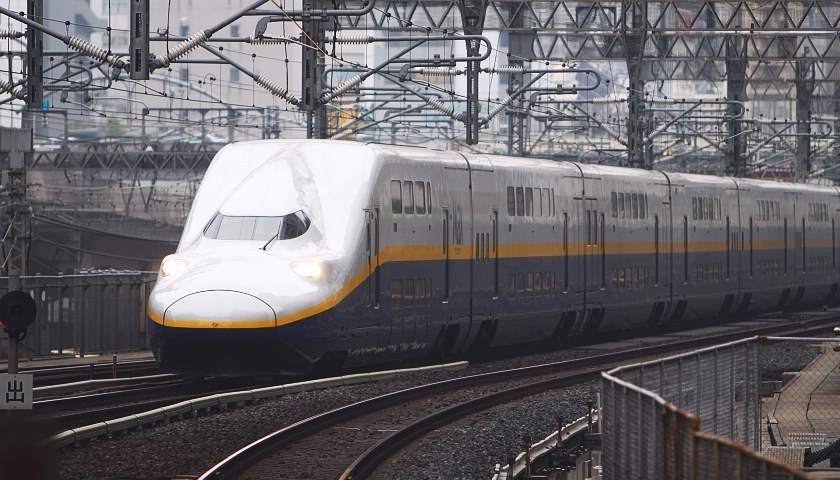 The Joetsu Shinkansen (上越新幹線, Jōetsu Shinkansen) is a shinkansen line that connects Tokyo with Niigata. It was opened in 1982 and is operated by the East Japan Railway Company, commonly known as JR East. It provides tourists with access to hot spring and ski resorts in Gunma and Niigata.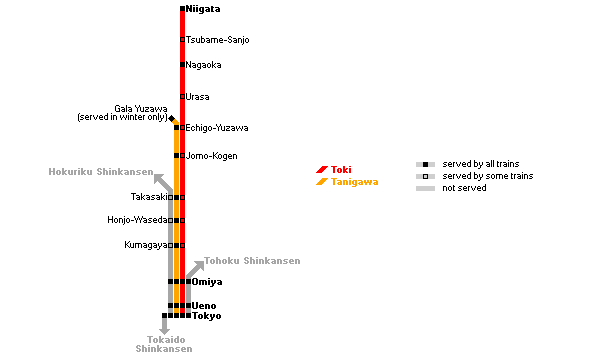 Two train categories operate on the Joetsu Shinkansen:
The Toki is the faster of the two train categories along the Joetsu Shinkansen. It runs between Tokyo and Niigata Stations. Some Toki trains use 2-story train sets and are known as MAX Toki with some non-reserved cars with rows of 3x3 non-reclinable seats on their second floor. All other ordinary seats come in rows of 3x2 seats, and Green Cars with rows of 2x2 seats. A few trains carry a Gran Class car, the first class service by JR East with 2x1 seats per row.

The Tanigawa is the slower of the two train categories along the Joetsu Shinkansen, serving all stations between Tokyo and Echigo-Yuzawa Stations. It operates mainly during the morning and evening rush hours, targeting commuters from Gunma and Saitama Prefectures. During the winter months, some trains serve Gala Yuzawa Station at the base of the Gala Yuzawa ski resort.


Note: For simplification, some rare train compositions and stopping patterns are omitted.
Questions? Ask in our forum.