The JR Setouchi Area Pass is a rail pass for exclusive use by foreign tourists, providing five consecutive days of unlimited travel on designated JR train lines (including unreserved seats on shinkansen) and selected trams, buses and ferries in the region around the Seto Inland Sea.
| | If purchased outside Japan | If purchased via JR West online reservation | If puchased inside Japan |
| --- | --- | --- | --- |
| 5 days | 17,000 yen | 17,800 yen | 18,000 yen |
Validity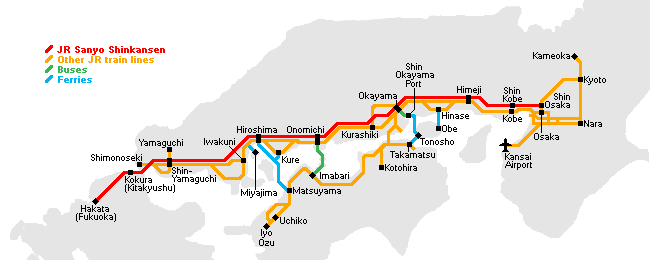 Unlimited use of unreserved seats on the Sanyo Shinkansen between Hakata and Shin-Osaka, including Nozomi and Mizuho trains. Note that the Tokaido Shinkansen between Shin-Osaka and Kyoto is not covered.
Unlimited use of unreserved seats on JR limited express trains within the coverage area.
Reserved seats are not covered by the pass. If pass holders wish to use a reserved seat, the pass will cover only the base fare, while the limited express fee will have to be paid separately.
The pass is valid on the following trams, buses and ferries:
The pass is valid on five consecutive days. The validity of the pass is based on calendar days (midnight to midnight) as opposed to 24-hour periods.
Only foreign visitors to Japan (on temporary visitor status) can use the pass. It cannot be used by residents of Japan.
The pass can only be used by a single person. It cannot be transferred between multiple persons. The pass holder has to carry his/her passport at all times.
Points of Sale
The JR Setouchi Area Pass can be purchased online, at selected travel agents outside of Japan and at major railway stations in the area covered, including Kansai Airport and Osaka Station. If purchased outside of Japan or via the internet, a voucher will be initially issued that has to be exchanged for the actual pass after arrival in Japan at a designated station in Japan. If purchasing the pass inside of Japan, the cost is slightly higher and there is a limit of one purchase per person and stay. There is no such limit otherwise.
Assessment
The JR Setouchi Area Pass can be a good value for those traveling along the Sanyo Coast coupled with a visit to Shikoku or Shodoshima.
Alternative Tickets
There are a handful of other rail passes with slightly different coverage areas in the region. They include the JR Sanyo Sanin Area Pass, the All Shikoku Rail Pass, the JR Kansai Hiroshima Area Pass, the JR Sanin Okayama Area Pass, the JR Kansai Wide Area Pass and the JR Hiroshima Yamaguchi Area Pass. Before purchasing any, it is recommended to consider which one will be the most beneficial according to your itinerary.
External Links and Resources