The Kyushu Rail Pass by JR Kyushu is a rail pass for exclusive use by foreign visitors to Japan, providing unlimited travel on JR trains on the island of Kyushu (except the Sanyo Shinkansen) for two, three, five or seven consecutive days.
Kyushu Rail Pass

All Kyushu

3 days

16,000 yen

5 days

18,500 yen

7 days

20,000 yen

Northern Kyushu

3 days

9,500 yen

5 days

11,000 yen

Southern Kyushu

3 days

8,000 yen

Fukuoka Wide

2 days

3,060 yen

Reduced rates (50% off) apply to children aged 6-11.
Below are maps of the train lines, which can be used with the JR Kyushu Rail Pass: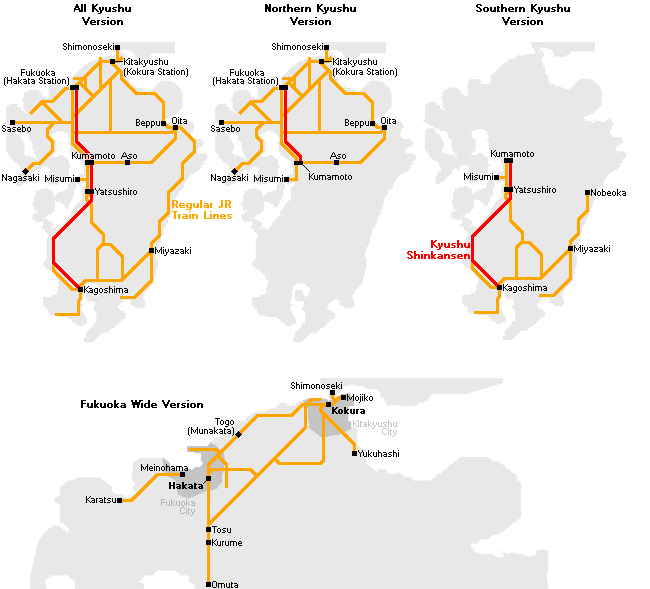 Validity
Unlimited use of JR Kyushu trains on Kyushu, including all trains along the Kyushu Shinkansen (Fukuoka-Kagoshima) and limited express trains, but excluding the Sanyo Shinkansen (Fukuoka-Osaka, operated by JR West). The Northern Kyushu version of the pass is not valid south of Oita and Misumi, while the Southern Kyushu version is not valid north of Kumamoto and Nobeoka. The Fukuoka Wide version is only valid on lines around Fukuoka and does not cover any shinkansen trains.
Seat reservations can be made for free. The limitation on the number of reservations that can be made was abolished on June 1, 2020. An online reservation system is available. No reservations can be made with the Fukuoka Wide version of the pass which is only valid on unreserved seats.
The validity of the pass is based on calendar days (midnight to midnight) as opposed to 24-hour periods.
The pass is valid on consecutive days.
Only foreign temporary visitors to Japan can use the Kyushu Rail Pass. It cannot be used by residents of Japan.
Points of Sale
The Kyushu Rail Pass can be purchased via the internet, through travel agencies outside of Japan and at a few major JR railway stations and travel agencies in Kyushu (the Northern Kyushu pass is not available for sale at stations in Southern Kyushu, the Southern Kyushu pass is not available for sale at stations in Northern Kyushu, and the Fukuoka Wide pass is only available around Fukuoka).
When purchasing the pass outside of Japan, you will receive an exchange order, which has to be exchanged into an actual rail pass after your arrival in Japan and within three months of the purchase.
When purchasing the pass inside Japan, you have to present your passport and return air (or sea) ticket. If you purchase multiple passes inside Japan, you may buy the passes only for yourself.
Assessment
This pass can be of great value, considering the fact that a roundtrip from Fukuoka to Kagoshima by regular tickets alone costs around 20,000 yen, which compares to 16,000 yen for a 3-day pass and 18,500 yen for a 5-day pass.
Alternative Tickets
The Sun Q Pass is a very similar offer to the Kyushu Rail Pass except that it is valid on local buses and highway buses instead of trains. Depending on the individual itinerary, either pass could be more suitable. Unlike the Kyushu Rail Pass, the Sun Q Pass is also available to residents of Japan.
Furthermore, the JR Kyushu Foreign Student Pass is a pass very similar to the Kyushu Rail Pass except that it is only for foreign students in Japan who cannot use the regular Kyushu Rail Pass because they are residents of Japan.
Questions? Ask in our forum.