This page is about international air travel to Japan. Also see our other pages about domestic air travel in Japan and discount air tickets for more information.
Airfare
The following are ways to save on airfare to Japan:
Fly outside the peak seasons! Peak seasons include Golden Week (end of April through the beginning of May), the summer holidays (July and August), the New Year holidays, and peak seasons applying to your country of departure. Also, flights on weekends tend to be more expensive than flights during the week.
Check travel agents, newspapers, travel websites and the airlines' websites for special offers. Many airlines have a "special offers" section on their website.
If an option, consider using low-cost carriers, such as AirAsia or Jetstar, which are serving Japan from an increasing number of destinations in Eastern Asia and Australia, in particular.
Direct flights tend to be more expensive than indirect ones that require a transfer along the way.
If your city has a sizable Japanese community, chances are that a large Japanese travel agency, such as HIS, operates a branch there. Check them out, as they tend to be well informed about offers on flights to Japan and often have access to the lowest fares.
Consider tour packages. Good packages combine airfare and accommodation at low rates, unavailable to individual consumers. There are tour packages for both the individual travelers and those who prefer to travel with a guide.
Use an airline's mileage program, also known as frequent flyer program. In the ideal program 1) collected miles don't expire, 2) miles can also be earned and used on flights of partner airlines, 3) miles can be shared among family members and 4) there are alternative ways to collect miles, e.g. through the use of a credit card.
Keep domestic transportation in mind when booking your international tickets. An open jaw ticket with which you enter Japan through one airport and leave through another, can save you from costly backtracking across Japan. Some airlines also offer discount fares on domestic routes if you use them to fly to Japan. Visit our discount air tickets page for more details.
Airlines and Airports
Nearly all major airlines and airports offer flights to Japan. The country's own two leading airlines, Japan Airlines (JAL) and All Nippon Airways (ANA), both serve a broad range of international destinations.
Japan's most important international airports are Tokyo's Narita and Haneda airports, Osaka's Kansai Airport and Nagoya's Central Japan Airport.
Japan's next largest international airports are Fukuoka Airport, Sapporo's New Chitose Airport and Naha Airport in Okinawa. Many other Japanese airports have a small number of international flights, mainly to Korea and China.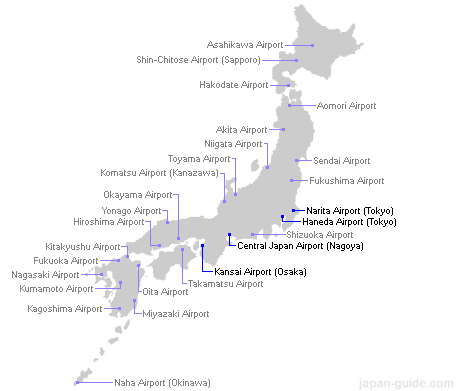 Questions? Ask in our forum.