When this page was originally created in 2004, a dense network of night trains still covered the main islands of Japan. However, due to aging train sets and increasing competition by cheaper overnight buses and low-cost airlines, the number of night trains shrank constantly year by year until the Sunrise Seto/Izumo became Japan's last surviving, regular night train in spring 2016.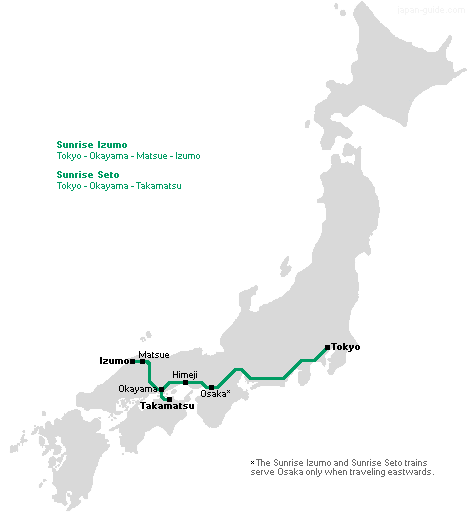 The Sunrise Seto/Izumo are two trains that are coupled to each other between Tokyo and Okayama and run their separate courses beyond Okayama. The Sunrise Seto connects to Takamatsu, while the Sunrise Izumo connects to Matsue and Izumo. Between Tokyo and Okayama, the trains also stop at Himeji. Only trains bound for Tokyo also make a stop at Osaka.
The Sunrise Seto/Izumo does not offer regular seating. Instead, it is equipped with private cabins and carpeted compartments called "nobi nobi seats":
Private compartments are available for one or two travelers and are not fully covered by the Japan Rail Pass. Depending on the compartment type, the approximate supplement to be paid is between 9,900 and 17,500 yen. In contrast, the "nobi nobi seats" can be used without additional supplement by Japan Rail Pass holders. Other facilities on the train include toilets, showers, vending machines and small lounges.
Advance reservations are mandatory for the Sunrise Seto/Izumo. Note that especially the nobi nobi seats often sell out and that it is not easily possible to make reservations from outside of Japan.
Questions? Ask in our forum.