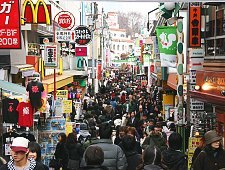 Takeshita
Dori
Shops along Takeshita Dori tend to be open daily from 11:00 to 20:00.
The symbol of Harajuku and birthplace of many of Japan's fashion trends, Takeshita Dori (Takeshita Street) is a narrow, roughly 400 meter long street lined by shops, boutiques, cafes and fast food outlets targeting
Tokyo
's teenagers. Because of the street's popularity, it becomes extremely busy and crowded on the weekends. Interesting shops and restaurants can also be found along some of the side streets.