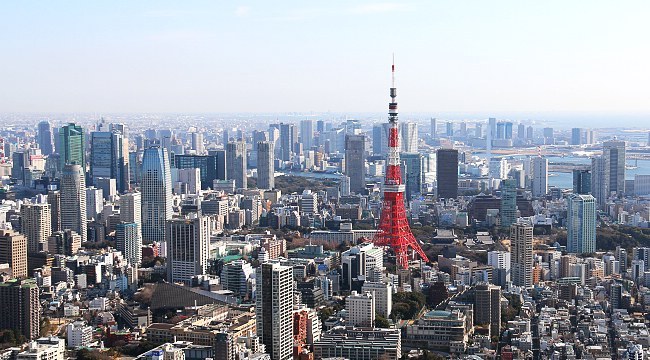 Standing 333 meters high in the center of Tokyo, Tokyo Tower (東京タワー) is the world's tallest, self-supported steel tower and 13 meters taller than its model, the Eiffel Tower. A symbol of Japan's post-war rebirth as a major economic power, Tokyo Tower was the country's tallest structure from its completion in 1958 until 2012 when it was surpassed by the Tokyo Skytree. In addition to being a popular tourist spot, Tokyo Tower serves as a broadcast antenna.
The tower's main deck at 150 meters is reached via elevator or a 600-step staircase (both paid). Thanks to the tower's central location, the observatory offers an interesting view of the city despite being only at a relatively moderate height. There are also some "lookdown windows" in the floor to stand on, a souvenir shop and a cafe where visitors can enjoy refreshments.
Renovation works are currently carried out on the tower's main deck (150m), during which one of the deck's four sides is closed but the other three sides remain open. The work is estimated to last until around late 2019. The tower's top deck (250m) was also recently renovated and reopened to the public on March 3, 2018.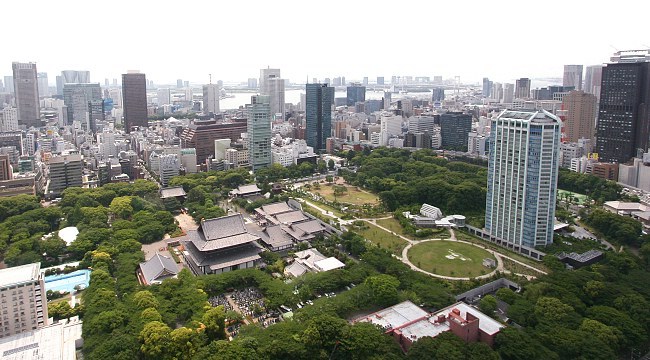 A second set of elevators connect the main deck to the 250 meter high top deck, from where you can get a bird's eye view of Tokyo from high above the surrounding buildings. It is the third highest observation deck in Tokyo (after the two decks at the Tokyo Skytree). When visibility is good, visitors can see the Tokyo Skytree and Mount Fuji in the distance.
Directly below the tower stands the "Foot Town" building, which houses a variety of souvenir shops, cafes, restaurants and the One Piece Tower, an indoor amusement park. Opened on the 15th anniversary of the popular manga in 2015, the park offers a variety of shows, games and other attractions that feature characters from the series.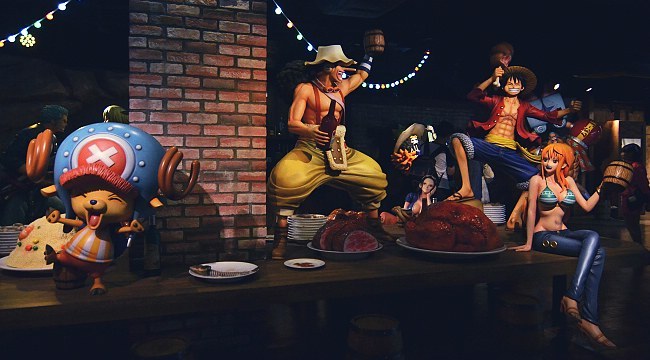 The closest subway stations to Tokyo Tower are Onarimon Station on the Mita Subway Line, Akabanebashi Station on the Oedo Subway Line and Kamiyacho on the Hibiya Subway Line, which are all about a 5-10 minute walk from the tower. Alternatively, you can reach the tower in about a 15-20 minute walk from Hamamatsucho Station on the JR Yamanote Line or Daimon Station on the Asakusa or Oedo subway lines.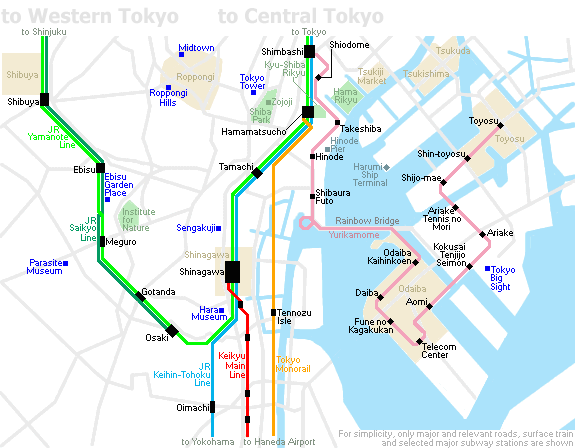 Observatories
Hours
9:00 to 23:00 (entry until 22:30)
Admission
900 yen (main deck only)
2800 yen (both decks)
One Piece Tower theme park
Hours
10:00 to 22:00 (entry until 21:00)
Tours and travel services