Shinjuku Gyoen
Spacious city park in Shinjuku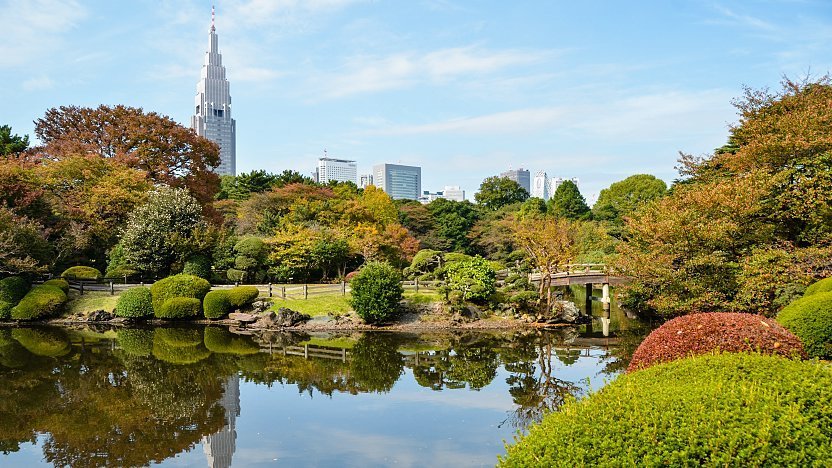 Shinjuku Gyoen (新宿御苑) is one of Tokyo's largest and most popular parks. Located a short walk from Shinjuku Station, the park's spacious lawns, meandering walking paths and tranquil scenery provide a relaxing escape from the busy urban center around it. In spring Shinjuku Gyoen becomes one of the best places in the city to see cherry blossoms.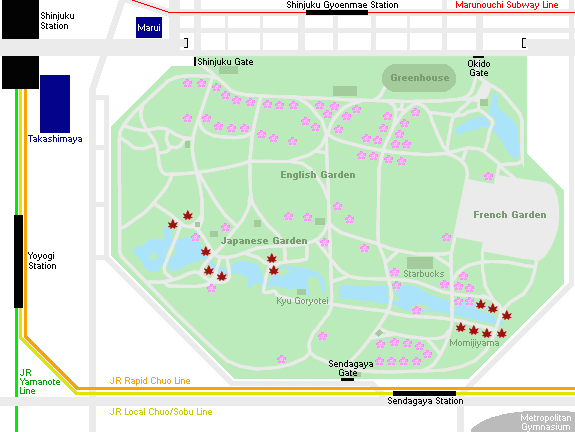 Shinjuku Gyoen originated during the Edo Period (1603-1868) as a feudal lord's Tokyo residence. Later it was converted into a botanical garden before being transferred to the Imperial Family in 1903 who used it for recreation and the entertainment of guests. The park was almost completely destroyed during World War II, but was eventually rebuilt and reopened in 1949 as a public park.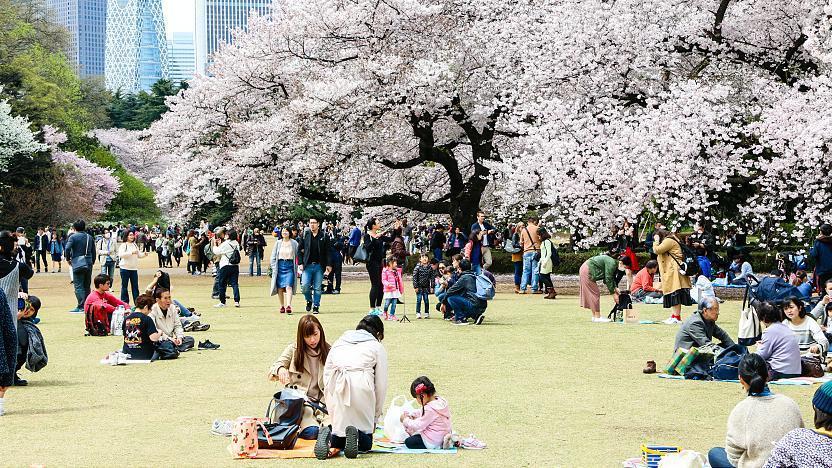 Shinjuku Gyoen is comprised of three different types of gardens:
The oldest is a traditional Japanese landscape garden featuring large ponds dotted with islands and bridges. Well manicured shrubs and trees surround the water together with several pavilions and the Kyu Goryotei (also called the Taiwan Pavilion) which was built on the occasion of the wedding of the Showa Emperor. A chrysanthemum exhibit is held during the first two weeks of November in the Japanese garden with numerous flower displays.
The park's other main gardens include a symmetrically arranged, formal French garden, and an English landscape garden featuring wide, open lawns surrounded by flowering cherry trees. The rest of the park consists of forested areas, lawns and several structures including a restaurant, an information center and an art gallery. There is also a beautiful greenhouse with many tropical and subtropical flowers.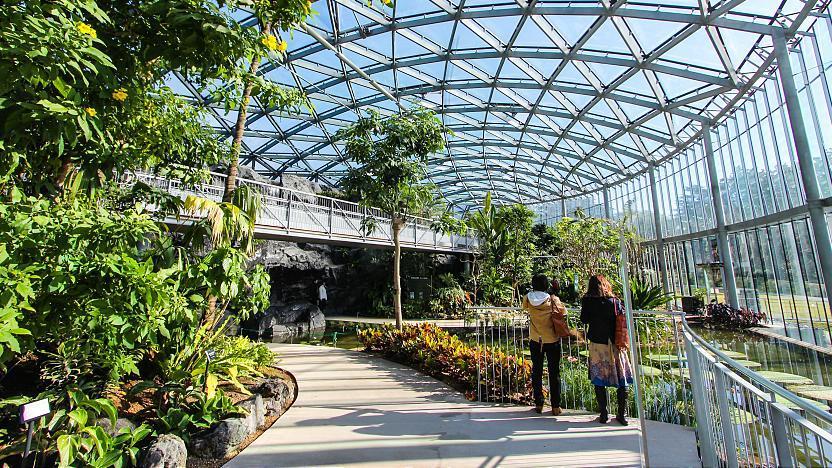 Shinjuku Gyoen is home to a large number of cherry trees of more than a dozen different varieties. From late March to early April, more than 400 somei yoshino trees blossom around the English garden, turning the lawns into one of Tokyo's most popular and pleasant hanami spots. In addition, the park has numerous early and late blooming cherry trees which provide an extended cherry blossom viewing season for those who miss the main season.
Shinjuku Gyoen is also nice to visit during autumn when the leaves change. There are a lot of different types of trees that change colors around the park, however the maple trees are particularly beautiful and can be seen in large numbers around the Japanese garden and Momijiyama ("maple mountain") on the park's eastern side. The colors typically appear from mid November to mid December.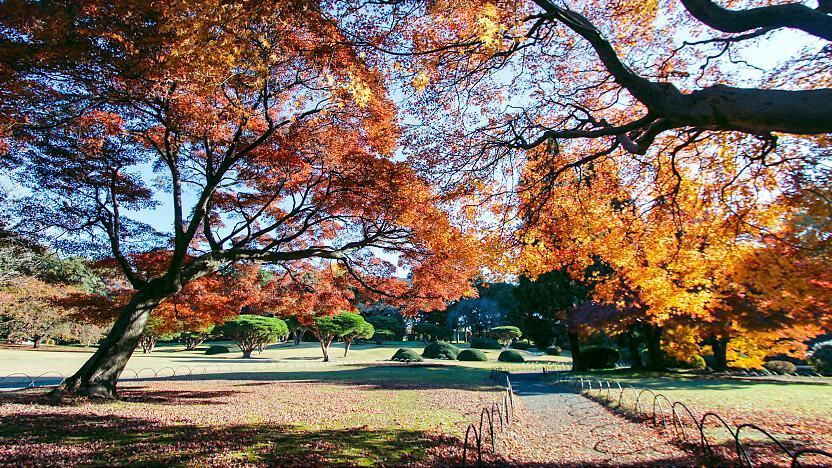 Shinjuku Gyoen has three gates: Shinjuku Gate is a ten minute walk east from the "New South Exit" of JR Shinjuku Station or a five minute walk from Shinjukugyoenmae Station on the Marunouchi Subway Line. Okido Gate is also a five minute walk from Shinjukugyoenmae Station on the Marunouchi Subway Line. Finally, Sendagaya Gate is a five minute walk from JR Sendagaya Station on the local Chuo/Sobu Line.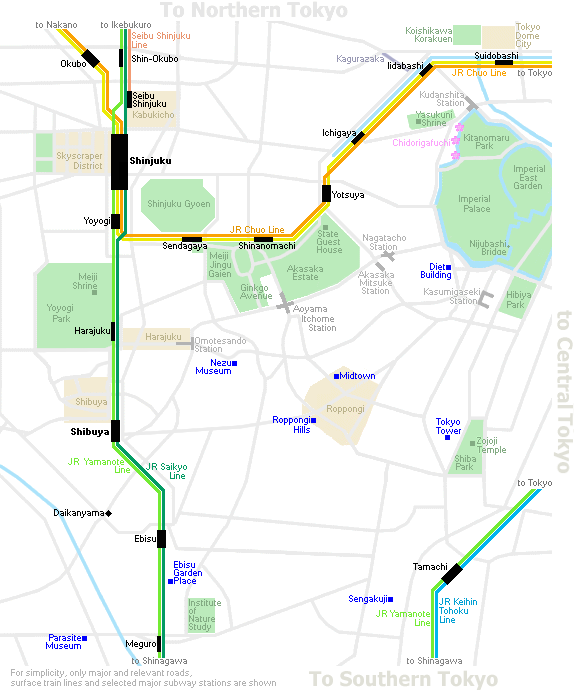 Hours
9:00 to 18:00 (March 15 to June 30 and August 21 to September 30)
9:00 to 19:00 (July 1 to August 20)
9:00 to 16:30 (October 1 to March 14)
Admission ends 30 minutes before closing
Closed
Mondays (or following day if Monday is a
national holiday
), December 29 to January 3. There are no closing days during the
cherry blossom season
(March 25 to April 24) and the Chrysanthemum Exhibition (November 1-15).
Questions? Ask in our forum.