Kyoto Imperial Palace
The Imperial Family's residence until 1868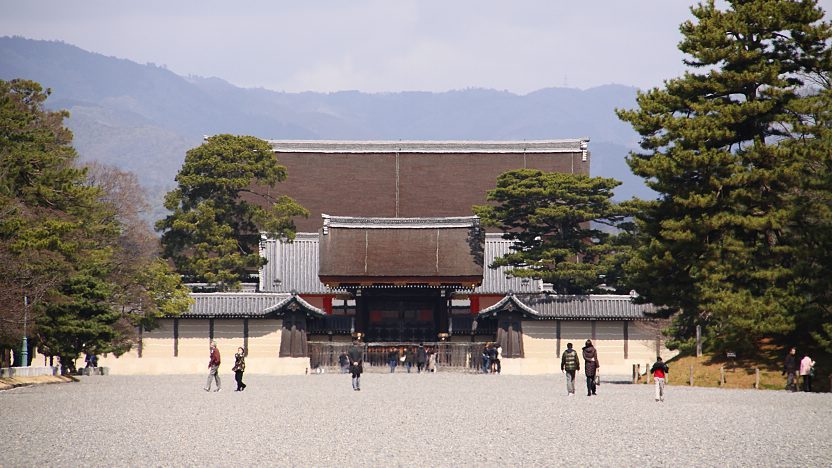 The Kyoto Imperial Palace (‹ž"sŒäŠ, Kyōto Gosho) used to be the residence of Japan's Imperial Family until 1868, when the emperor and capital were moved from Kyoto to Tokyo. It is located in the spacious Kyoto Imperial Park (‹ž"sŒä‰', Kyōto Gyoen), an attractive park in the center of the city that also encompasses the Sento Imperial Palace, which served retired emperors, and a few other attractions.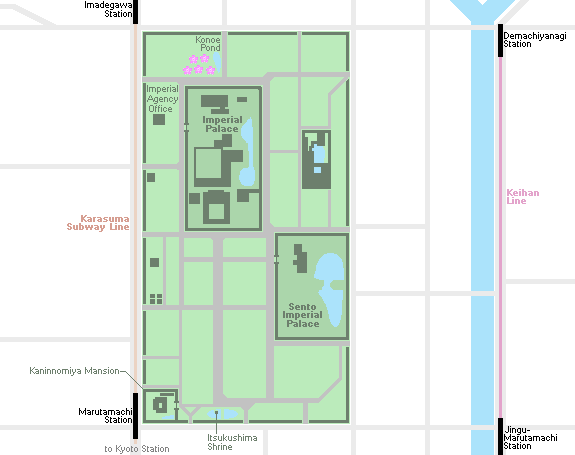 The current Imperial Palace was reconstructed in 1855 after it had burnt down and moved around town repeatedly over the centuries. The complex is enclosed by long walls and consists of several gates, halls and gardens. The enthronement ceremonies of Emperors Taisho and Showa were still held in the palace's main hall. Tokyo Imperial Palace is now used for enthronement ceremonies.
Formerly only accessible on guided tours that required advance reservations, the palace grounds can now be entered and explored without joining a tour and without any prior arrangements (although tours in English are still available; currently suspended). Visitors can see the palace buildings and gardens, but note that none of the buildings can be entered.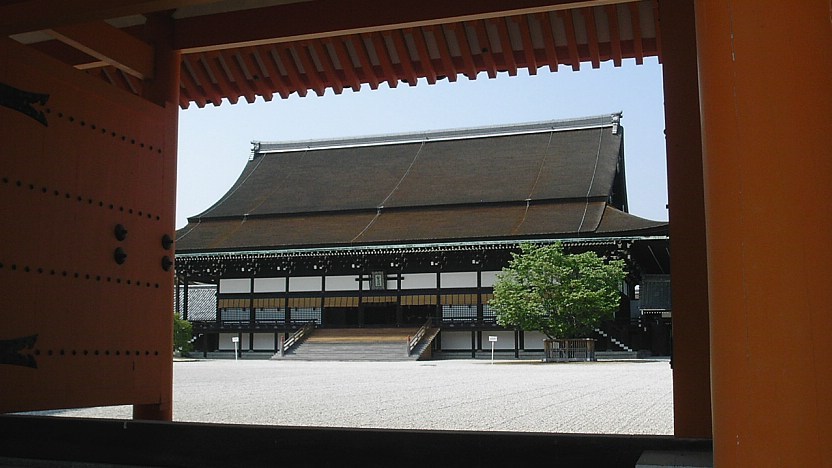 Besides the Imperial Palace and the Sento Palace grounds, a few other historic sites are located within Kyoto Imperial Park, including the Kaninnomiya Mansion, a former residence of court nobles that is open to the public in the park's southwestern corner. Not far away stands a small branch shrine of Miyajima's famous Itsukushima Shrine on a small island of a pond.
The 1300 meter long and 700 meter wide park also serves as recreational space for both tourists and residents, featuring attractive, broad gravel paths, lawns and tree groves. A pretty group of weeping cherry trees stands beside Konoe Pond in the park's northwestern corner and is usually in bloom for two to three weeks from late March to mid April.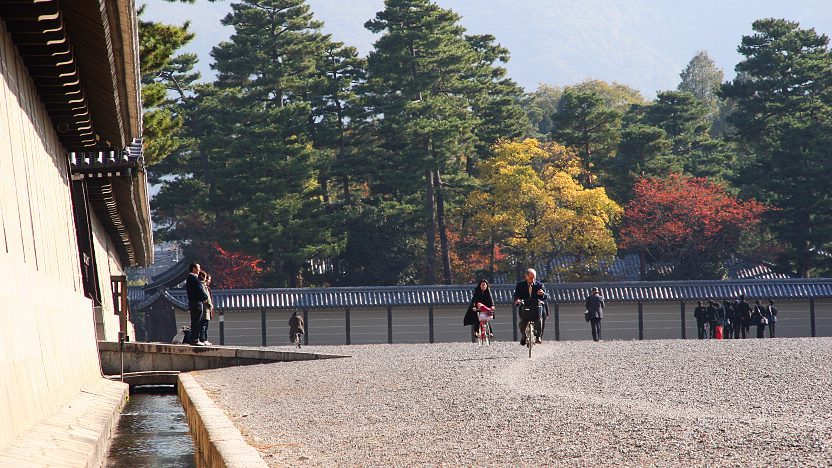 Kyoto Imperial Palace is a short subway ride from Kyoto Station along the Karasuma Subway Line. Get off at Marutamachi (7 minutes, 260 yen) or Imadegawa Station (10 minutes, 260 yen). Note that Imadegawa Station is closer to the entrance gate of the Imperial Palace than Marutamachi Station.
How to get to and around Kyoto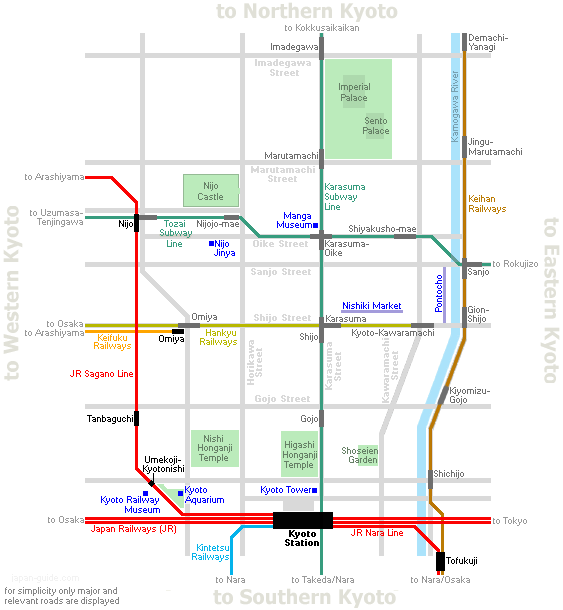 Kyoto Imperial Palace
Hours
9:00 to 17:00 (April to August)
9:00 to 16:30 (September and March)
9:00 to 16:00 (October to February)
Admission ends 40 minutes before closure.
Closed
Mondays (or following day if Monday is a
national holiday
), December 28 to January 4, occasional closures when the palace is used for some events
Questions? Ask in our forum.
Ryokan Hirashin

A traditional hotel with spacious rooms and high speed Wi-Fi. Conveniently located in the heart of Kyoto city. 3min to Shijo Karasuma Sta. and 5min to the famous Nishiki Market.

View site

Sponsored
Top rated in Kyoto
powered

by