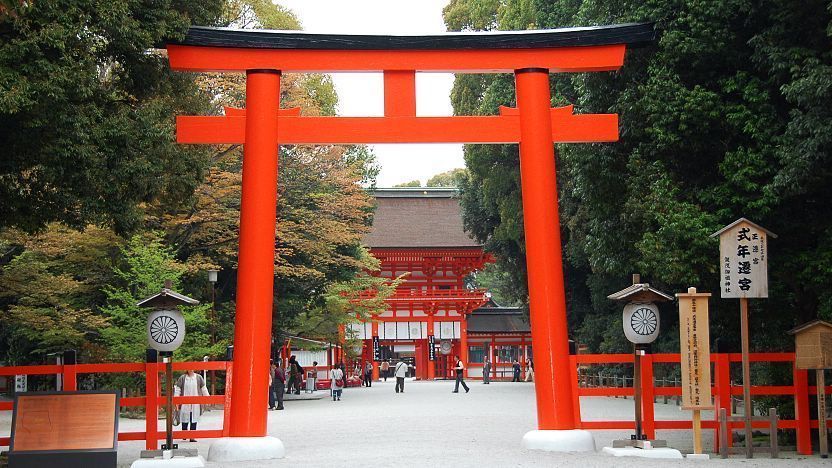 The Kamo Shrines, Shimogamo Shrine and Kamigamo Shrine, are both recognized as UNESCO World Heritage Sites. They are two of the most important and oldest shrines in Kyoto.
In fact, the Kamo Shrines even predate the city's establishment as national capital in 794. Throughout the thousand years that Kyoto served as Japan's capital city, the Imperial Court patronized the shrines as establishments dedicated to the city's protection and prosperity.
Shimogamo Shrine (下鴨神社, Shimogamo Jinja, "Lower Kamo Shrine") is located at the junction of the Takano and Kamo rivers. It is surrounded by the Tadasu no Mori, a forest which was preserved during the modernization of the city and contains trees that are up to 600 years old.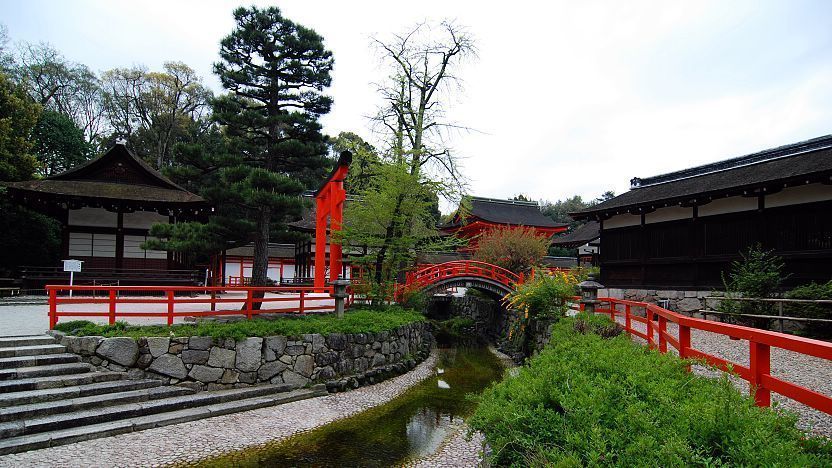 Kamigamo Shrine (上賀茂神社, Kamigamo Jinja, "Upper Kamo Shrine") stands about three and a half kilometers upriver from Shimogamo Shrine. It is well known for two sand cones on its grounds that serve a purification function for the shrine, and have been made ritually since ancient times.
The Kamo Shrines jointly hold one of Kyoto's three biggest festivals, the Aoi Matsuri. Every May 15th at 10:30am, a large procession dressed in the style of the Heian court leaves from the Imperial Palace, continues to Shimogamo, and ends the day at Kamigamo. Both shrines also host other smaller festivals throughout the year.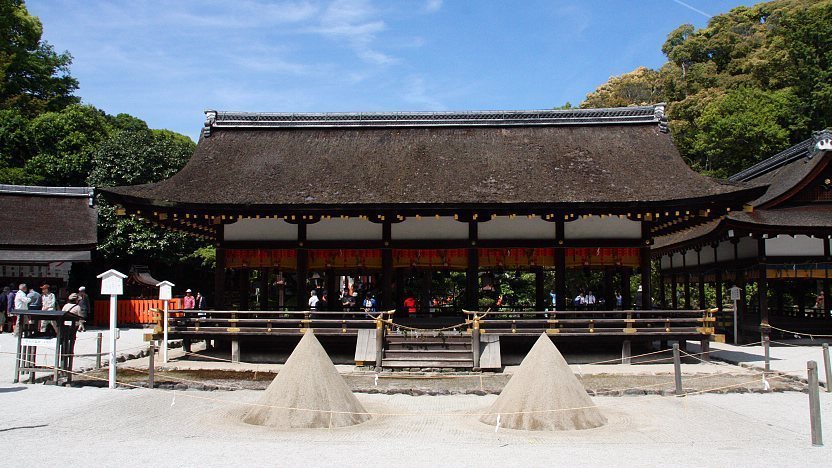 Shimogamo Shrine is a 15 minute walk from Demachi-Yanagi Station on the Keihan Line. Alternatively, Kyoto City Bus number 4 bound for Kamigamojinja-mae can be taken from the station to Shimogamojinja-mae bus stop (5 minutes, 230 yen) directly beside the shrine.
Kamigamo Shrine can be reached in 30 minutes from Demachi-Yanagi Station or Shimogamo Shrine by Kyoto City Bus number 4 (230 yen). Get off at the last stop, Kamigamojinja-mae. Alternatively, the shrine can be reached in a 15 minute walk from Kitayama Station on the Karasuma Subway Line.
How to get to and around Kyoto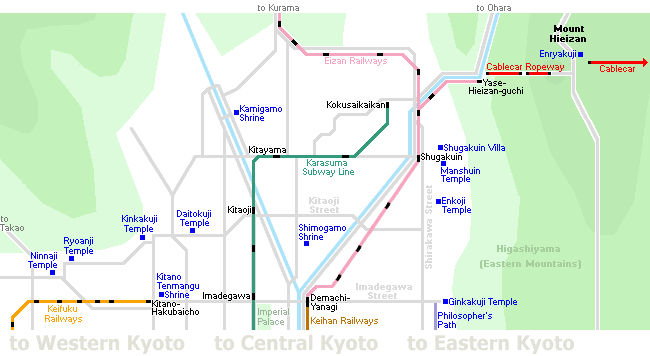 Shimogamo Shrine
Hours
5:30 to 18:00 (summer), 6:30 to 17:00 (winter)
Questions? Ask in our forum.
Arashiyama Hanaikada

A little, superior ryokan right near Togetsukyo Bridge in Arashiyama. Free transfer from JR station. Private bath and open-air baths available. 5min walk to the Bamboo Groves.

View site

Sponsored
Top rated in Kyoto
powered

by