Kyoto: Getting there and around
How to travel between Kyoto and Tokyo
By shinkansen
Direct, 140-160 minutes, about 14,000 yen one way, multiple connections per hour
Tokyo and Kyoto are connected with each other by the JR Tokaido Shinkansen. Nozomi trains require about 140 minutes to reach Kyoto from Tokyo, Hikari trains about 160 minutes and Kodama trains about four hours.
The regular one way fare from Tokyo to Kyoto is 13,320 yen for a non-reserved seat or around 14,000 yen for a reserved seat. A 7-day Japan Rail Pass costs about the same as regular round trip tickets. The Japan Rail Pass is valid on Hikari and Kodama trains, but not on Nozomi trains.
Only available to foreign passport holders, the "Shinkansen Round Trip Package" provides a round trip within seven calendar days by non-reserved seat on any train between Tokyo and Kyoto for only 21,500 yen. The ticket can be purchased at JR Tokai Tours travel agencies.
With the "Puratto Kodama Economy Plan", you can travel between Tokyo and Kyoto by reserved seat on a Kodama train for only 10,500 yen, but the plan has to be purchased at least one day in advance from JR Tokai Tours travel agencies.
The Tokyo-Osaka Hokuriku Arch Pass is a rail pass that allows holders to travel between Tokyo and Kyoto via Kanazawa, using the Hokuriku Shinkansen. It is not the fastest way to travel between Tokyo and Kyoto, but it allows pass holders to visit the less-explored Hokuriku Region along the way. At 24,440 yen for seven consecutive days, the pass is cheaper than a 7-day Japan Rail Pass.
By highway bus
Direct, 7-8 hours, 3,500-10,000 yen one way, multiple daytime and overnight connections per day
The one way trip from Tokyo to Kyoto by highway bus takes about 7-8 hours. There are daytime and overnight buses. Fierce competition on the Tokyo-Kyoto-Osaka route has produced a wide variety of comfort levels (from discount to super premium buses) and an abundance of low priced offers.
Typical one way fares for discount buses, such as Willer Express, start from around 3500 yen; while premium buses charge up to 10,000 yen. If used effectively, the Japan Bus Pass can reduce the cost for the bus trip to around 3000 yen. Online reservations can be made through Willer and Japan Bus Online.
By air
2-3 transfers, 3-4 hours, 9,000-23,000 yen one way, multiple flights per day
The closest airport to Kyoto is Osaka's Itami Airport, about one hour by bus from central Kyoto (more details). Most flights connect Itami Airport with Tokyo's Haneda Airport, with just a few serving Tokyo's Narita Airport. Flight duration is one hour. The regular one way fare is around 23,000 yen, but discount tickets are usually available for around 9,000 to 16,000 yen.
By car
5-6 hours without breaks, around 10,000 yen one way in expressway tolls
Driving between Tokyo and Kyoto via the Tomei and Meishin Expressways takes about five to six hours without breaks and traffic jams. The expressway toll is around 10,000 yen one way.
By local trains
4 transfers, 9 hours, 2370-8210 yen one way
By local trains, the one way trip from Tokyo to Kyoto takes about nine hours and typically involves about four transfers of trains. The regular fare is a relatively expensive 8360 yen, however, with a Seishun 18 Kippu you could theoretically do the trip for as little as 2410 yen.
Above fees and schedules are subject to change. For the current yen exchange rate, click here.
Getting around
Kyoto features a rectangular street system. Unlike the streets in other Japanese cities, most of central Kyoto's streets are named. The main streets running from east to west are numbered in ascending order from north to south, and are about 500 meters apart from each other, with several smaller streets in between. For example, Shijo means "4th Avenue" and Nijo means "2nd Avenue".
Kyoto's city center with the highest concentration of dining, shopping and entertainment opportunities, is located around the junction of Shijo-dori (4th Avenue) and Kawaramachi-dori (Kawaramachi Street). JR Kyoto Station is located south of the city center at the height of Hachijo-dori (8th Avenue).
The most prominent north-south street is Karasuma-dori (Karasuma Street), which runs from Kyoto Station via the city center to Kyoto Imperial Palace. Another north-south axis is Kamo River, about one kilometer east of Karasuma-dori.
Kyoto has a rather inadequately developed public transportation system for a city of its size, consisting of two subway lines, a dense bus network and several railway companies, whose lines are not always conveniently connected with each other. Taxis and bicycles can be worthwhile alternatives.
The recommended way to get around Kyoto by public transportation is to use an IC card, such as Icoca, which is accepted on virtually all trains and buses in the city. Alternatively, travelers intending to use buses or subways extensively, should consider one of the 1-day passes available. See the ticket section below for more details.
Below is a simplified map of the railway and subway lines of Kyoto: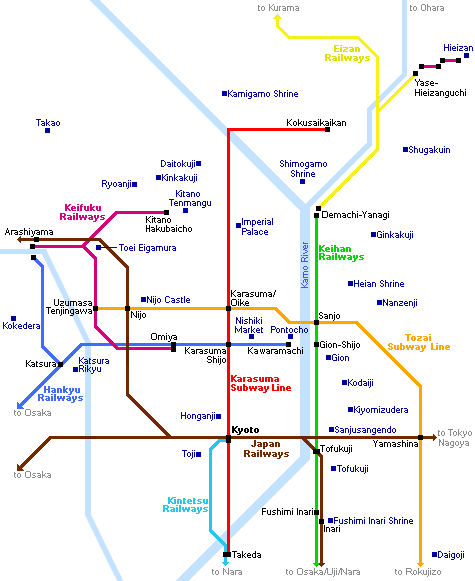 Bus
Few of Kyoto's tourist attractions are located close to subway or train stations. Instead, Kyoto has a dense bus network with direct bus lines from Kyoto Station and/or the city center around Shijo-dori (4th Avenue) and Kawaramachi-dori (Kawaramachi Street) to most major sights.
Kyoto is served by multiple bus companies. For central Kyoto, the green Kyoto City Bus buses are most numerous and useful. The red buses by Kyoto Bus are second most prominent and tend to be convenient to access sights in more outlying areas of the city.
The tourist offices provide a useful English network map for the Kyoto City Buses, which makes it quite easy for foreign visitors to access tourist attractions by bus. Despite the good map and English displays and announcements, however, getting off at the correct bus stop can still be stressful, especially in crowded buses.
Since buses are small and operate surprisingly infrequently even on some major routes, buses to major tourist sights can often get crowded, especially on weekends and during holidays. In addition, much time can be lost when buses get stuck or only proceed slowly in the busy street traffic. Consequently, it is recommended to use subways and trains as much as possible, and use buses only for medium and short distances, for example, from the closest subway station to the destination.
Most buses are entered through the back door and left through the front door. The fare has to be paid when leaving the bus. Inside much of central Kyoto, there is a flat rate of 230 yen per ride. Outside the flat fare zone, the fare increases with the distance. Click here for more information on riding buses.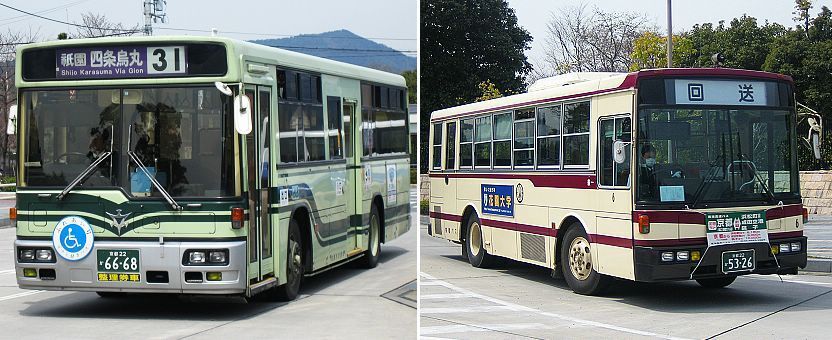 Subway
There are two subway lines in Kyoto, the Karasuma Line which runs from south to north along Karasuma-dori (Karasuma Street) and stops at JR Kyoto Station, and the newer Tozai Line which runs from east to west and crosses the Karasuma Line at the intersection of Karasuma-dori and Oike-dori.
Japan Railways
All JR lines including the Tokaido Shinkansen pass through or commence at JR Kyoto Station. JR trains are a good option for accessing the Arashiyama area (Sagano Line) and some attractions in southern Kyoto along the JR Nara Line, e.g. Fushimi Inari Shrine and Byodoin in Uji.
Other Railways
By sightseeing bus
The Sky Hop Bus is an expensive but convenient way to visit Kyoto's most famous sightseeing spots. Double-decker buses with an open-air second floor run counterclockwise every 30 minutes from Kyoto Station in a large circle around the city, stopping near major tourist sites along the way, including Kiyomizudera, Heian Shrine, the Imperial Palace, Kinkakuji and Nijo Castle. A 24-hour pass costs 3600 yen while a 48-hour pass costs 6100 yen.
Taxis
Kyoto is probably the Japanese city with the highest concentration of taxis. Especially in the city center, taxis are found everywhere. Taxis can not only be a more comfortable, but also an economical alternative to buses on short to medium distances for groups of three or more people.
Most taxis accommodate up to four passengers (not including the driver), while larger vehicles are able to accommodate an additional fifth passenger. The rate starts around 650 yen for the first two kilometers and increases by 80 yen for every additional 300-400 meters traveled.
Bicycles
Kyoto City's simple layout and flat terrain make it easy and convenient to explore by bicycle. Numerous bicycle rental outlets can be found around the city, especially around major stations, such as Kyoto Station, or in popular biking areas like Arashiyama. Typical rental prices are around 1000-1500 yen per day for basic bicycles and around 1700-2000 yen for electric assist bicycles. Some hotels and hostels may also provide their guests with bicycles for a small fee or for free.
Kyoto is generally a bicycle friendly city with relatively easily navigable roads and a handful of cycling routes, most notably along Kamo River. Designated bicycle parking is often freely available around popular sightseeing spots. The situation is a little bit more challenging in the city center due to congested roads, crowded sidewalks and a lack of designated parking areas. Also, distances to some of the more outlying sightseeing spots should not be underestimated. For example, it is about eight kilometers (typically a 45-75 minute ride) from Kyoto Station to Kinkakuji or about ten kilometers to Arashiyama.
Passes and Tickets
See also our separate page about the various passes available for the Kansai Region.
The prepaid IC card available in Kyoto is called Icoca. It does not give you any discounts over regular tickets, but it makes the process of taking trains and buses easier, as you do not always need to buy a ticket for each ride. Icoca cards can be purchased through ticket machines at JR stations. Local non-JR railway companies offer their own IC card called Pitapa; however, Pitapa is a postpaid card that works more like a credit card and is targeted at residents rather than tourists.
Icoca and Pitapa can be used on virtually all trains and buses in and around Kyoto (and many other major cities in Japan). Additionally, eight other IC cards from other major cities of Japan can also be used on the trains and buses of Greater Osaka, including Suica, Pasmo, Kitaca, Toica, Manaca, Sugoca, Nimoca and Hayakaken.
The Kansai One Pass is a special version of Icoca exclusively for foreign tourists that additionally qualifies for discounts at various attractions in the Kansai Region. It is available for sale at Kansai Airport and major railway stations in the Kansai Region.
Furthermore, the following one day passes are available for Kyoto:
Kyoto Sightseeing Card (900 yen for one day, 1,700 yen for two days; from October 2021, the 1-day pass will cost 1100 yen and the 2-day pass will be discontinued)
Unlimited use of Kyoto's two subway lines and most buses (including Kyoto City Buses, Kyoto Buses, JR buses and Keihan buses) in central Kyoto and outskirts, including Ohara and Daigoji. The pass also comes with discount coupons for selected sights in Kyoto. The pass is available for one or two calendar days, and the 2-day version must be used on consecutive days. It can be purchased from ticket machines in subway stations, at bus ticket centers and from some hotels. The pass can pay off especially if you visit outlying areas such as Ohara. The downside is that, besides the subway lines, the pass does not cover any other trains which are often a convenient means of getting around.
Kyoto One Day Bus Card (600 yen; 700 yen from October 2021)
Unlimited use of Kyoto City Buses, Kyoto Buses and JR buses in central Kyoto on one calendar day. Unlike the Kyoto Sightseeing Card (see above), the one-day bus card does not cover outlying areas such as Ohara and the Katsura Imperial Villa, but it does cover Arashiyama and Takao. The card can be purchased at bus and subway ticket counters and from bus drivers; however, there is a risk that bus drivers run out of cards in which case purchase is not possible. The one-day bus card pays off if you use buses three times per day or more. However, be warned that buses are a relatively slow means of getting around Kyoto and are often delayed by traffic.
Kyoto Subway One Day Card (600 yen; 800 yen from October 2021)
Unlimited use of Kyoto's two subway lines on one calendar day. The card can be purchased from ticket machines at subway stations. It pays off if you use subways three times per day or more, however its value is restricted by the subway's limited coverage area.
Questions? Ask in our forum.
Sancoinn Kyoto Hachijoguchi

A hotel with a Japanese modern aesthetic just across Kyoto Station's Hachijo Exit, within walking distance of Kyoto Tower and not far from popular areas like Arashiyama and Kiyomizudera Temple.

View site

Sponsored
Top rated in Kyoto
powered

by