Sanjusangendo
Temple with 1001 human sized statues
Sanjusangendo (ŽO\ŽOŠÔ"°, Sanjūsangendō) is the popular name for Rengeo-in, a temple in eastern Kyoto which is famous for its 1001 statues of Kannon, the goddess of mercy. The temple was founded in 1164 and rebuilt a century later after the original structure had been destroyed in a fire.
Measuring 120 meters, the temple hall is Japan's longest wooden structure. The name Sanjusangendo (literally "33 intervals") derives from the number of intervals between the building's support columns, a traditional method of measuring the size of a building. In the center of the main hall sits a large, wooden statue of a 1000-armed Kannon (Senju Kannon) that is flanked on each side by 500 statues of human sized 1000-armed Kannon standing in ten rows. Together they make for an awesome sight.
1000-armed Kannon are equipped with 11 heads to better witness the suffering of humans and with 1000 arms to better help them fight the suffering. Note that the actual statues have only 42 arms each. Subtract the two regular arms and multiply by the 25 planes of existence to get the full thousand.
Sanjusangendo is located next to the Hakubutsukan-Sanjusangendo-mae bus stop (10 minutes, 230 yen from Kyoto Station by bus numbers 100, 206 or 208) or a five minute walk from Shichijo Station along the Keihan Line. Alternatively, it takes about twenty minutes to walk there from Kyoto Station.
How to get to and around Kyoto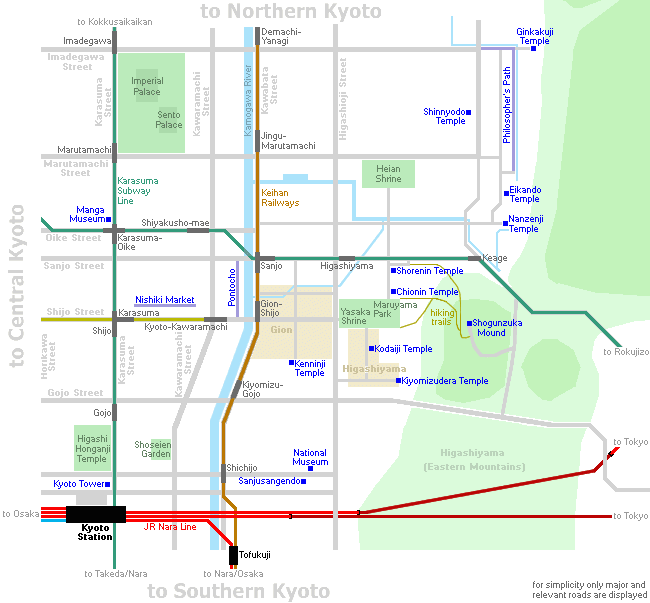 Hours
8:30 to 17:00 (April 1 to November 15)
9:00 to 16:00 (November 16 to March 31)
Admission ends 30 minutes before closing time.
Questions? Ask in our forum.