Kokedera (Moss Temple)
Called moss temple because of its garden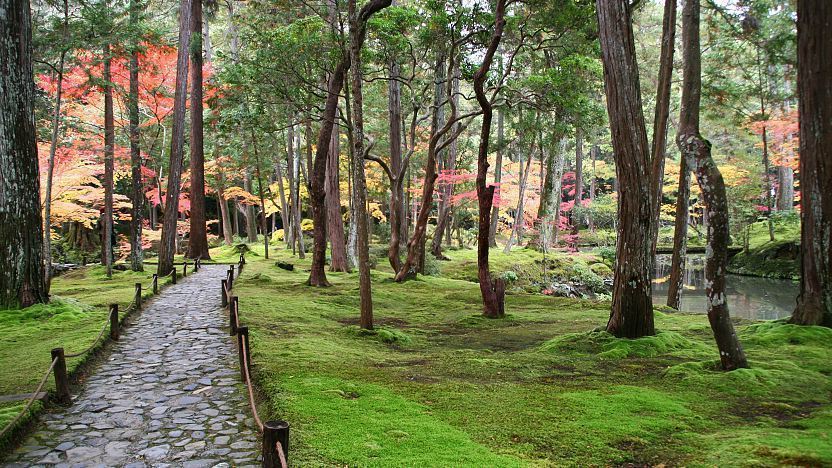 Saihoji (¼–FŽ›, Saihōji), more commonly known as Kokedera ('ÛŽ›), is one of Kyoto's Unesco World Heritage Sites. Entrance to this temple requires a reservation made well in advance.
Kokedera means Moss Temple, referring to the temple garden's estimated 120 different varieties of moss. Outside of winter, visitors to the temple can walk through this spectacular garden, which has strongly influenced subsequent Japanese garden design.
Kokedera was originally the site of Prince Shotoku's villa before becoming a temple in the Nara Period. In 1339, the temple was renovated and converted into a Zen temple under the priest Muso Soseki. Muso is also credited with creating Kokedera's gardens.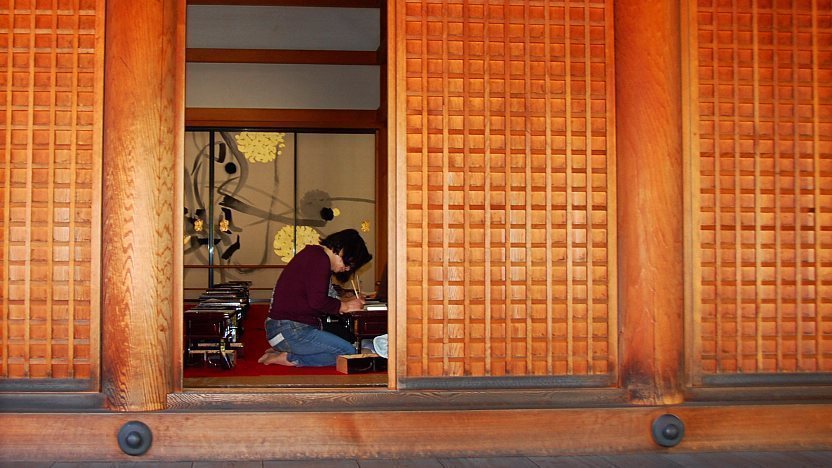 Kokedera offers the unique opportunity for visitors to participate in some of the temple's religious activities. Every visitor to Kokedera is asked to contribute to the observances of kito and shakyo (respectively, the chanting and copying of Buddhist scriptures, called sutra).
After entering the gates, visitors should proceed directly to the temple to pay the entrance fee and begin the sutra copying. They will take a seat at one of the low writing desks. A monk leads the room in sutra chanting and then the copying begins. When ready, visitors can take their sutra paper up to the altar and exit. After the kito and shakyo, a stroll through the moss garden is not to be missed.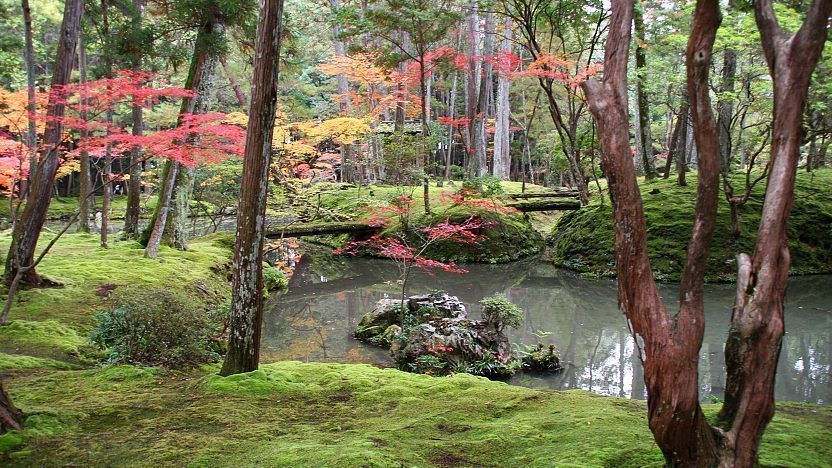 Completing the entire activity may take over an hour and sitting on the floor for this length of time can be uncomfortable. It should be stressed however, that copying out the sutra is not as challenging as it may first sound. A tracing of the Japanese characters guides even those with no previous knowledge of Japanese calligraphy or Buddhism.
During winter (mid January to February), the garden is closed to tourists to allow it to rest and undergo maintenance work. Instead, visitors can tour the temple's main hall and see its many fusuma sliding screens which adorn paintings of 20th century painter Domoto Insho. Instead of copying a sutra, visitors can participate in zazen meditation during a winter visit.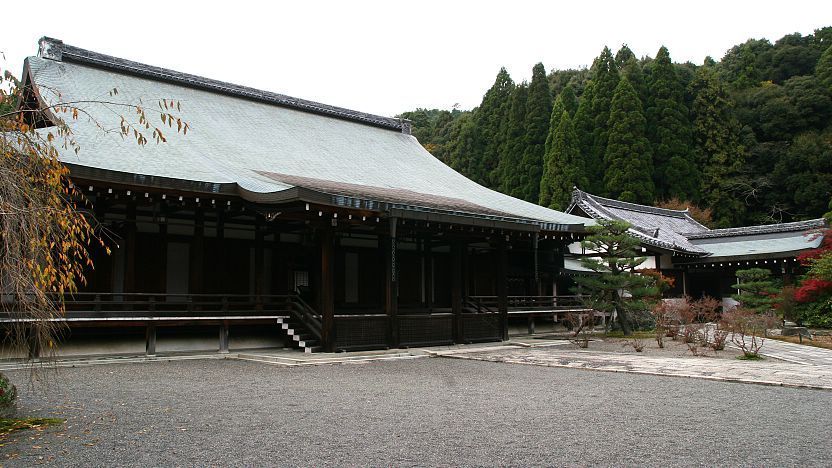 Kokedera is a 20 minute walk from Matsuo Taisha Station on the Hankyu Arashiyama Line.
From Kyoto Station
Take the Karasuma Subway Line to Shijo Station (3 minutes) and transfer to the Hankyu Kyoto Line to Katsura Station (8 minutes). At Katsura Station, switch to the Hankyu Arashiyama Line which takes five minutes to Matsuo Taisha Station. In total, the trip takes about 30 minutes and costs 450 yen.
Alternatively, Kyoto Bus number 73 runs 1-3 times per hour from Kyoto Station via Arashiyama to Kokedera (1 hour, 230 yen one way, not covered by the 1-day bus pass). On busy days, this bus is likely to be delayed due to congestion in the Arashiyama area.
How to get to and around Kyoto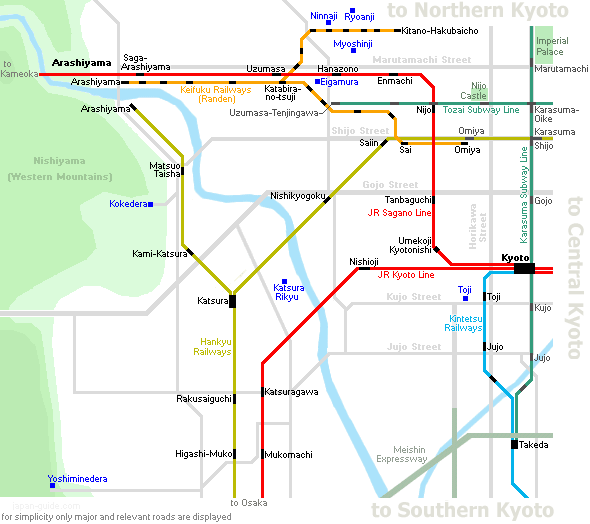 Kokedera requires advance reservations by postal mail (English or Japanese) or online (Japanese only). In addition, reservations can also be made through online services that are not related to the temple. Admission to the temple costs 3000 yen if reserved by postal mail or 4000 yen if reserved through the official Japanese online reservation system.
Reservations by postal mail
Send a request by postal mail to the temple with your name, the number of people in your group, the name and address of your group representative and the preferred and possible date(s) of visit, as well as a self-addressed, stamped return postcard. A template request form can be downloaded from the temple's official website. Reservations are accepted from two months before the intended date of visit.
Visitors applying from outside of Japan can make use of an International Reply Coupon, available from post offices in some countries. The application has to reach the temple at least three weeks before the intended date of visit. Visitors applying from inside Japan should use a special return postcard called an "ofuku hagaki" that is available from post offices. It comes in a set of two postcards, one of which is used by the receiving party to reply. The application has to reach the temple at least one week before the intended date of visit, but more time is recommended especially during busy seasons.
A reply indicating your reservation date and time will be sent to you by the temple on your self-addressed return postcard.
The temple address is:
Saihoji Temple Worship Clerk
56 Matsuo, Jingatani-cho
Nishikyo-ku, Kyoto, 615-8286, Japan
Online reservations
An online reservation system in Japanese allows for reservations for groups of up to two people at least one week in advance.
Before the coronavirus, reservations for Kokedera could also be made for a fee through some English travel reservation websites, but these plans have since disappeared. Instead, Rakuten is currently offering a 1-day guided tour of western Kyoto that also includes a visit to Kokedera. Reservations must be made at least 2-4 weeks in advance.
Questions? Ask in our forum.
Ryokan Hirashin

A traditional hotel with spacious rooms and high speed Wi-Fi. Conveniently located in the heart of Kyoto city. 3min to Shijo Karasuma Sta. and 5min to the famous Nishiki Market.

View site

Sponsored
Top rated in Kyoto
powered

by