Sagano Scenic Railway
Nostalgic sightseeing train through a scenic valley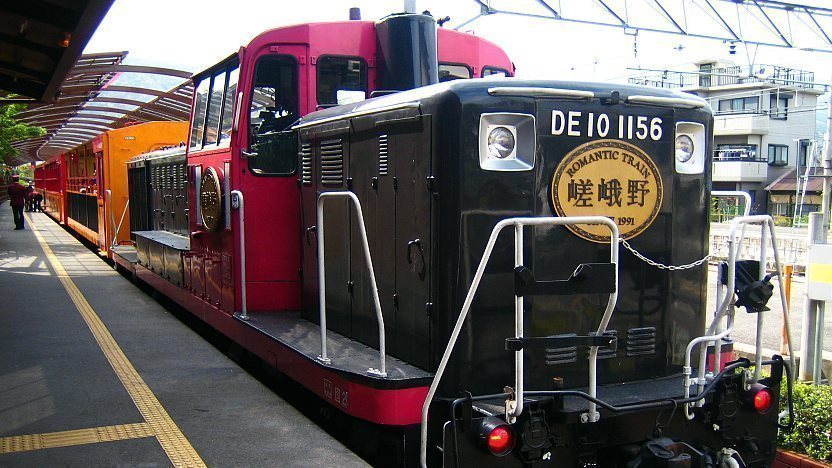 The Sagano Scenic Railway (ŹÁëŃľýŐ¤î§ôSô╣, also known as the Sagano Romantic Train or Sagano Torokko) is a sightseeing train line that runs along the Hozugawa River between Arashiyama and Kameoka. Its charming, old-fashioned trains wind their way through the mountains at a slow pace, taking about 25 minutes to make the seven kilometer journey and giving passengers pleasant views of the scenery as they travel from Arashiyama through the forested ravine and into rural Kameoka.
Originally part of the JR Sanin Line before it was replaced by a faster, straighter route in 1989, the scenic railway route was preserved and outfitted with nostalgic trains featuring wooden benches. The views along the line change with the seasons, and the train is particularly popular during the autumn color season from mid November to early December when the leaves along the ravine change color. Trains do not operate in winter from late December through February.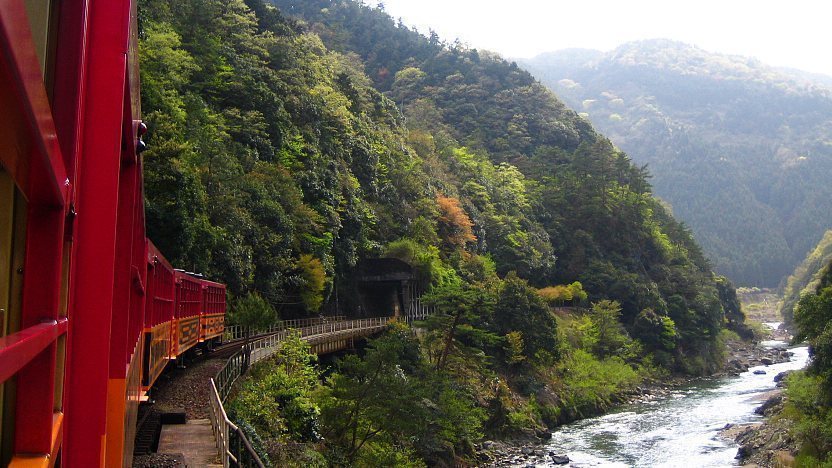 Each train is made up of four enclosed cars (with windows that can be opened) and one fully open car. All seats are reserved, although standing tickets are sold if the seats are full. Tickets can be purchased at Torokko Saga Station or at JR ticket offices in the Kansai Region or online through Klook. It is recommended to buy tickets early to ensure a seat during the peak seasons. There is no discount for round trip tickets. A small train museum and diorama can also be found at Torokko Saga Station (separate entry fees apply).
Travelers have several options once they reach Torokko Kameoka Station, the terminal station of the line. They can take the sightseeing train back to Arashiyama or walk five minutes to nearby Umahori Station from where they can catch a JR train back to Arashiyama or Kyoto. Last but not least, many travelers combine the sightseeing train with a Hozugawa River Cruise back to Arashiyama. A bus connects the train station to the departure point for the cruises.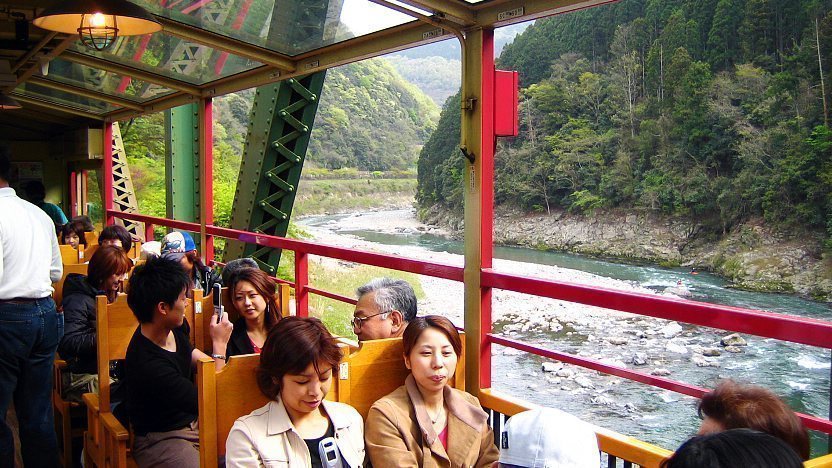 Sightseeing trains depart from Torokko Saga Station which lies just next to JR Saga-Arashiyama Station (15 minutes, 240 yen one way from Kyoto Station), and can also be boarded at Torokko Arashiyama Station, one kilometer to the west.
Torokko Kameoka Station, the terminal station of the sightseeing train, is a five minute walk from Umahori Station on the JR Sagano Line from where you can take a train back to Arashiyama (7 minutes, 200 yen) or Kyoto (25-30 minutes, 330 yen). Alternatively, buses connect the station to the boat pier of the Hozugawa River Cruises (15 minutes, 310 yen, departures timed to train arrivals).
How to get to and around Kyoto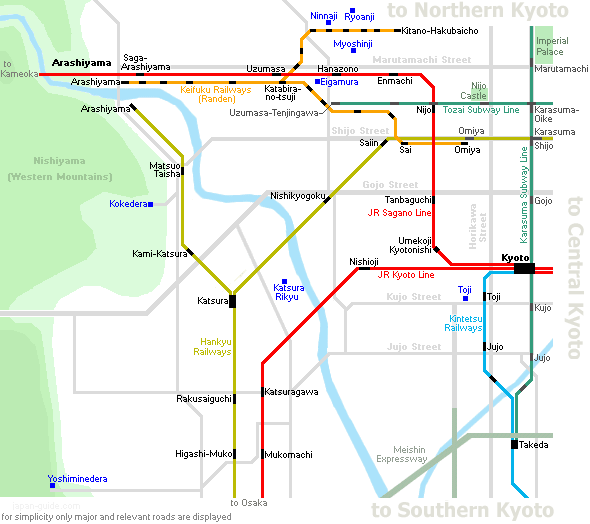 Hours
Hourly from 9:00 to 16:00 (until 17:00 on busy days)
Closed
Most Wednesdays (except during peak seasons)
December 30 to the end of February
Admission
880 yen one way between Torokko Saga and Torokko Kameoka stations
Buy ticket online
Questions? Ask in our forum.
Arashiyama Hanaikada

A little, superior ryokan right near Togetsukyo Bridge in Arashiyama. Free transfer from JR station. Private bath and open-air baths available. 5min walk to the Bamboo Groves.

View site

Sponsored