Kodaiji Temple
Built in memory of Toyotomi Hideyoshi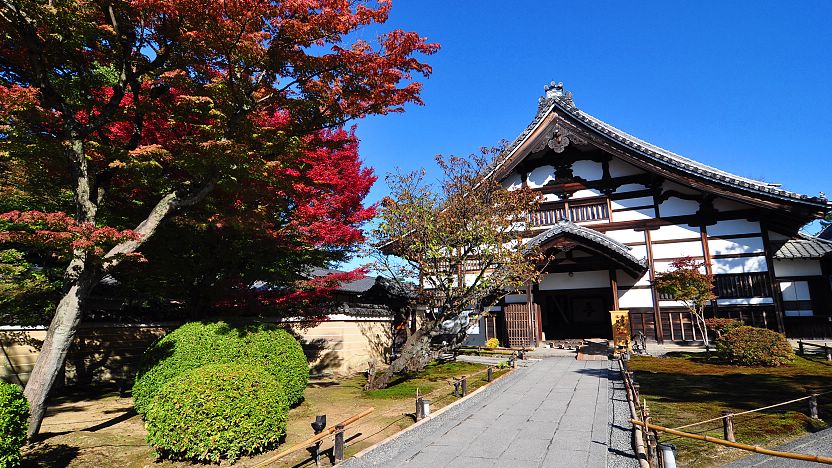 Kodaiji (高台寺, Kōdaiji) is an outstanding temple in Kyoto's Higashiyama District. It was established in 1606 in memory of Toyotomi Hideyoshi, one of Japan's greatest historical figures, by Hideyoshi's wife Nene who is also enshrined at the temple.
Kodaiji belongs to the Rinzai sect of Zen Buddhism. Its main buildings were constructed in the lavish style of the era of Japan's unification with the financial support of Hideyoshi's successor Tokugawa Ieyasu. They feature richly decorated interiors and are surrounded by beautiful Zen gardens.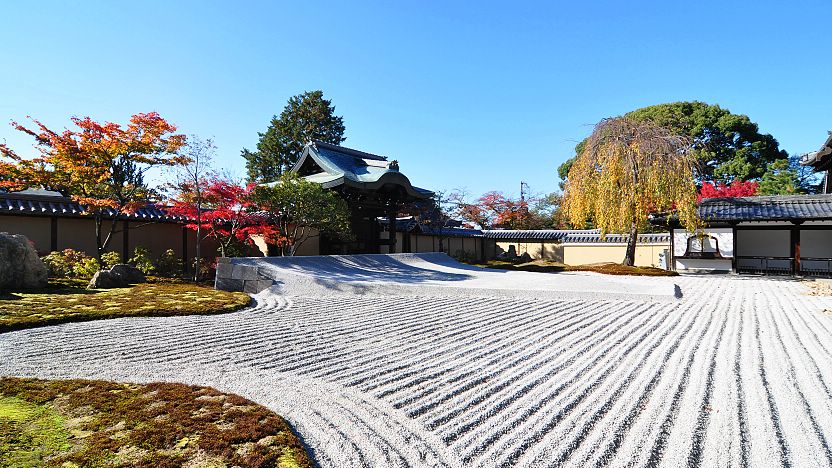 Visitors can enter Kodaiji's main hall (Hojo), which was originally covered in lacquer and gold, but was rebuilt in a more modest style after it burned down in 1912. The building is surrounded on two sides by impressive gardens designed by leading contemporary masters. The gardens are lit up during special illumination shows in spring and autumn.
One of the gardens is a rock garden consisting of a large field of raked gravel meant to represent the vast ocean. The other garden is an impressive tsukiyama-style garden featuring a pond, man-made hills, decorative rocks and beautiful pine and maple trees, the latter of which turn brilliant shades of red and orange during the autumn color season usually in late November. Within this garden stands the Kaizando (memorial hall) where Nene would pray for Hideyoshi and which now enshrines wooden images of both of them.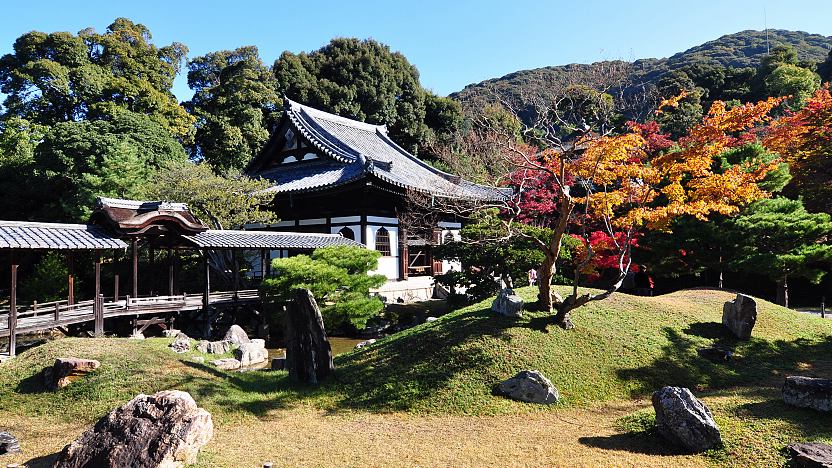 Up on the hillside behind the temple lies a mausoleum for Hideyoshi and Nene. The interior is richly decorated with special lacquerwork, known as Kodaiji Makie, that features designs of powdered gold and silver set in lacquer, a technique that Kodaiji is famous for. Further up the hill are two tea houses, one of which was designed by the tea master Sen no Rikyu, as Hideyoshi was a fervent tea ceremony practitioner. The return path to the temple buildings passes through a bamboo grove.
After one exits the temple, a series of steps, named Nene's Path, will lead back down to the streets of the Higashiyama District. Across the street from Nene's Path is a recently redeveloped area with some shops and cafes. This area is also home to the small Kodaiji Sho Museum, which exhibits treasures of Kodaiji, Nene and several pieces of lacquer artwork. The complex is surrounded by the buildings of Entokuin Temple, a small subtemple of Kodaiji that features two more Zen gardens.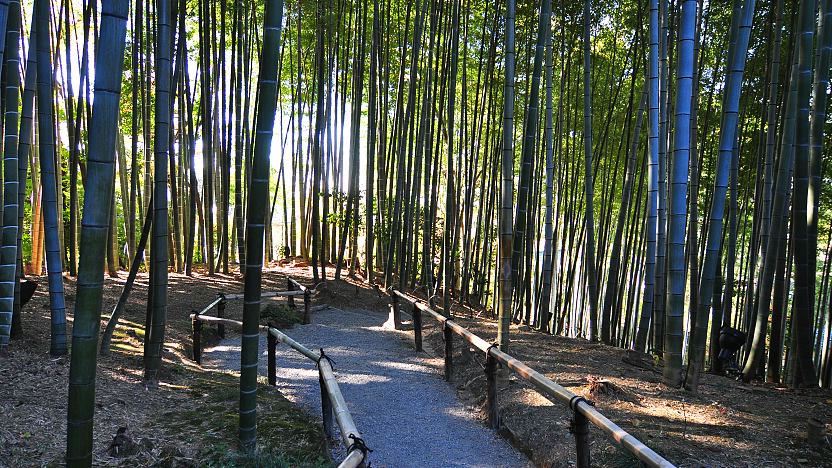 Kodaiji Temple
Hours
9:00 to 17:30 (entry until 17:00)
Admission
600 yen (Kodaiji and Sho Museum)
900 yen (Kodaiji, Sho Museum and Entokuin)
Entokuin Temple
Hours
10:00 to 17:30 (entry until 17:00)
Questions? Ask in our forum.