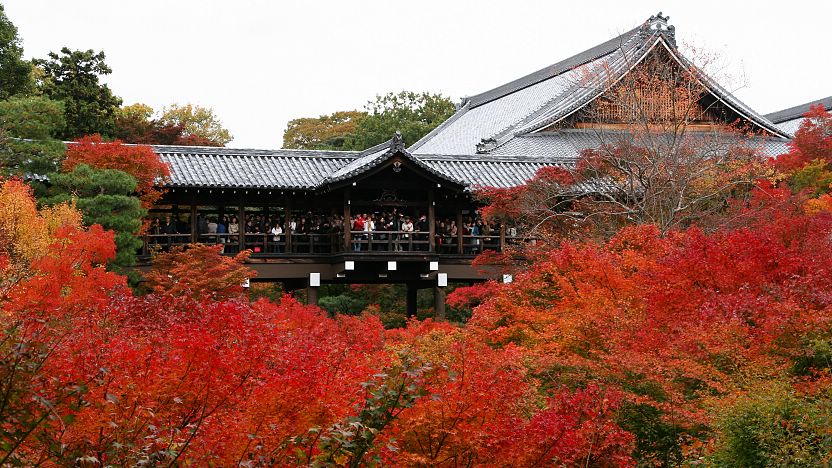 Tofukuji ("Œ•ŸŽ›, Tōfukuji) is a large Zen temple in southeastern Kyoto that is particularly famous for its spectacular autumn colors. The temple was founded in 1236 at the behest of the powerful Fujiwara clan. Its name is a combination of the names of two great temples in Nara that were also associated with the Fujiwara, Todaiji Temple and Kofukuji Temple. Tofukuji has historically been one of the principal Zen temples in Kyoto, and is a head temple of one of the schools of the Rinzai sect of Zen Buddhism.
In autumn, people come from all over Japan to see Tofukuji's autumn colors. The most popular view is of the Tsutenkyo Bridge, which spans a valley of lush maple trees. The view from the bridge is equally spectacular, and the 100 meter long, covered walkway becomes extremely crowded when the colors reach their peak, usually around mid to late November.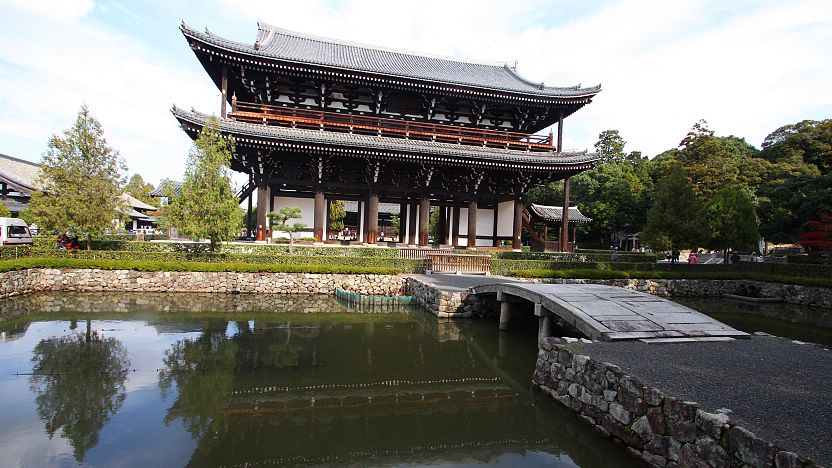 Several parts of Tofukuji's temple grounds are free to enter, including the area around some of its largest and most impressive buildings. The 22 meter tall Sanmon Gate is the oldest Zen gate of its kind, dating back to 1425. Behind the gate is the Hondo (main hall), which is even larger but is a recent reconstruction from 1934.
Surrounding those two massive structures are a number of temple buildings that date back to the early Muromachi Period (1333-1573) and are rare examples of surviving Zen architecture from that era, including the meditation hall (zendo), belfry (shoro), bath (yokushitsu) and lavatory (tosu).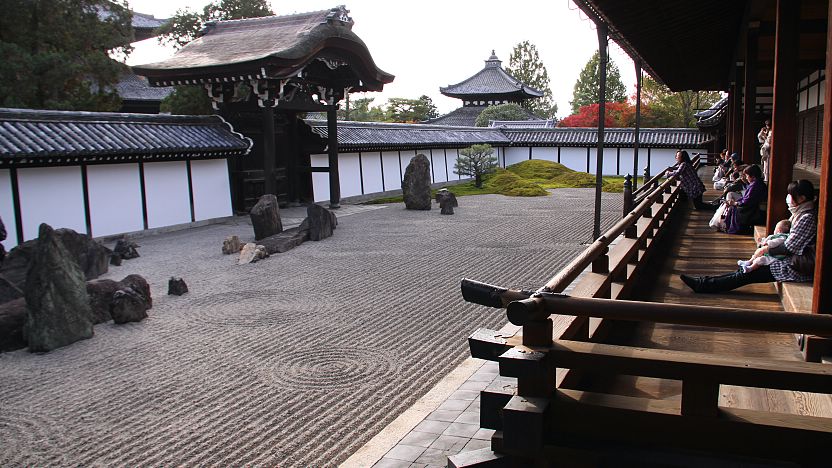 The Hojo, the head priest's former living quarters, is one of Tofukuji's two paid areas. Rock gardens were often built alongside hojo buildings, but the gardens at Tofukuji's Hojo are unique for surrounding the building on all sides. Each garden has a different character, employing pebbles, large rocks, moss, trees and checkered patterns. The Hojo was most recently reconstructed in 1890 while the gardens are relatively modern creations dating from the late 1930s.
The other paid area consists of the above mentioned Tsutenkyo Bridge and Kaisando Hall, which serves as the mausoleum of the temple's first head priest. The stone path in front of the Kaisando is flanked by contrasting gardens on both sides, a dry rock garden on the left and a lush pond garden on the right. The Kaisando and its gardens were last reconstructed during the Edo Period (1603-1867).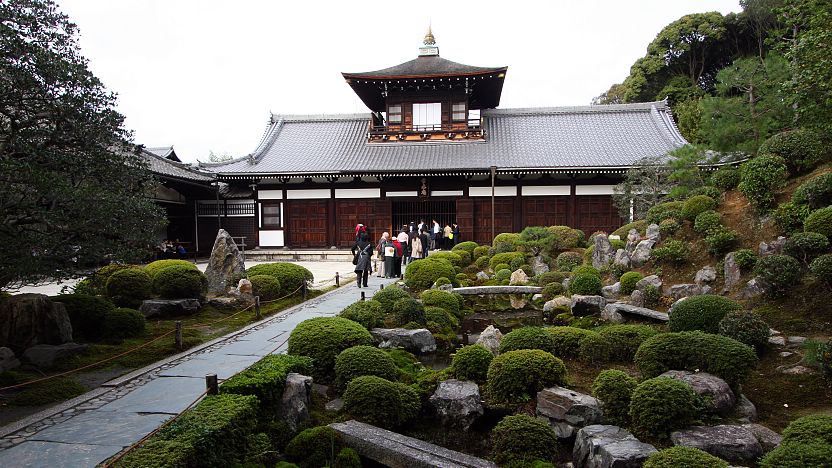 Tofukuji is a ten minute walk from Tofukuji Station on the JR Nara Line (2 minutes, 150 yen from Kyoto Station) and the Keihan Main Line. Alternatively, the temple is a ten minute walk from Tofukuji bus stop (15 minutes, 230 yen from Kyoto Station by Kyoto City Bus 208).
How to get to and around Kyoto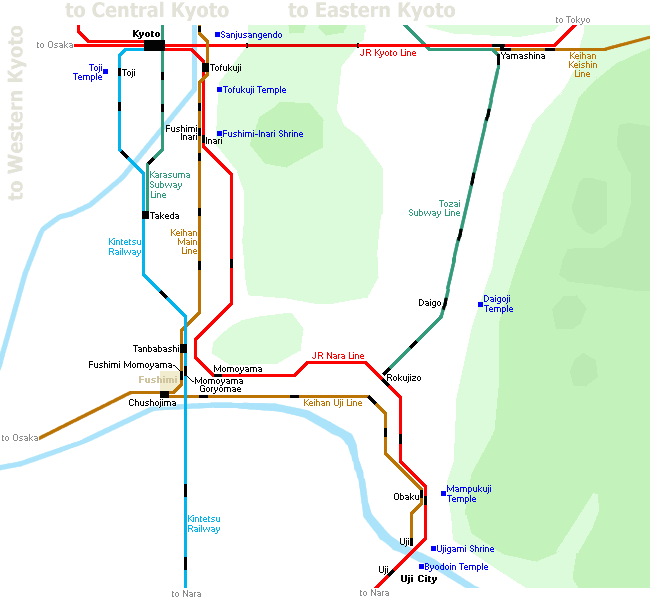 Hours
9:00 to 16:30 (April to October)
8:30 to 16:30 (November to early December)
9:00 to 16:00 (early December to March)
Admission ends 30 minutes before closing time.
Admission
400 yen (Tsutenkyo Bridge and Kaisando Hall)
400 yen (Hojo and gardens)
External Links and Resources