Hozugawa River Cruise
Scenic boat ride down a river towards Arashiyama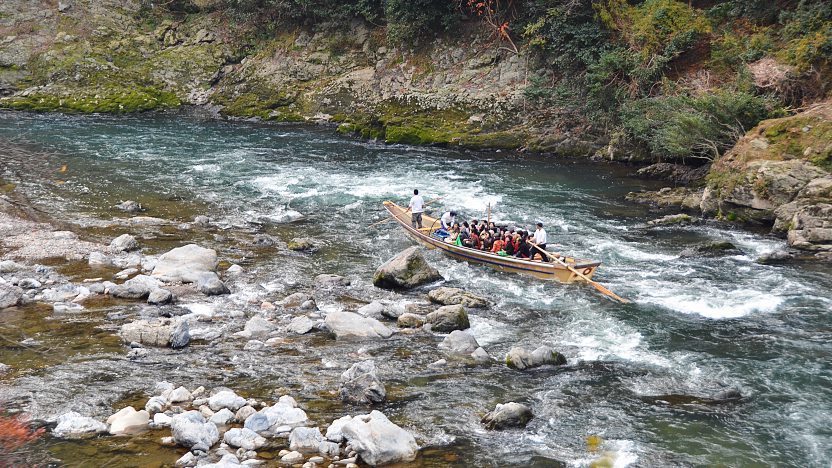 Hozugawa River Cruises (保津川下り, Hozugawa Kudari) are sightseeing boat rides down the Hozugawa River from Kameoka to Arashiyama. The cruises utilize traditional style, flat-bottomed boats piloted by boatmen with oars and bamboo poles. The boats take about two hours to leisurely make their way down the river and are a relaxing way to see the natural scenery of the largely undeveloped ravine. The river cruises are often combined with a ride on the Sagano Scenic Railway.
Cruises are offered year round, but are particularly popular from mid November to early December when the leaves change color. The boats are heated in winter and operate during light rain (they will be covered in a plastic tent), but service is canceled in case of heavy rain or large changes in the water level.
The Hozugawa River was originally employed to transport logs that were used to build many of Kyoto and Osaka's famous temples and castles. During the Edo Period the river was cleared of obstructions so that boats carrying grain, firewood and other cargo could safely navigate it. Trains and trucks eventually made river transport obsolete, and operations ceased after several hundred years of use. However, the boats were brought back and eventually became popular as a sightseeing attraction.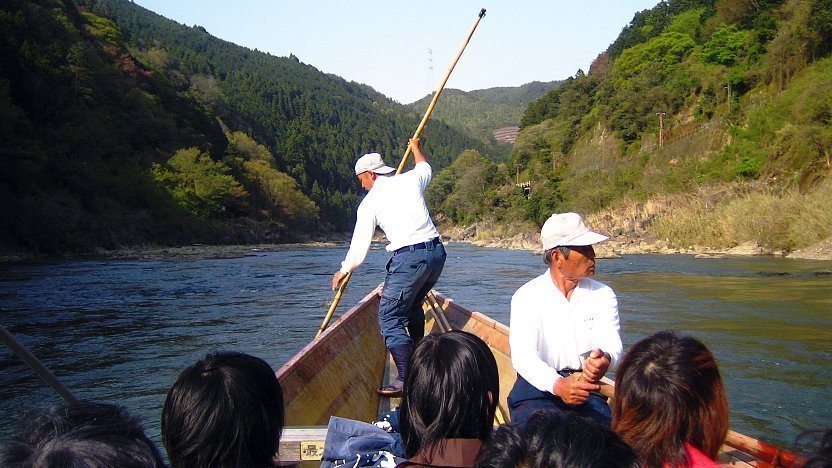 Hours
9:00 to 15:00 (March 10 to December 13, hourly departures)
10:00 to 14:30 (December 14 to March 9, departures every 90 minutes)
On busy days boats depart irregularly according to demand.
Closed
December 29 to January 4 and small number of irregular maintenance days.
During very bad weather and when the water level is too high or too low.
Questions? Ask in our forum.
Arashiyama Hanaikada

A little, superior ryokan right near Togetsukyo Bridge in Arashiyama. Free transfer from JR station. Private bath and open-air baths available. 5min walk to the Bamboo Groves.

View site

Sponsored
Top rated in Kyoto
powered

by