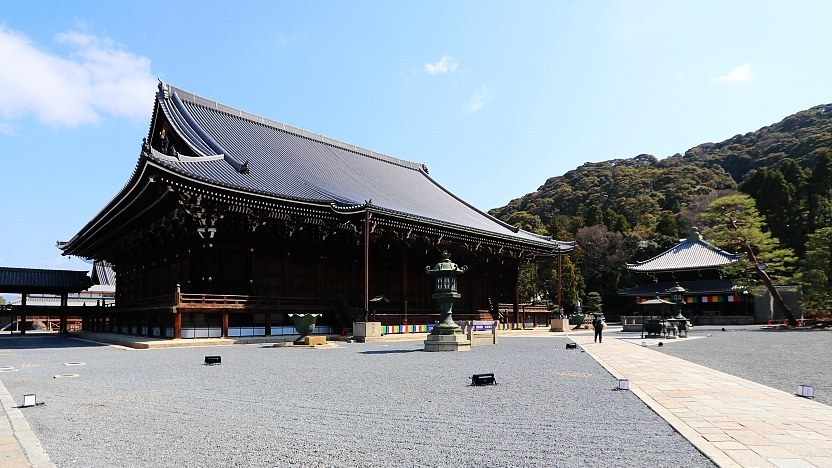 Chionin ('m‰¶‰@) is the head temple of the Jodo sect of Japanese Buddhism, which has millions of followers and is one the the most popular Buddhist sects in Japan. The temple has spacious grounds and large buildings. Visitors will surely notice the temple when they come across its massive Sanmon Gate.
The Sanmon Gate, Chionin's main entrance gate, is located alongside the road between Maruyama Park and Shorenin Temple. Standing 24 meters tall and 50 meters wide, it is the largest wooden gate in Japan and dates back to the early 1600s. The gate's balcony is not open to the public. Behind the gate a wide set of stairs leads to the main temple grounds.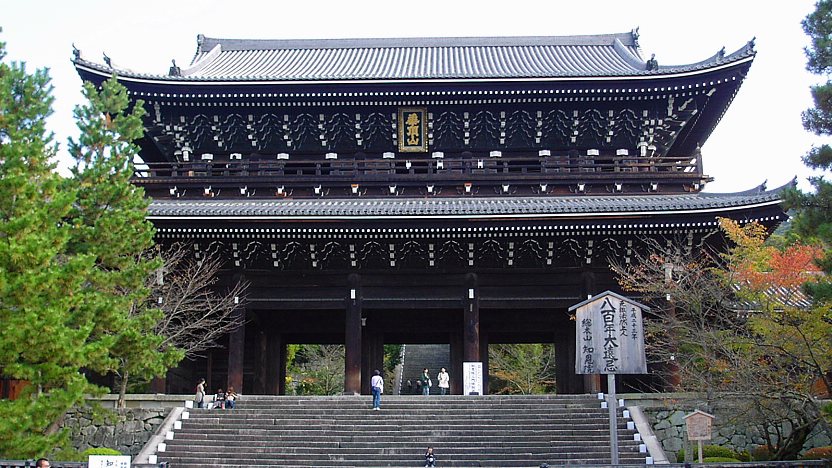 At the center of Chionin is an open area with stone paths connecting the temple's main buildings. The massive Miedo Hall houses the temple's principle object of worship: a statue of the priest Honen, who founded the Jodo sect. Nearby is the Amidado Hall, which houses a statue of Amida Buddha, the most important Buddha in the Jodo sect.
The priest Honen was initially a follower of the Tendai sect of Japanese Buddhism at the mountain temple of Enryakuji Temple. Buddhism during Honen's time was limited to monks and aristocrats, and was not available to commoners who did not have the resources or learning to partake in Buddhist rituals and ceremonies. In 1175, Honen was introduced to Chinese texts that claimed the possibility of salvation by simply proclaiming faith in the Buddha Amida, and soon after he founded the Jodo sect.
The central premise of the new sect was that the Buddhist deity Amida had created a paradise that anyone could enter after death. One needed only to recite the name of Amida in faith. Jodo literally means "pure land" and refers to Amida's paradise. The new sect gave common people the same opportunity for salvation as priests or aristocrats. The Jodo sect became very popular among the masses, but also met with opposition from the already established Buddhist sects.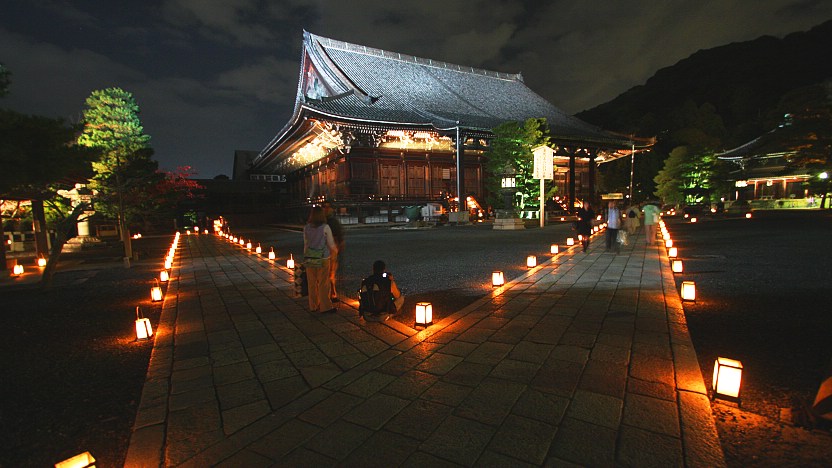 Beyond the Miedo there is a path that leads up the hillside to a number of small buildings. The Seishido Hall is the oldest building on the temple grounds, dating back to 1530. There is also a mausoleum that contains the ashes of Honen. Elsewhere on the grounds is a massive bell that was the largest in the world from the 17th to the 19th century, as well as a few other buildings and two gardens.
The Hojo Garden is located behind the Miedo Hall and is built alongside the priest's living quarters. It is a traditional Japanese garden that was designed by a monk in the mid 1600s. The Yuzen Garden is located just beside the Sanmon Gate and was designed in modern times. It includes both rock and pond gardens and is built along a slight incline.
Chionin Temple
Hours
Temple buildings are open from 9:00 to 16:30 (entry until 16:00); temple grounds are always open
Hojo and Yuzen Gardens
Hours
9:00 to 16:30 (entry until 15:50 and 16:00 respectively), special evening hours during autumn and spring evening illuminations
Closed
Small number of irregular closing days
Admission
500 yen (both gardens, sale ends at 15:20)
400 yen (Hojo Garden only)
300 yen (Yuzen Garden only)
External Links and Resources