Tokyo Disney Resort: Access and Orientation
How to travel between Tokyo Disney Resort and Tokyo Station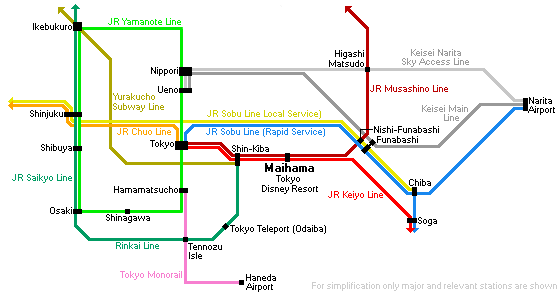 By train
Direct, 15 minutes, 220 yen, departures every few minutes
Tokyo Station and Maihama Station are connected by frequent local and rapid trains along the JR Keiyo and JR Musashino Lines. The one way trip takes about 15 minutes, costs 220 yen and is fully covered by the Japan Rail Pass. Note that the JR Keiyo and JR Musashino Lines are about a ten minute walk from the other platforms at Tokyo Station.
Above fees and schedules are subject to change. For the current yen exchange rate, click here.
Getting around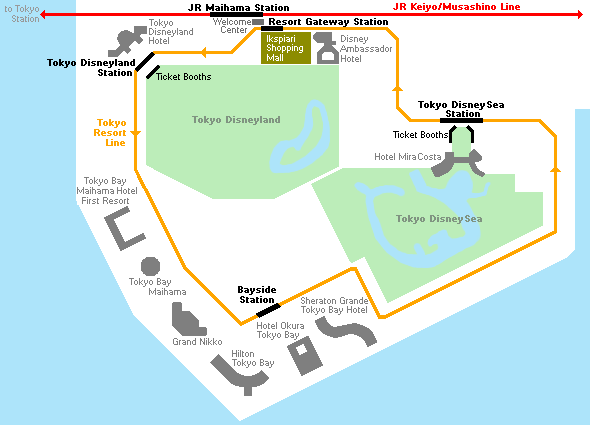 Tokyo Disney Resort is located next to JR Maihama Station in Urayasu City, Chiba Prefecture, just outside the metropolitan borders of Tokyo. The resort's theme parks, hotels and other attractions are connected with each other and Maihama Station by the Disney Resort Line, a monorail service (260 yen per ride), which circles the resort every few minutes in a counter-clockwise direction. Staying guests of the resort's three Disney Hotels receive complimentary monorail passes during their stay.
Alternatively, it is possible to walk from Maihama Station to Tokyo Disneyland, the Ikspiari Shopping Mall, the Ambassador Hotel and the Disneyland Hotel, but Tokyo DisneySea, the Hotel MiraCosta and the Official Hotels are more conveniently accessed by monorail.
Free shuttle buses for guests staying at the Ambassador Hotel operate between the hotel and the two parks. Furthermore, there are free shuttle buses for guests of the resort's Official Hotels, which connect the hotels with JR Maihama Station and the monorail's Bayside Station.
Note that a considerable number of long-distance overnight buses between Tokyo and several cities across Japan, including Nagoya, Kyoto and Osaka, also make a stop at Tokyo Disney Resort.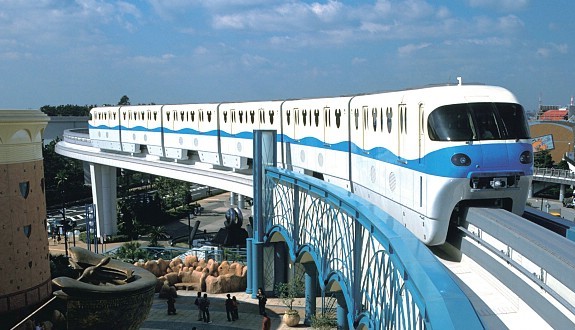 Questions? Ask in our forum.