Cherry Blossoms 2009: Nara Report (4/3)
Cherry Blossom Report 2009
by japan-guide.com
This is the official japan-guide.com cherry blossom report for 2009. Please visit also our guide to cherry blossoms for more general information and forecasts.
2009/04/03 - Nara Report

by francois
Nara Park
April 3, 2009 - approaching full bloom (50-80%)
There are approximately 1700 cherry trees at Nara Park. Many of Nara's main attractions can be found at the park, such as Todaiji Temple and Kasuga Shrine, and the area is famous for its roaming deer.
The cherry trees in general are at about 50% bloom, but a few areas are more advanced. The cherry blossoms found east of Todaiji Temple were quite impressive, as were the trees surrounding Sagi-ike Pond at the park's southern end. Himuro Shrine, located across from the Nara National Museum, had a particularly impressive and popular weeping cherry tree (shidare).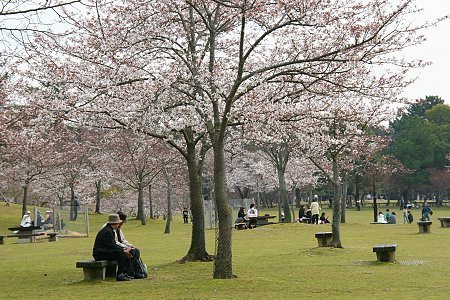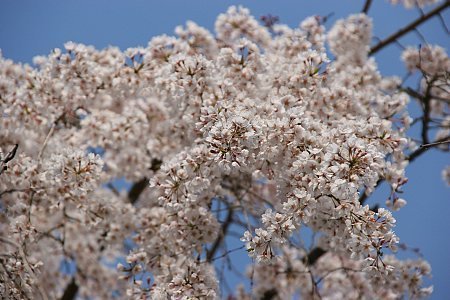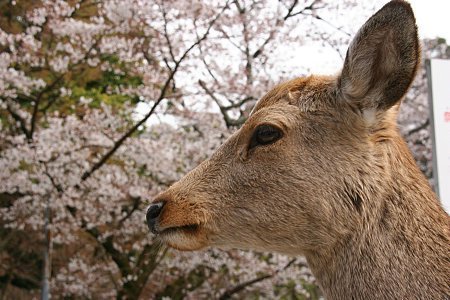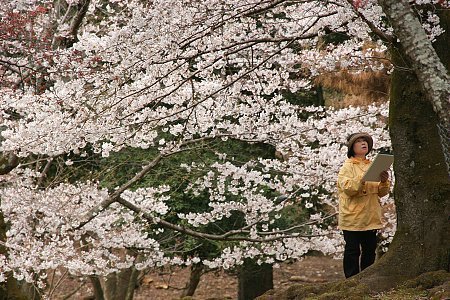 ---
Koriyama Castle
April 3, 2009 - approaching full bloom (50-80%)
Koriyama Castle is mostly ruins now, but the walls and moat of a typical Japanese castle make an attractive setting for viewing the cherry blossoms. The castle is located approximately two kilometers south of Yakushiji Temple, just outside the border of Nara City.
The area was quite busy today, and there were a number of stalls selling food and groups of people enjoying cherry blossom viewing parties (hanami). Between 50% and 60% of the flowers at the castle are in bloom. The trees at the middle of the ruins are less developed than the ones that line the moats.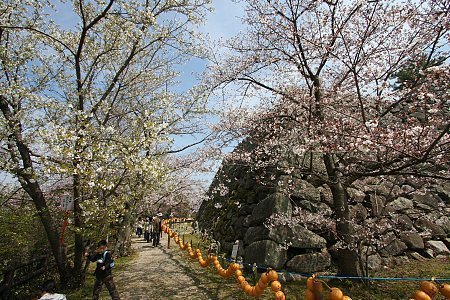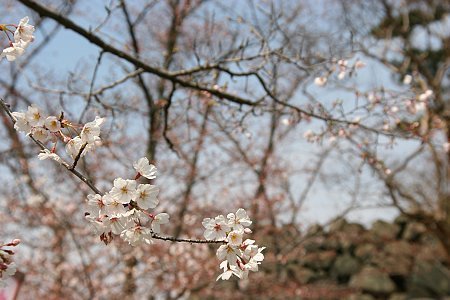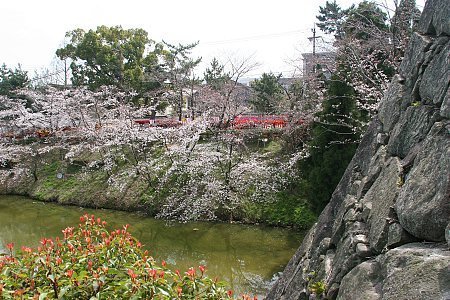 ---
Hasedera Temple
April 3, 2009 - approaching full bloom (50-80%)
Hasedera Temple is not actually located in Nara City, but is rather part of Sakurai City. It takes about an hour to reach Hasedera Temple from central Nara by train. The temple is about one kilometer from the train station, and English signs clearly mark the way.
The cherry trees at Hasedera are just before full bloom (mankai) and will reach their peak in a day or two. The temple was busy, but not overly crowded, and a large portion of visitors had brought elaborate camera equipment to photograph the cherry blossoms (sakura). The area at the moment is quite impressive, especially the view from the terrace at the main hall (hondo) and the pagoda with its neighbouring cherry trees.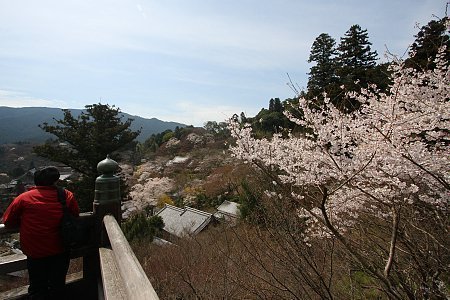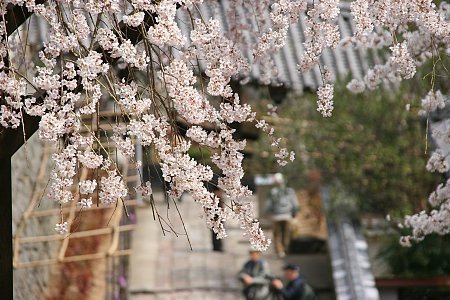 Questions? Ask in our forum.