Cherry Blossoms 2013: Kakunodate Report (5/1)
Cherry Blossom Report 2013
Official cherry blossom reports by japan-guide.com
2013 Cherry Blossom Forecast - Schedule of upcoming reports - Popular cherry blossom spots
How to do hanami? - Cherry tree varieties - Post your own report
2013/05/01 - Kakunodate Report
by sean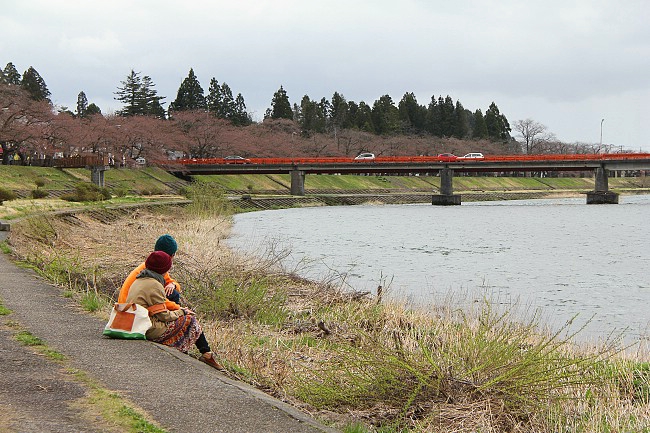 I started the first day of May at Kakunodate of Akita Prefecture, one of three best cherry blossom spots in the Tohoku Region, along with Hirosaki and Kitakami. Kakunodate is great for viewing weeping cherry trees as many of them are planted around its Samurai District, often resulting in postcard-worthy images of nostalgic samurai mansions and gently swaying pink branches when their blossoms are in bloom. Not far from the Samurai District flows Hinokinai River, along which hundreds of mainstream somei yoshino cherry trees stand.
Cooler than average temperatures at Kakunodate has led to a delayed sakura season here this year. The cherry blossom festival has been scheduled to be held until May 6th, but judging from circumstances I suspect they might have to prolong it by a week at least; although there has been no word about that so far.
Hinokinai Riverside
May 1, 2013 - about to open
Weather agencies had originally predicted that the cherry trees would start flowering at Kakunodate on April 29th. However, after less than conducive temperatures leading up to today, they are revising their expectations to May 3rd instead. That would be nine days later than in the average year.
It also seems like the mercury is not set to rise by much until Sunday, which means that if the blossoms choose to be stubborn, their opening could be further delayed till May 5th. Barring unforeseen weather changes, the peak for this season would not arrive at Hinokinai River until five to seven days from now.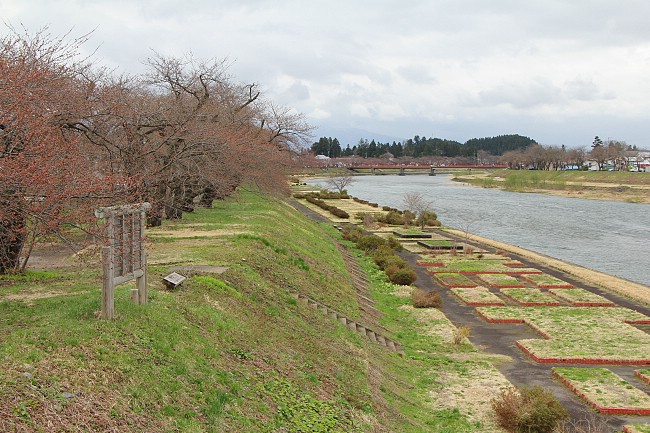 Hinokinai River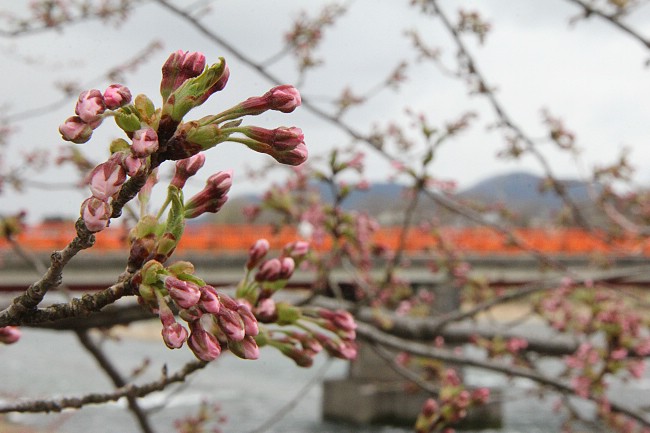 Many blossoms just need another day or two of warm temperatures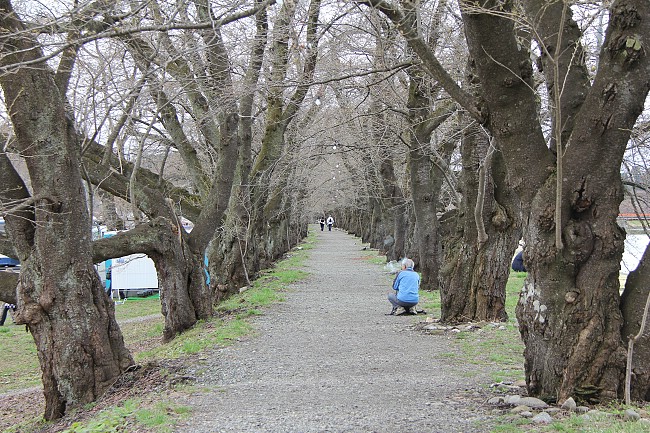 In a week this would become a cherry blossom tunnel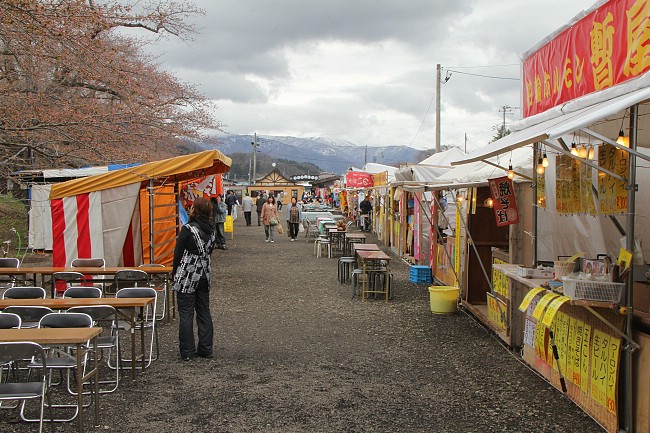 Festival food stalls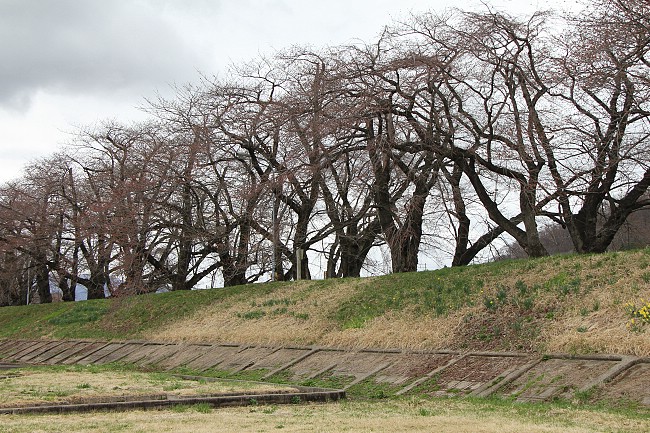 Shapes of life
Kakunodate Samurai District
May 1, 2013 - just opened (0-10%) (weeping cherry trees)
May 1, 2013 - still closed (yaebeni weeping cherry trees)
The only few open blossoms that I managed to see today were from the several weeping cherry trees. Many members of tour groups who had arrived at the scene seemed to be taken slightly aback by the late season this year.
I saw some pamphlets advertising old information: that evening illuminations will take place until May 5th (sunset to 22:30), but by then I was convinced that they have to revise that to a much later date. Considering that the yaebeni weeping cherries (dark pink blossoms with more than five petals) typically flower a few days after the somei yoshino, I believe that the best period for hanami (cherry blossom watching) at Kakunodate this year will start about a week from now, and continue to the following weekend.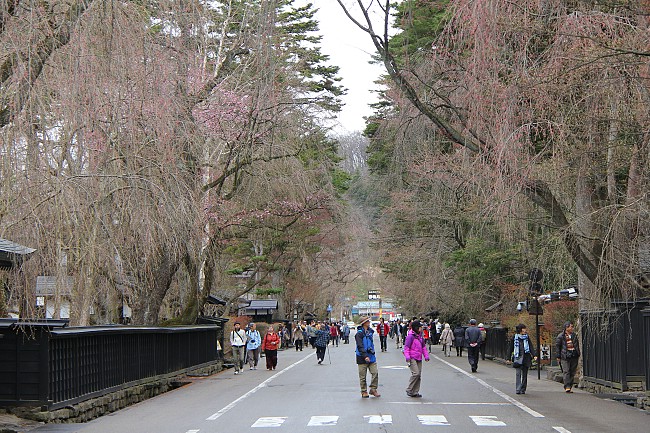 Samurai District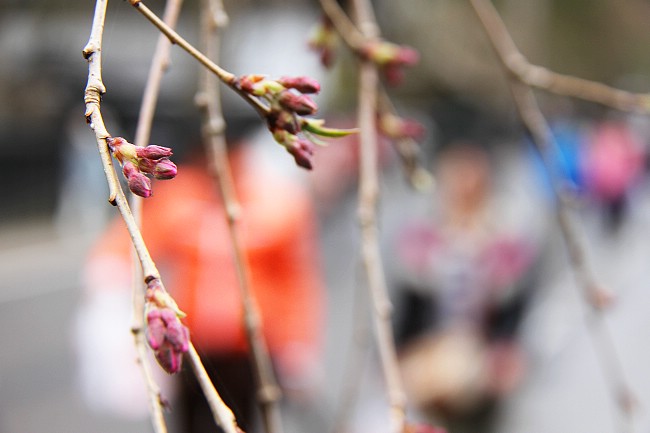 Yaebeni weeping cherries were still some distance away from opening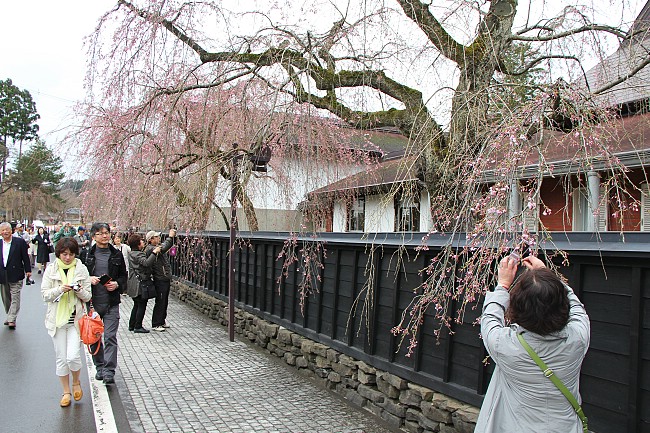 Visitors take pictures of some open weeping cherries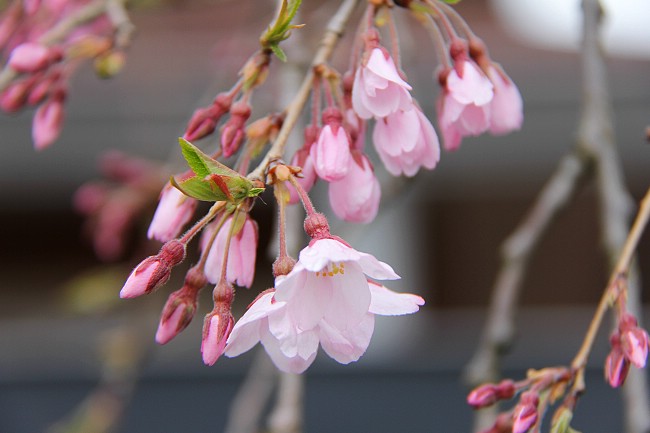 Close up of a weeping cherry blossom bunch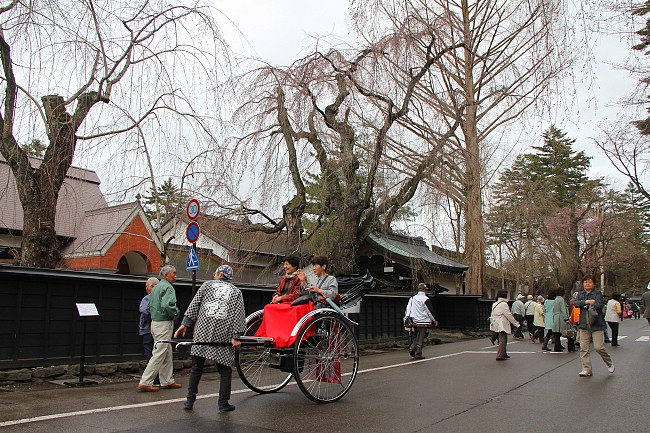 Questions? Ask in our forum.