Fukushima: Approaching Full Bloom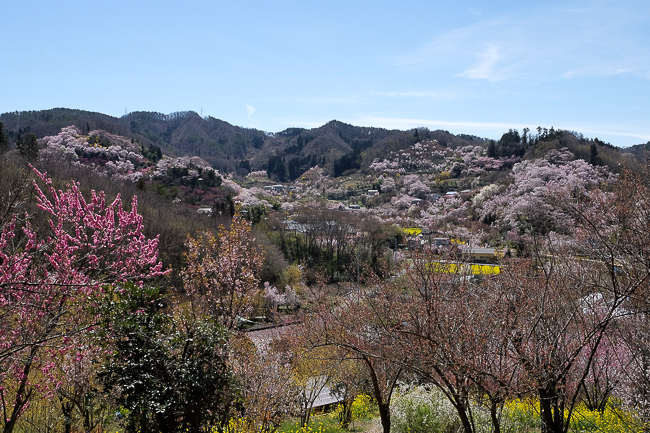 The cherry blossom season around many of Japan's major cities has been at the peak now for a few days, however wind and rain threatens to do some damage to the petals and may hasten the end of the season a little sooner than we would like to see. Meanwhile, the cherry blossom front continues to move northward as cities around the Tohoku Region start reaching their peak.
Today's report takes me to Fukushima City, where the cherries typically begin opening about two weeks after Tokyo. However, this year has been anything but typical and the flowers around central Fukushima first opened on March 30th and then sped to full bloom on April 3rd, an astonishing 10 days earlier than average. It was almost hard to believe that these weren't just some errant, rogue trees, but it did seem to be the case as all the trees around the station were definitely at the peak this morning.
The main target of the day, however, was Hanamiyama a rural neighborhood tucked into the mountains on the southeastern outskirts of the city that is absolutely covered in cherry trees and other flowering trees and shrubs. The area is one of Fukushima's most popular hanami spots, and attracts thousands of people during its long blooming season that lasts through much of April and into May. Visitors can walk around enjoying the flowers along the mountain slopes and look out over Fukushima City and on to Mount Azuma in the distance.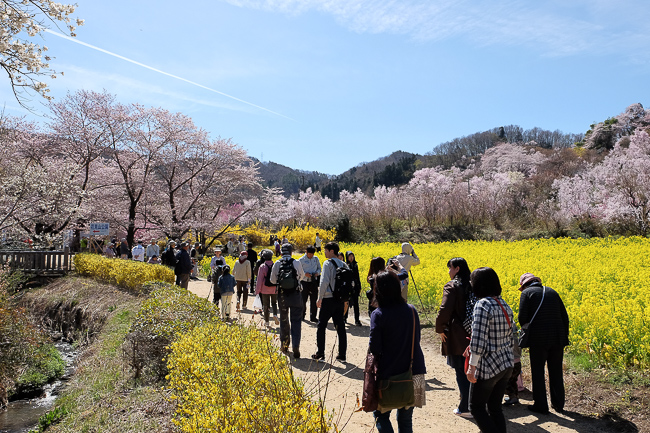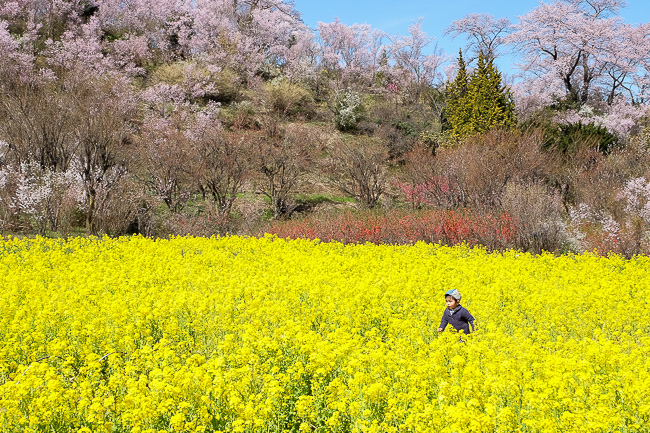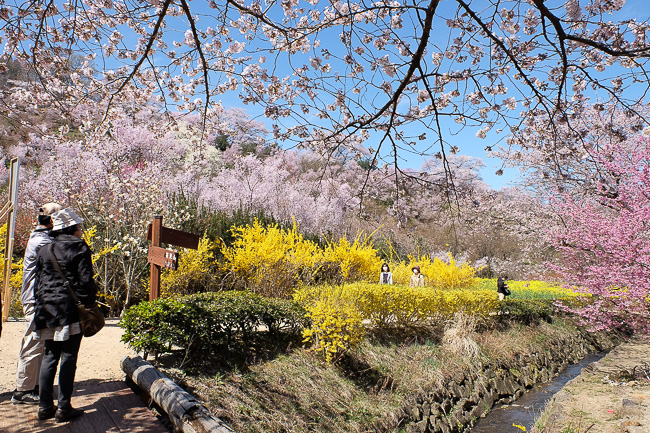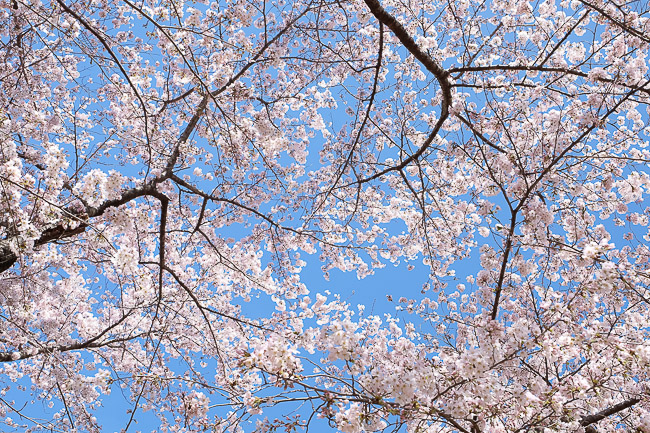 Several dozen of the ubiquitous Somei Yoshino cherry trees are planted around the mountains and valleys, however they seem to lag the trees around the central city by quite a bit. Most of those that are found around the main Hanamiyama mountain were around 30-50% open today, yet the closed blossoms looked extremely swollen and like they could barely hold themselves together. In light of this, I think they could burst into full bloom as early as tomorrow. And indeed, the Somei Yoshino trees along the newer northern slope were even more advanced with many at or close to full bloom already.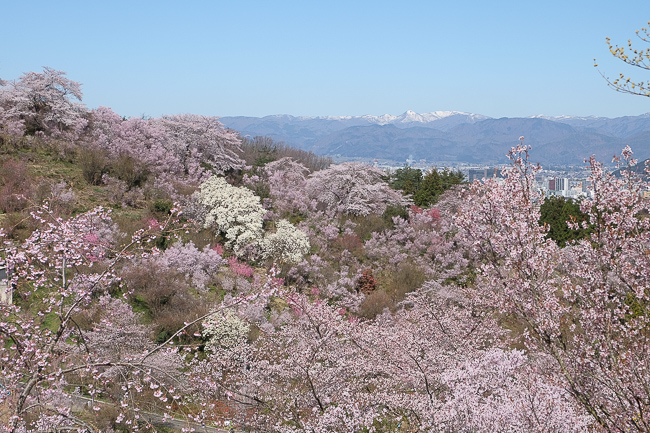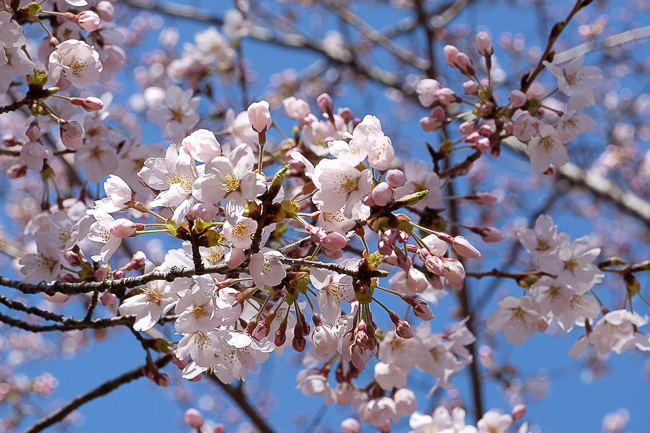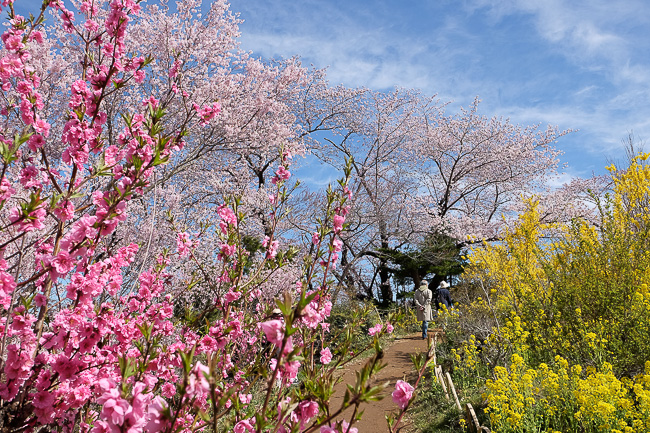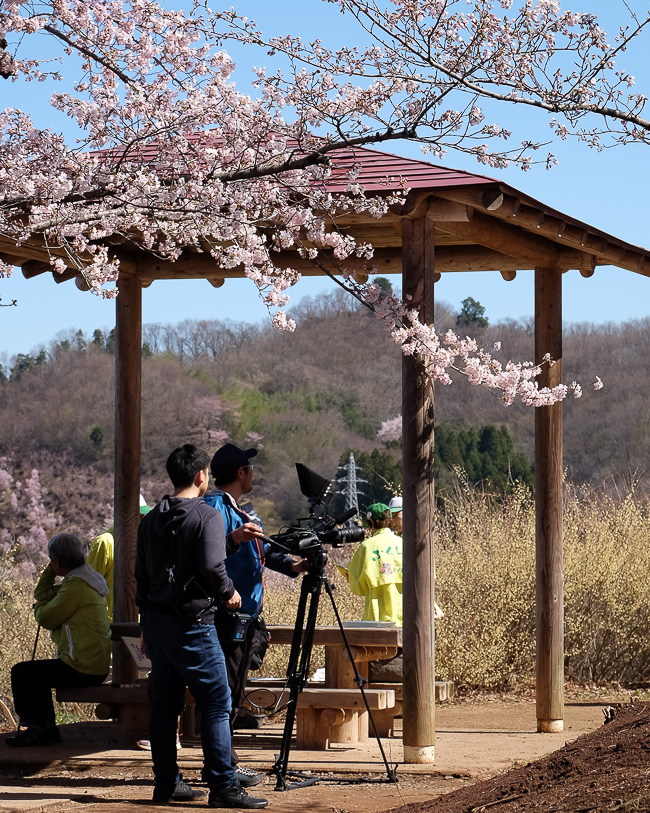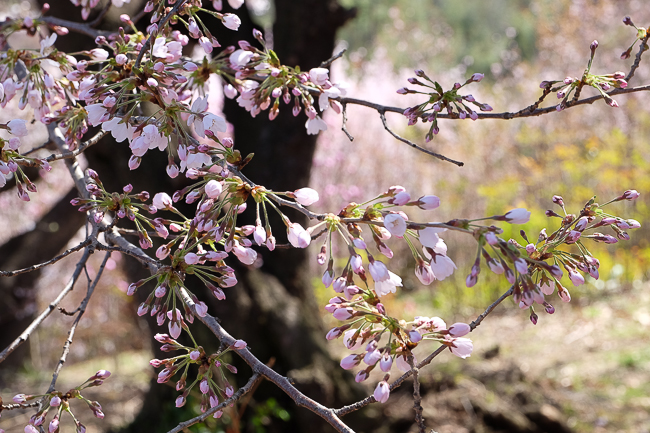 The Somei Yoshino trees really only make up a minority percentage of the flowering plants on the mountain slopes, and they are joined by a whole host of other beautiful flowering trees and shrubs including pink Camellias, yellow Forsythia and Mizuki, and white Magnolias to name a few. Not to mention more than half a dozen different types of cherry trees as well. As a result of all these flowers plants, the mountain slopes of Hanamiyama were just covered in beautiful colors as most of the earlier blooming plants were just about at their peak today.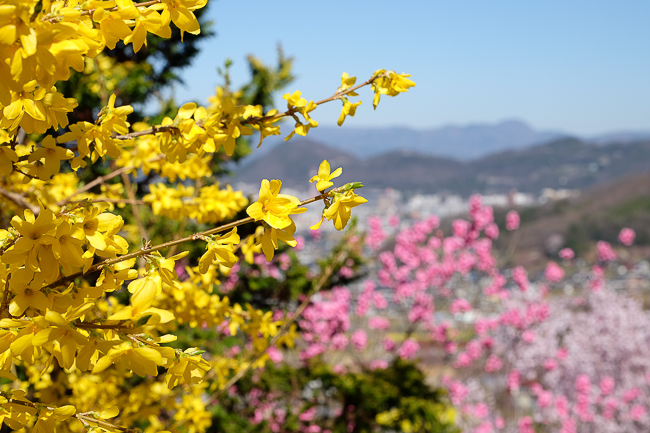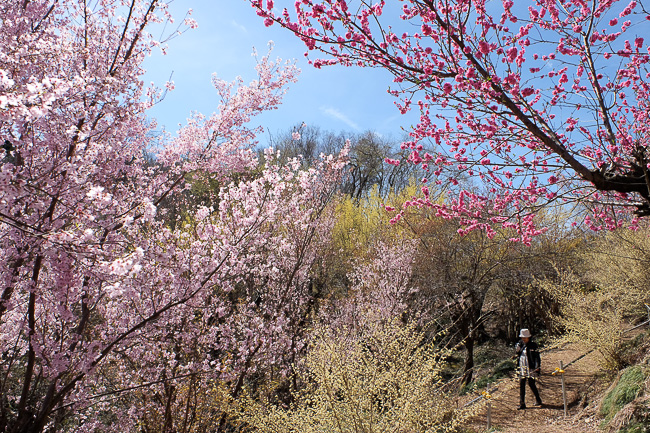 The weather was absolutely amazing during my visit, but dark clouds are on the horizon for Thursday and are forecast to bring strong enough wind and rain to do some damage to the flowers. The early blooming trees will be fairly vunerable at that point and will likely be damaged or have their seasons ended. The Somei Yoshino, however, may be strong enough to weather the storm as will the later blooming varieties which were still in their very early stages this morning.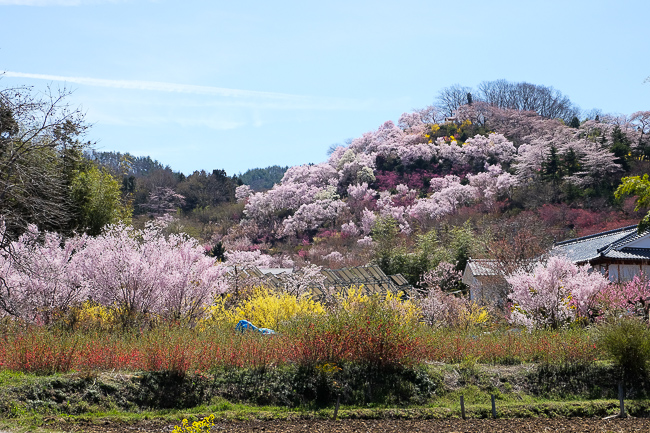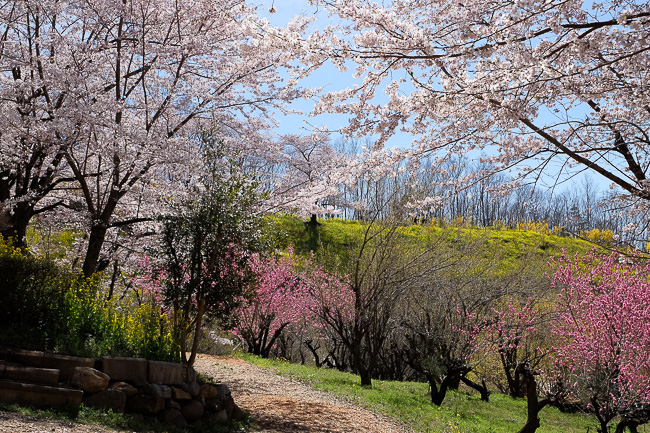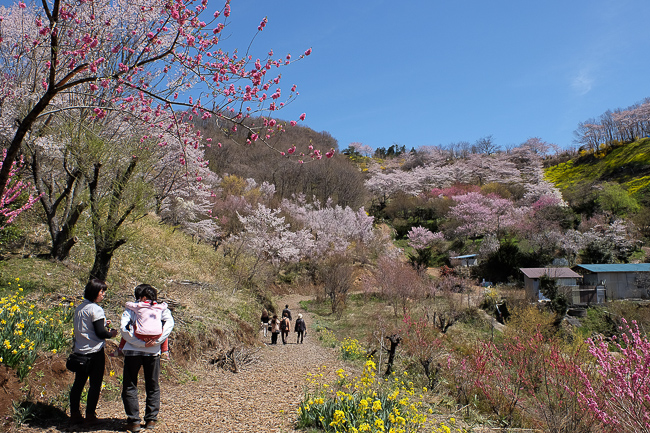 While it wasn't too crowded this morning, I would expect it to get pretty busy from here on out. Visitors can access the park via shuttle buses from Fukushima Station (500 yen round trip, frequent departures through April 29). Also consider taking a taxi, which cost a flat 1550 yen to the station.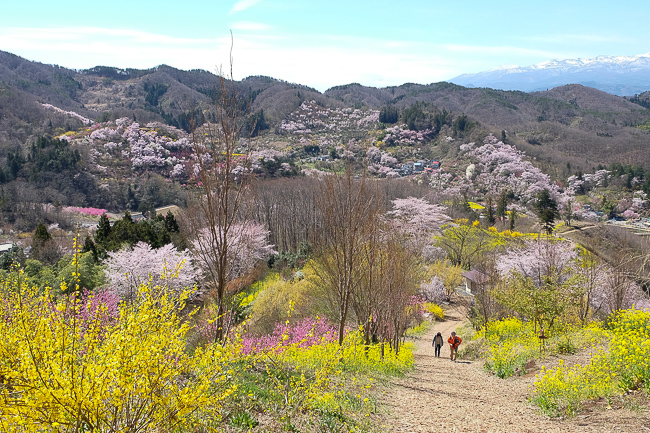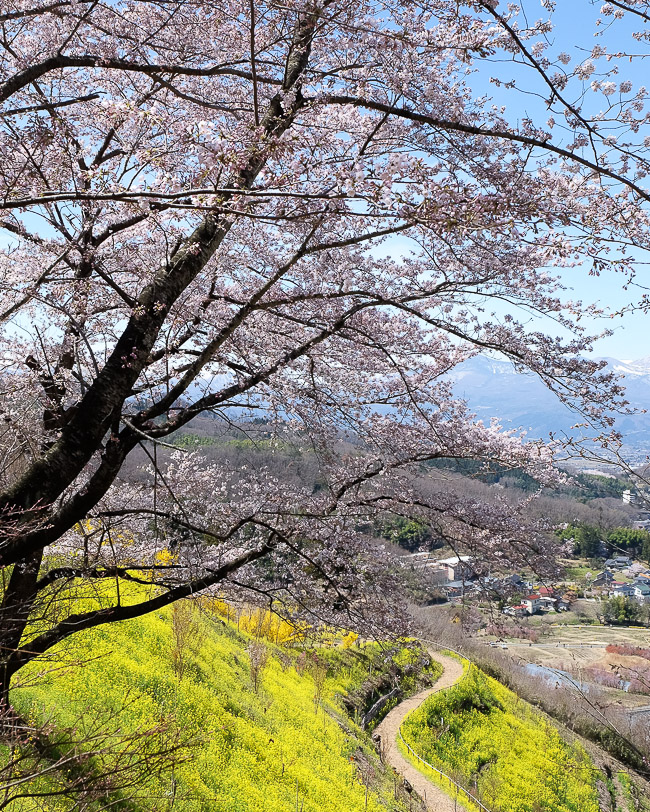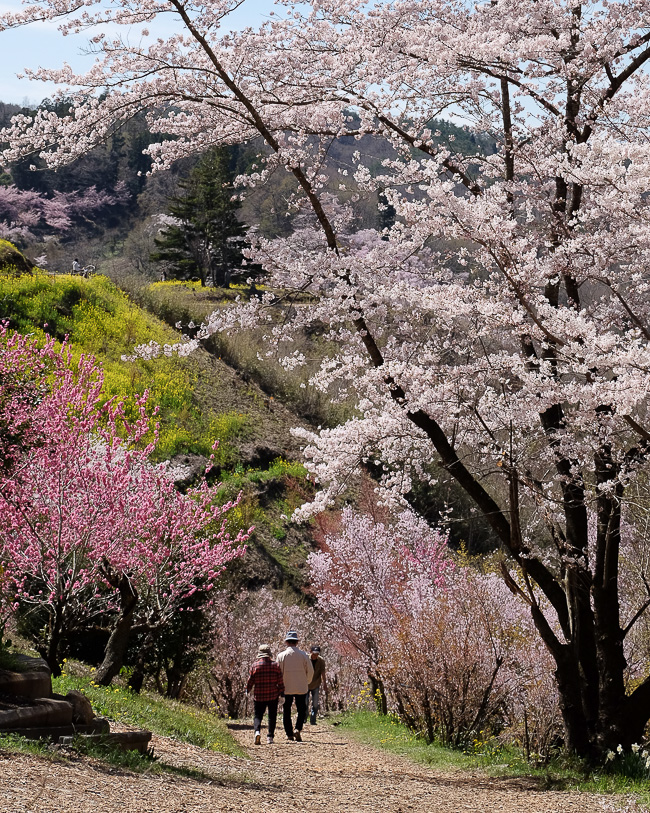 Questions? Ask in our forum.