Cherry Blossoms 2011: Okayama Report (4/12)
Cherry Blossom Report 2011
Official cherry blossom reports by japan-guide.com
This year's cherry blossom season will be overshadowed by the tremendous loss caused by the recent earthquake. However, we believe that the blossoms will serve as symbols of hope and resilience and a source of motivation along Japan's road to recovery. With this in mind, we never hesitated to go ahead with our annual reports in order to inform travelers in Japan and readers across the world about this year's cherry blossom season.
2011 Cherry Blossom Forecast - Schedule of upcoming reports - Post your own report
Popular cherry blossom spots - How to do hanami? - Cherry tree varieties
2011/04/12 - Okayama Report
by schauwecker
I wrapped up my 3-day reporting trip to Western Japan with the first ever cherry blossom report from Okayama, the second largest city in the Chugoku Region.
Korakuen Garden and Okayama Castle
April 12, 2011 - petals starting to fall
I started the day at Korakuen Garden which is ranked as one of Japan's three best landscape gardens alongside Kanazawa's Kenrokuen and Mito's Kairakuen. The garden's cherry trees were starting to drop their petals, but still looked close to full bloom today. They should remain attractive for at least a couple more days.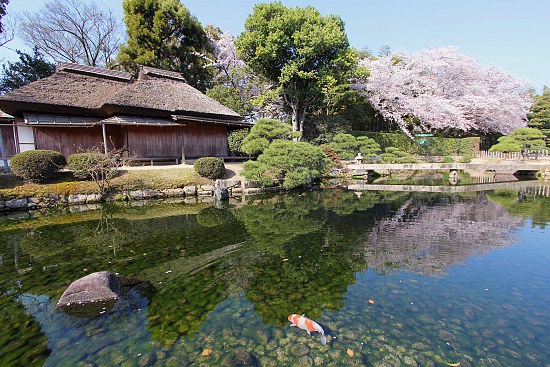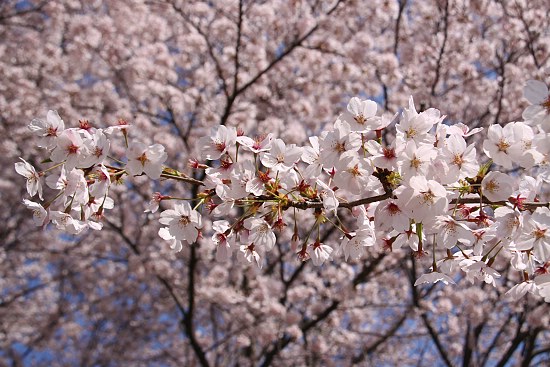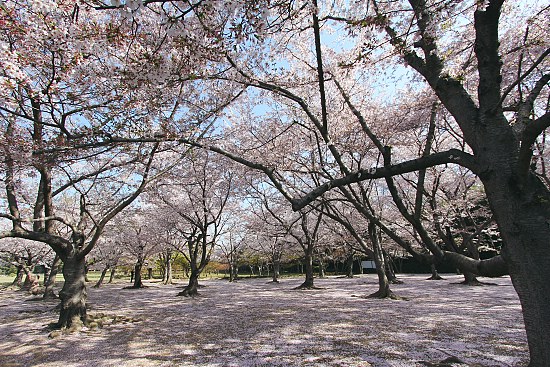 More cherry trees could be enjoyed around nearby Okayama Castle and along Asahi River, which is lined by more than 200 trees along the so called Asahi River Cherry Road (Asahigawa Sakuramichi). The trees there were at an identical state as the trees in Korakuen.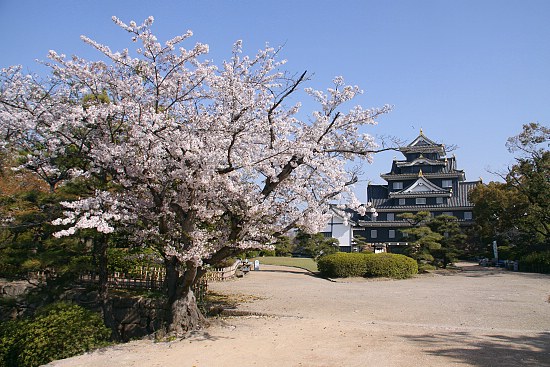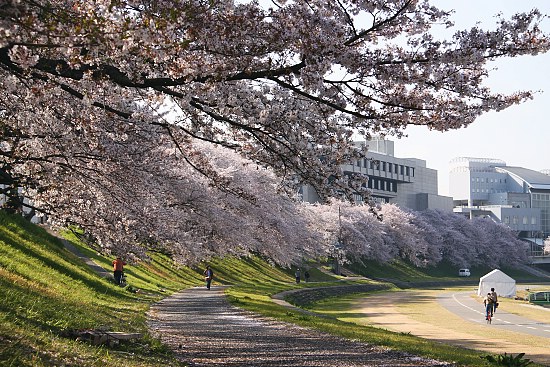 Handayama Botanical Garden
April 12, 2011 - petals starting to fall
One thousand cherry trees, including 700 Somei Yoshino trees are planted on the grounds of Okayama's Handayama Botanical Garden, one of the most spectacular hanami spots that I have visited this year so far.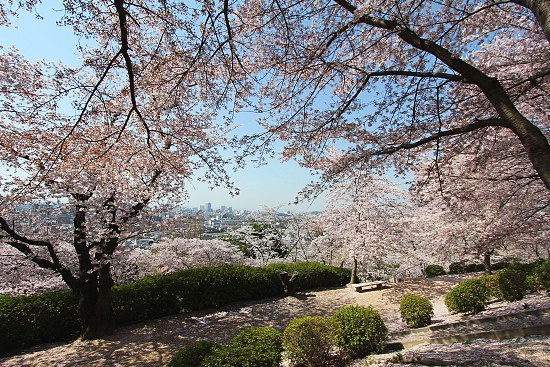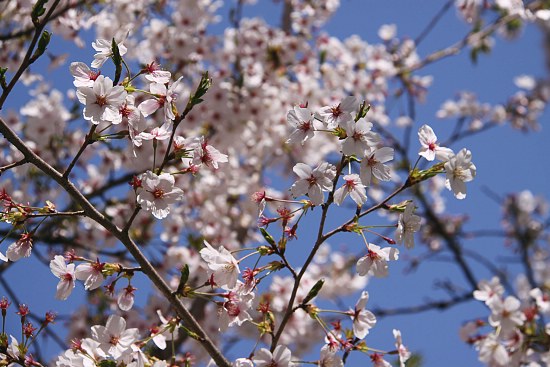 The botanical garden is located along a hillside with cherry trees planted on multiple levels, making for some amazing sights in combination with views of the city. Many benches and a few lawned areas provide visitors with opportunities for a picnic or rest under the trees.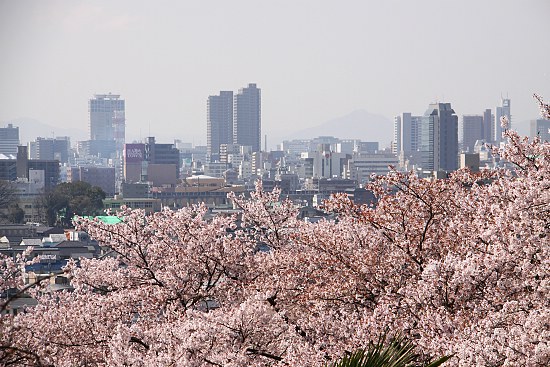 Although petals have started to fall, the trees were still at their best today and should remain enjoyable for a few more days to come. Whether they can carry their seasonal beauty into the weekend, however, is questionable.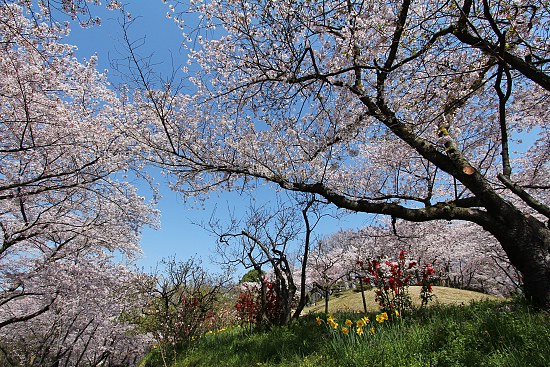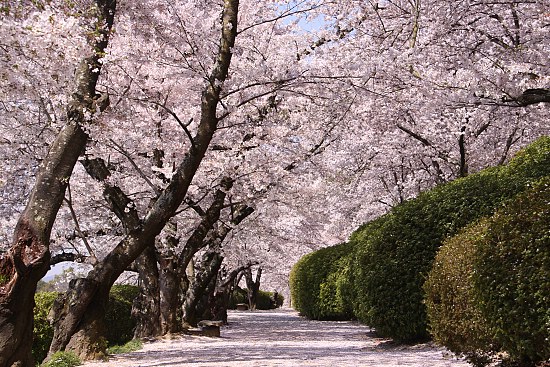 Takebenomori Park
April 12, 2011 - approaching full bloom (50-80%) (weeping cherries)
April 12, 2011 - full bloom (Somei Yoshino)
Takebenomori Park is a spacious park in the hills north of Okayama, a 45-60 minutes car drive from Okayama Station. About 15,000 spring flowering trees of one hundred different varieties have been planted across the park. Lawned areas with views into the hills and wooden platforms for picnics provide a wonderful atmosphere for hanami activities.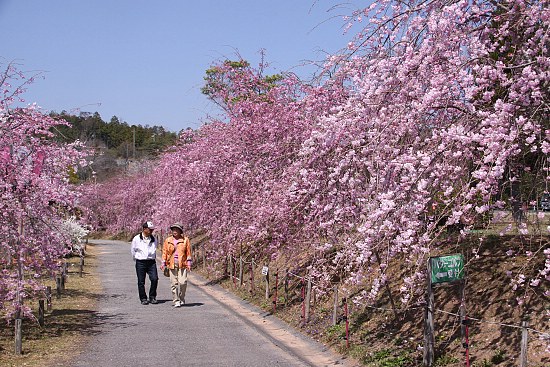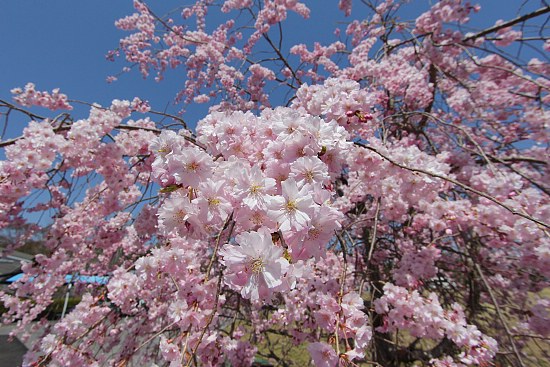 Many of park's trees are cherry trees. Most numerous among them are weeping cherry trees with more than five, dark pink petals per blossom (yae-beni-shidare-zakura). They were approaching full bloom today and needed only a few more hours of warmth to open up their remaining buds.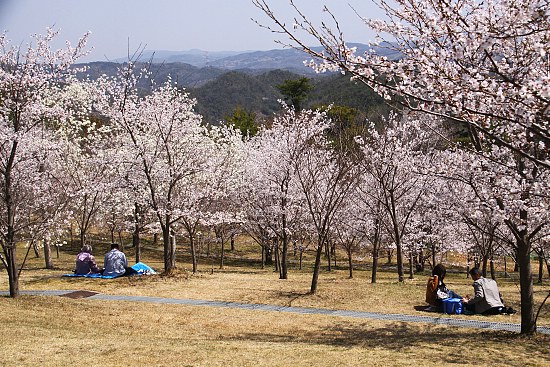 Also numerous are Somei Yoshino trees, which stood already at full bloom today. Many other cherry tree varieties can be found in smaller numbers across the park. The late flowering varieties among them should provide park visitors with hanami opportunities through the rest of April.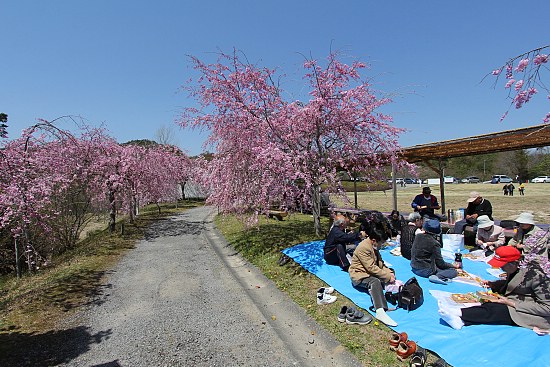 Questions? Ask in our forum.