Cherry Blossoms 2012: Fukuoka Report (4/4)
Cherry Blossom Report 2012
Official cherry blossom reports by japan-guide.com
2012 Cherry Blossom Forecast - Schedule of upcoming reports - Post your own report
Popular cherry blossom spots - How to do hanami? - Cherry tree varieties
2012/04/04 - Fukuoka Report
by sean
If you haven't already noticed, castles - or the remains of them - are usually good places to do hanami (cherry blossom viewing). If you happen to be in Japan during the cherry blossom season and do not know where to go to see them, the nearest castle, should there be one, is likely to offer at least decent views.
Today we move north to Fukuoka, Kyushu's most populous city. After yesterday's gales across Japan, most cities woke up to sunny weather today. However, it has been forecasted that many cities in the Tohoku Region, Hokkaido, and some cities along the Sea of Japan are to experience strong winds for another day or two; good thing for the cherry blossoms in these areas that they are still hiding in their calyxes at the moment, and are thus protected from the rigors of the wind.
Fukuoka Castle Ruins (Maizuru Park)
April 4, 2012 - Full bloom
We were excited at the prospects of seeing nice cherry trees at their peak today, and were not disappointed by the many we saw here. Even from a distance, we could see the unmistakable pinkish white of the cherry blossoms; they were dense with color, suggesting that it is currently peak season at this location.
Despite today being a weekday, healthy crowds were at the park, happily seated on neatly placed picnic mats under the shade of the cherry trees, enjoying hanami. Judging by the amount of food and drinks some brought with them, I think they are probably intending to stay till dusk to catch the night illuminations of the cherry trees, which is held from 18:00 to 22:00 daily. Festivities which feature the night illuminations and festival food stalls will be until April 8, about the time when the ephemeral cherry blossoms here at Maizuru Park are expected to start fading away.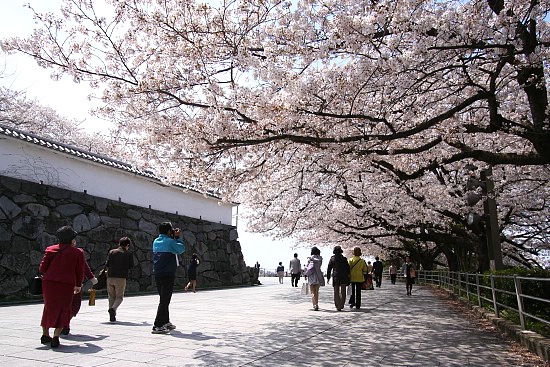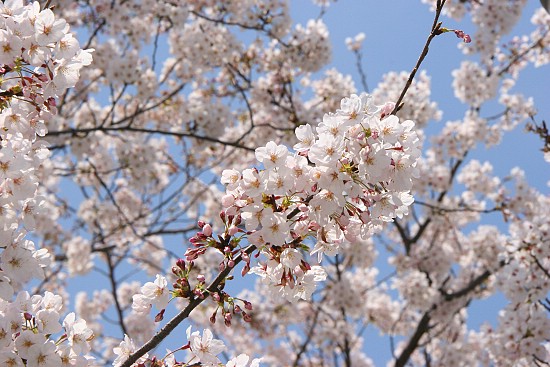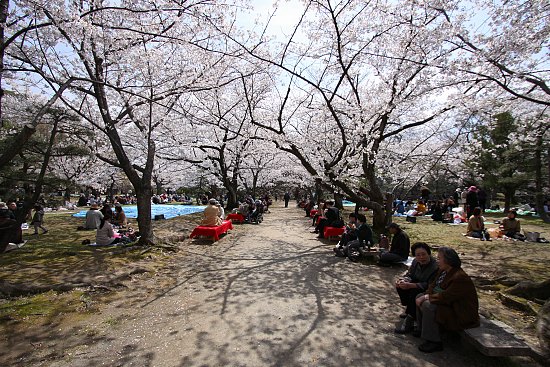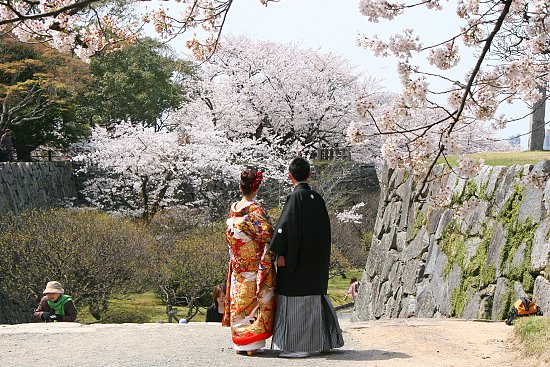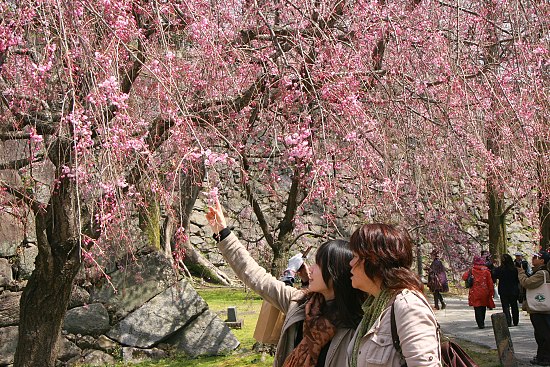 Uminonakamichi Kaihin Park
April 4, 2012 - Full bloom
We made our first trip to the Uminonakamichi Kaihin Park (海の中道海浜公園), a large seaside park with a zoo, jungle gyms and playgrounds for children, many open spaces for picnics to be held, and various types of flowers on display all year round.
The park is nicely done with wide streets for strolls, and a route demarcated with blue lines specially for bicycles. A long section of the cycling path was lined with rows of cherry trees with fully blossomed flowers. The cherry trees were of Somei Yoshino and Oshimazakura varieties, producing a nice mixture of different cherry blossoms to look at. It should remain pleasurable to view the cherry blossoms here for about another week.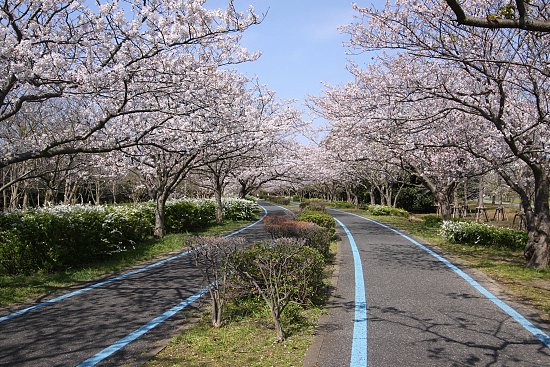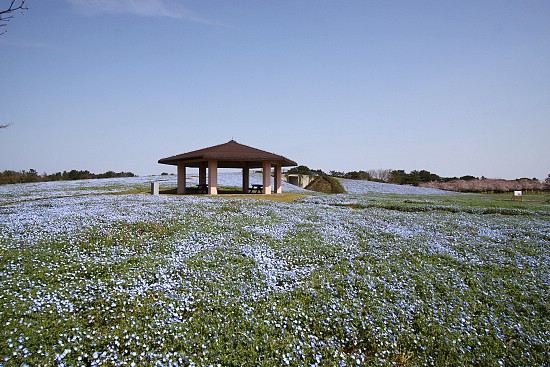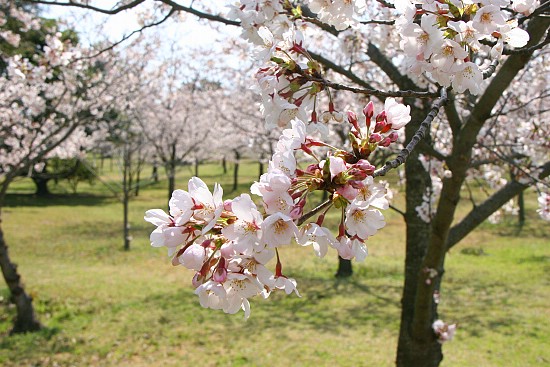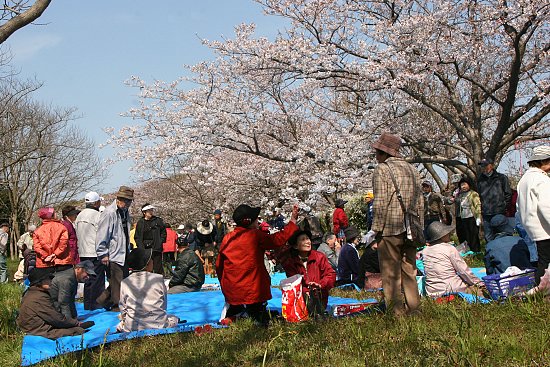 Atago Shrine
April 4, 2012 - Full bloom
The state of the cherry blossoms at Atago Shrine was similar to that at Maizuru Park: they were also at full bloom and the window of their peak state should remain open for about another 5 days.
Atago Shrine is located at approximately 68 meters above sea level, and is well-known for its shrine grounds which offer a panoramic view of Hakata Bay, including the iconic Fukuoka Tower.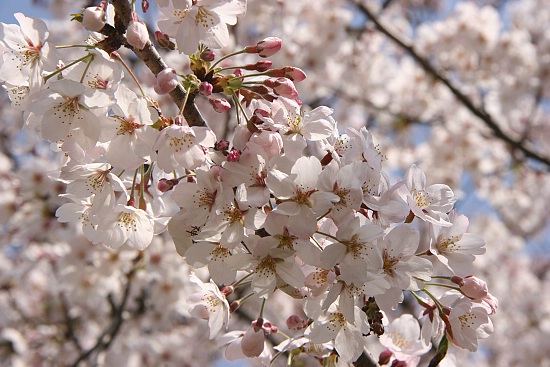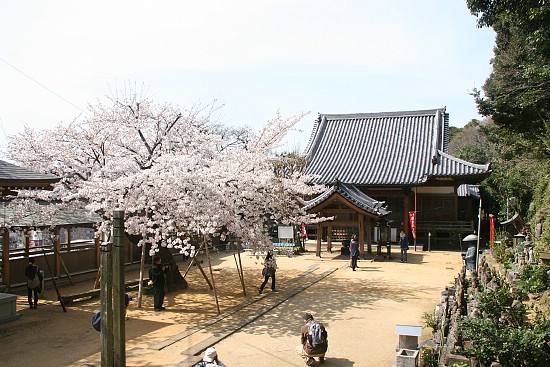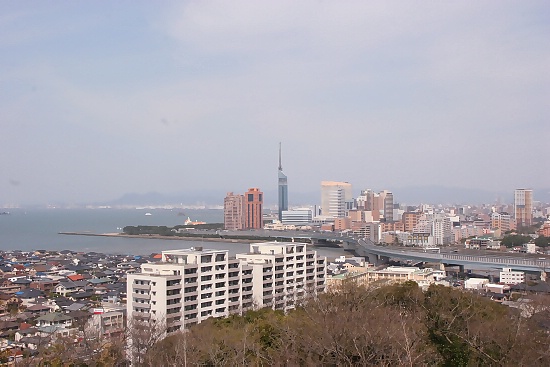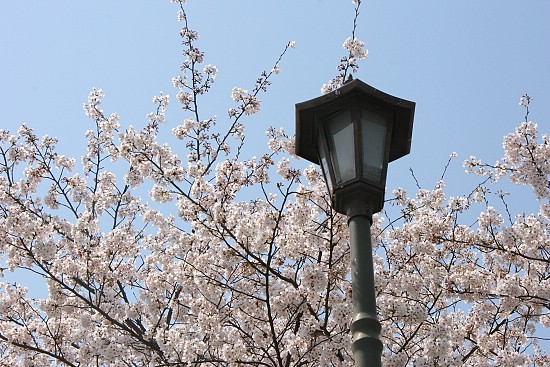 Questions? Ask in our forum.