Cherry Blossoms 2014: Kyoto Report (4/3)
Cherry Blossom Report 2014
Official cherry blossom reports by japan-guide.com
2014 Cherry Blossom Forecast - Schedule of upcoming reports - Popular cherry blossom spots
How to do hanami? - Cherry tree varieties - Post your own report
2014/04/03 - Kyoto Report
by raina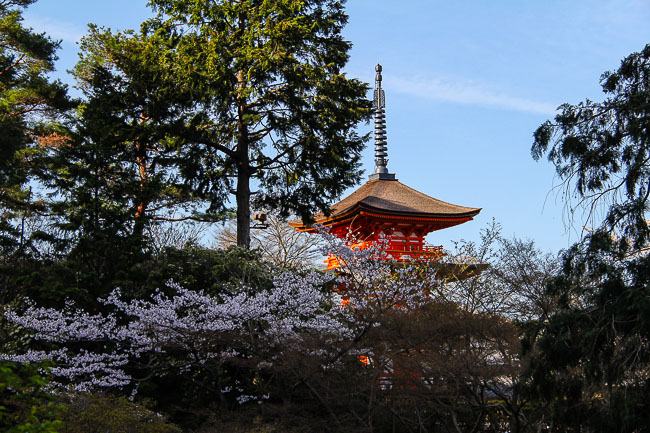 A pagoda with some cherry blossoms
After being in Tokyo and Nagoya the past two days, it was finally my turn to visit Kyoto after Sean and Scott. You can read their Kyoto reports from April 1, here and from March 29, here.
With the continuing warm weather, many cities across Japan are reaching full bloom status. The flowers in Tokyo are still at their peak according to Scott's report yesterday. Over in the Kansai region, the cherry trees in Kyoto and Osaka are officially in full bloom as of yesterday.
The temples and narrow streets in Kyoto make for a very pretty backdrop, and especially more so during the cherry blossom season. It seems to be a popular thing to do as half the couples were not Japanese. Today's tally for wedding photo-shoots in Kyoto was eight.
Kiyomizudera
April 3, 2014 - full bloom
My first stop for today was one of Kyoto's most popular cherry blossom spots, Kiyomizudera Temple. It is always crowded with visitors, and even more so during the cherry blossom season. I went early in hopes of avoiding the crowds and was somewhat successful.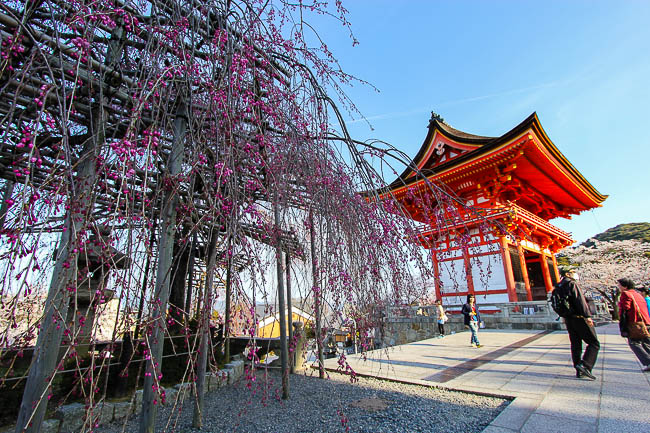 Weeping cherry tree and the niomon gate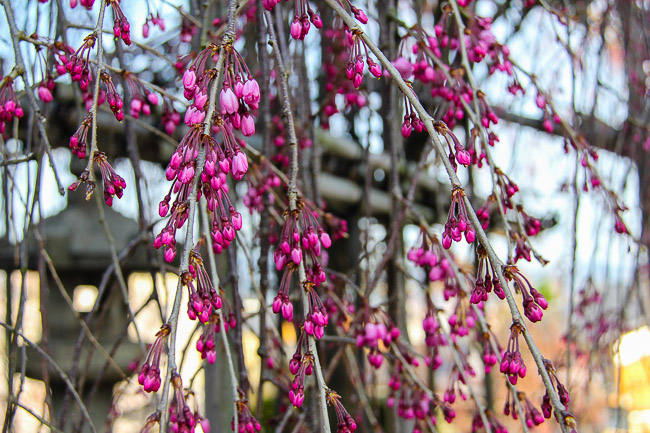 Close up of the weeping cherry buds
The cherry trees in Kiyomizudera Temple were at full bloom and are expected to remain at their peak for a few more days. There was also a big weeping cherry tree at the entrance of Kiyomizudera Temple that just opened. The best views of the cherry blossoms at Kiyomizudera Temple are around the pond near the exit of the temple. Although there is rain forecast for tonight and tomorrow, it should not have too much of an impact on the current state of the flowers.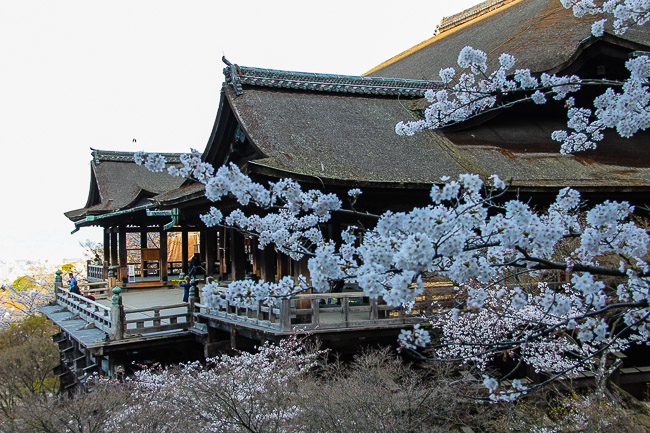 The last time Scott took a similar picture, these flowers were just buds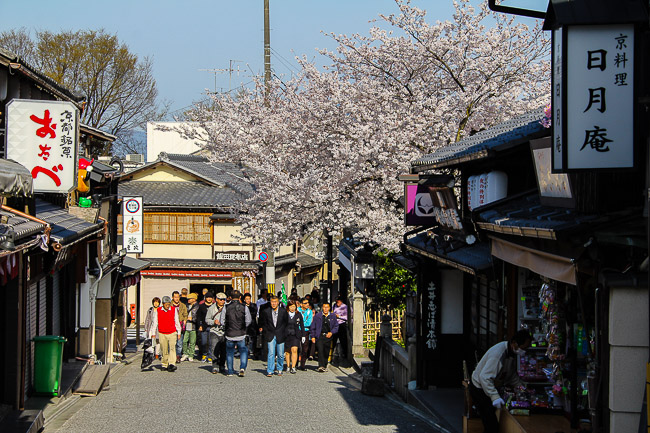 The hordes of visitors arriving just as I leave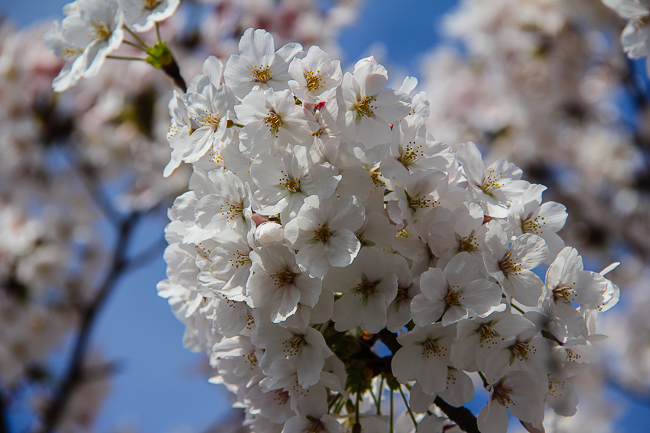 Close up of the Somei Yoshino variety
Kiyomizudera Temple will be lit in the evenings from 18:30 to 22:00 (entry until 21:30) until April 13, and costs 400 yen admission. Also note that there is ongoing construction happening around the temple that has a small impact on the views.
Philosopher's Path
April 3, 2014 - full bloom
After beating the crowds at Kiyomizudera Temple, I headed northeast towards the Philosopher's Path. Philosopher's Path (tetsugaku-no-michi) is a cherry tree lined pedestrian path between Ginkakuji and Nanzenji Temple. It is also one of the top 100 paths in Japan. I tried looking for the sign, set in stone, that confirms it, to no avail.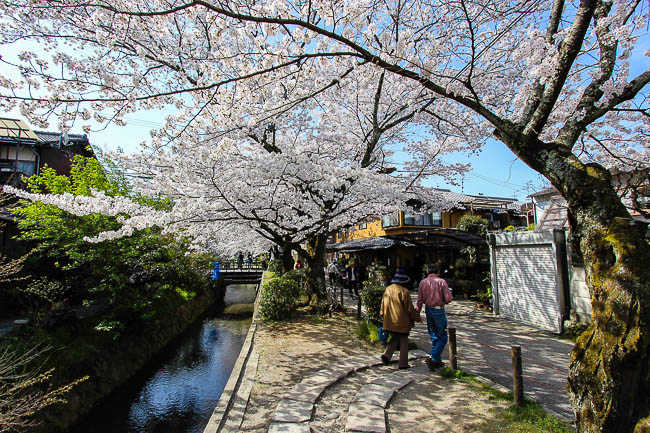 Good day for a date in Kyoto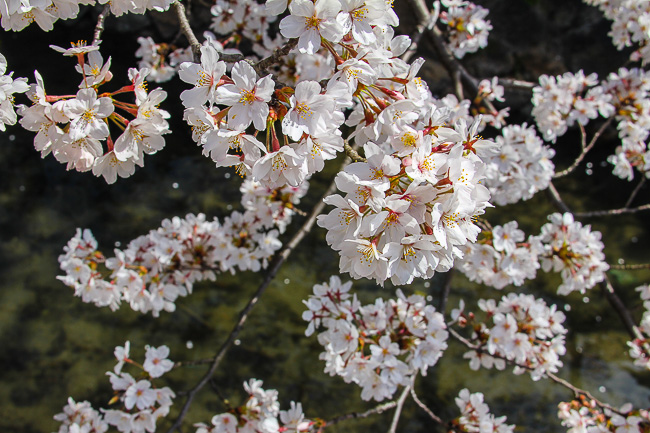 Cherry blossoms over the river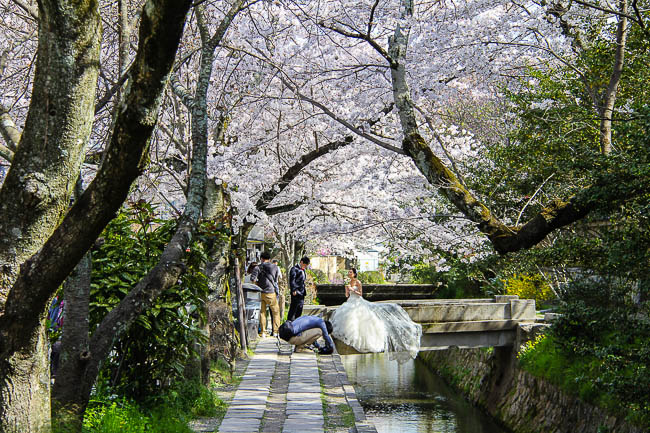 Western-style wedding clothes
It was beautiful to walk under the cherry trees on the Philosopher's Path. The path is well paved and has no slopes, making for an easy stroll from one end to the other. With the cherry trees in full bloom, and the agreeable weather, I expect the flowers to remain at their peak for a few more days.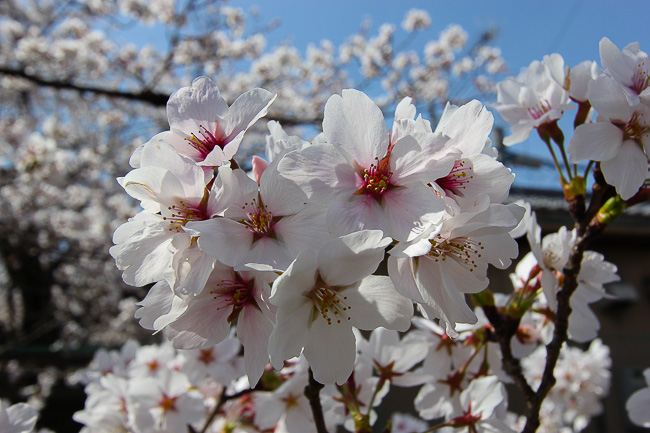 More flowers in bloom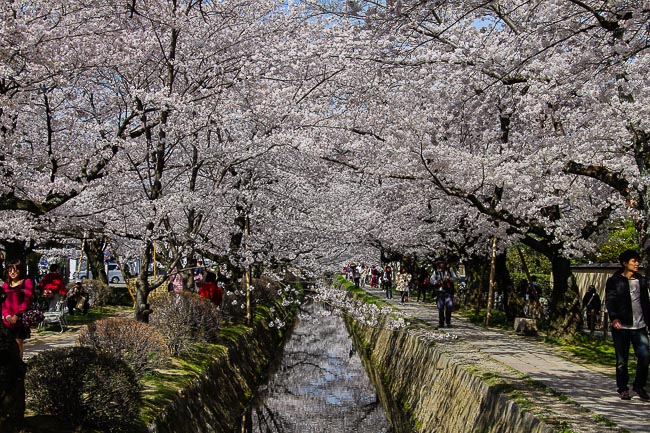 The path was sheltered by the open flowers
Kamogawa Riverside
April 3, 2014 - full bloom (Somei Yoshino)
April 3, 2014 - opening 10-50% (Weeping Cherry Trees)
I hopped on the bus and headed north towards Kamogawa River. Kamogawa runs from northern Kyoto, the same long and wide river that flows through Kyoto city. Today, I headed to the part of Kamogawa that is near Kyoto Botanical Garden, where Kitaoji Street crosses the river.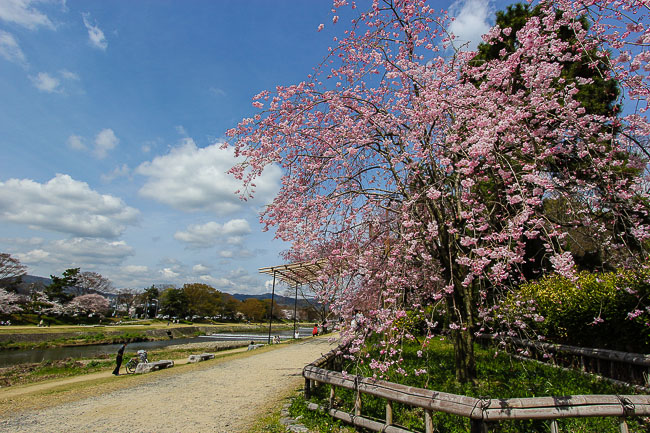 Weeping cherry trees on one side of Kamogawa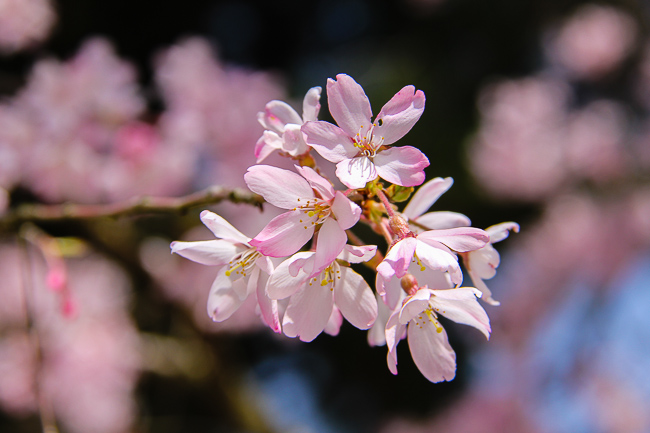 A close up of the flowers
There were lots of weeping cherry trees on one side of the riverbank that were opening. On the other side were Somei Yoshino trees that were already in full bloom. I saw many people picnicking, cycling and strolling along the riverbanks.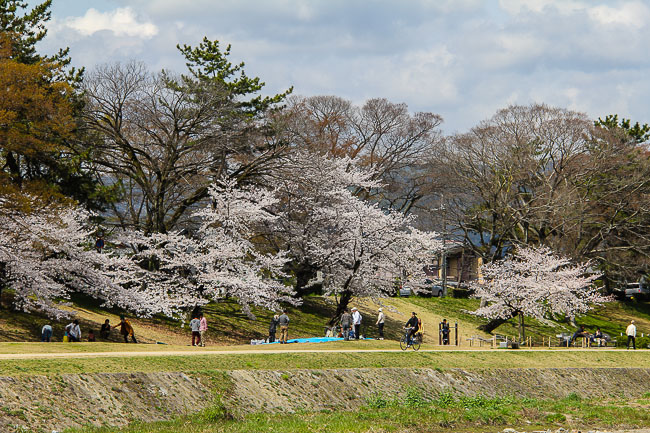 Somei Yoshino trees on the other side
Kyoto Botanical Garden
April 03, 2014 - full bloom (Somei Yoshino)
April 03, 2014 - opening 10-50% (weeping cherry trees)
Kyoto Botanical Garden is eight kilometers north of Kyoto Station, or a 20 minute ride on the Karasuma Subway Line. It was my last and favorite stop for today. It costs 200 yen to enter the garden, or if you are over 70, entry is free. The cherry tree area is also lit from sundown till 21:00 (last entry at 20:00) until April 13.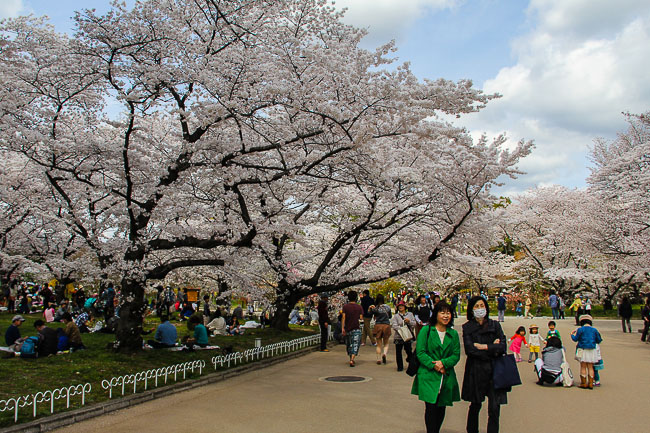 Having a great time at the garden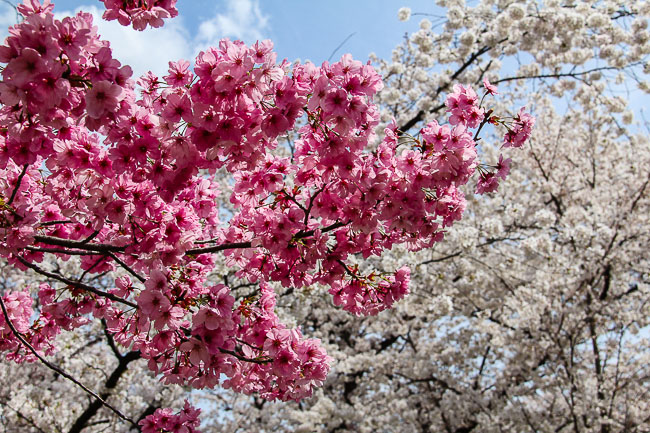 Dark pink cherry blossoms on white cherry blossoms
There is a cherry tree grove with a mixed variety of cherry trees. The later blooming weeping cherry trees were at 10-50% and the Somei Yoshino were at full bloom. Needless to say, Kyoto Botanical Garden was also crowded with visitors enjoying the flowers in bloom. In addition to cherry trees, the garden also ha tulips, hyacinths and narcissus. There is also a begonia exhibition (additional fees apply) running until April 13.
The cherry cultivars area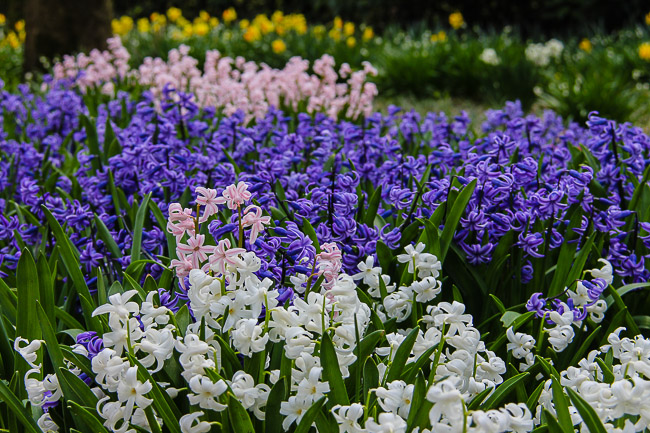 Hyacinths growing in the garden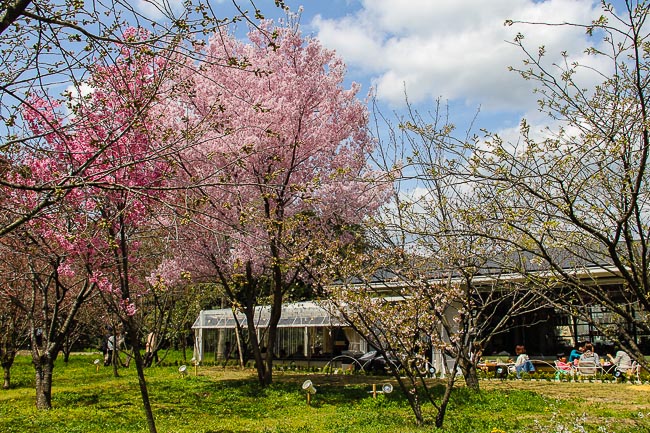 If you fancy eating in a garden, come to the cafe in Kyoto Botanical Garden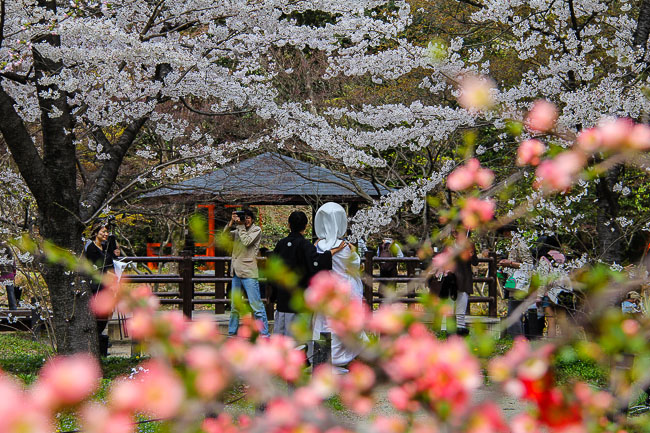 Japanese-style wedding clothes
Questions? Ask in our forum.