Cherry Blossoms 2014: Osaka Report (4/13)
Cherry Blossom Report 2014
Official cherry blossom reports by japan-guide.com
2014 Cherry Blossom Forecast - Schedule of upcoming reports - Popular cherry blossom spots
How to do hanami? - Cherry tree varieties - Post your own report
2014/04/13 - Osaka Report
by raina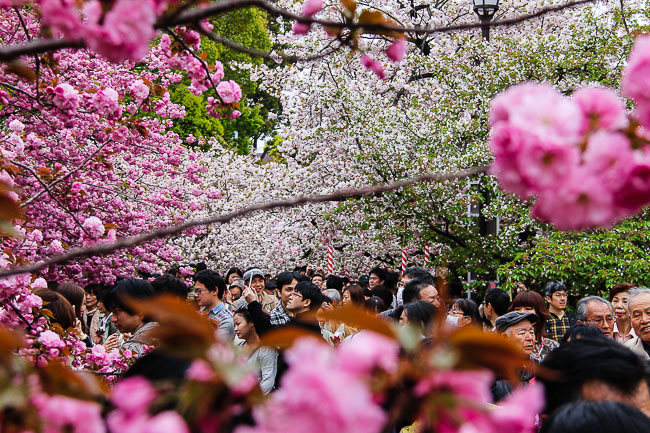 The crowd of people and flowers at the Osaka Mint Bureau
Yesterday I mentioned that Sendai and Fukushima had their cherry blossom season open on the 7th and 8th respectively. These two cities reached full bloom status officially as of April 11. Scott will be heading to these two places in the next few days, so watch out for his reports. As for me, I made my way towards Osaka today to see how the cherry blossoms were.
Osaka Castle
April 13, 2014 - end of season
My first stop for today was Osaka Castle. As usual, there were many visitors to the castle. The last time I visited Osaka Castle, the cherry trees had petals falling. Today however, the cherry trees at the castle were looking very sparse and lacking blossoms. The cherry trees at Nishinomaru Garden were also lacking blossoms, but that did not stop visitors from picnicking there.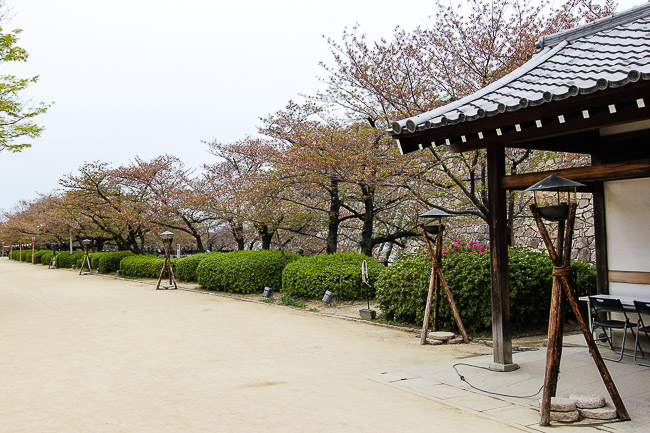 Cherry trees in Nishinomaru Garden looking more leafy these days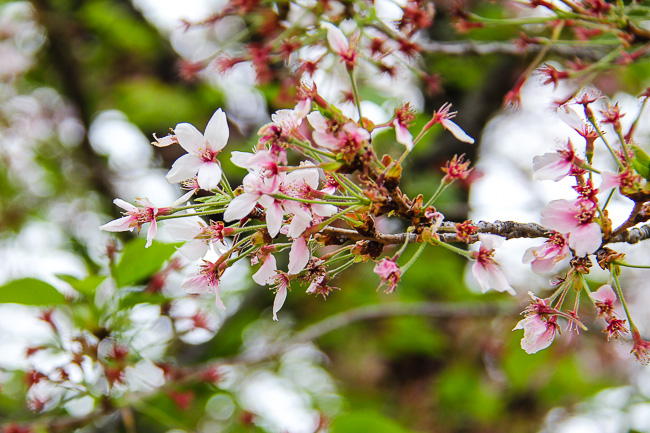 Petals hanging on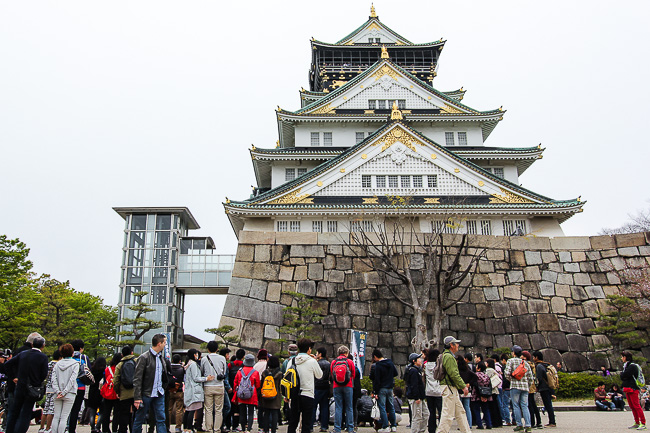 Visitors watching a street performer in front of the castle
Osaka Mint
April 13, 2014 - approaching full bloom (50-80%)
After a quick visit to the castle grounds, I headed towards Osaka Mint. The 600 meter long cherry tree lane at Osaka Mint has about 350 cherry trees and over 100 different varieties. A large number of the cherry trees are of the late blooming variety, and most of them were about 50-80% opened when I visited today. Entrance is free and it is open from 10:00 to 21:00 (last entry 20:30) till April 17. There is also a light up in the evenings from sunset till close.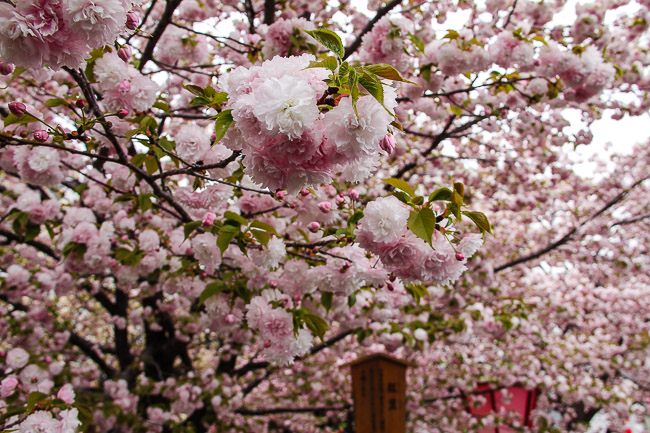 Looks like the sky is covered with flower bunches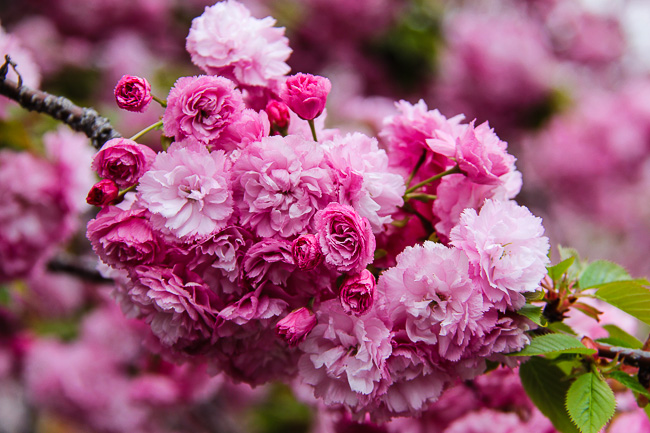 I wonder how all those petals can be hidden in such a small flower bud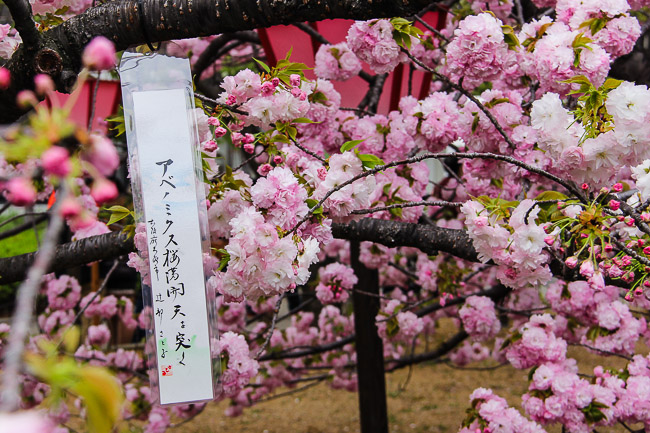 Haiku on the tree branch
The cherry tree lane at Osaka Mint was very crowded when I was there, and it was difficult to walk properly at times. However, the sheer number of opened blossoms made up everything. A lot of the cherry trees had large bunches of flowers that reminded me of pompoms. Everyone was excited to see the opened blossoms and many people were taking pictures of them as well as with them. Each tree has a haiku hanging from it and visitors were also welcomed to submit their own. I also saw some flower damage which was unfortunate, as people bumped into the branches when they walked by and some visitors who grabbed the flower bunches for a feel.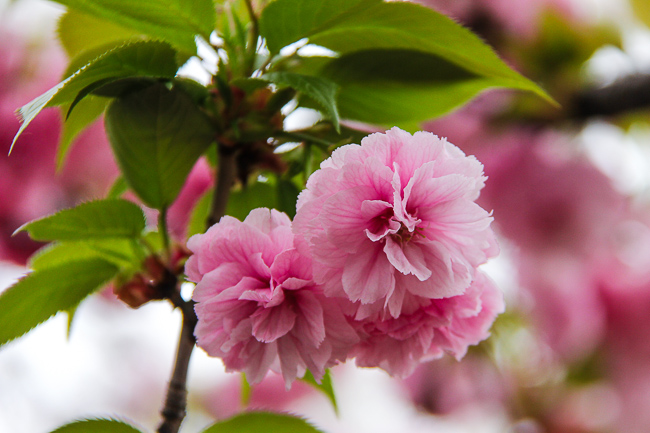 This year's flower, Matsumae-Kotoito Zakura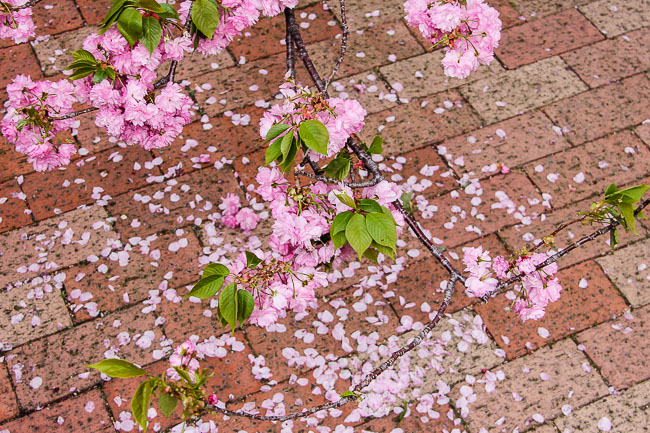 Some damage spotted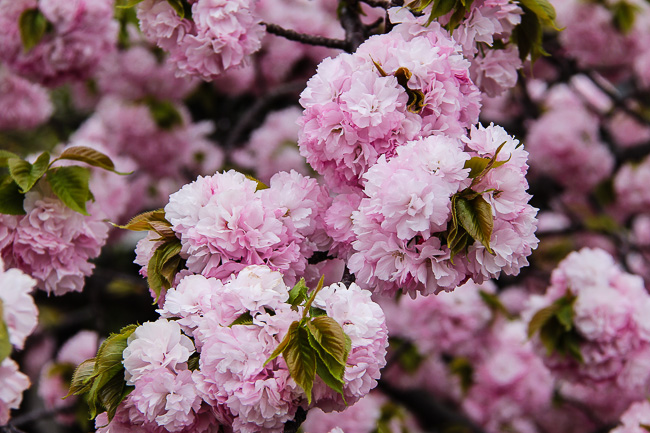 Moreo flower pompoms
Kema Sakuranomiya Park
April 13, 2014 - end of season
To round up my Osaka trip, I walked along Kema Sakuranomiya Park. Like Osaka Castle, the cherry trees here no longer have many blossoms left. However, because of the cherry blossom viewing event at Osaka Mint, there were many food and drink, and game stalls along the riverside. Needless to say, these stalls were very popular with the visitors and had good business.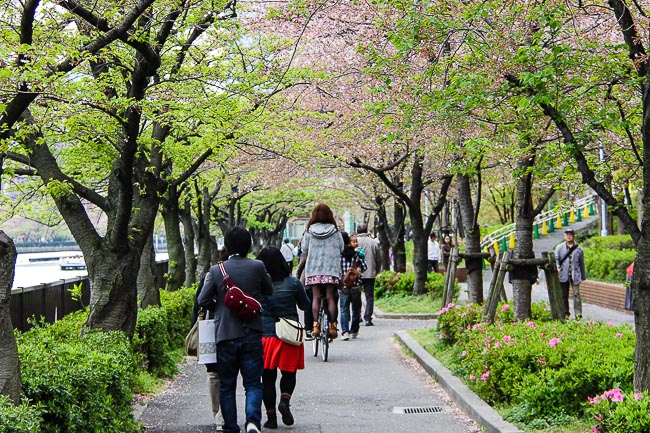 There's more green here compared to a week ago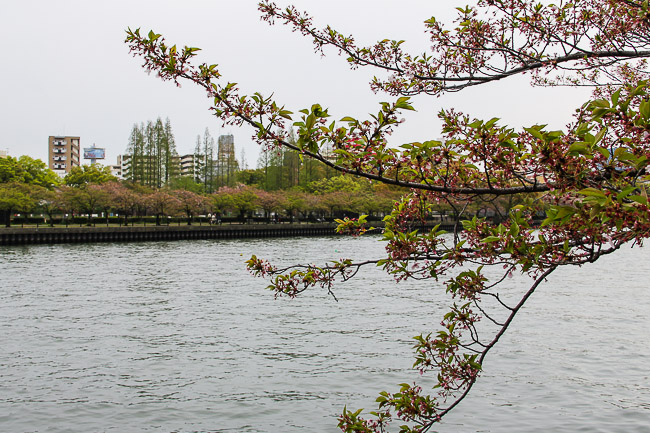 No more petals left on the cherry tree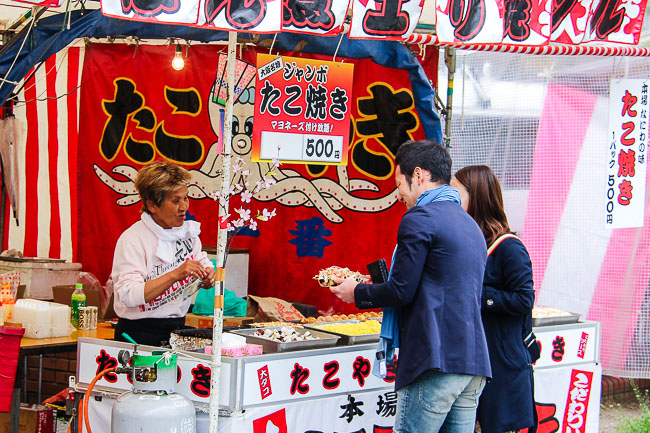 Getting some takoyaki from a food vendor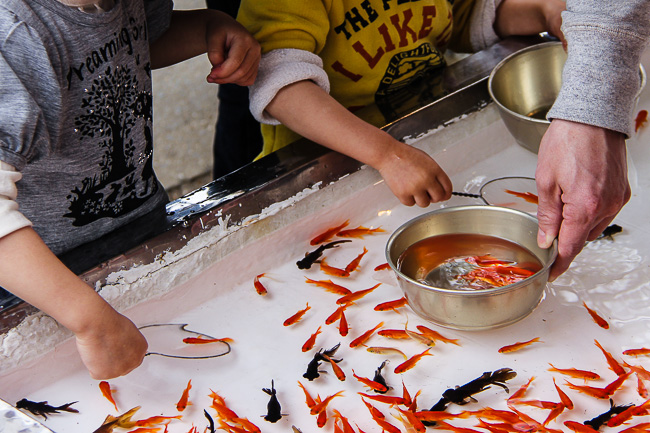 Fishing with paper nets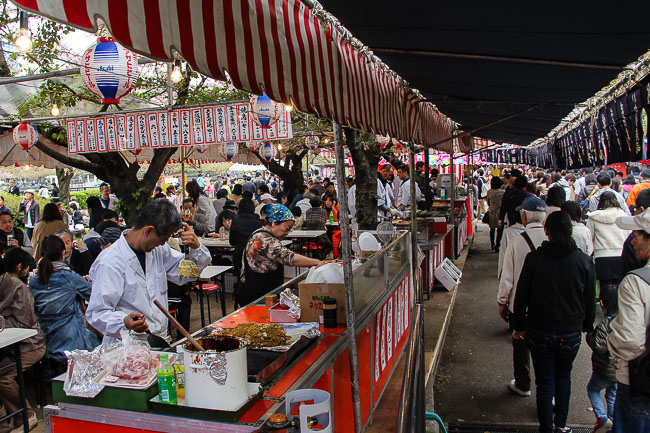 Lots of food available here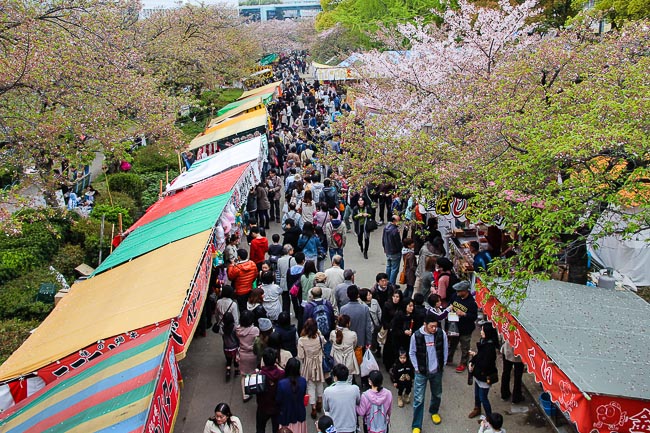 A bird's eye view of the food and drink stalls in the park
Himeji Castle
April 13, 2014 - beyond peak
As a quick side trip, I also visited Himeji Castle, located about an hour away from Osaka. Renovations on Himeji Castle started five years ago, and now that the renovation work is wrapping up, the scaffolding surrounding the castle is supposed to be removed from August this year. The interior of the castle is slated to re-open for viewing from March 27 next year.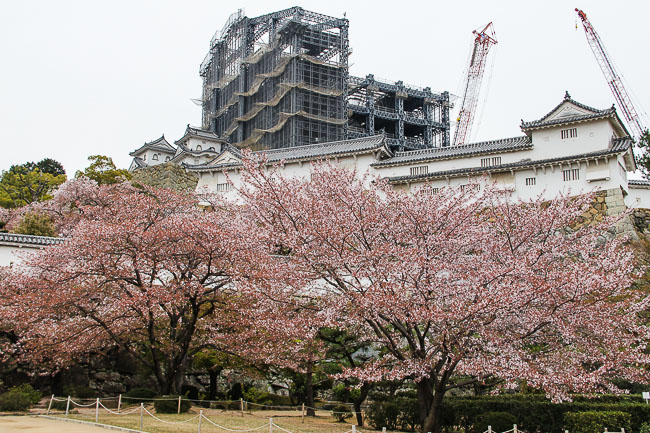 Cherry trees in front of the covered castle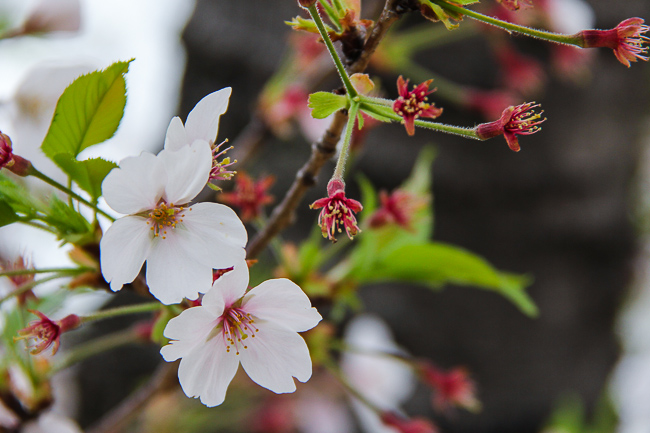 Not many blossoms left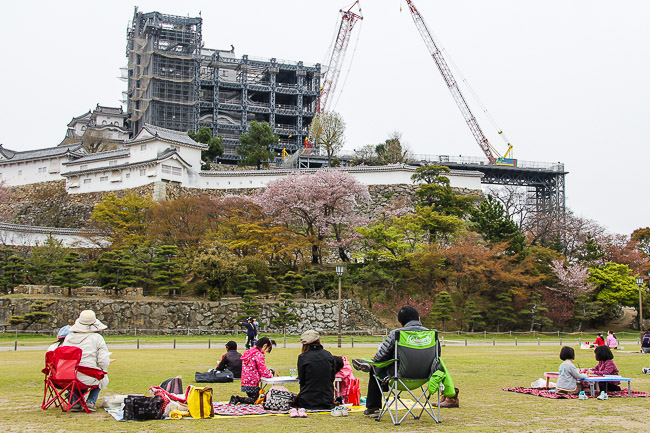 There was an art event for kids to draw Himeji Castle on the castle lawn
The cherry trees along the main avenue up to the paid entrance gates are beyond peak. However, there are a few trees around that have more blossoms left. Unless, you come within the next two days, it would be difficult to see the flowers at Himeji Castle.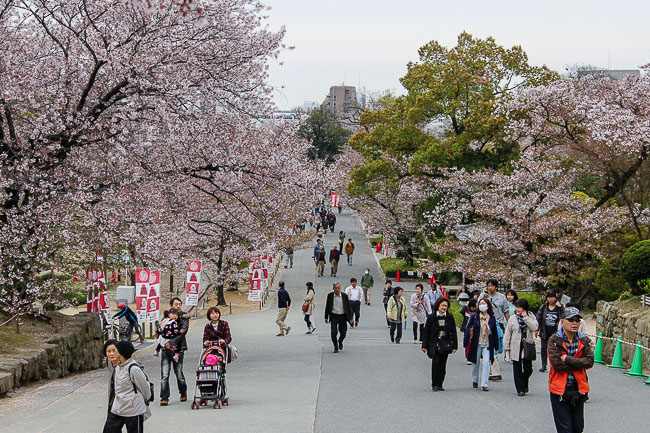 Visitors walking up the main avenue to the paid entrance gates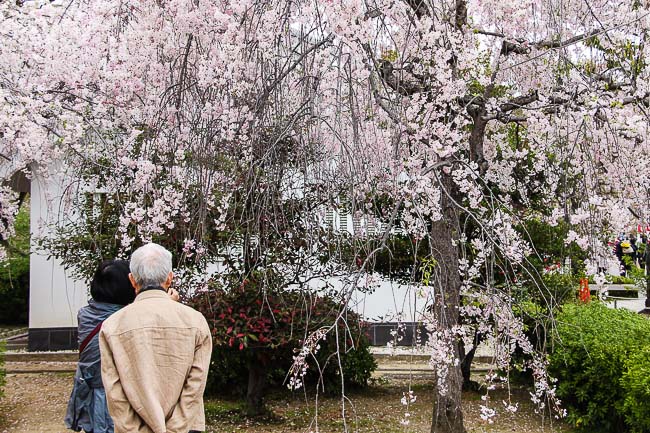 A weeping cherry tree on the castle grounds still in bloom
Questions? Ask in our forum.