Cherry Blossoms 2009: Kyoto Report (4/4)
Cherry Blossom Report 2009
by japan-guide.com
This is the official japan-guide.com cherry blossom report for 2009. Please visit also our guide to cherry blossoms for more general information and forecasts.
2009/04/04 - Kyoto Report

by francois
Kyoto Imperial Park
April 4, 2009 - approaching full bloom (50-80%)
Kyoto Imperial Park is a large park built around Kyoto Imperial Palace. While entry into the inner grounds of the palace is only possible on guided tours and with advance reservation, the spacious park surrounding the palace is open to the public and has a variety of cherry tree varieties, including Somei Yoshino, Yamazakura and weeping cherry trees (shidarezakura).
The cherry trees at the Kyoto Imperial Park are currently at about 60% bloom. The park's Yamazakura are quite advanced, as are the weeping cherry trees. Some of the weeping cherry trees in the park's north have even already passed their flowering peak.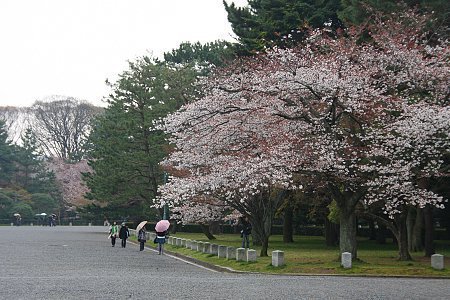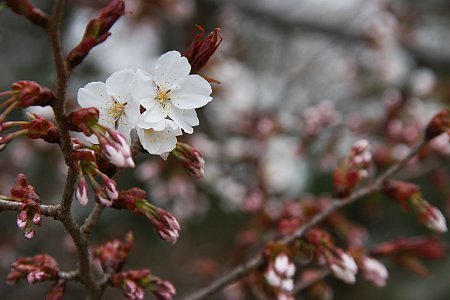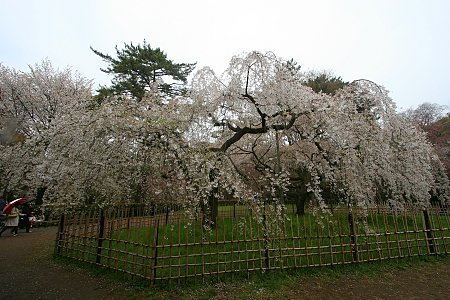 ---
Maruyama Park
April 4, 2009 - opening (10-50%)
One of Kyoto's most famous spots for viewing cherry blossoms, Maruyama Park has hundreds of cherry trees and one particularly famous weeping cherry tree (shidare-zakura). Many vendors sell food along the paths in the park, and there are always many cherry blossom viewing parties (hanami) taking place. Today, because of the rain, it was not as busy as usual.
The flowers at Maruyama Park are still not very advanced. Trees generally have only about 50% of their flowers opened. The park's famous shidare, however, is nearing full bloom, and makes for one of the highlights in the area with so many flowers still closed.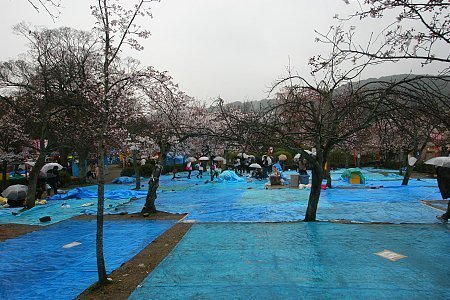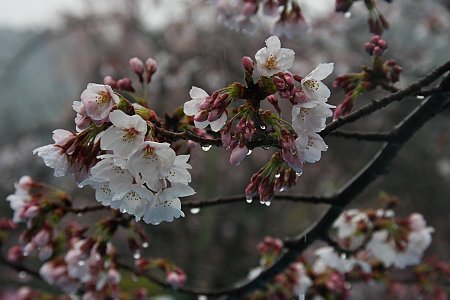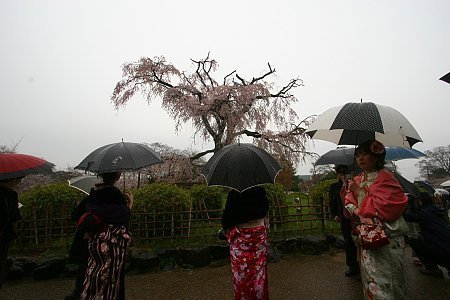 ---
Heian Shrine
April 4, 2009 - opening (10-50%)
The garden of Heian Shrine is located behind the shrine's main buildings and costs 600 yen admission. It is one of the best spots in Kyoto to see a large number of weeping cherry trees, with trees placed along ponds and bridges to give beautiful views.
Most weeping cherry trees in the garden are of the beni-shidare variety with dark pink blossoms that each consist of about 15 to 25 petals. Only approximately 20% of their blossoms have opened so far. A smaller number of weeping cherry trees with paler, 5-petaled blossoms are also found in the garden. They are more progressed than the beni-shidare trees.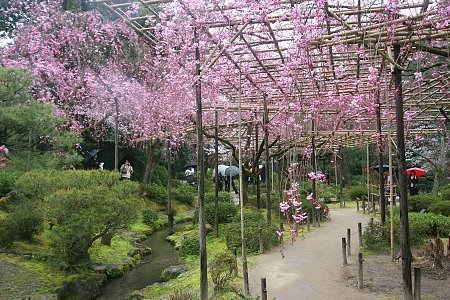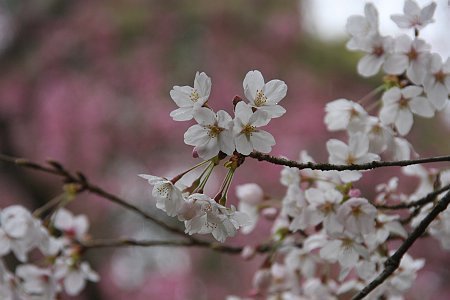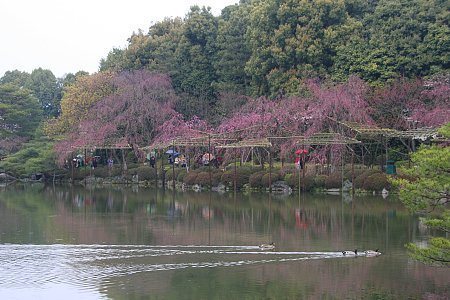 ---
Okazaki Canal and Keage Incline
April 4, 2009 - opening (10-50%)
Hundreds of cherry trees line Okazaki Canal near Heian Shrine and Keage Incline, a slope for transporting boats between canals. Boat rides can be taken along the canal, which depart from about where the canal and incline meet.
The blossoms of the cherry trees that line the Okazaki Canal and the Keage Incline are only about 40% open. The blossoms that are found along the incline are substantially more advanced than those along the canal, where in some stretches the trees have only just opened.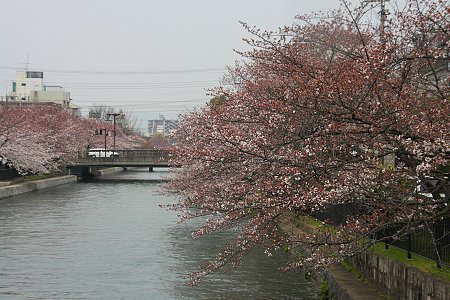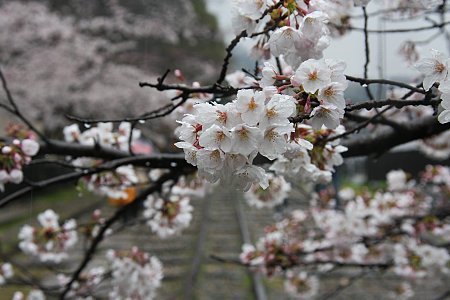 Questions? Ask in our forum.