Cherry Blossoms 2011: Tokyo Report (4/8)
Cherry Blossom Report 2011
Official cherry blossom reports by japan-guide.com
This year's cherry blossom season will be overshadowed by the tremendous loss caused by the recent earthquake. However, we believe that the blossoms will serve as symbols of hope and resilience and a source of motivation along Japan's road to recovery. With this in mind, we never hesitated to go ahead with our annual reports in order to inform travelers in Japan and readers across the world about this year's cherry blossom season.
2011 Cherry Blossom Forecast - Schedule of upcoming reports - Post your own report
Popular cherry blossom spots - How to do hanami? - Cherry tree varieties
2011/04/08 - Tokyo Report
by francois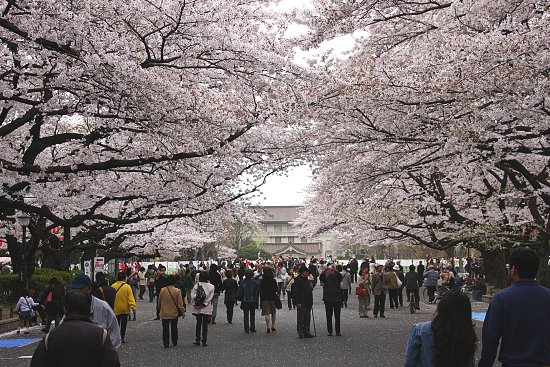 Today I made the 5th cherry blossom reporting trip to Tokyo this season. When we first visited on March 27 the buds of the somei yoshino trees hadn't opened yet, and just a few days ago on April 5 some spots were approaching full bloom. Today, most of Tokyo's cherry blossom spots that I visited were at full bloom. Unfortunately the weather was not great, but the flowers were still fantastic. Now and into the next few days should be the best time to see the flowers for many spots in the city this year.
Ueno Park
April 8, 2011 - full bloom
Ueno Park was my first spot of the day and has reached full bloom since our last visit three days ago. There were large numbers of people when I visited this morning, but the crowds will become intense in the evening and over the weekends. Admiring the trees this morning once again confirmed my personal estimation of Ueno as the best cherry blossom spot in the city, which is an opinion that is not rare.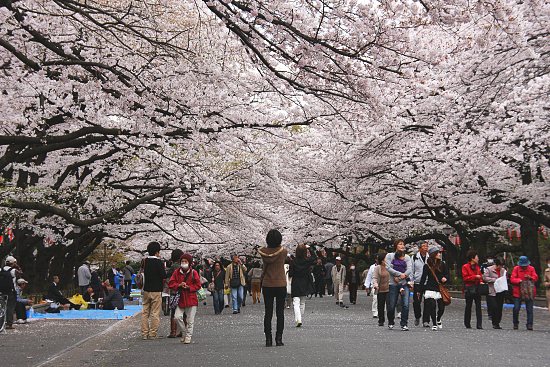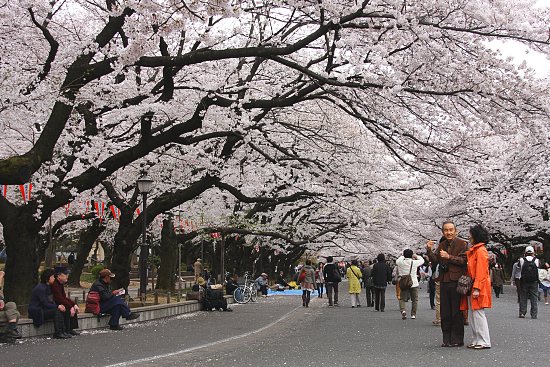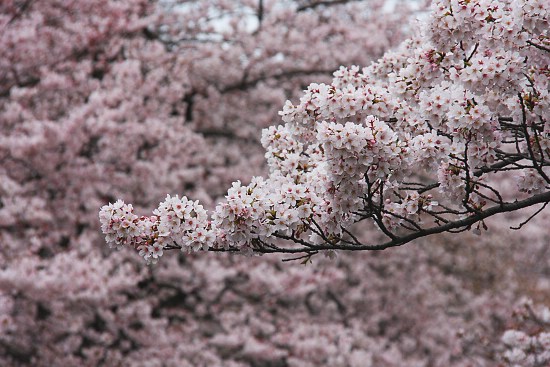 In addition to the approximate 500 meter tunnel of cherry trees that leads from the park's entrance to the park's zoo, fountain and museums, there are still quite a few attractive spots to see flowers. Today I also saw the trees around the Shinobazu Pond and Bentendo Hall. Many of the early blooming cherry tree varieties that I enjoyed on may last visit to the city on March 30 have since lost most of their flowers.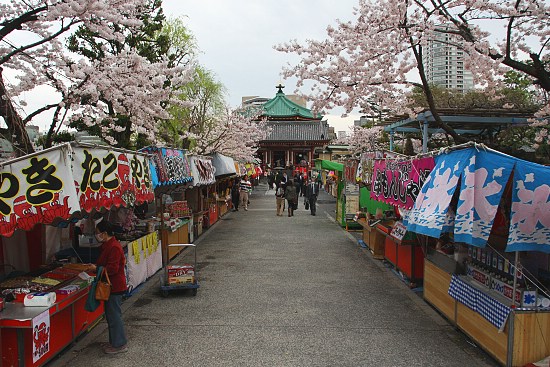 Sumida Park
April 8, 2011 - full bloom
Located in the attractive Asakusa district of Northern Tokyo, Sumida Park runs alongside the Sumida river and has a number of cherry trees. Travelers may recognize the park as one of the stations of the Tokyo Water Bus. Here, too, the trees were at full bloom, and are worth a visit for people who have come to the area to see Sensoji Temple.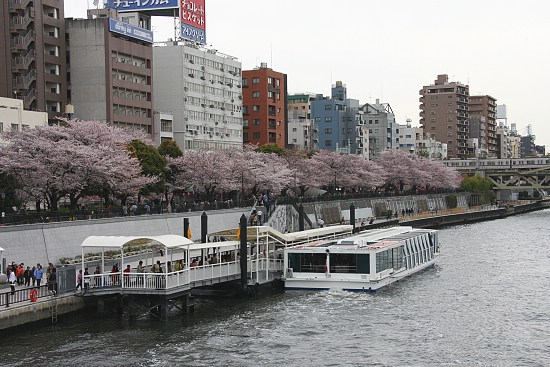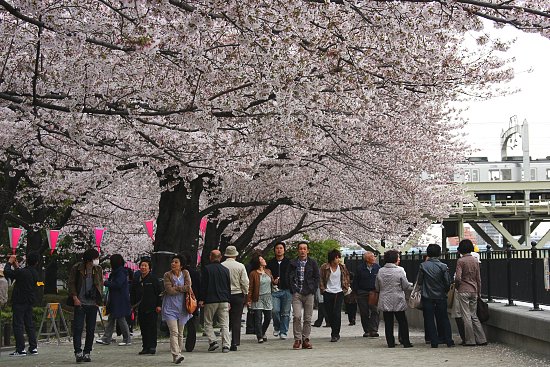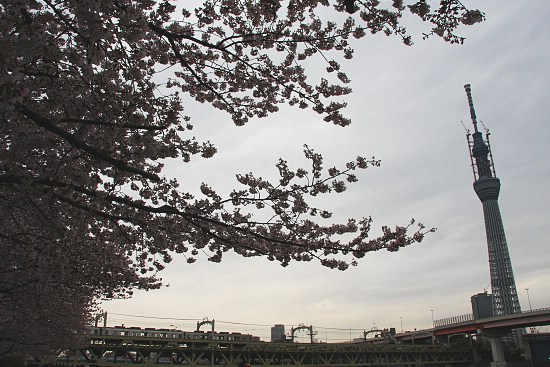 Megurogawa (Meguro River)
April 8, 2011 - full bloom
Another riverside spot for cherry blossom spots, Megurogawa (Meguro River) has hundreds of trees alongside its narrow waters. The trees can best be reached from Nakameguro Station on the Tokyo Metro Hibiya Line and Tokyu Toyoko Line. There is a tunnel of overhanging branches on the paths that run alongside the river, as well as a number of trendy restaurants.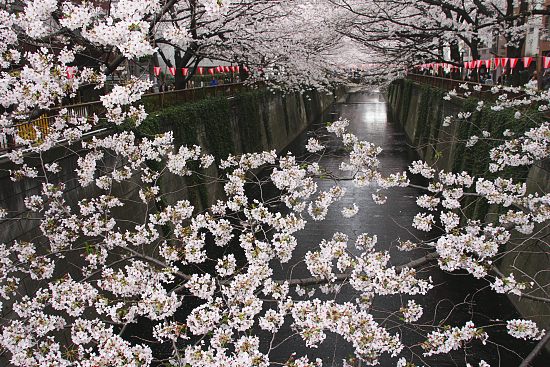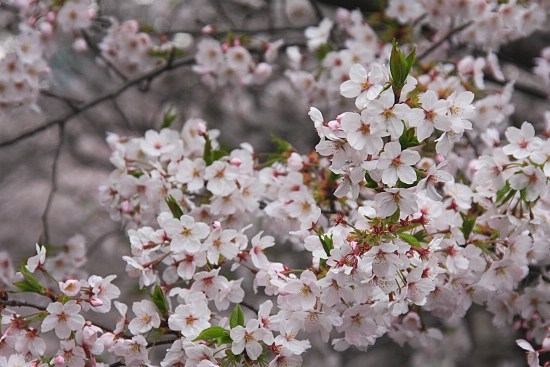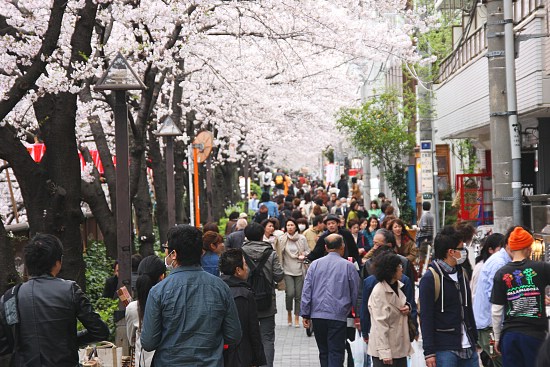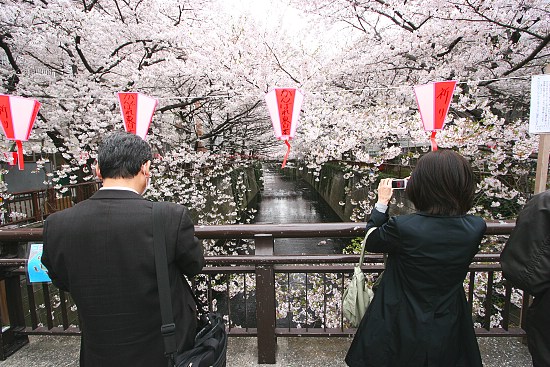 Shinjuku Gyoen
April 8, 2011 - approaching full bloom (50-80%)
The somei yoshino trees at Shinjuku Gyoen were slightly behind those that I saw at the other spots I visited today. Although quite a few trees were at full bloom, there were also many that had numerous unopened flowers. The park should reach full bloom within a day or two. Today there were many people at the park but because of its large grounds it did not feel too crowded. Many blue tarps were laid out for hanami parties, with parties ranging in size from couples sitting in pairs to large groups of over 20 people.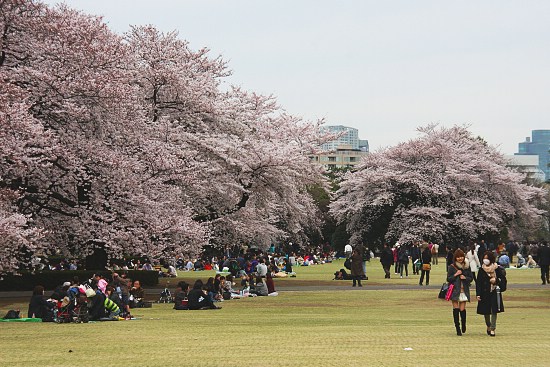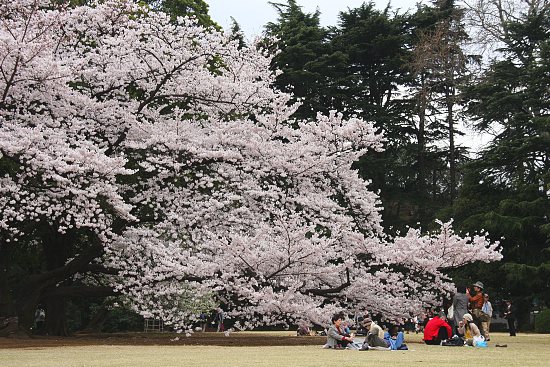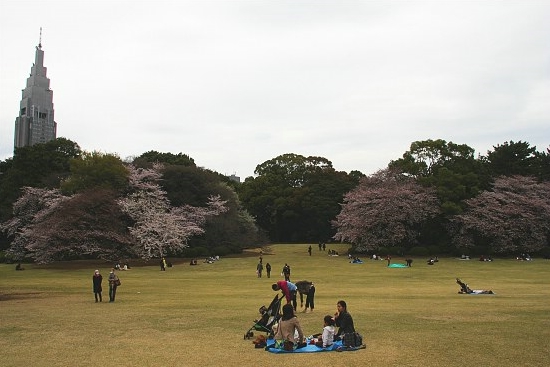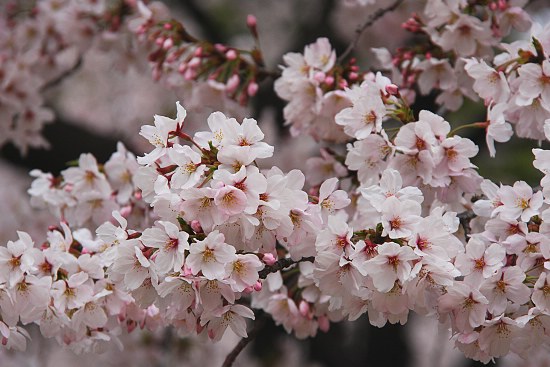 While I do not think that Shinjuku Gyoen has a single spot that is as impressive as Ueno's tunnel of cherry trees, it is the massive grounds and wide variety of trees that makes Shinjuku Gyoen a fantastic cherry blossom spot. Today I wandered around the park for quite a while and enjoyed many different types of trees.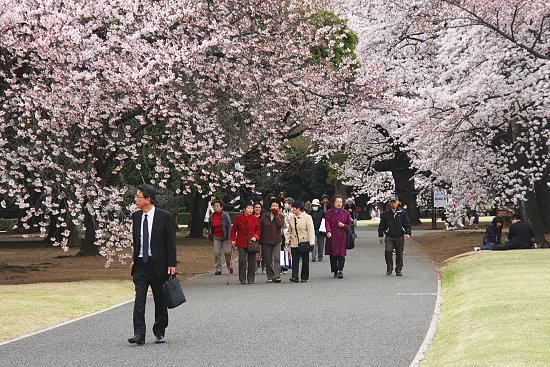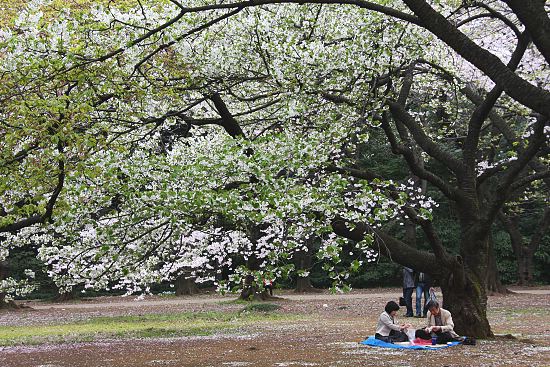 Questions? Ask in our forum.