Cherry Blossoms 2012: Sapporo Report (5/9)
Cherry Blossom Report 2012
Official cherry blossom reports by japan-guide.com
2012 Cherry Blossom Forecast - Schedule of upcoming reports - Post your own report
Popular cherry blossom spots - How to do hanami? - Cherry tree varieties
2012/05/09 - Sapporo Report
by sean
Interestingly, a reliable source told me that the cherry trees in Sapporo went into full bloom within hours from having their first open flowers on May 1. In fact, the cherry blossoms opened earlier at Sapporo than at Hakodate this year, and this isn't usually the case. It's one of those cases whereby nature makes fun of us humans, ridiculing our forecasts that we so painstakingly make.
Odori Park
May 9, 2012 - End of season
Odori Park isn't exactly best known as a great cherry blossom spot; it is better known for the Sapporo Snow Festival which takes place here every winter.
Nevertheless, the park offers pretty nice views during spring, thanks to the presence of the Sapporo TV Tower, fountains and different types of other flowers. The several cherry trees at the park were unfortunately way past their flowering period by the time of my visit. It was considerably more difficult to identify these trees as they have become green with leaves.
Although I was slightly disappointed at not being able to catch the cherry blossoms here, my heart warmed when I came across a school of children who have come for an excursion. Their task was to look for flowers, and to draw and name them. A brilliant way to get to know nature.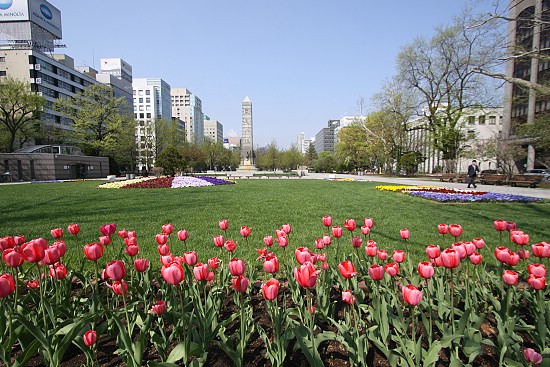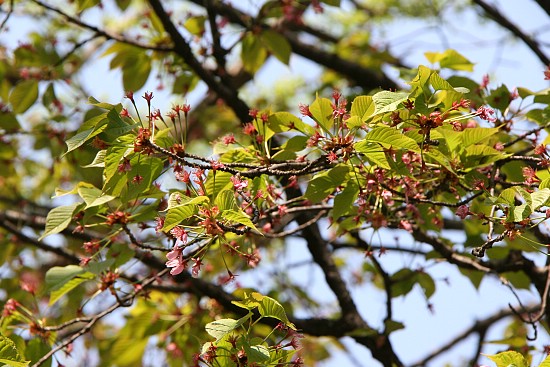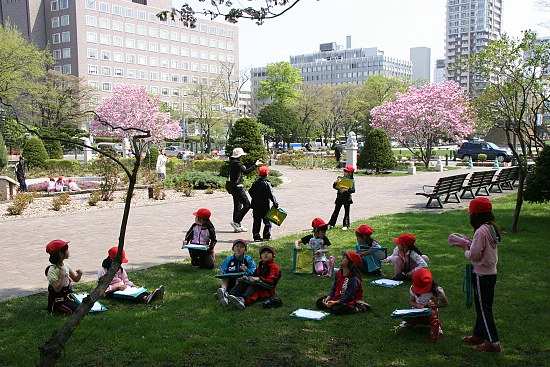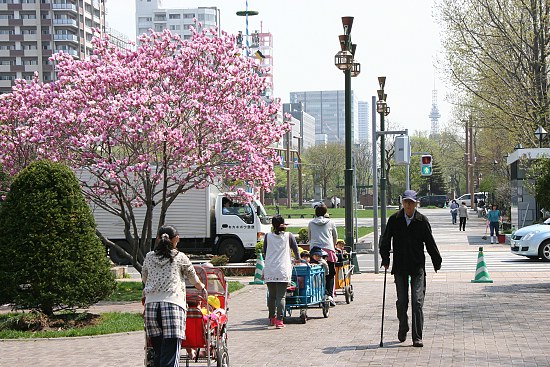 Maruyama Park and Hokkaido Shrine
May 9, 2012 - Petals starting to fall (Somei Yoshino)
May 9, 2012 - End of season (Ezo Yamazakura)
Next stop, Maruyama Park and Hokkaido Shrine, which are located just next to each other. At many locations in Hokkaido, the Ezo Yamazakura variety of cherry blossoms shares the spotlight with the Somei Yoshino. In some cities, for example Kushiro and Asahikawa, Ezo Yamazakura rather than Somei Yoshino are taken as the official cherry blossom standard for the city.
At Maruyama Park today, I was lucky to experience the closing stages of the peak period of the Somei Yoshino. The trees were still full looking, but it was evident that the blossoms were fast shedding their petals with every gust of wind. Hanafubuki, meaning blizzards of falling petals, can be experienced here currently, but the intensity of the blizzards will weaken with every second that pass hereon.
The path that leads to Hokkaido Shrine is lined with Ezo Yamazakura trees, but I am afraid I came too late, and the trees had now more leaves than blossoms. Festival stalls at the park will remain open till the weekend.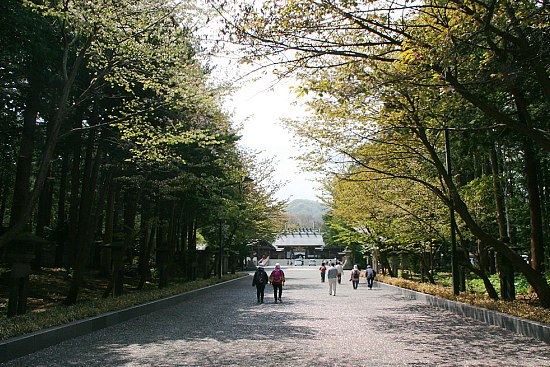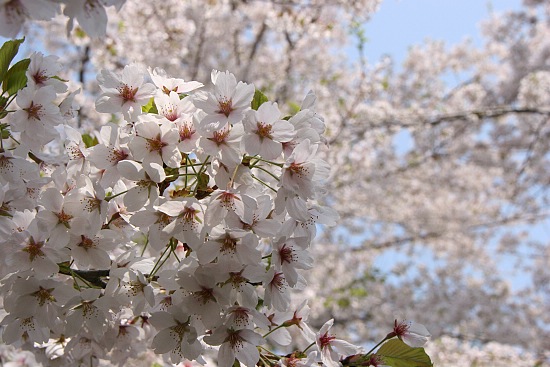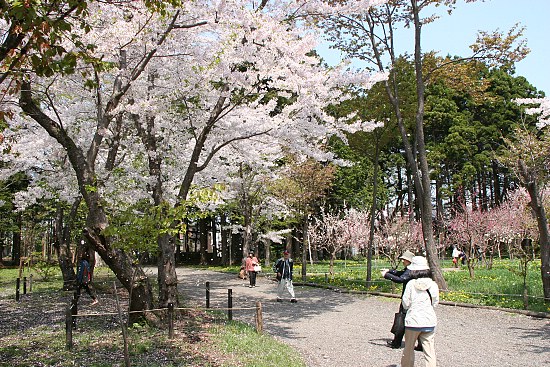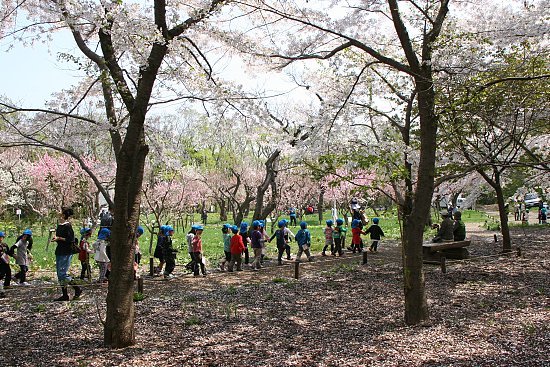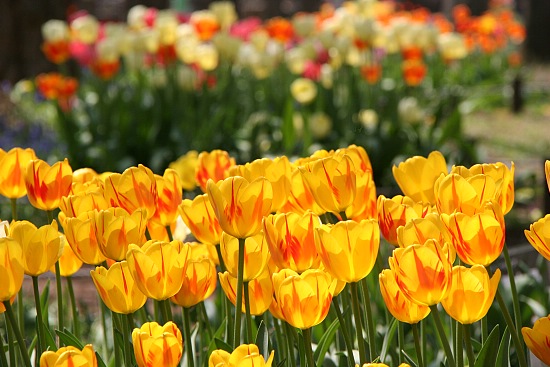 Moerenuma Park
May 9, 2012 - Full bloom (Late blooming varieties)
I have to get this off my chest first: this park is absolutely gorgeous, with or without cherry blossoms. It is so beautiful that it might bring tears to the eyes of the artistically inclined.
Moerenuma Park has a cherry tree grove with various species such as Somei Yoshino, Ezo Yamazakura, Kasumizakura and Minezakura. Today, I found peak to have passed for Ezo Yamazakura here, but the late blooming varieties were in full bloom.
With this utterly beautiful park (pictures don't do it justice), we end this year's cherry blossom reporting. On behalf of the japan-guide team, we would like to thank our readers for reading, and invite everyone to join us for our autumn colors reports in the fall.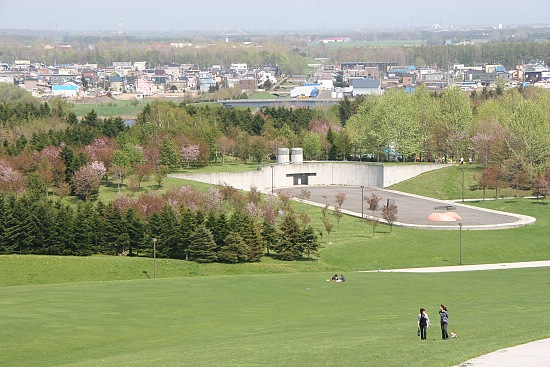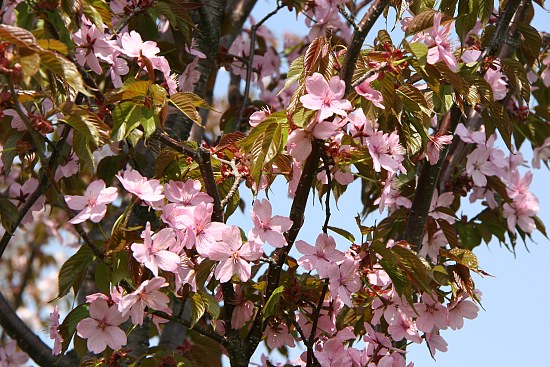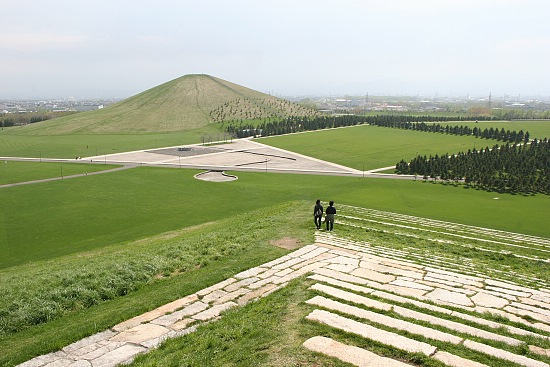 Questions? Ask in our forum.