Cherry Blossoms 2015: Tokyo Report (4/9)
2015/04/09 - Tokyo Report
by raina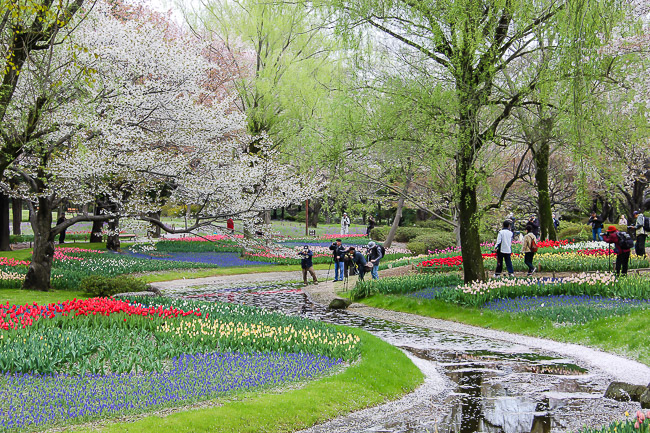 Back in Tokyo once again, a mere three days after my last trip. This time I checked out a spot in western Tokyo that we haven't been to this cherry blossom season. Scott is in Kyoto and will bring you an update on the state of the blossoms there which you can read here. Since the beginning of this week, no other city has reported the opening of the first blossoms (kaika) but it will not be long before the cherry blossom season starts in northern Japan.
The spring freeze that hit yesterday gave way to blue skies and slightly warmer temperatures in Tokyo today. Yesterday's light snowfall may have had some responsibility in bringing down most of the blossoms that were on the trees the last time I was in the capital. All three places I visited today had lots of petals on the ground, creating a soft pink blanket. With rain and wind forecast for the next two days, the remaining petals are likely to be swept off, leaving the trees bare and beyond peak.
For those who missed the main sakura season in Tokyo, there are still the late flowering cherry varieties to be seen, though not in great numbers like the Somei Yoshino trees, Japan's most numerous and commonly seen cherry trees.
Koganei Park
April 9, 2015 - beyond peak (Somei Yoshino)
Koganei Park is in a suburb in western Tokyo, about 30 minutes by train from Shinjuku. The park is also a popular cherry blossom viewing (hanami) spot, and also where the Edo-Tokyo Open Air Architectural Museum can be found. Koganei Park can be reached in a 20-30 minute walk from either Hana Koganei Station on the Seibu Shinjuku Line, or Musashi Koganei Station on the JR Chuo Line.
I arrived at Koganei Park bright and early, joining the joggers and dog walkers in the chilly park. The air was a little misty and there was a slight breeze causing the petals to fall ever so gently. The Somei Yoshino trees had shed most of their petals, while the yamazakura, a wild but common cherry tree variety had petals falling. The park is also home to a number of late flowering cherry tree varieties which were at different stages of bloom when I was there: some were at full bloom, while others had about 10-50% of their flowers open.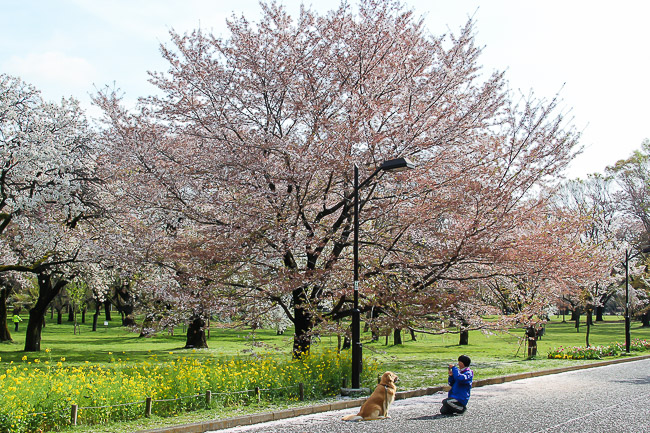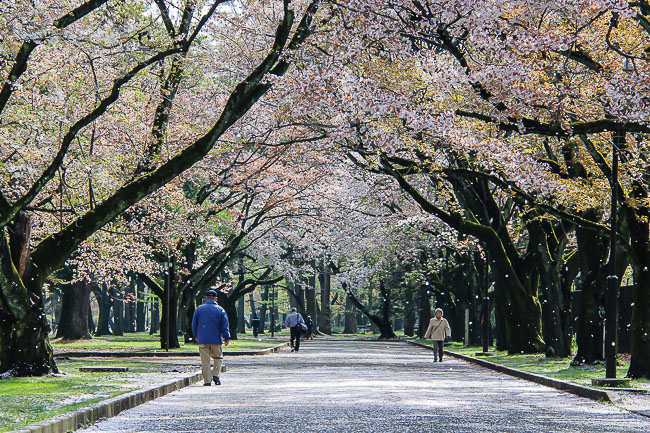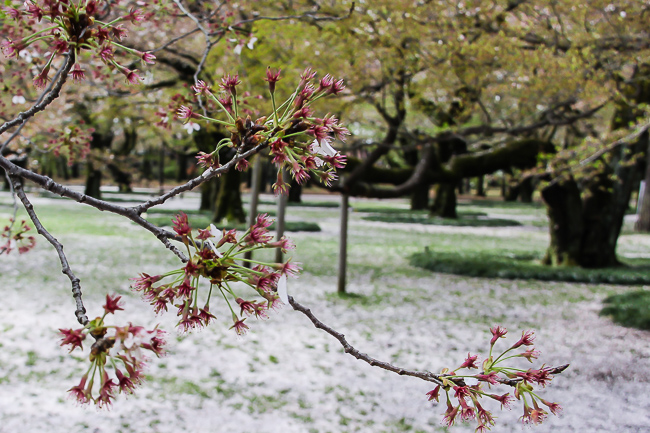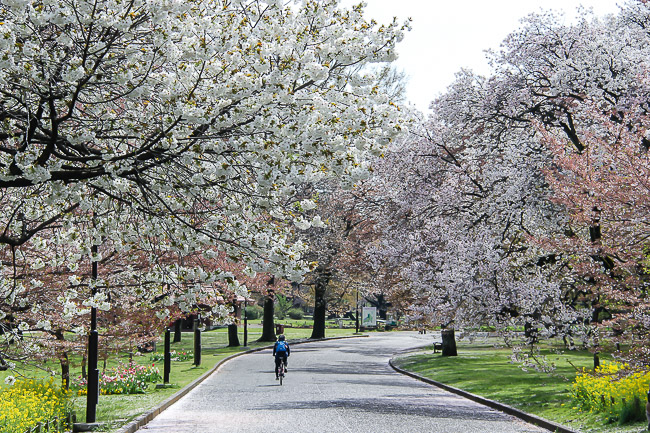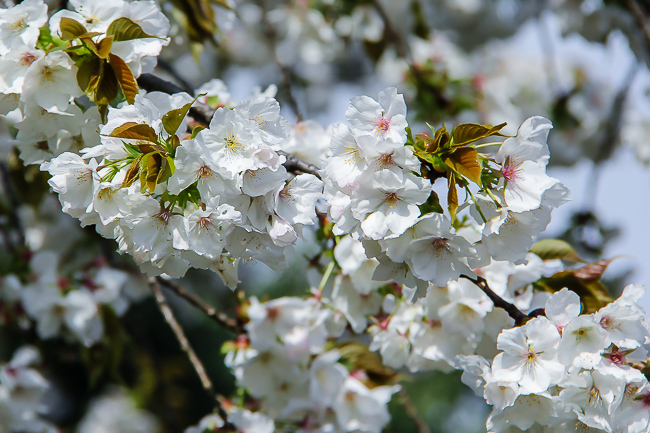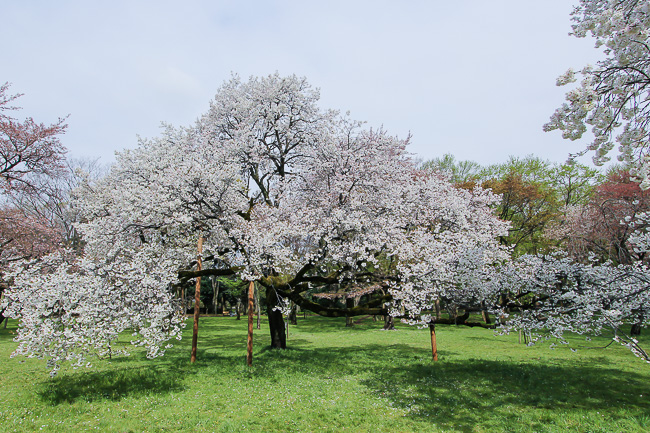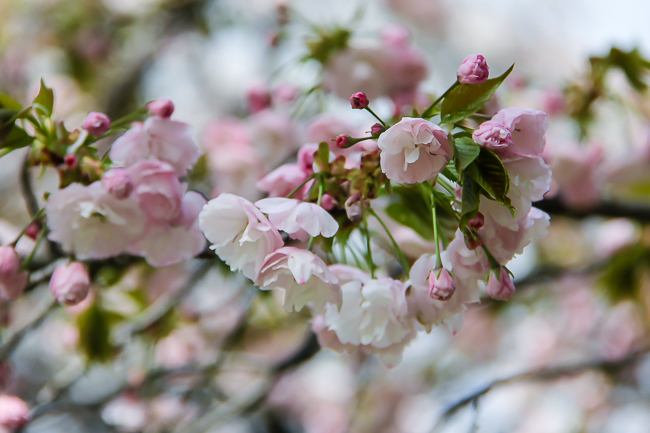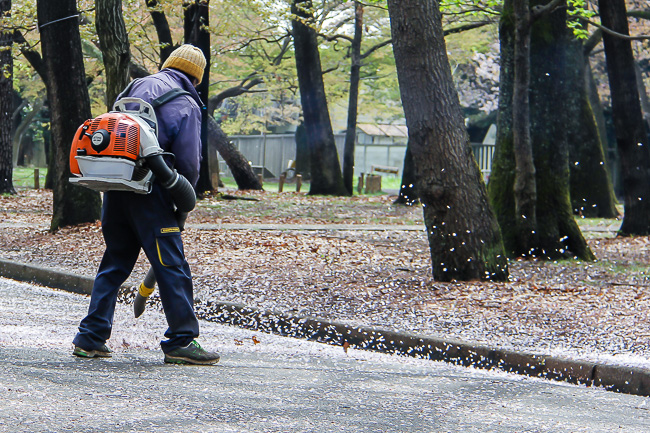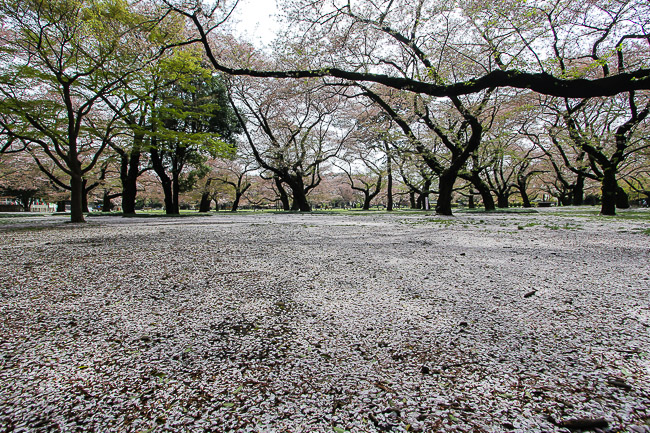 Showa Kinen Koen
April 9, 2015 - petals starting to fall
Showa Kinen Koen is a large park in western Tokyo that can be reached in about 30 minutes from Shinjuku on the JR Chuo Line. Like Koganei Park, Showa Kinen Koen is a popular hanami spot outside of central Tokyo.
Like the last time, I rented a bicycle (410 yen for three hours) and made my way around the park. I found that the cycling roads were covered with more sakura petals, and the words on the road were even completely covered in some places. I went back to the sakura garden again and this time, the trees did not look as full and fluffy as they did three days ago. There were more empty pockets and a thick carpet of whitish-pink petals on the ground.
Now that school has started in Japan, there weren't as many children and families out in the park today and those that I saw were picnicking on the lawns and strolling around the tulip garden, part of the ongoing flower festival that will carry on till May 24.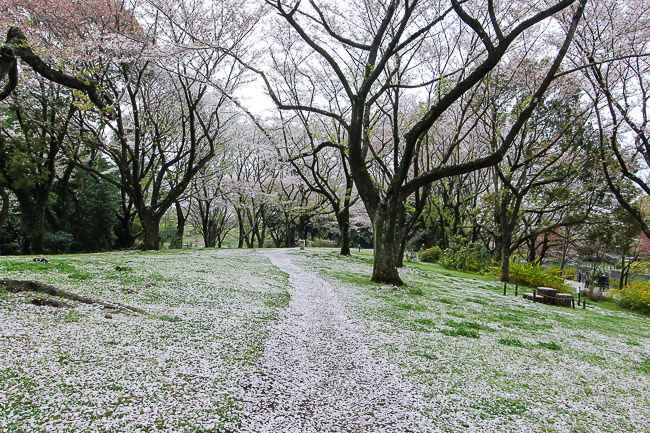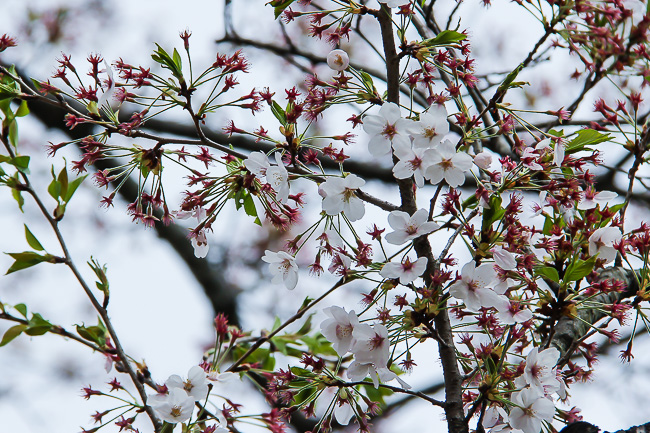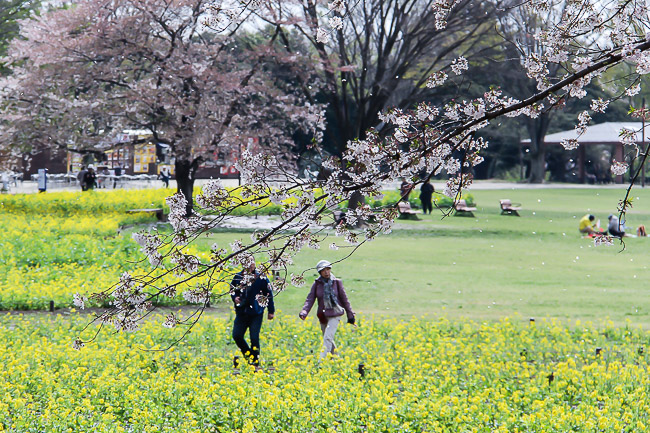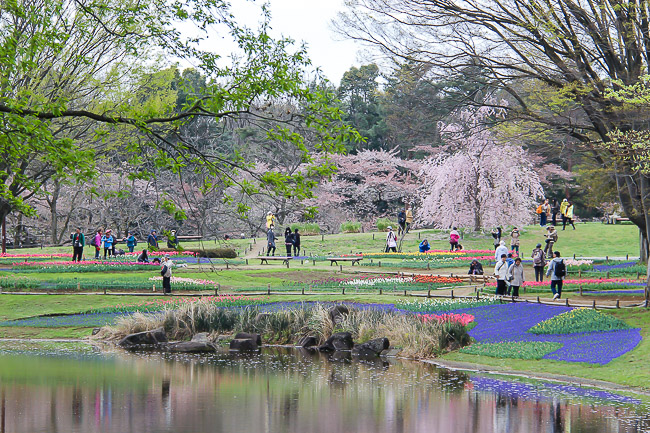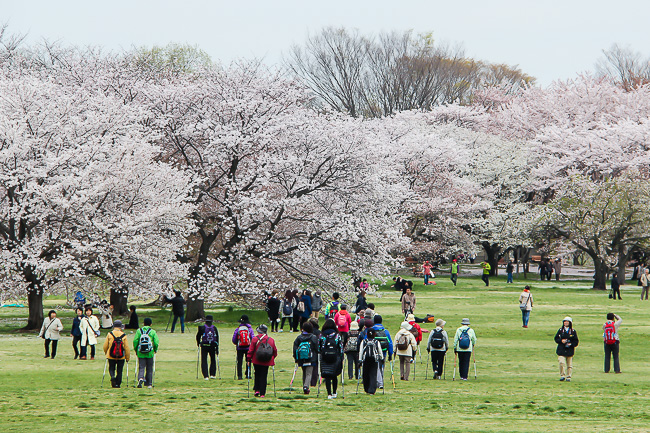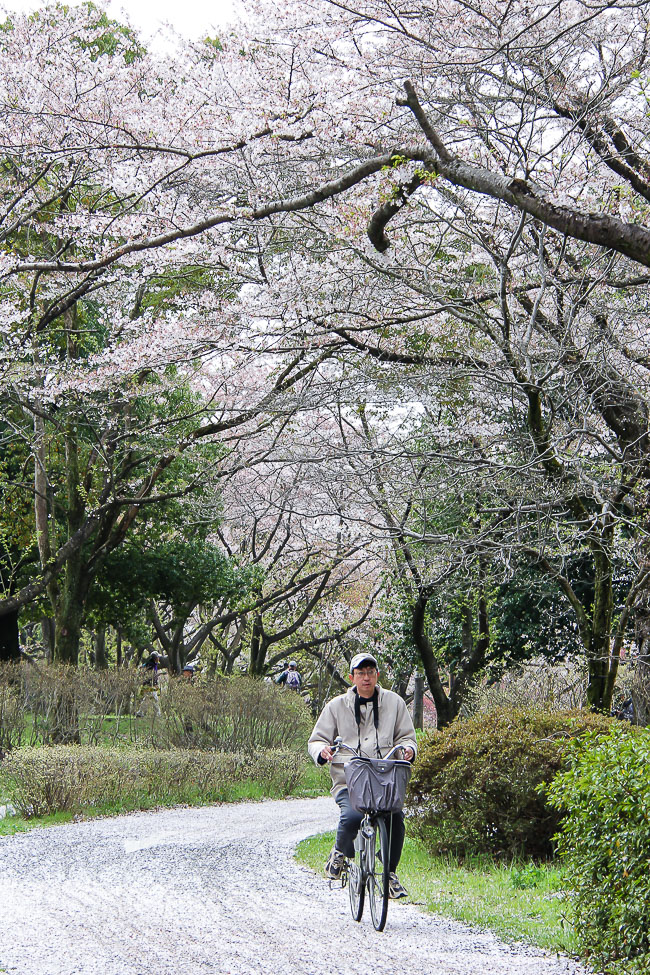 Shinjuku Gyoen
April 9, 2015 - beyond peak (Somei Yoshino)
April 9, 2015 - full bloom (late blooming Ichiyo and Ukon varieties)
April 9, 2015 - opening (10-50%) (late blooming varieties)
My last stop for the day was the popular Shinjuku Gyoen, one of Tokyo's most popular cherry blossom viewing spots. Today was definitely a pleasant day to be in the park and take in some afternoon sun after the past couple of cloudy and rainy days. As usual, there were many people on the lawns picnicking, reading, taking a midday snooze, and just being outdoors.
Shinjuku Gyoen is a good place to go if you missed the main cherry blossom season, as the park is home to a large number of late flowering cherry varieties. The ichiyo and ukon trees that were opening three days ago have now reached full bloom while the kanzan and fugenzo had about 10-50% of their blossoms opened. I expect these late blooming cherry trees to develop further and remain attractive till at least mid next week.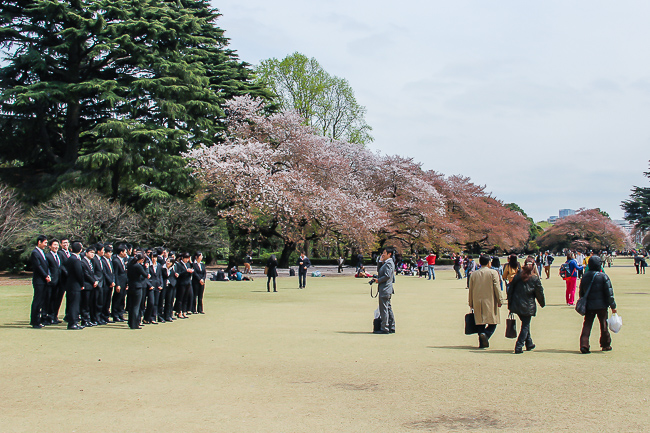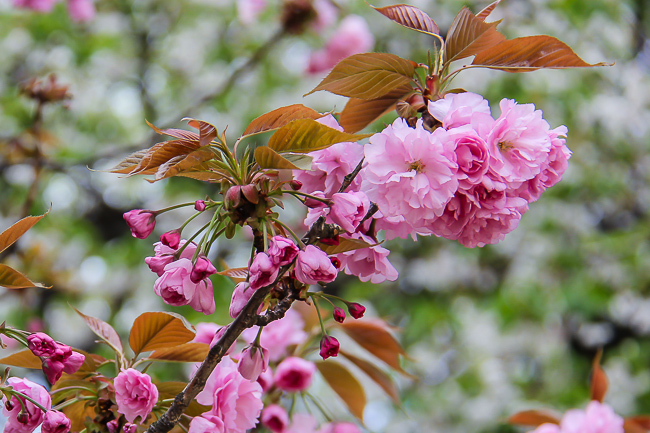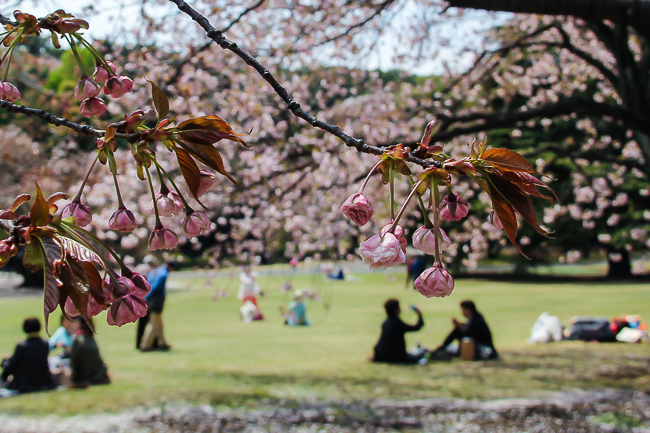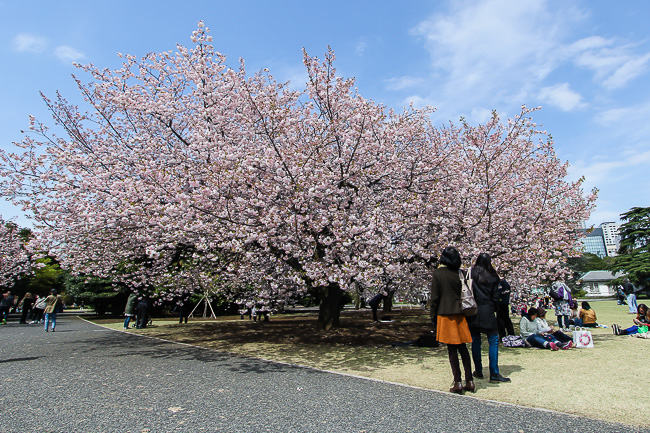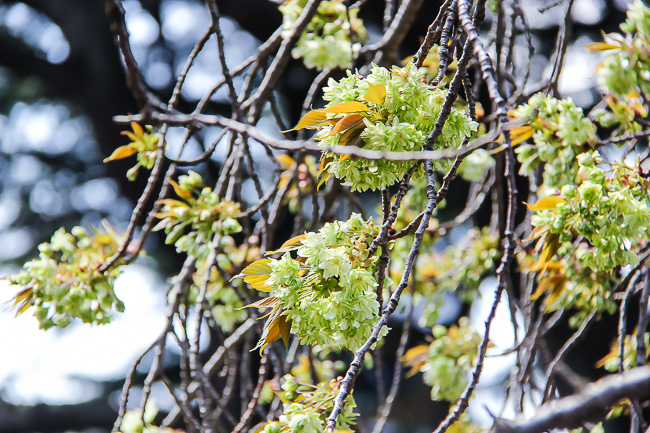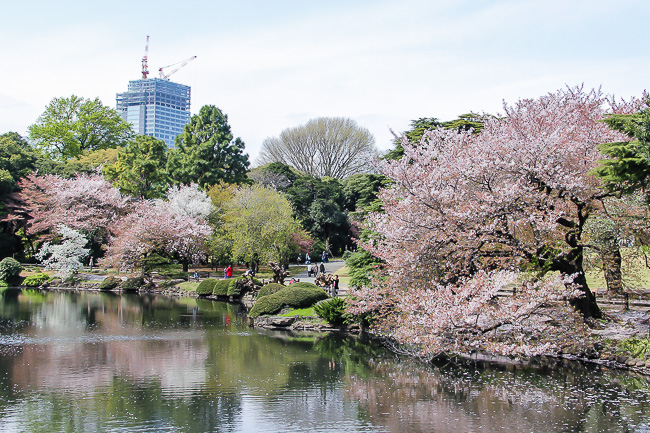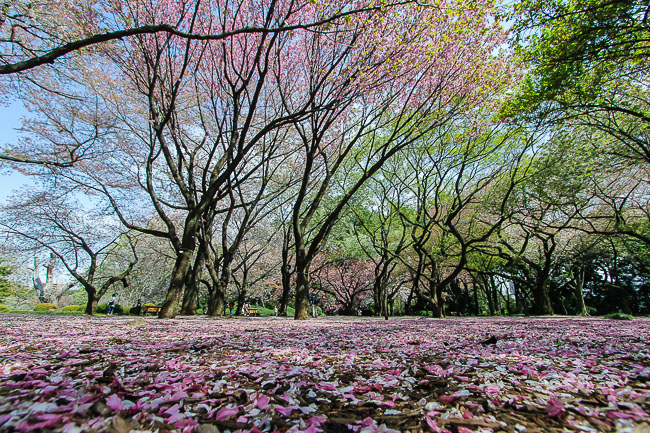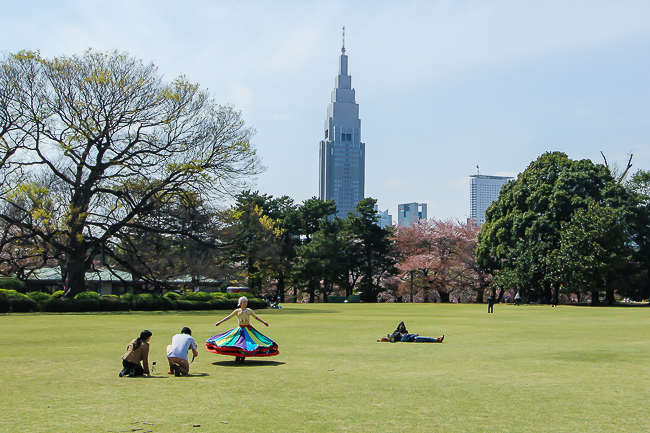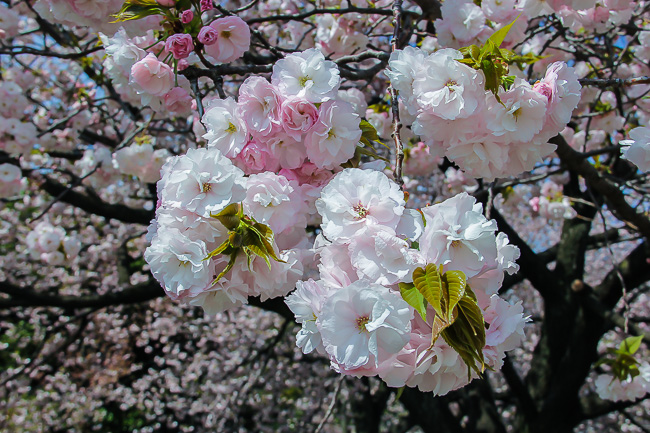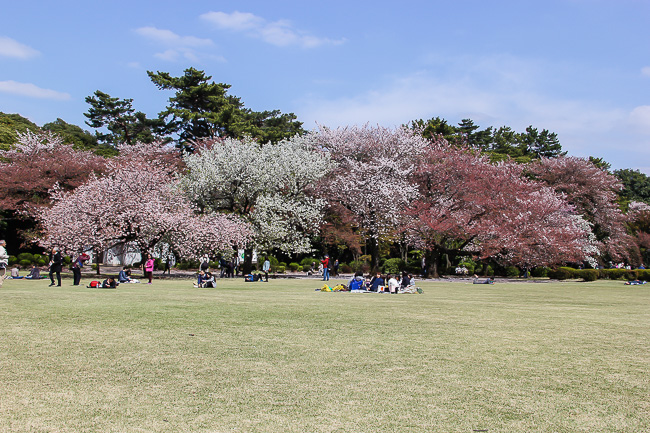 Questions? Ask in our forum.