Cherry Blossoms 2012: Hirosaki Report (4/30)
Cherry Blossom Report 2012
Official cherry blossom reports by japan-guide.com
2012 Cherry Blossom Forecast - Schedule of upcoming reports - Post your own report
Popular cherry blossom spots - How to do hanami? - Cherry tree varieties
2012/04/30 - Hirosaki Report
by sean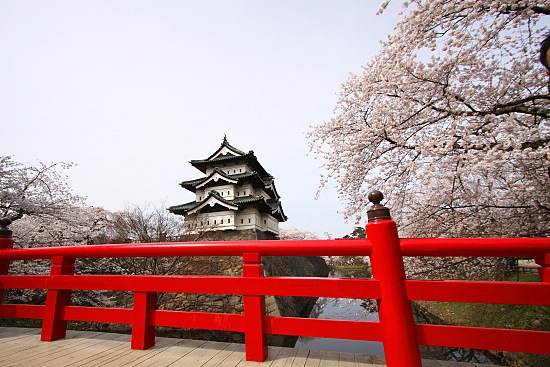 I write as I am on board the train towards Hirosaki in Aomori Prefecture. Aomori is the northernmost prefecture of Honshu, the main island of Japan. The train is quite packed with whom I assume to be tourists, judging by the number of baggages on the racks. Maybe some are also heading back home to visit relatives during the Golden Week Holidays. Fortunately I've got my window seat reserved days in advance. It's nice to see those little red and blue tractors ploughing the vast rice fields in preparation for the year's rice cultivation. A beautiful day.
It's the first time I will be visiting Hirosaki Castle during the cherry blossom season. The castle is renowned for being one of the best spots for cherry blossom viewing in the Tohoku Region. Actually, some consider it to be the best in Japan.
The cherry trees in Hirosaki started flowering on April 27 this year. As the past couple of days have been warm, the cherry blossoms should have been developing steadily, and therefore I am excited at the prospects of being able to catch pleasant views of them at the castle grounds.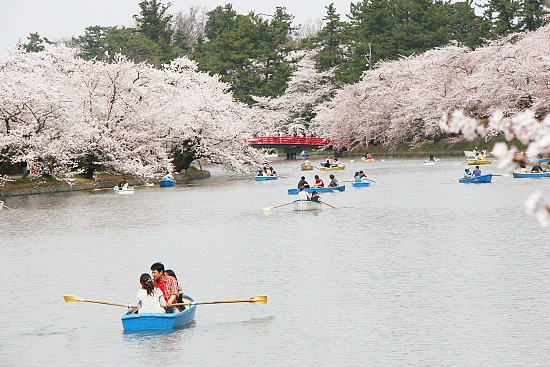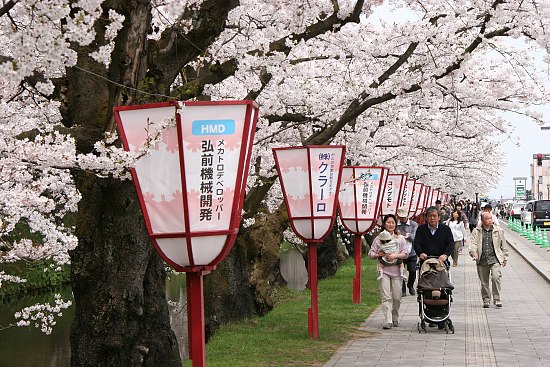 Hirosaki Castle
April 30, 2012 - approaching full bloom (50-80%) (Somei Yoshino)
April 30, 2012 - full bloom (Weeping cherry trees)
April 30, 2012 - just opened (Yaebeni weeping cherry trees)
It is estimated that one million people visit Hirosaki Castle every cherry blossom season. Today it certainly felt like I was just one out of a million visitors. I meant it in a good way: the festive atmosphere was great and very enjoyable.
I became one of those who regard here as the best cherry blossom watching spot in all of Japan. There was just so much of interest. Firstly, the array of festival stalls available was simply unbelievable. I've been to a fair share of festivals in Japan, but never have I seen so many different kinds of festival stalls at one location. There were food and drink stalls, game stalls, a haunted mansion attraction, a maze for kids, magic show tents, stalls selling colorful balloons, idol merchandise, candy, ice-cream, the list goes on.
Secondly, happiness is infectious. When everything around you is in the joyful spirit, you just feel that much better. I loved looking around, at every path and corner, and seeing everyone just having a good time with their hanami (cherry blossom watching) parties, picture taking, boat rowing and festival stall patronizing - with a smile.
And of course, the castle was beautiful with its moats, bridges, turrets, and cherry trees in all their glory. Today I found the majority of the trees not at their peak yet, but I think they will be within a day or two. Some of the Somei Yoshino near the main keep were already in full bloom, where else those around the Sakura Tunnel were only almost near the halfway mark.
The weeping cherry trees were either at their peak or reaching their peak, while the weeping cherry trees of the Yaebeni variety were only just opening. The variance in stages of development of the many trees at the castle means the season for cherry blossom viewing here would stretch, thereby good views should last to the weekend and possibly beyond.
Some practical information: there is a shuttle bus service between Hirosaki Station and the castle until May 5 (100 yen) in addition to regular city buses and the Dotemachi Loop Bus. There is also a temporary luggage deposit service just outside the station to accommodate the surge in tourists (500 yen per piece).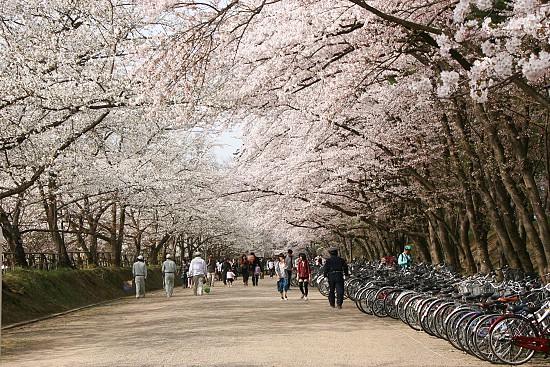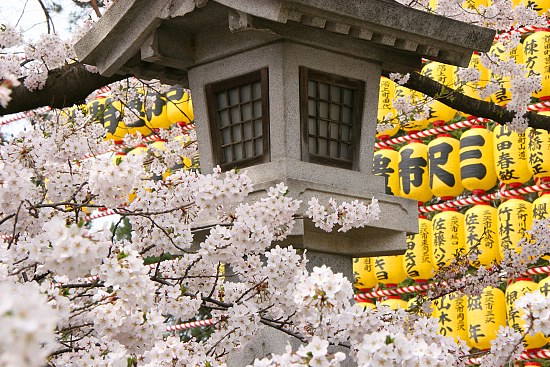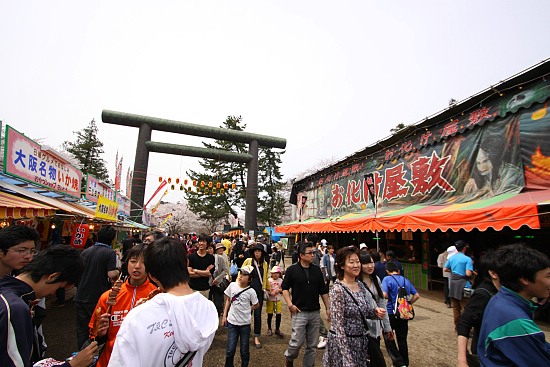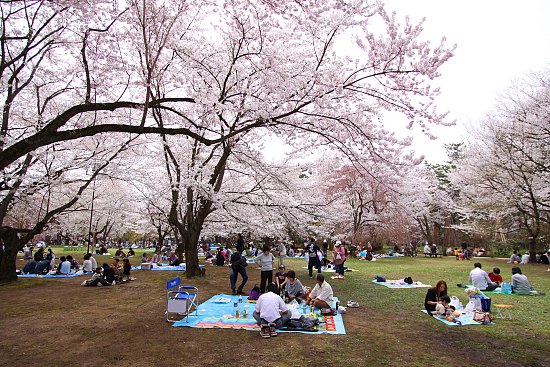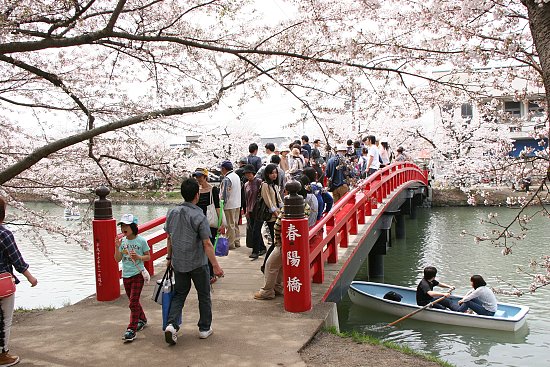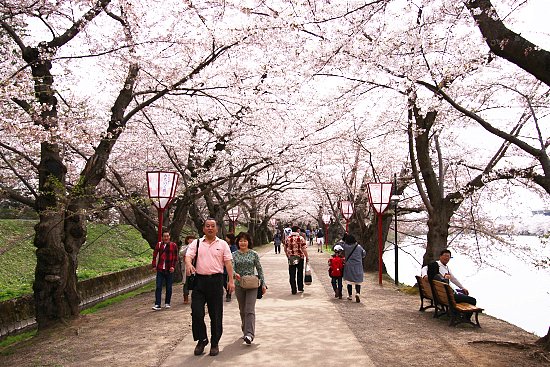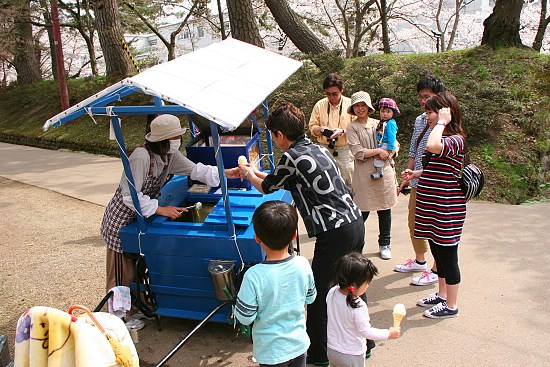 Aomori is famous for its apples; many of the local goodies are apple flavored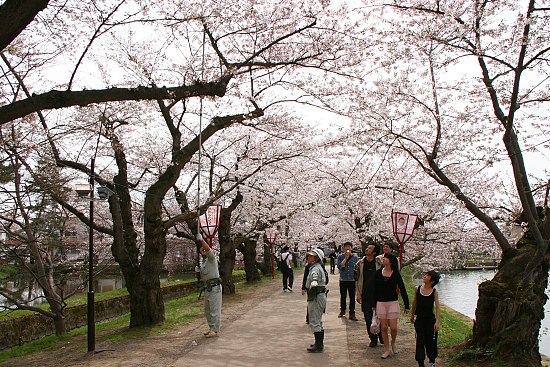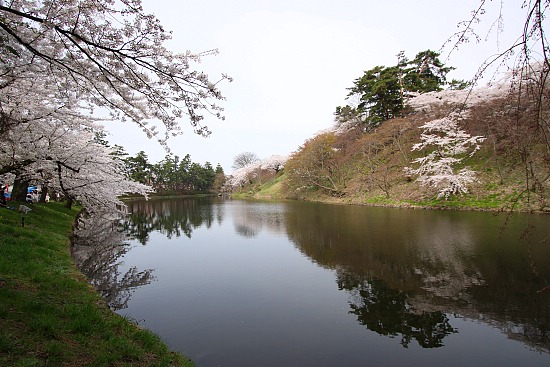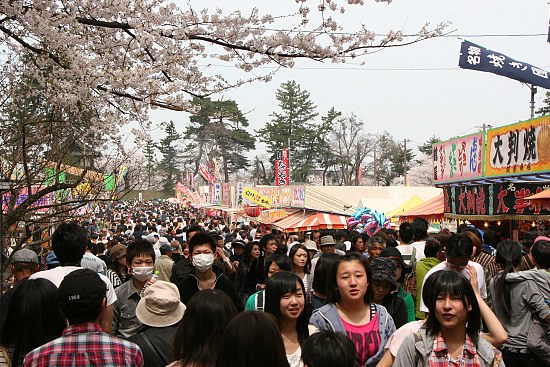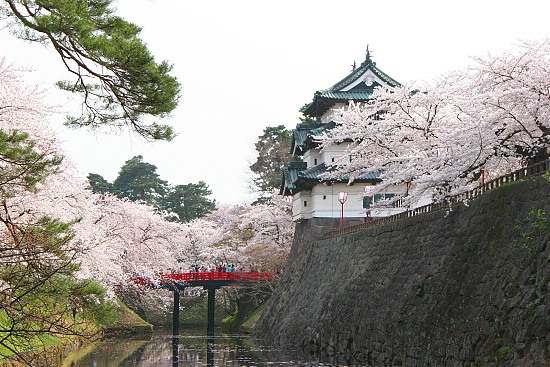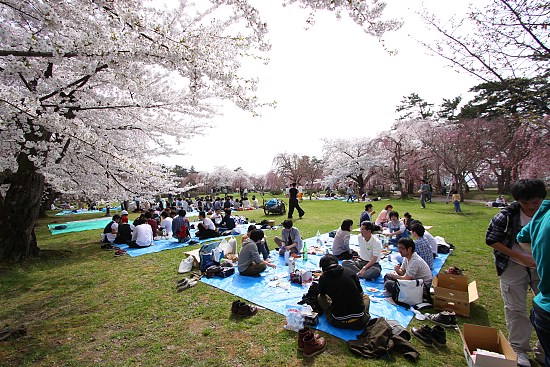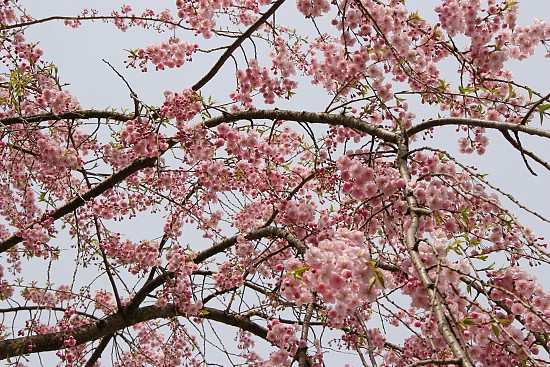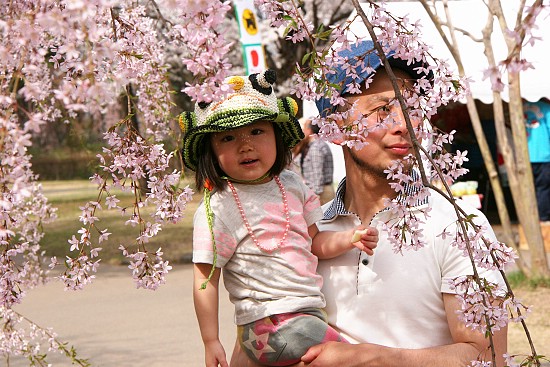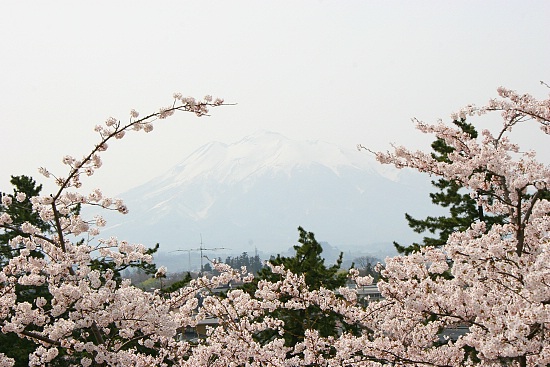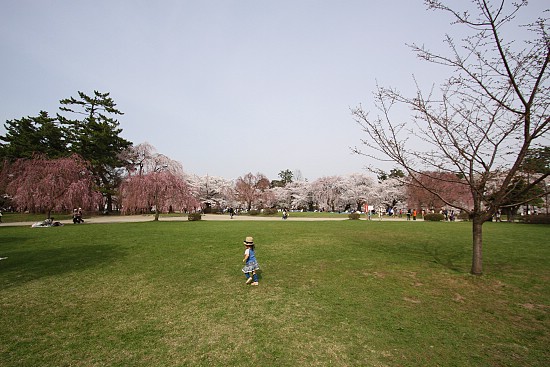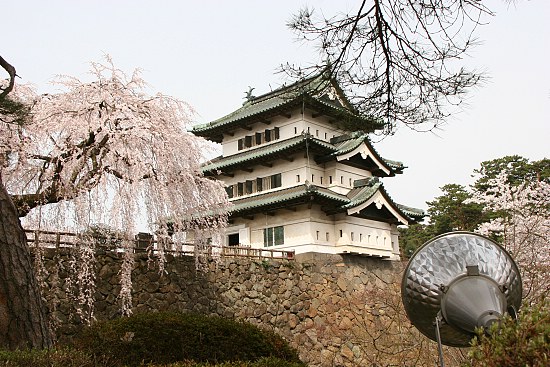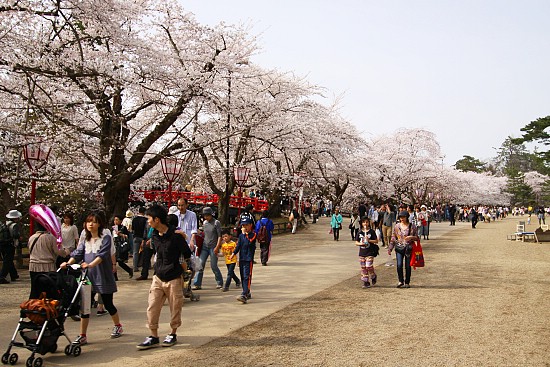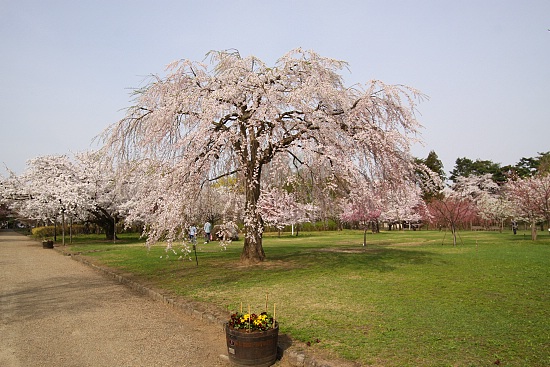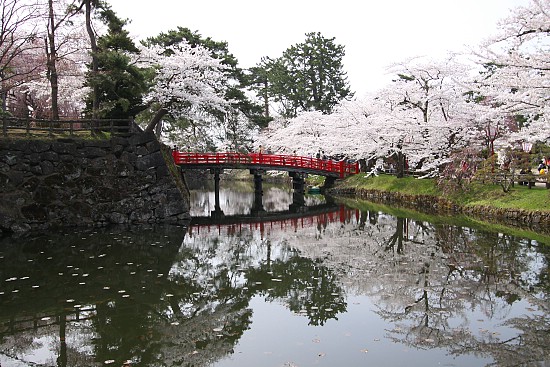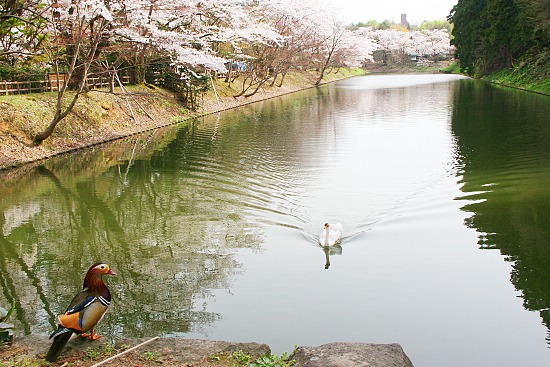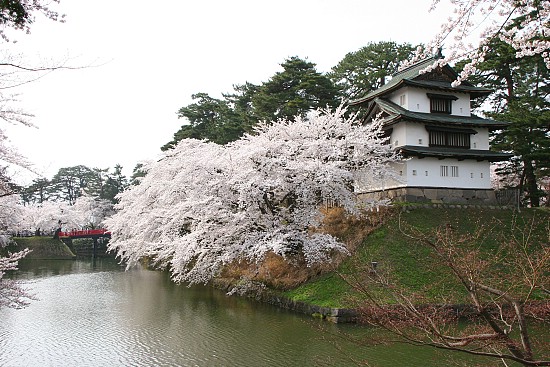 Questions? Ask in our forum.