Cherry Blossoms 2015: Kyoto Report (4/3)
2015/04/03 - Kyoto Report
by raina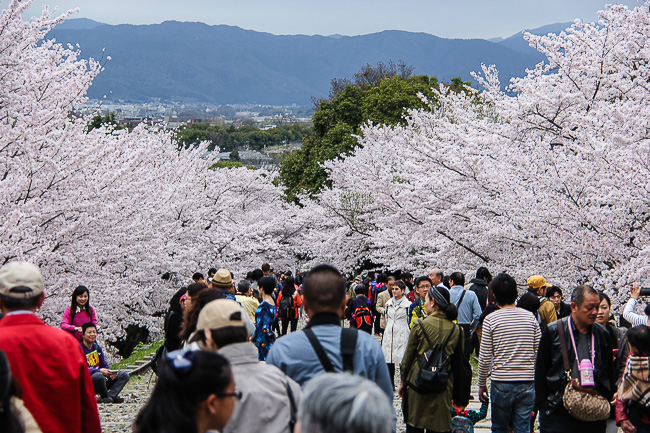 Today I'm back in Kyoto, three days after my last report, and visited different places. Kyoto reached full bloom two days ago on April 1, and the blossoms I saw today are still at their peak and should remain at their best for the next few days or so before the petals start to fall. Those who wish to view the blossoms over the coming weekend should bring along an umbrella as it is forecast to rain. Note that strong rain and winds may shorten the peak cherry blossom viewing period.
Scott was in Nagoya today and you can read his report here. Elsewhere in the country, Sendai in the Tohoku Region reported the opening of the first blossoms (kaika) today, about a week earlier than the average year.
I arrived in Kyoto to overcast skies and joined the human crush of umbrella toting office workers and tourists to get to my first destination. Despite the cloudy skies, I saw no less than five couples, mostly non-Japanese, having their wedding pictures taken at the Philosopher's Path and Keage Incline.
Philosopher's Path
April 3, 2015 - full bloom
My first stop for today was the Philosopher's Path between Ginkakuji and Nanzenji. There was already a decent sized crowd enjoying the blossoms at their peak when I arrived and posing for pictures. The cherry trees here were at their peak and some of the more developed trees had petals falling. The flowers should remain attractive for at least the next few days before the petals start to fall.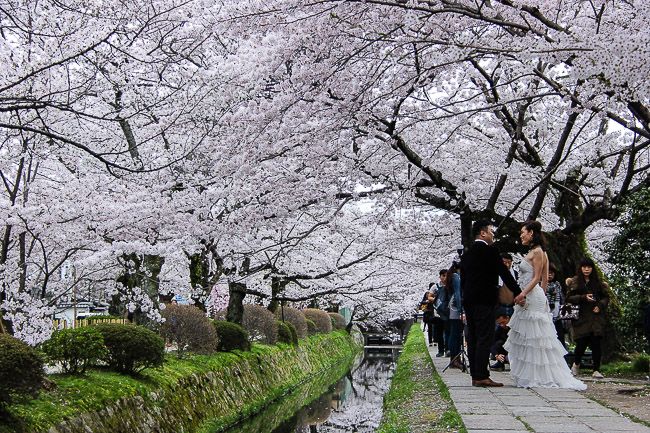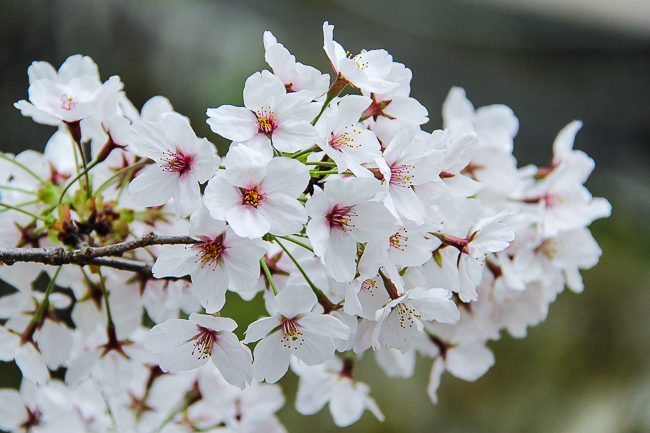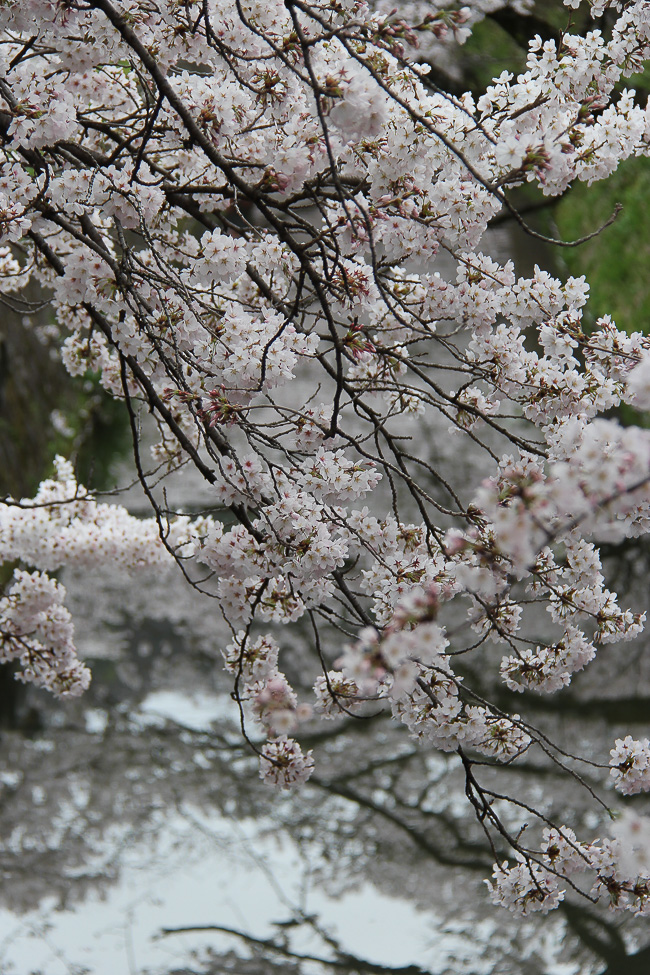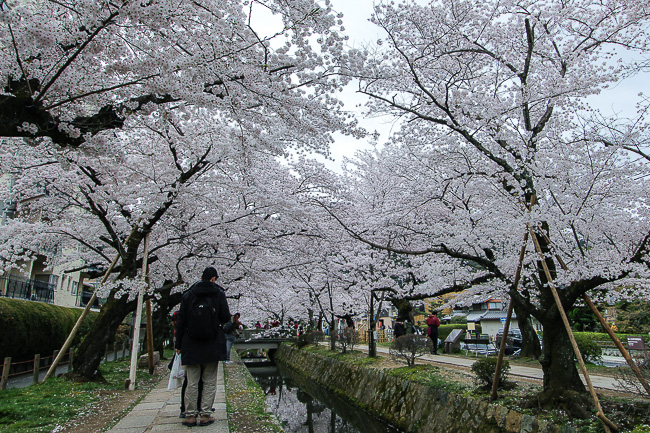 Keage Incline and Okazaki Canal
April 3, 2015 - full bloom
My next stop for the day was the popular Keage Incline and Okazaki Canal, a tunnel and canal system that connects Kyoto with Lake Biwa in Shiga Prefecture. While the Keage Incline is not in use anymore but is a very popular cherry blossom viewing spot as it is lined with about one hundred cherry trees. Okazaki Canal is also lined by many cherry trees, and there are boat tours (1000 yen for about 25 minutes) conducted during the cherry blossom season until May 6 from 9:30 to 16:30. Evening boat tours are conducted until April 12 till 20:30 for visitors to enjoy the light up along the river.
Both spots were crowded with visitors and the most common and numerous cherry tree variety, Somei Yoshino trees, were at full bloom and looked impressive. Like at the Philosopher's Path, some of the more developed trees at Keage Incline and Okazaki Canal had petals falling but still looked attractive. Rain and wind forecast over the next few days may affect the peak viewing period, but I expect the blossoms to remain at their peak till at least this weekend.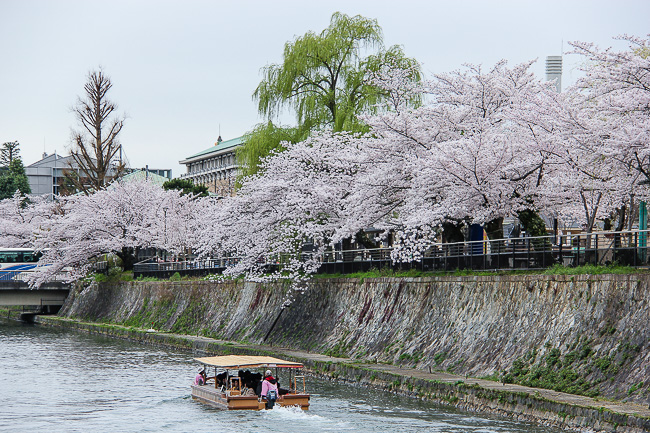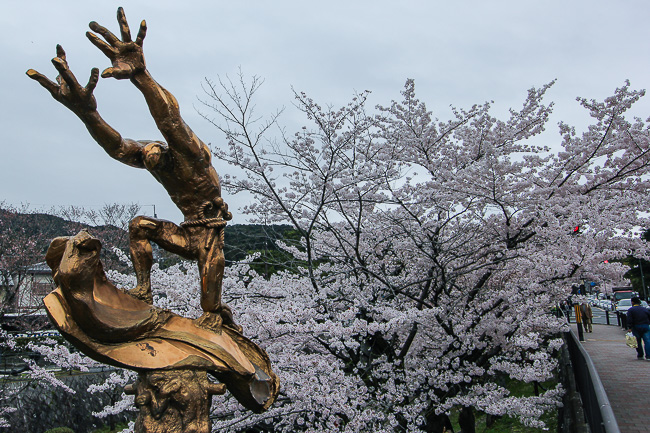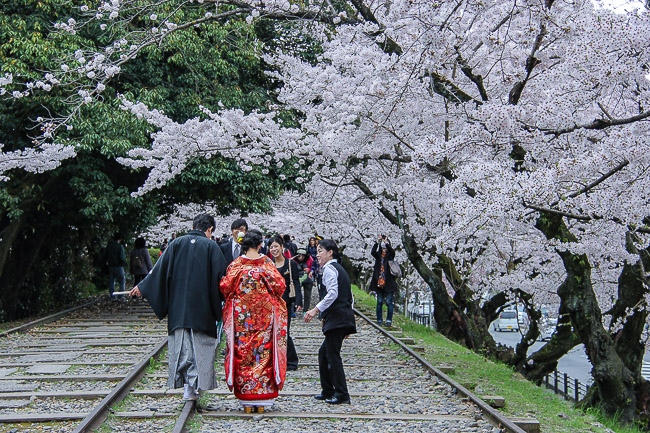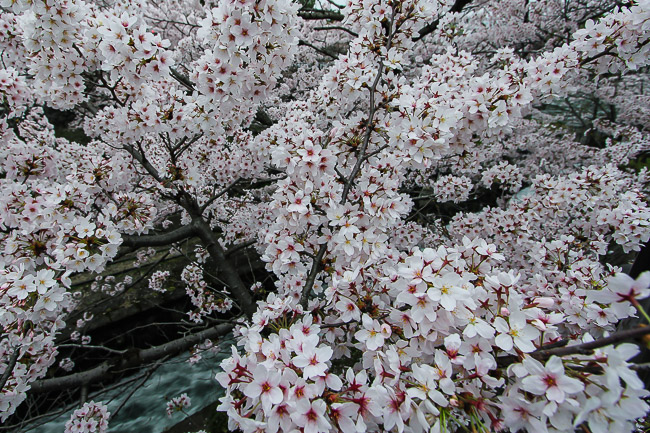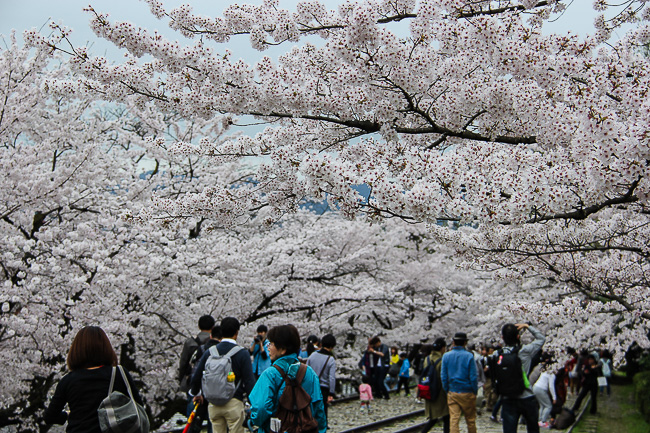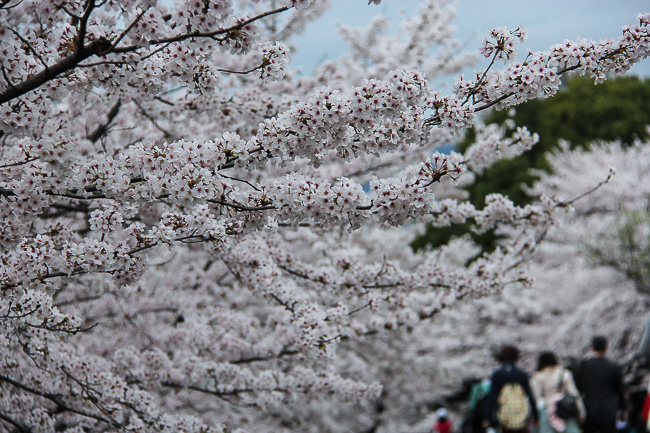 Daigoji Temple
April 3, 2015 - full bloom
My final stop for today was Daigoji Temple, one of Japan's UNESCO World Heritage Sites of Monuments of Ancient Kyoto. The temple grounds are huge and extend to the mountain behind, with several buildings that have been designated important cultural assets. Daigoji Temple is about a 15 minute walk or a short bus ride (200 yen one way, 300 yen for a day pass) from Daigo Station. There were literally bus loads of visitors, both local and foreign, there to visit the temple and see the cherry blossoms.
Daigoji Temple is also known as the location where Toyotomi Hideyoshi had his famous cherry blossom viewing (hanami) party. It is evident today that the grounds are beautiful with many cherry trees on the temple grounds. The weeping cherry trees in front of the Sanboin have started losing their petals and also have green leaves appearing, while the most common and numerous cherry tree variety, Somei Yoshino, in the rest of the temple grounds are at full bloom. Picnicking on the temple grounds are not allowed, but there are rest areas and teahouses to enjoy drinks and snacks.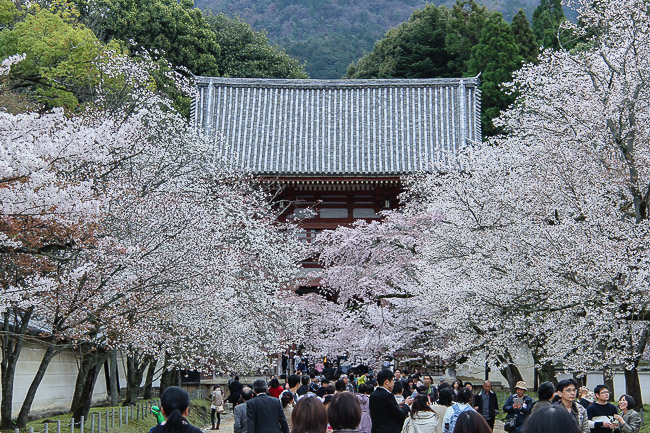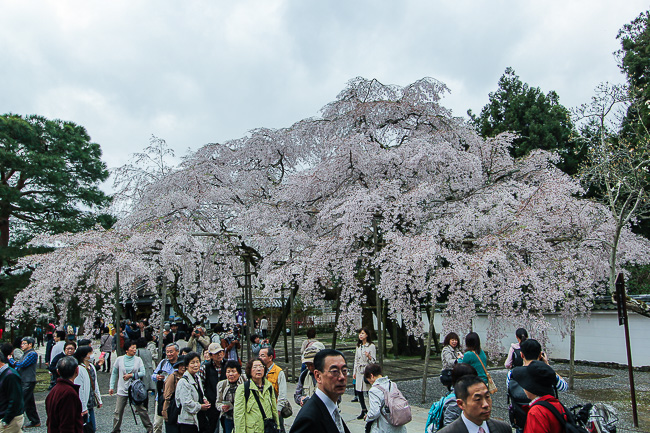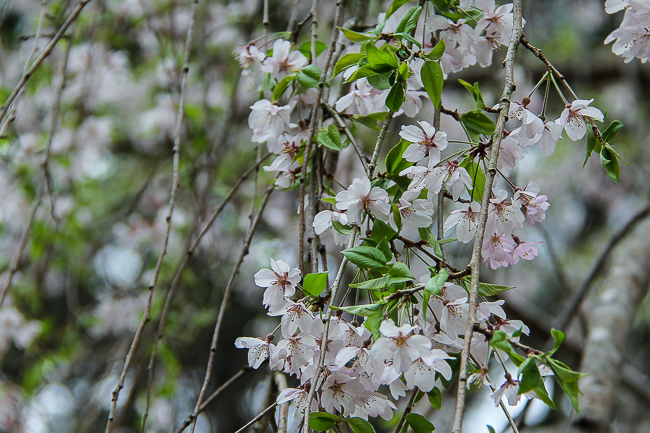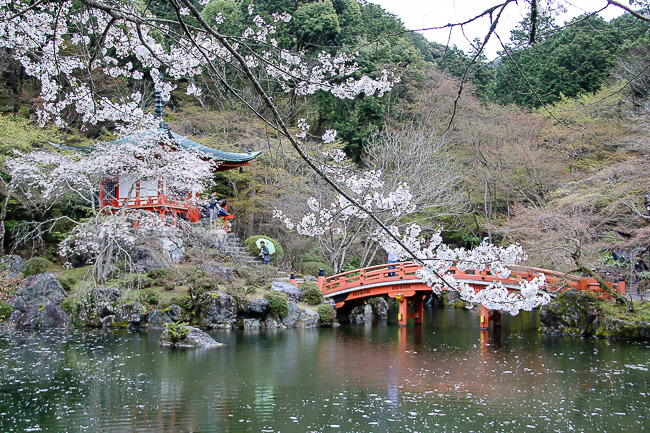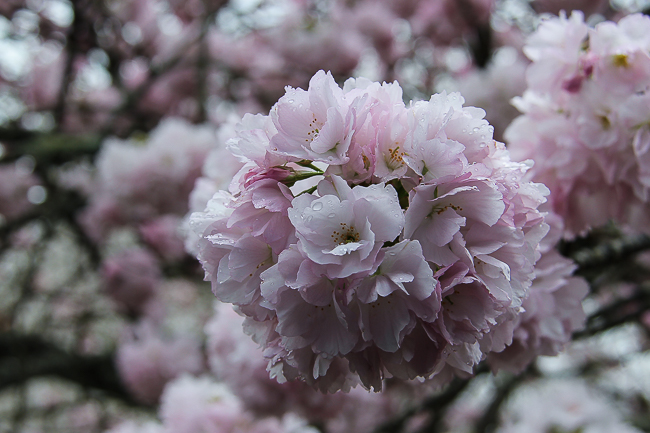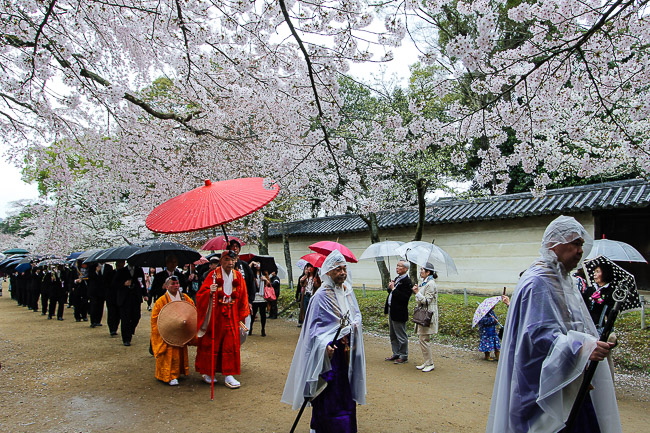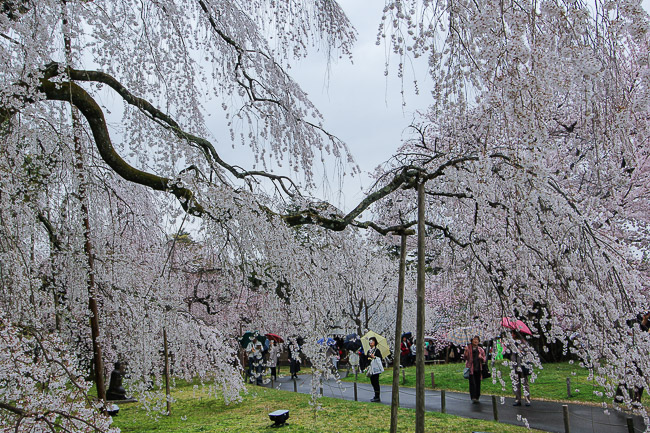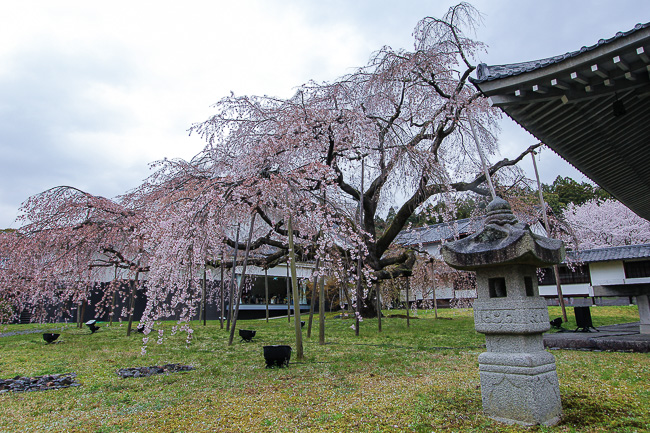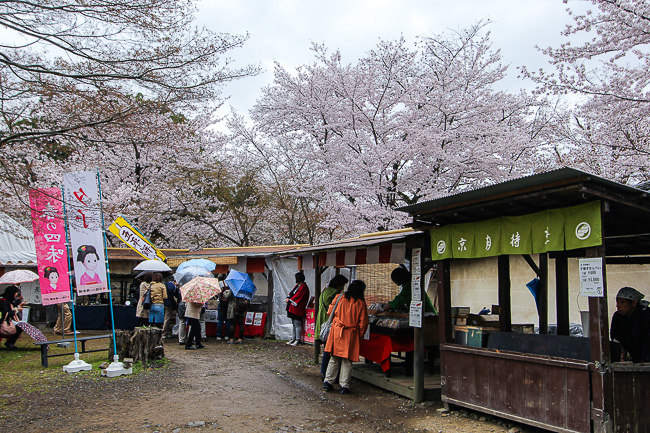 Questions? Ask in our forum.