Cherry Blossoms 2014: Mount Fuji Report (4/15)
Cherry Blossom Report 2014
Official cherry blossom reports by japan-guide.com
2014 Cherry Blossom Forecast - Schedule of upcoming reports - Popular cherry blossom spots
How to do hanami? - Cherry tree varieties - Post your own report
2014/04/15 - Mount Fuji Report
by sean
Kawaguchi Ohashi Bridge and Mount Fuji
Today, I visited the Fuji Five Lakes area (Lake Kawaguchiko in particular) to check out its popular cherry blossom spots. It was the first time I got to see Mount Fuji from a close distance since it received its Unesco World Heritage status in June last year.
Cherry trees in the Fuji Five Lakes area typically flower between one to two weeks after those in Tokyo, so for those who have arrived in the capital too late for the sakura season there, you might consider a trip to the Fuji Five Lakes. Overall, the cherry blossoms in the area still had lots of room for improvement when I visited earlier today, though many of the buds were already in a mature phase. The following two days are predicted to be sunny, and they should provide the warmth needed to encourage most of the blossoms to burst into life.
Chureito Pagoda
April 15, 2014 - approaching full bloom (50-80%)
I arrived at the Chureito Pagoda in the early morning, slightly surprised at how full the cherry trees already were. I estimated that they were at the three quarters mark, which means by the end of this warm day they might have already reached their peak. About two dozen photographers turned up northeast of the pagoda, pointing their cameras southwest in order to take the popular picture of the pagoda with Mount Fuji in the backdrop.
Chureito Pagoda and Mount Fuji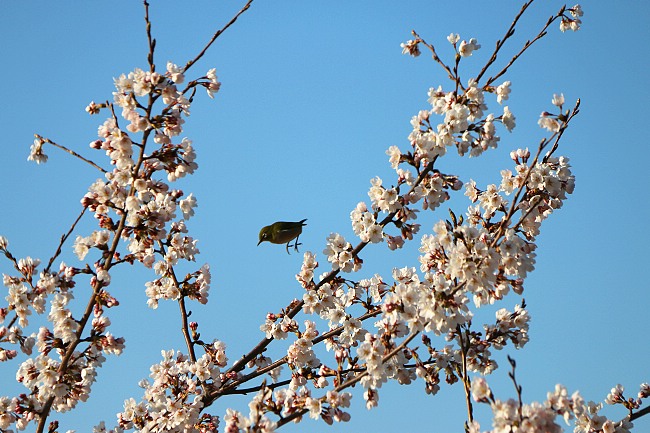 State of cherry blossoms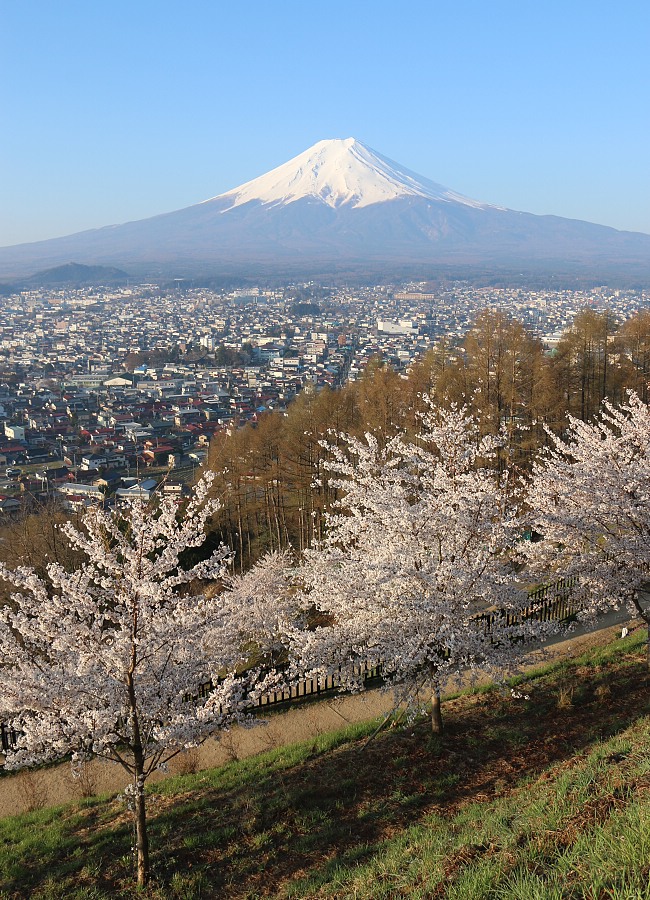 Nice view
Please bear with the flare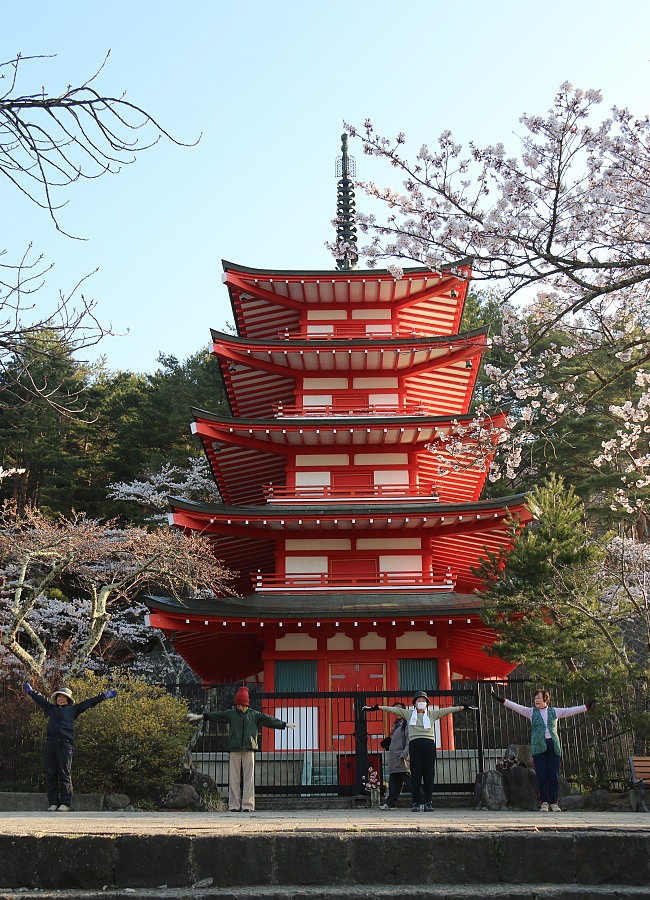 Morning exercise
Eastern Shore of Lake Kawaguchiko
April 15, 2014 - still closed (Yaebeni weeping cherry trees)
Lining the eastern shore of Lake Kawaguchiko are many Yaebeni weeping cherry trees. These cherry trees usually flower a few days after the mainstream Somei Yoshino cherry trees. This morning, I wasn't able to spot any open blossoms here, but I think with the warm temperatures today, the cherry blossoms will start opening latest by tomorrow.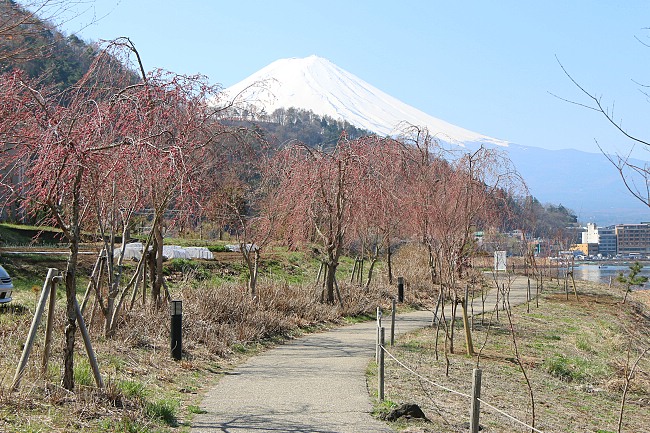 Eastern Shore of Lake Kawaguchiko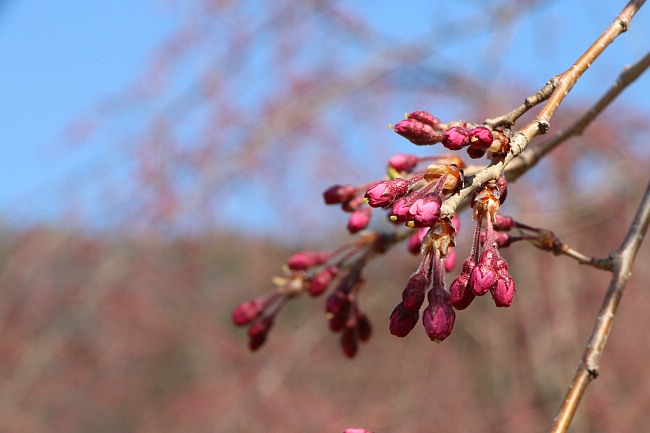 Buds not open yet
Ubuyagasaki Peninsula
April 15, 2014 - opening (10-50%)
Moving north, I stopped at the Ubuyagasaki Peninsula, where there are only a few cherry trees (with sparse branches). However, these trees are strategically located in relation to the lake and Mount Fuji in the background, thereby making this a popular photo-taking spot. Today, the cherry trees here were at about the halfway mark, and they should reach their best by around Thursday.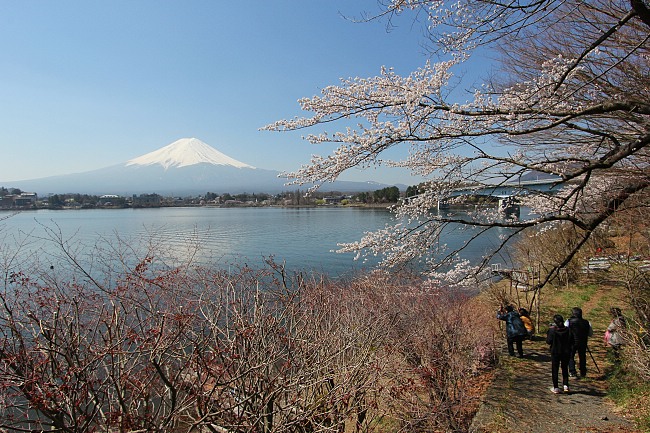 I challenge you to say "Ubuyagasaki" ten times in a row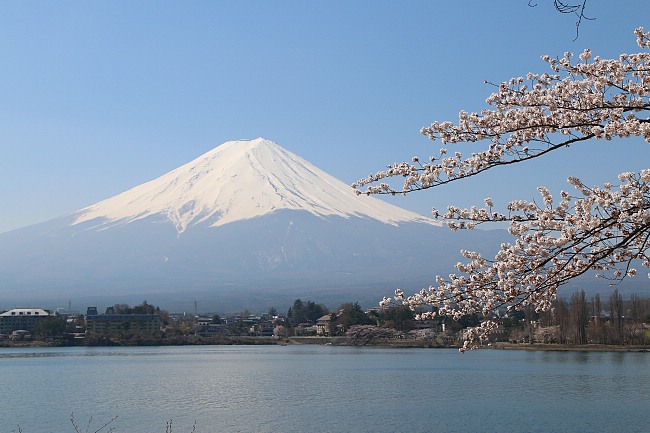 Blossoms and Mount Fuji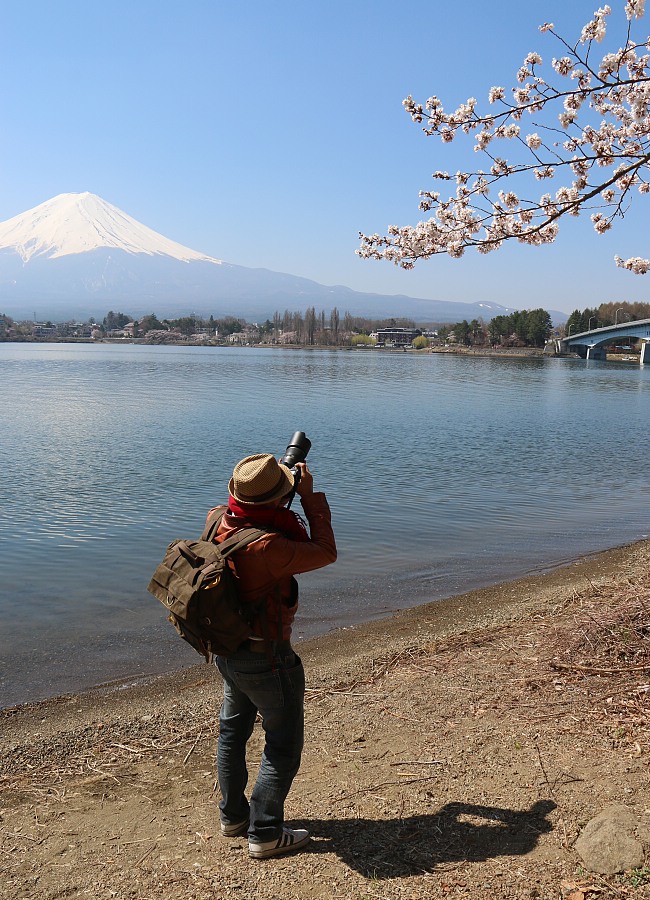 The cowboy
Northern Shore of Lake Kawaguchiko
April 15, 2014 - opening (10-50%)
I proceeded on to the northern shore of Lake Kawaguchiko, where there was a larger concentration of cherry trees. In contrast to the situation at the Chureito Pagoda, the cherry blossoms here have barely opened, and I think they will take another two to three days of conducive warm weather before they will reach their best.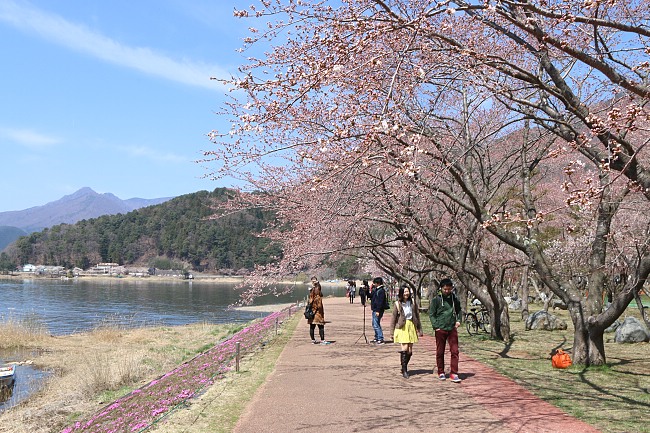 Northern Shore of Lake Kawaguchiko (Some phlox moss were in bloom)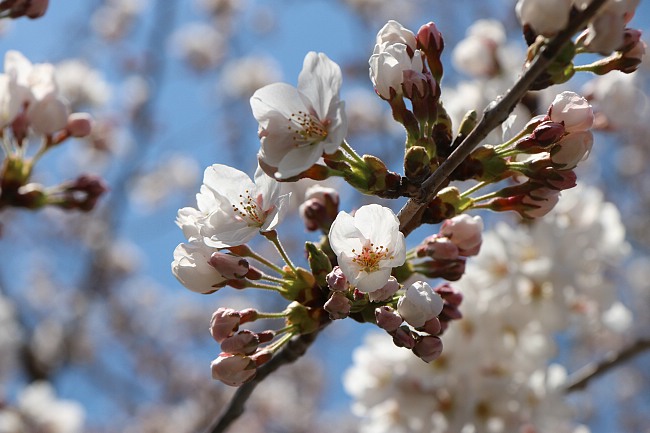 Close up on some blossoms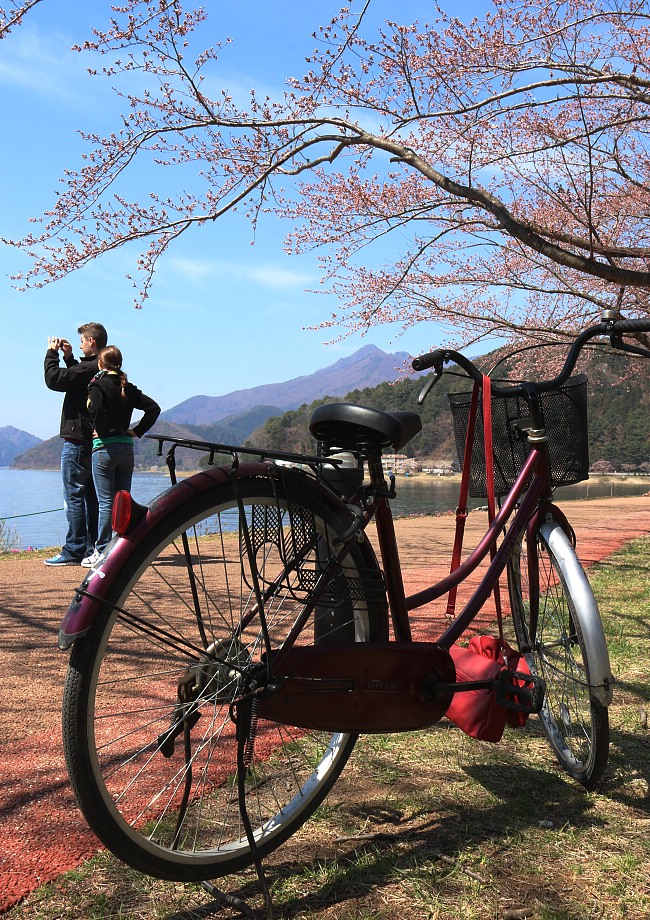 Many people were cycling this morning
I concluded the day's tour with a visit to the Shiraito Falls, located in the southwestern foothills of Mount Fuji. When I visited last year, renovation works were going on in the area and I could only see the falls from above. Now, the renovations have been completed and visitors can walk up to the falls for a closer look.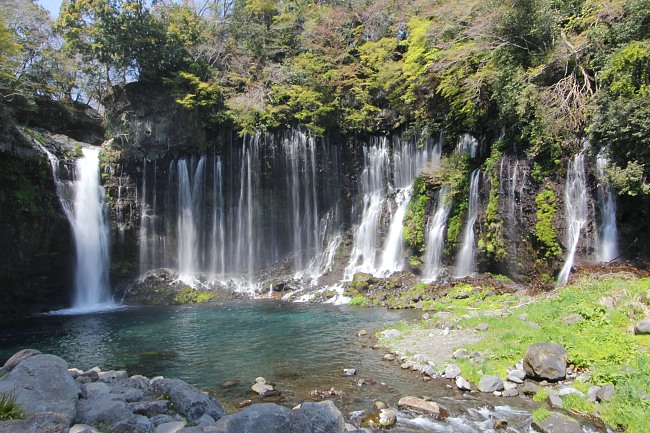 Shiraito Falls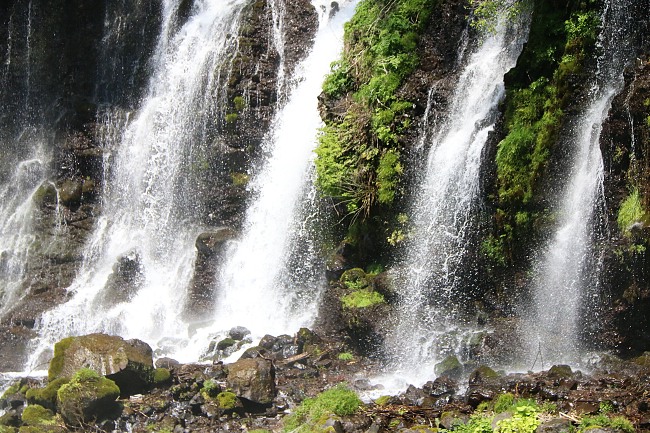 Questions? Ask in our forum.