Cherry Blossoms 2012: Tokyo Report (3/31)
Cherry Blossom Report 2012
Official cherry blossom reports by japan-guide.com
2012 Cherry Blossom Forecast - Schedule of upcoming reports - Post your own report
Popular cherry blossom spots - How to do hanami? - Cherry tree varieties
2012/03/31 - Tokyo Report
by schauwecker
While the cherry blossoms have started opening in Kyushu and Shikoku already over a week ago, they are forecast to officially begin opening in Tokyo today. Starting with this report from the capital, japan-guide.com will be following the blossoms (and buds) with almost daily reports from hanami spots across the country until the seasonal spectacle reaches Hokkaido in early May.
Shinjuku Gyoen
March 31, 2012 - about to open
Strong winds and unstable weather did not provide ideal hanami conditions at Shinjuku Gyoen today. The most numerous Somei Yoshino cherry trees carried well developed buds that I expect to start opening in large numbers early next week. Considering the below average temperatures forecast for the second half of next week, it is likely going to take more than a week until full bloom is reached here.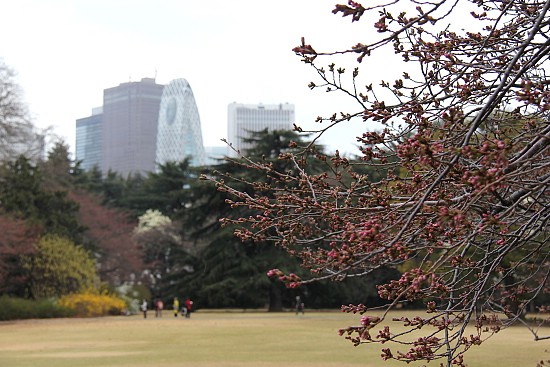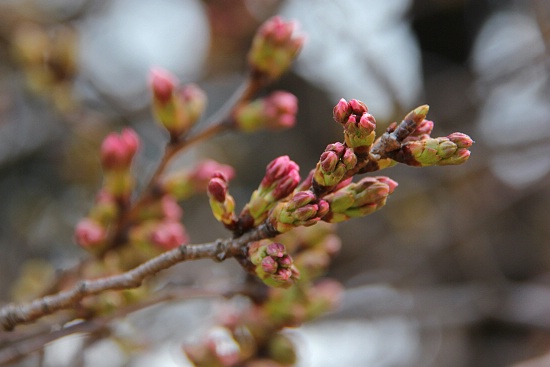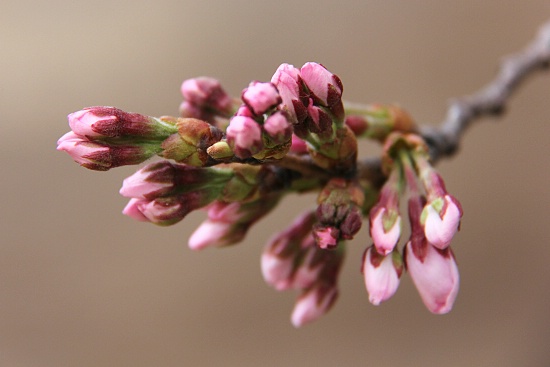 Like on our previous two visits to Shinjuku Gyoen this spring (on March 15 and March 22), a small number of early flowering cherry tree varieties provided visitors already with some blossoms to look at. Among the prettiest trees was a group of weeping cherry trees near the south-eastern corner of the park that were already approaching the 50% mark.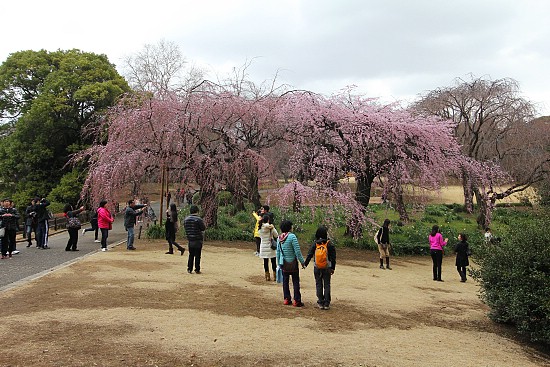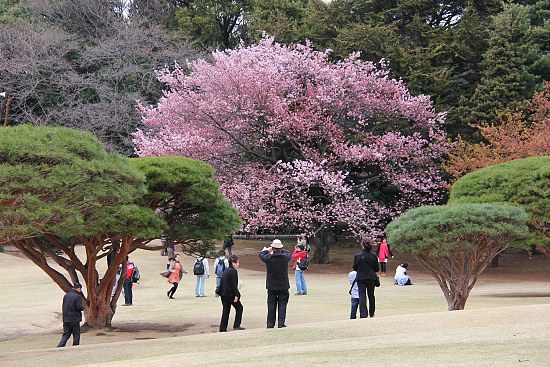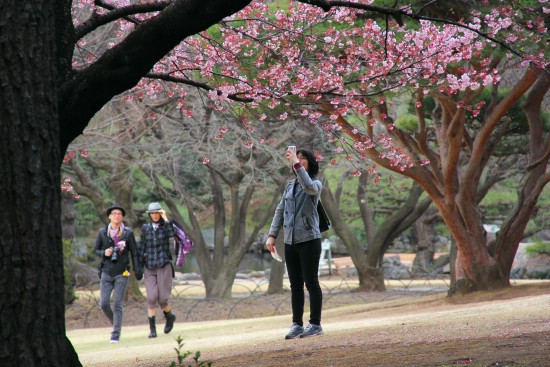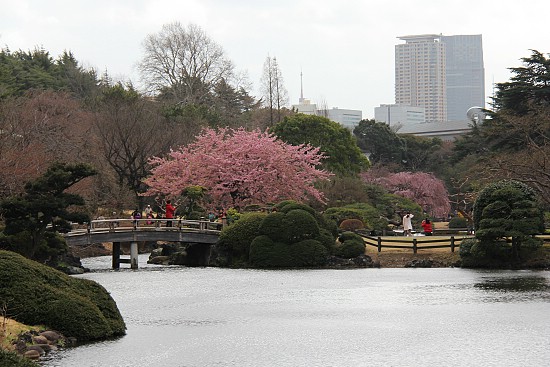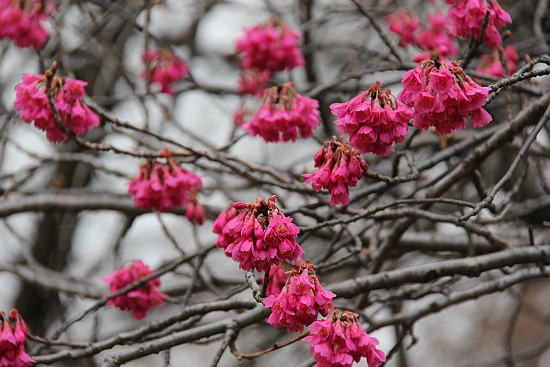 Koishikawa Korakuen
March 31, 2012 - opening (10-50%) (weeping cherries)
Koishikawa Korakuen, one of Tokyo's best Edo Period strolling gardens, is a good destination early during the cherry blossom season because it features an attractive group of weeping cherry trees that typically bloom two to four days earlier than the most numerous Somei Yoshino variety. The weeping cherry trees have only started to open their blossoms recently and had about 10% of their blossoms opened. They should approach full bloom by the next weekend.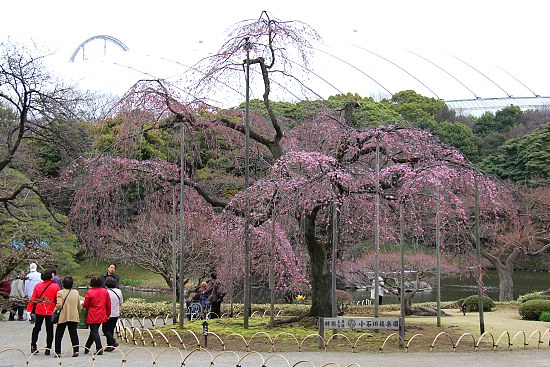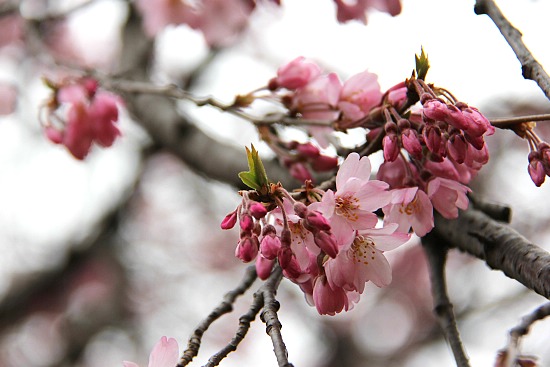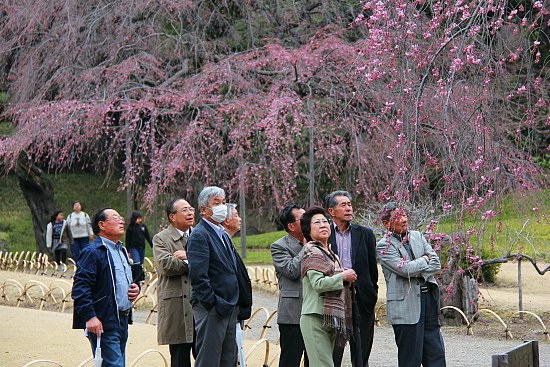 Yasukuni Shrine
March 31, 2012 - just opened (0-10%)
The controversial Yasukuni Shrine is home to Tokyo's representative cherry tree. When this tree next to the shrine's outdoor noh stage opens its first blossoms, Tokyo's cherry blossom season officially starts.
By pure coincidence, I arrived at the representative tree just at the moment when the official announcement of kaika (the opening of the cherry blossoms) was made in front of a large group of members of the media and onlookers. I counted only tree open blossoms at the representative tree and estimate that it will take at least a week until full bloom is reached.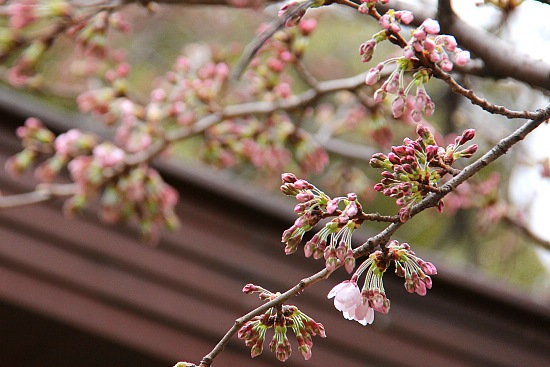 Ueno Park
March 31, 2012 - just opened (0-10%)
The cherry blossoms at Ueno Park, Tokyo's most notorious venue for hanami parties, open typically a day or two earlier than in other spots around the city (I suspect it is due to the trees' protected location over warm asphalt).
Indeed, the park's Somei Yoshino cherry trees seemed just a little bit more advanced than the ones at the previously visited spots, but they were still far below even the one percent mark, as only scattered trees had started to open a small number of blossoms.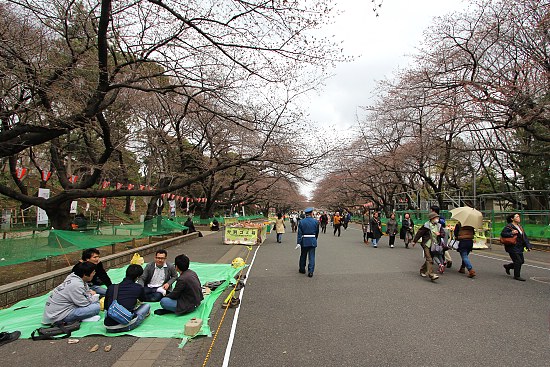 More blossoms were provided by a fair number of early blooming cherry tree varieties, especially around the park's south entrance.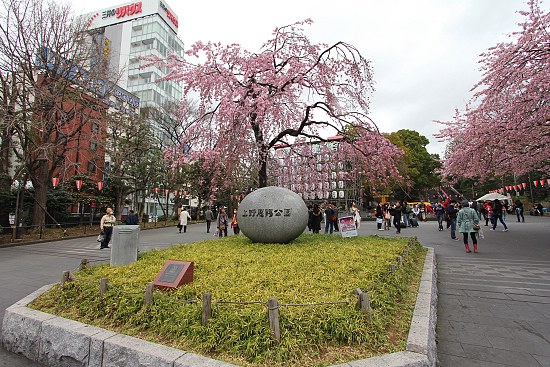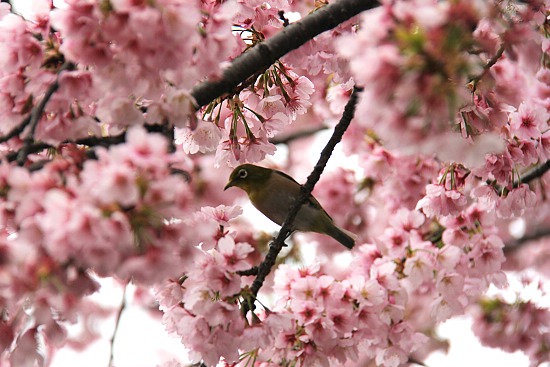 If the weather cooperates, I expect that the two following weekends could both provide good cherry blossom viewing conditions at Ueno Park.
Questions? Ask in our forum.