Cherry Blossoms 2015: Kyoto Report (4/15)
2015/04/15 - Kyoto Report
by joe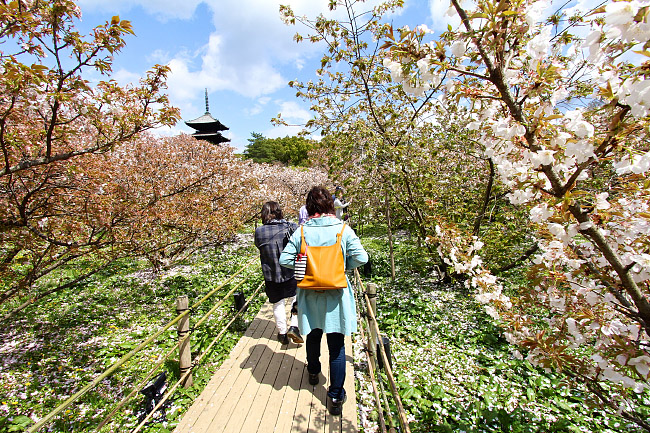 Though the cherry blossom season is coming to its finish here in the Kansai Region this week, all is not lost for those who still want to catch a glimpse of sakura (cherry blossoms) before they're gone in the region this year. In particular, Kyoto offers a handful of great places to enjoy late-blooming sakura in full bloom up to a full week after the blossoms have fallen throughout the rest of the city.
After checking out the Miharu Takizakura in the Tohoku Region (where the sakura season is just kicking into full gear this week) on Monday, and Yoshino (another great late-in-the season sakura spot about two hours away from Osaka) yesterday, I headed today to three of Kyoto's best late-season hanami spots. To my delight, I was greeted by some (mostly) beautiful weather and plenty of still quite beautiful sakura.
Heian Shrine
April 15, 2015 - petals starting to fall
My first stop of the day was to one of Kyoto's arguably most beautiful Japanese gardens, Shin-en, located behind the main building of the enormous Heian Shrine in eastern Kyoto. While the garden is pretty all year round, in mid-April (about a week after most other hanami spots in Kyoto), the garden's late-blooming cherry trees reach full bloom, making for some lovely sakura viewing.
Today, happily, was no exception. The garden, I was told by staff, reached full bloom last weekend and today many fallen petals were starting to blanket the mossy grounds, and were still falling gently as I walked the grounds.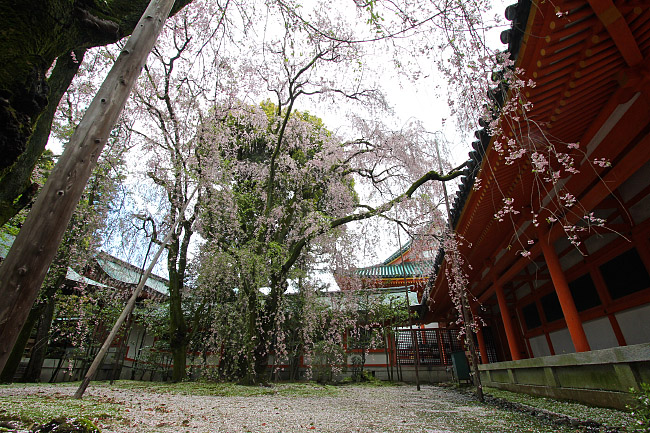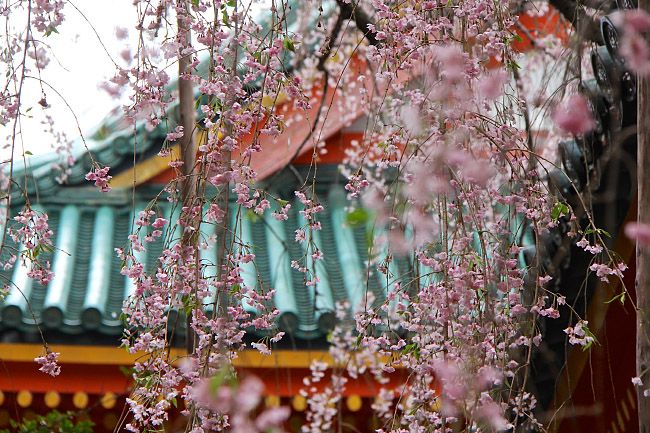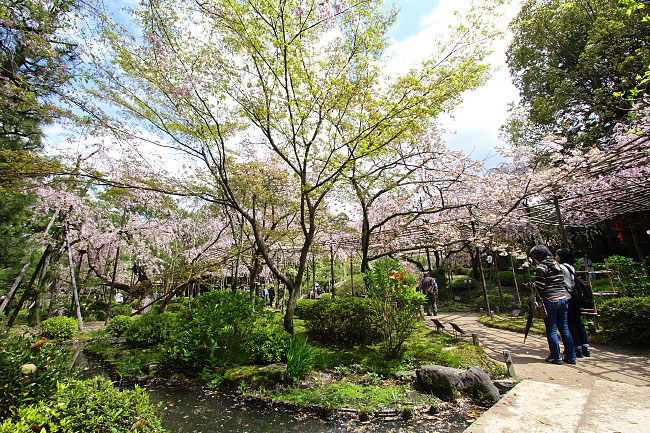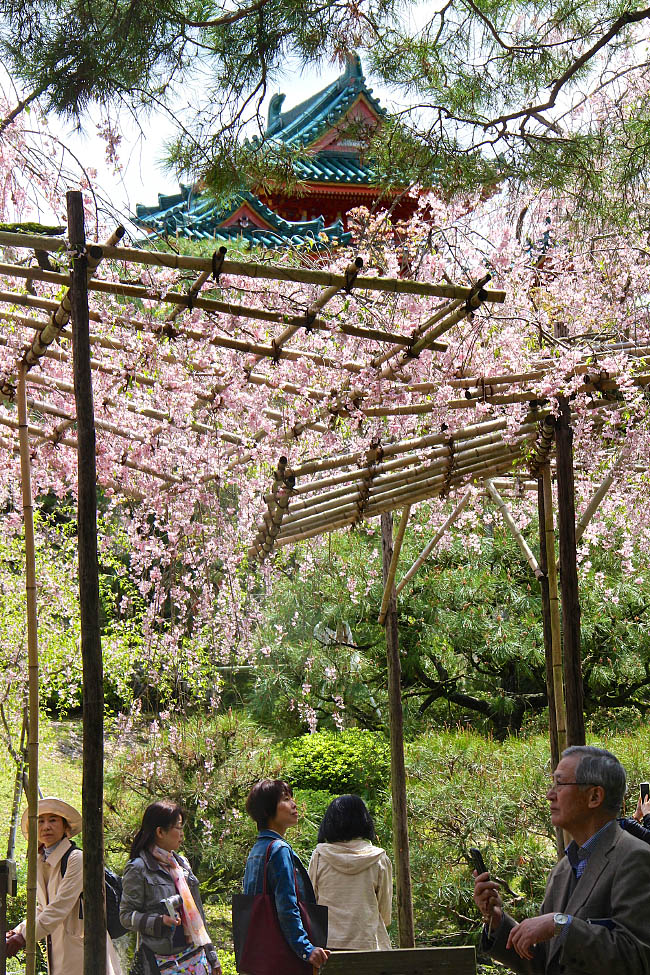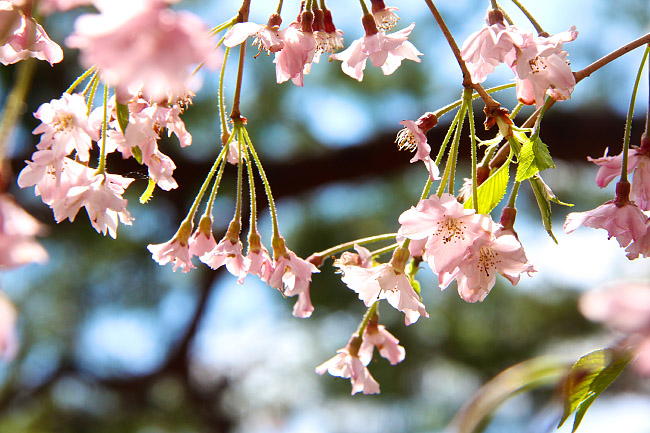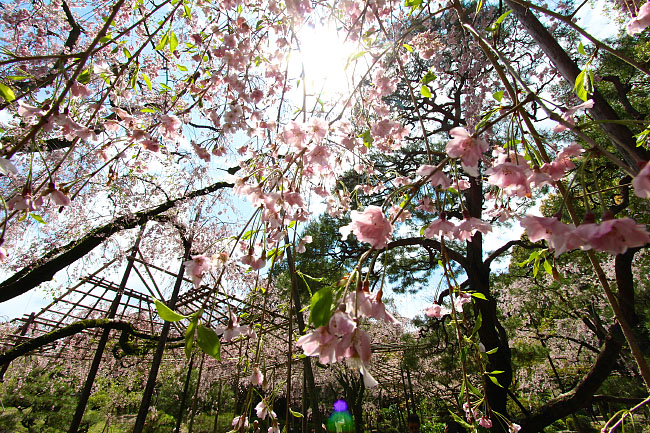 The predominant varieties of cherry tree in the garden are shidarezakura, which have weeping branches, and yaezakura, which have blossoms with more than five petals. Many trees fall into both categories, called yaebeni shidarezakura. These varities (especially yaezakura) are often the ones that provide bloom later in the season than the smaller, whiter-colored Somei-Yoshino trees, the most common cherry tree found in parks around Japan. The yae and shidare blossoms often also bloom at the same time that leaves appear on the branches, giving the trees a less intensely full appearance than Somei-Yoshino trees, but a colorful one nonetheless.
Entrance to the garden costs 600 yen.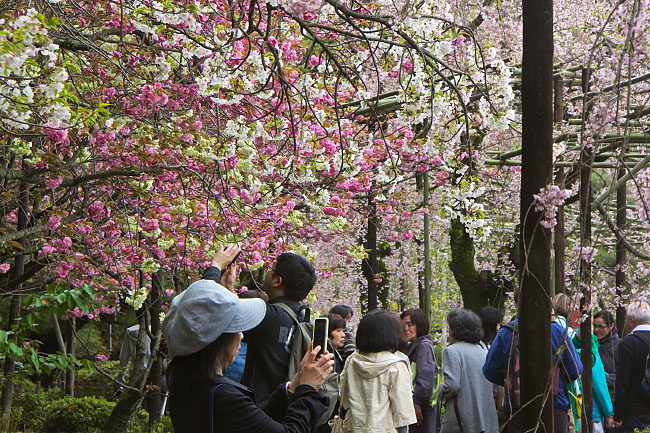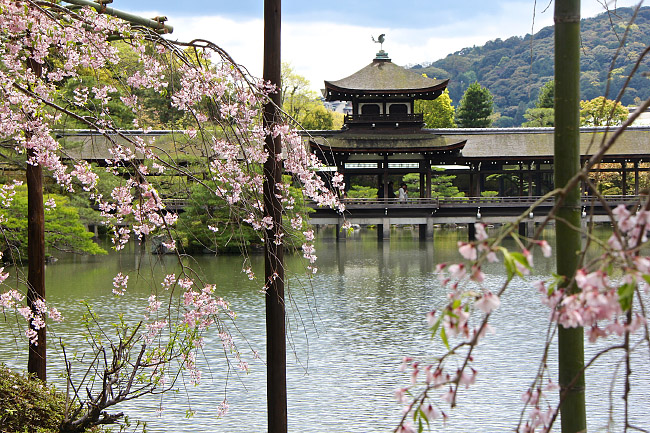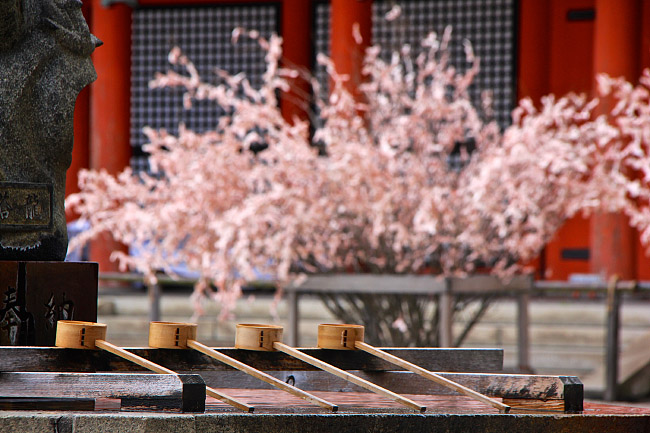 Ninnaji Temple
April 15, 2015 - petals starting to fall
After exploring the gardens of Heian Shrine, I made my way by taxi to the opposite side of the city to the beautiful Ninnaji Temple. One of the many wonderful temples that are registered as World Heritage Sites in Kyoto, Ninnaji has tucked away in a corner of its large grounds an easily-overlooked grove of cherry blossoms which are unique to this very temple. Called Omuro cherries (after the Omuro School of the Shingon sect of Bhuddism), the grove's sakura are a special breed of yaezakura with coppery brown leaves and short trunks that make them almost seem like very large bushes.
Today the Omuro sakura here were past their peak and were shedding petals everywhere, but the affect was quite lovely.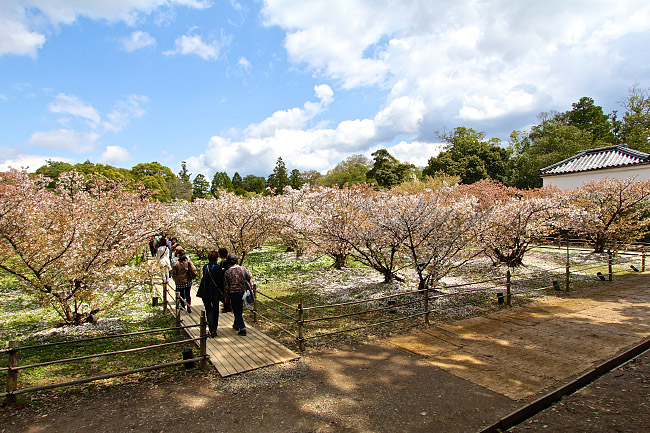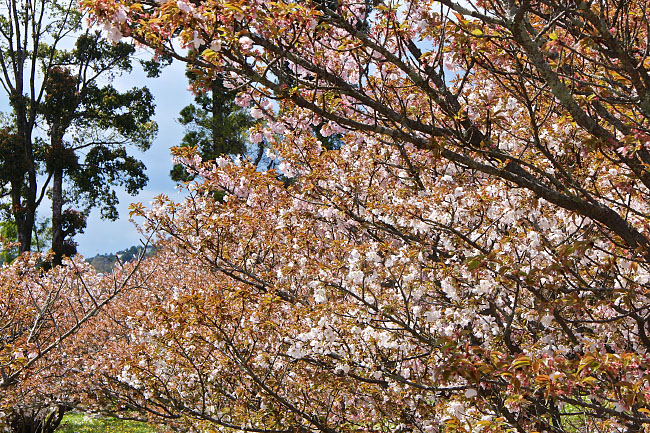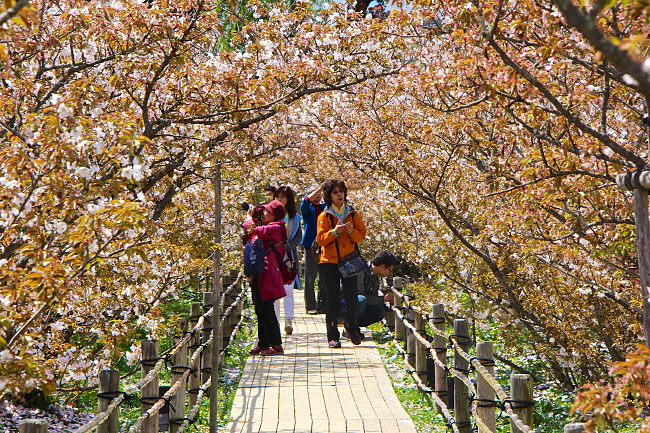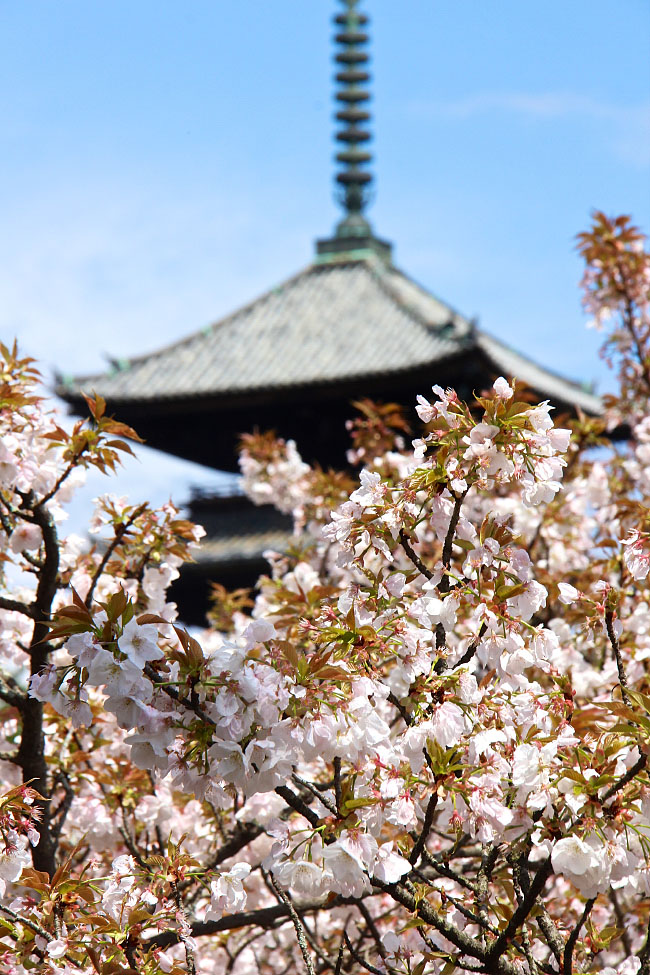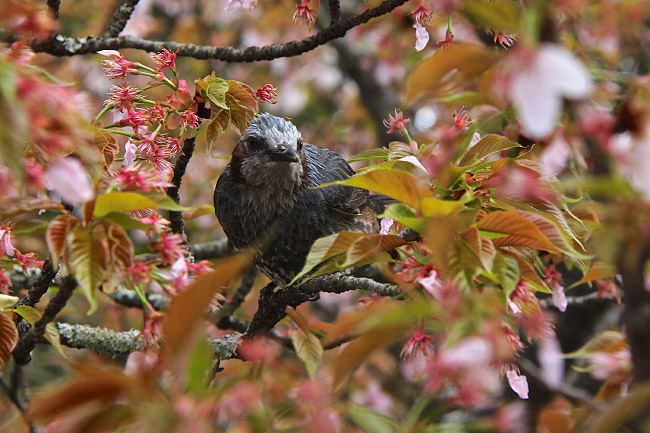 Haradani-en
April 15, 2015 - petals starting to fall
My last stop of the day was to the off-the-beaten-path garden of Haradani-en, located a few kilometers north of Ninnaji. The garden today was like something out of a fairy tale. The garden is full of weeping shidarezakura, all of which were just a little beyond peak today and releasing their petals, creating a light purple canopy above the walkways. The falling petals, combined with a cool breeze, made for a lovely "hanafubuki," or blizzard of flower petals at times, and was a lovely experience.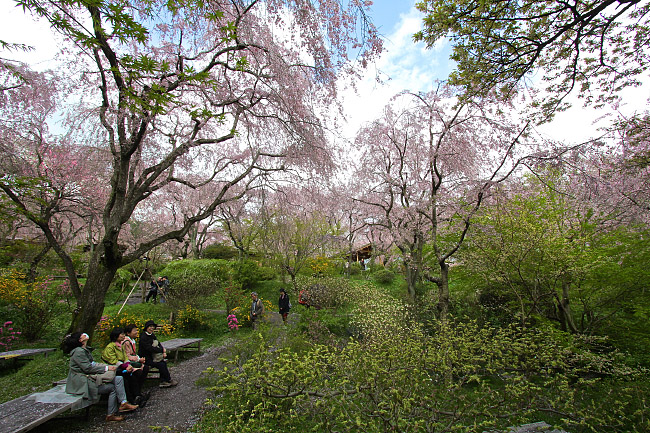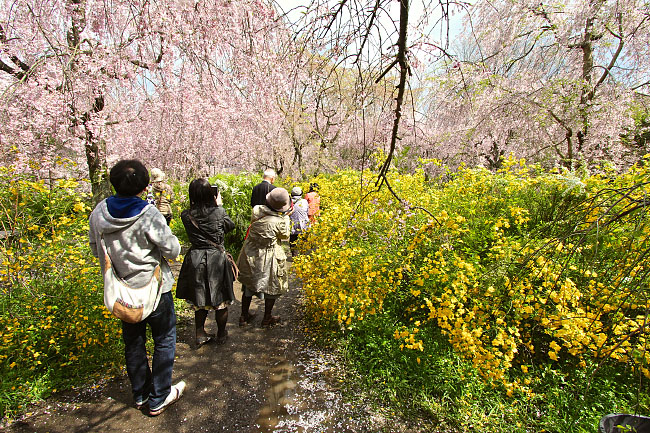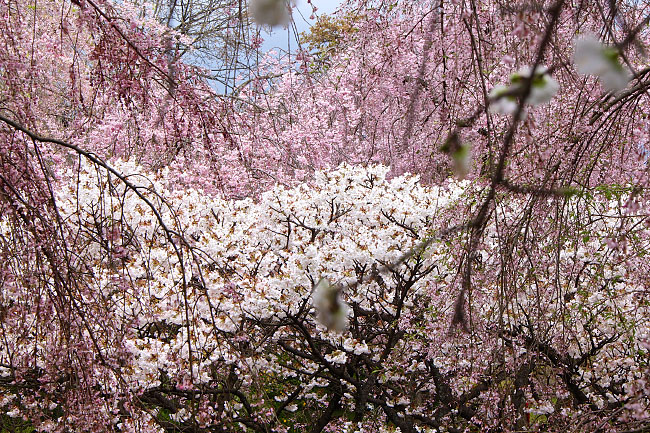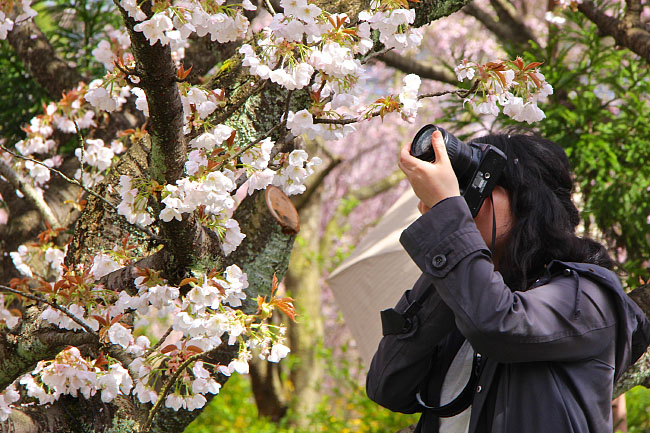 Haradani-en was also, to my surprise, rather crowded today with flower watchers, despite being a weekday and despite being fairly inconvenient to reach by public transportation. Only the infrequent M1 city bus serves the garden, so a good alternative is simply to come and go by taxi from a more convenient area on the north side of town, such as Kinkakuji, Ninnaji or Kitaoji Station. The garden costs 1200 yen to enter on weekdays and 1500 on weekends.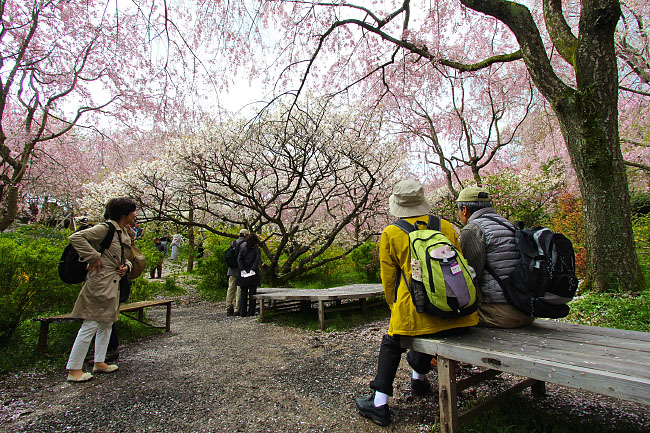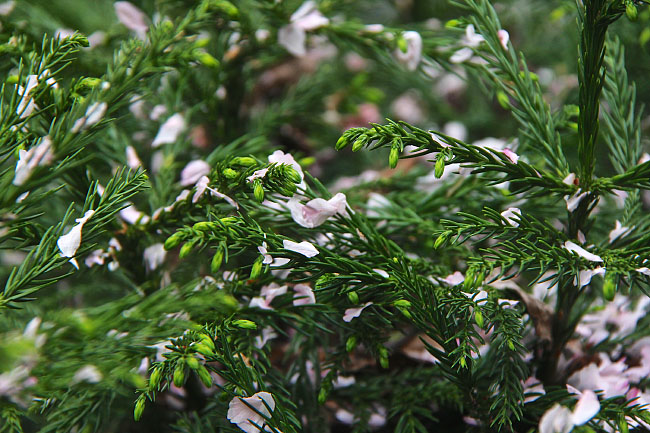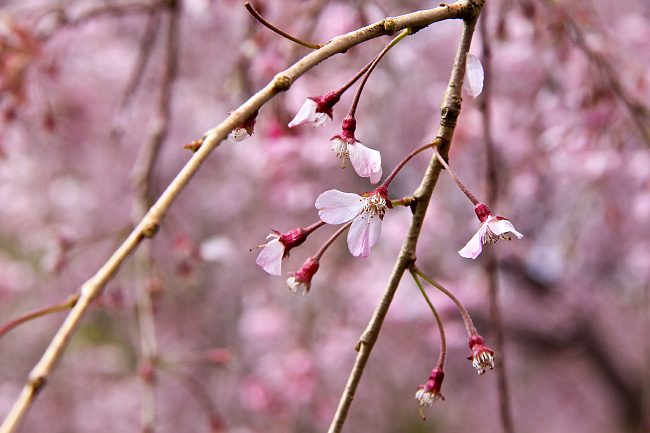 Questions? Ask in our forum.