Cherry Blossoms 2014: Osaka Report (4/4)
Cherry Blossom Report 2014
Official cherry blossom reports by japan-guide.com
2014 Cherry Blossom Forecast - Schedule of upcoming reports - Popular cherry blossom spots
How to do hanami? - Cherry tree varieties - Post your own report
2014/04/04 - Osaka Report
by raina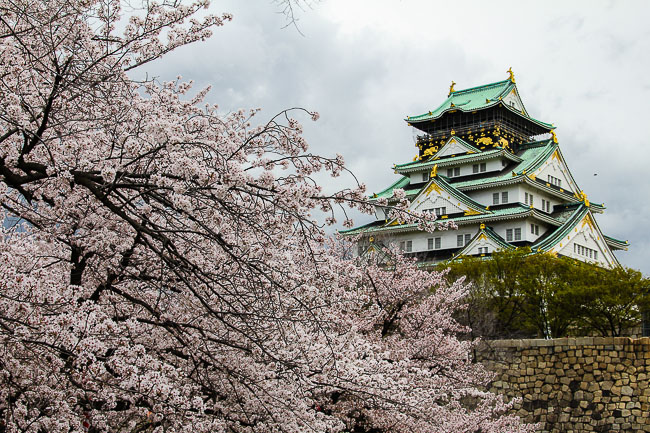 After three days of beautiful weather, I woke up to slight rain and cooler temperatures today. Because of last night's rain and strong gusts of wind, the cherry blossom petals at all three sites in Osaka that I visited today had started to fall. However, I'm sure that there were enough cherry blossoms left to enjoy viewing this weekend.
When the fallen petals swirled up in strong gusts of wind, it looked like snow to me. It is the best kind of 'snow' in my books because my fingers do not get numb from the cold. Also, today's wedding photo-shoot tally stands at two, a drastic fall from yesterday's tally.
With the cherry blossom petals in Osaka starting to fall, head here to find out the state of the flowers in Tokyo where Scott was today.
Kema Sakuranomiya Park
April 4, 2014 - petals starting to fall
I started my journey from Kema Sakuranomiya Park today, north of Osaka Castle. It seemed to be a popular spot as I saw people exercising, playing gateball, and photography enthusiasts. The park is also beside Okawa River and I saw river cruise boats, offering a different view of the cherry blossoms.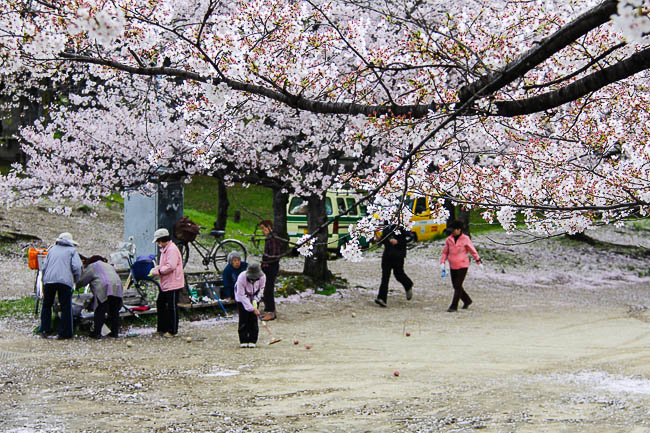 Elderly playing gateball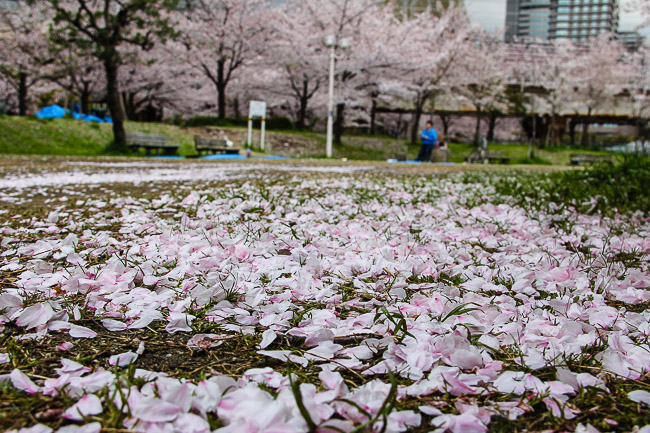 Fallen petals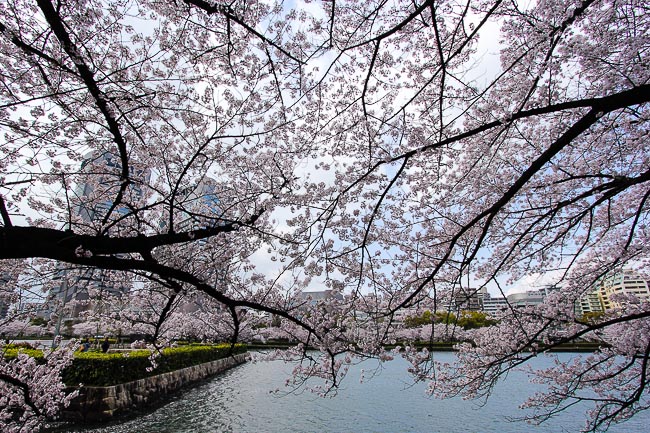 Cherry blossom tree over the river
There are about 5000 cherry trees planted in Kema Sakuranomiya Park. With so many trees, the ground was whitish-pink from the petals that had fallen. It was a pretty sight indeed. Along the way, I stopped by the garden of Baron Fujita's residence, which is a small garden towards the end of the park. Entry is free and the garden is open from 10:00 till 16:00. There were a couple different varieties of trees, all in full bloom.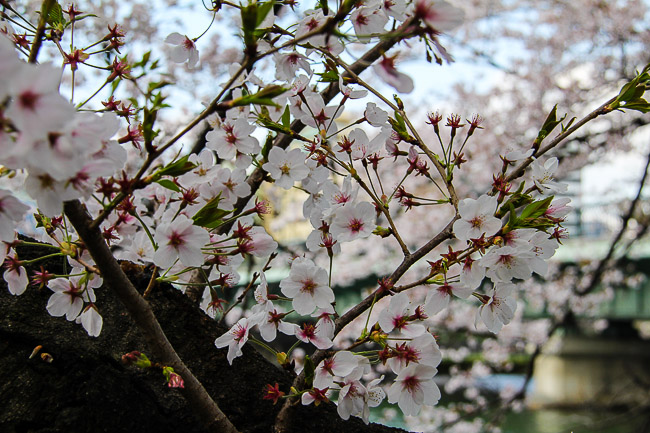 Close up of the mainstream Somei Yoshino blossoms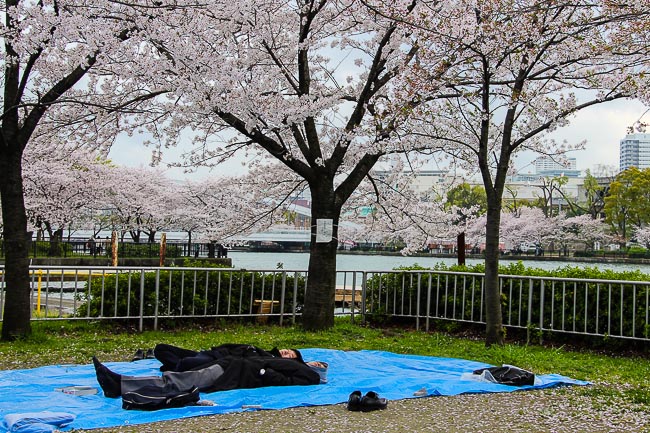 I almost wanted to call for an ambulance, but I guess they came super early to reserve their spot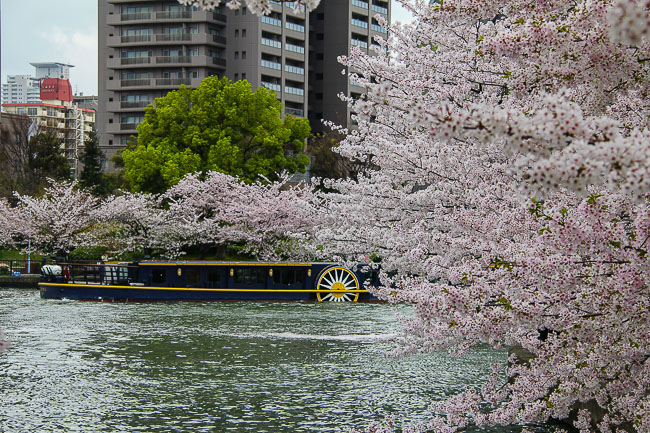 Part of the river cruise boat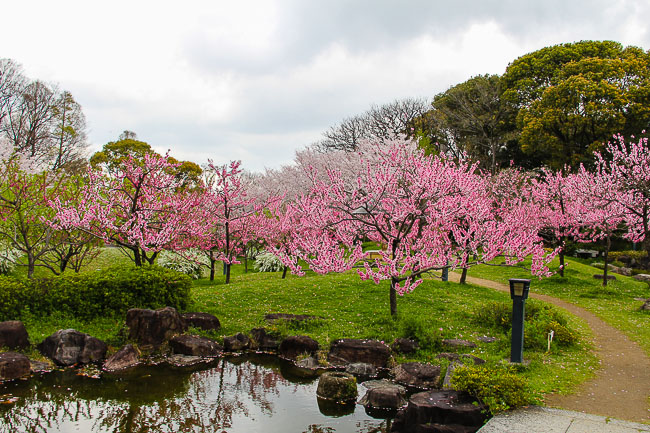 The gardens of Baron Fujita's residence
Osaka Castle
April 4, 2014 - petals starting to fall
It was a pleasant stroll from Kema Sakuranomiya Park to Osaka Castle, my next destination. There were many more visitors compared to Kema Sakuranomiya Park, and the food stalls near castle entrance were making brisk business. The cherry blossom petals have started to fall here but should still be pretty enough for this weekend.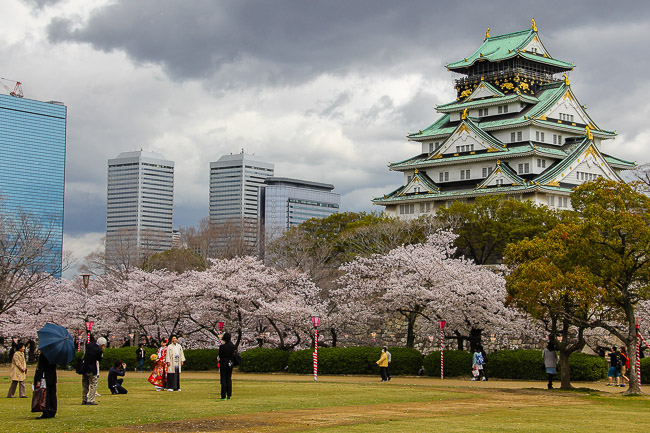 Wedding photo-shoot in Nishinomaru Garden with Osaka Castle in the background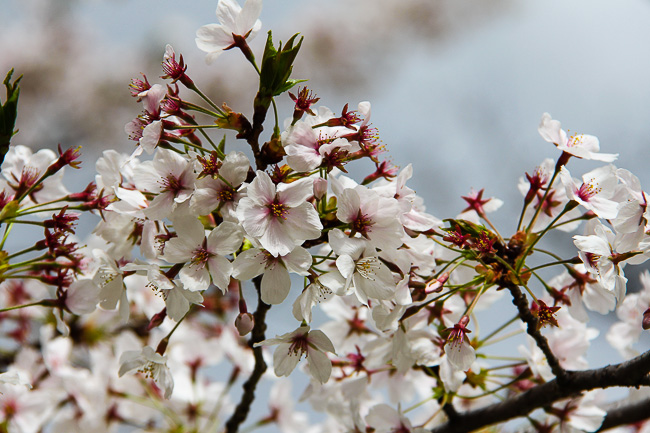 You can tell which ones have no petals left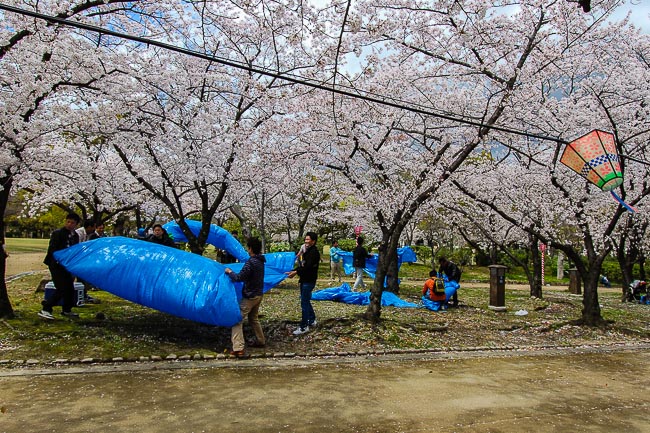 It took four men to fold up the picnic sheet in the strong winds
I went to Nishinomaru Garden located on the castle grounds as well, where about 300 cherry trees were planted. It costs 200 yen to enter and it is open from 9:00 t0 17:00 (entry until 17:30). The garden is also lit at night from 18:00 to 22:00 and entry costs 500 yen. The light up will run until April 13.
Once inside Nishinomaru Garden, it was clear that the prime picnicking spot is on the east side along the moat. It offered an unobstructed view of Osaka Castle under cherry trees. Also popular was the west side of the lawn under the cherry trees, providing a wider view of the castle.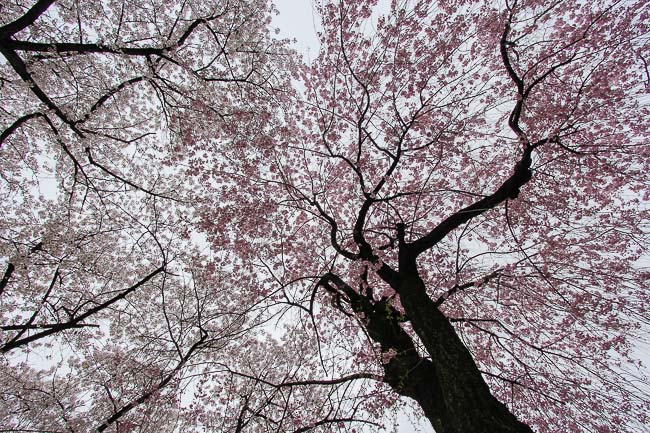 Weeping cherry tree in darker pink and Somei Yoshino tree in light pink in Osaka Castle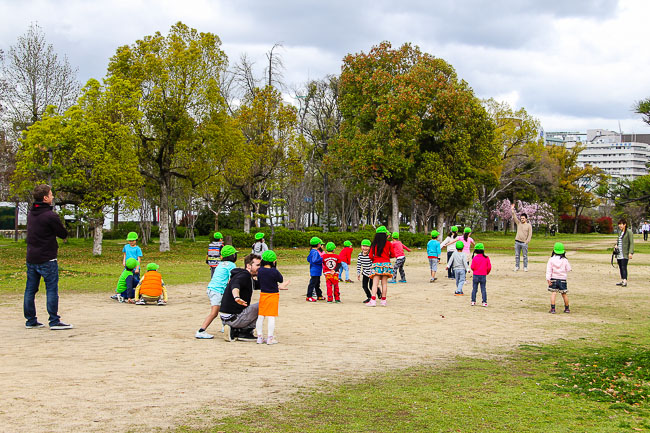 English spring camp in action
Expo 70 Commemorative Park
April 4, 2014 - petals starting to fall
Finally, I took the monorail to Expo 70 Commemorative Park, the former site of the Japan World Exposition in 1970. Most of the park now is a huge garden, and you can see different kinds of flowers through the year. The park is open from 9:30 to 21:00 (entry until 20:30). It costs 250 yen to enter the Natural and Cultural Garden, where I went. There are about 5500 cherry trees planted in the Expo Park and the main cherry blossom boulevard is lit in the evenings from 18:00 to 21:00 (entry until 20:30). The light up will run until April 13. Once more, the cherry blossom petals here were also starting to fall, but is still expected to look beautiful over the weekend.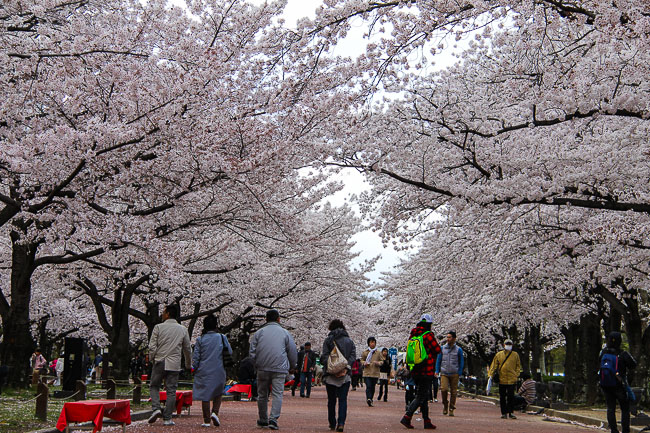 At the main cherry blossom boulevard at the Expo Park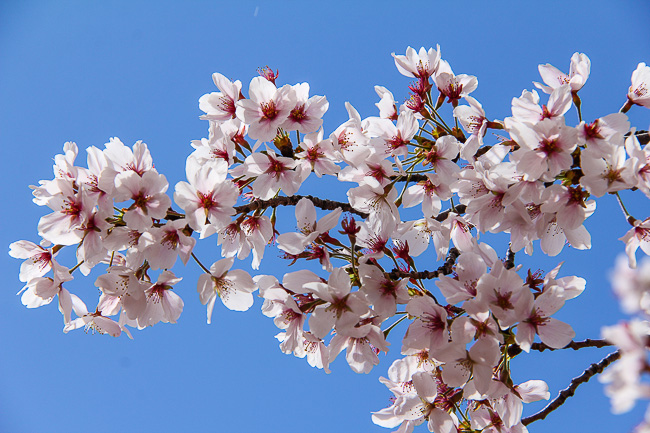 A blue patch in the overcast sky for some close up blossoms
I saw children gathering up the fallen petals into plastic bags and emptying it all into the wind or throwing fistfuls of petals at one another. A fistful of petals has to be the gentlest thing you could throw at someone. The park was bustling with activity with visitors having cherry blossom viewing parties, food stalls (with smells that made my mouth water) located in a few parts of the park, a ceramics market towards the east entrance.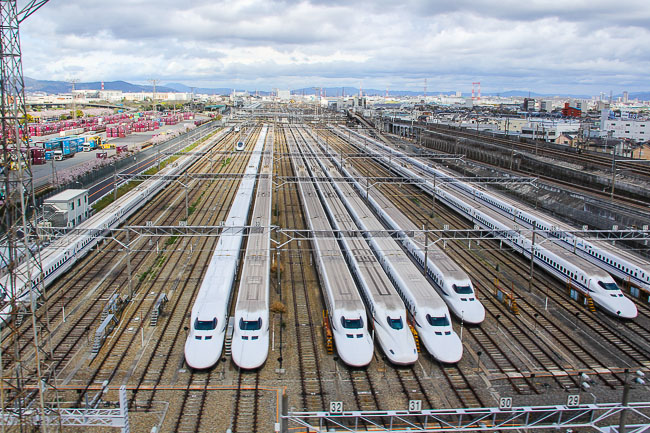 I passed a bullet train depot on the way to the Expo Park
The famous Tower of the Sun statue at the Expo Park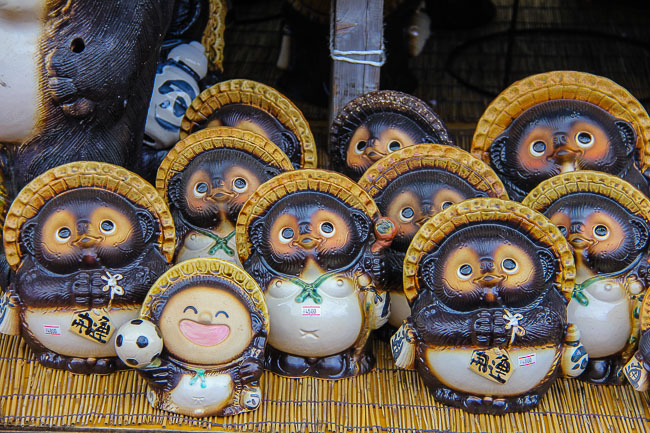 Tanuki for sale at the ceramics market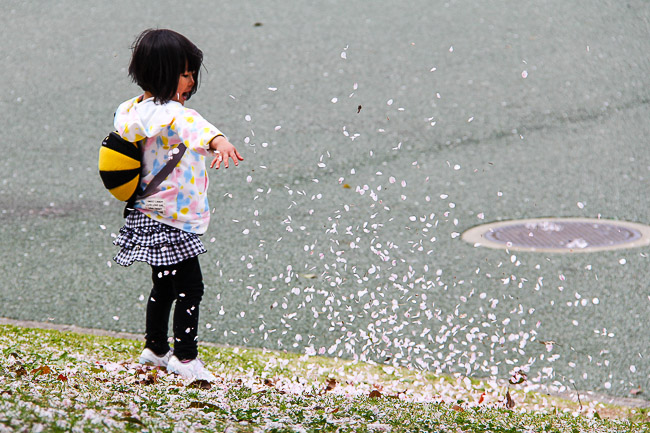 A little girl throwing handfuls of petals into the wind
Questions? Ask in our forum.