Cherry Blossoms 2011: Fukuoka Report (4/3)
Cherry Blossom Report 2011
Official cherry blossom reports by japan-guide.com
This year's cherry blossom season will be overshadowed by the tremendous loss caused by the recent earthquake. However, we believe that the blossoms will serve as symbols of hope and resilience and a source of motivation along Japan's road to recovery. With this in mind, we never hesitated to go ahead with our annual reports in order to inform travelers in Japan and readers across the world about this year's cherry blossom season.
2011 Cherry Blossom Forecast - Schedule of upcoming reports - Post your own report
Popular cherry blossom spots - How to do hanami? - Cherry tree varieties
2011/04/03 - Fukuoka Report
by francois
For our last cherry blossom report of this year from Kyushu, today I made a second trip to some of Fukuoka's cherry blossom spots. When Schauwecker visited Fukuoka for the March 31 Cherry Blossom Report, he found the city's flowers to be at quite an early stage of development, with over half of the buds still closed.
Today most of the cherry trees I saw were almost at full bloom, and at all the sites I vistied there were large crowds of people enjoying the flowers. The only negative about today's reporting was the cloudy weather that made it difficult to get nice pictures. As predicted in last week's report, Fukuoka's cherry blossoms will be reaching full bloom within the first couple days of this week.
Atago Shrine
April 3, 2011 - approaching full bloom (50-80%)
Atago Shrine is located up a rather large hill that is a 10 minute walk from Meinohama Station, one of the terminal stations of the Kuko Subway Line. At the top of the hill, the shrine grounds themselves are not very extensive but there are dozens of attractive cherry trees along the paths.
The main trees are very close to full bloom, but some of the trees off to the side have many buds that remain unopened. Because of the shrine's high elevation and proximity to the waterfrom there are nice views that include both Fukuoka City and Fukuoka Bay. However, there are not any views that also include cherry blossms.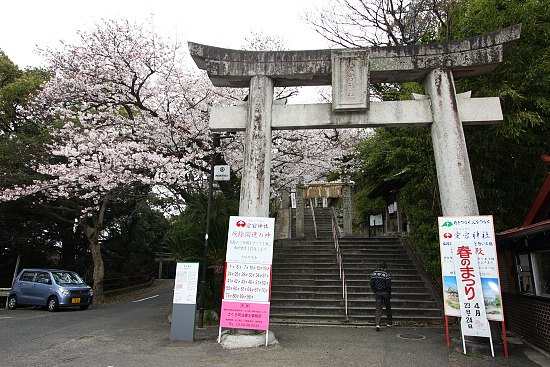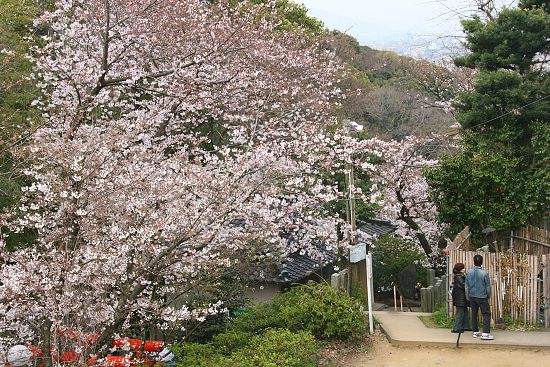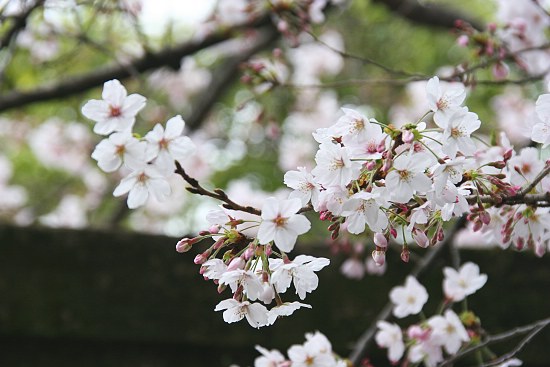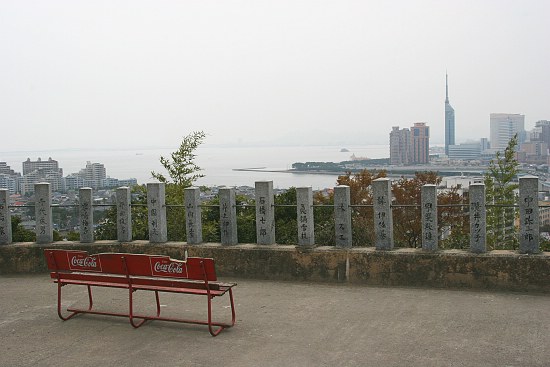 Nishi Park (Nishi Koen)
April 3, 2011 - approaching full bloom (50-80%)
Located north of Ohori Park, Nishi Koen is an expansive park that includes a shrine and many spots for hanami. Although it has views onto the water, personally I found those of Atago Shrine to be more attractive. The park also has a lot of green space and walking paths that were very busy today with people looking for flowers.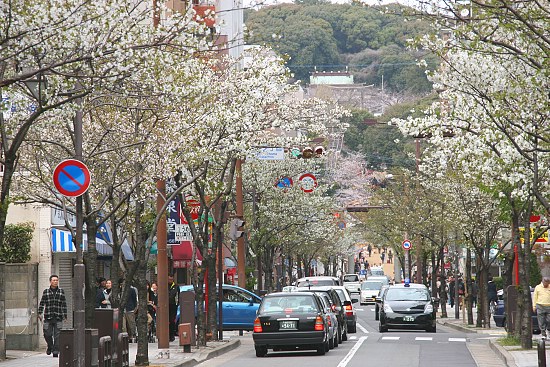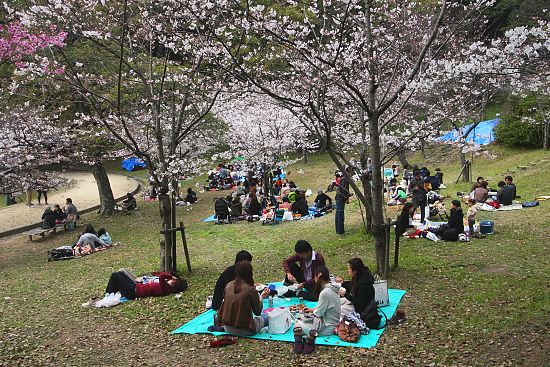 Maizuru Park (Fukuoka Castle)
April 3, 2011 - approaching full bloom (50-80%)
Maizuru Park is located on the former grounds of Fukuoka Castle, and is the city's best hanami spot. Unfortunately, as Schauwecker mentioned in his report, the park's evening illumination and a few special events have been cancelled this year. Nonetheless, today there was a very festive atmosphere, with hundreds of people enjoying hanami parties and a variety of stalls selling festival food at the busiest spots. The park's flowers were also just at the verge of reaching full bloom.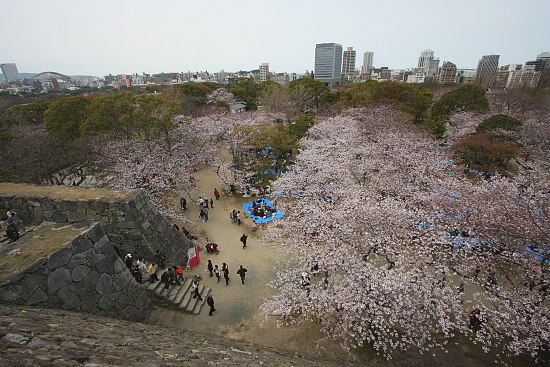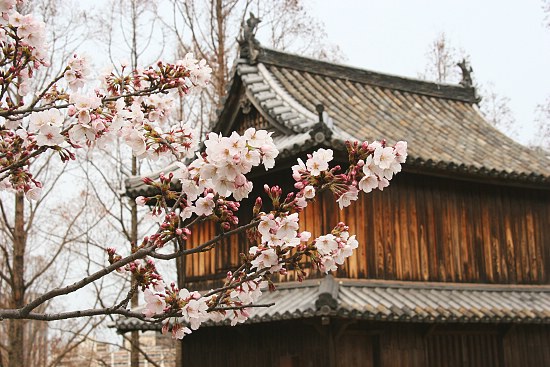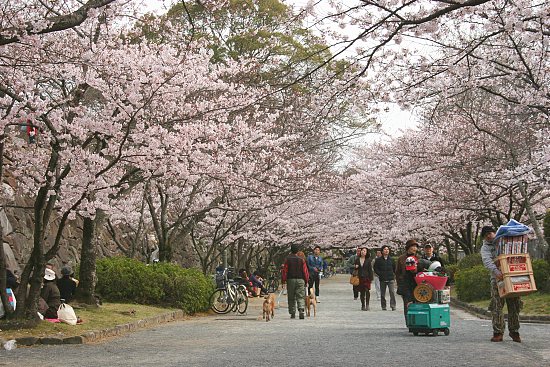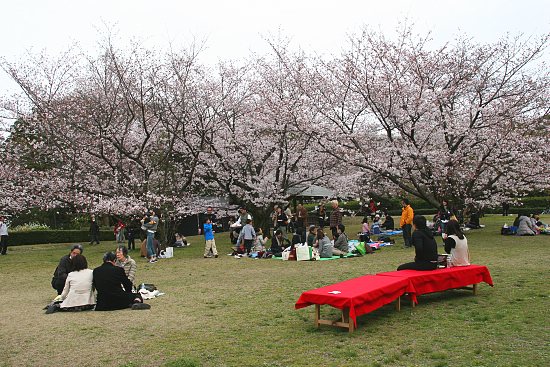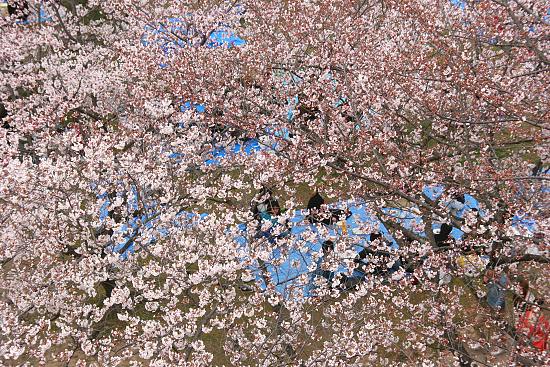 Questions? Ask in our forum.