Cherry Blossoms 2011: Kyoto Report (4/12)
Cherry Blossom Report 2011
Official cherry blossom reports by japan-guide.com
This year's cherry blossom season will be overshadowed by the tremendous loss caused by the recent earthquake. However, we believe that the blossoms will serve as symbols of hope and resilience and a source of motivation along Japan's road to recovery. With this in mind, we never hesitated to go ahead with our annual reports in order to inform travelers in Japan and readers across the world about this year's cherry blossom season.
2011 Cherry Blossom Forecast - Schedule of upcoming reports - Post your own report
Popular cherry blossom spots - How to do hanami? - Cherry tree varieties
2011/04/12 - Kyoto Report
by francois
Scott visited Kyoto three days ago for the April 9 Cherry Blossom Report and found all the sites he visited at full bloom. Since then a few of Kyoto's cherry blossom spots have begun to lose some flowers. It is still a great time to visit the city for cherry blossoms, but I suspect that by the weekend the majority of the most common somei yoshino variety of cherry tree will be drawing close to the end of the flowering season. I will be reporting from the city once more in a few days to show the state of the flowers as the season draws to a close.
Maruyama Park
April 12, 2011 - petals starting to fall (shidare)
April 12, 2011 - petals starting to fall (somei yoshino)
Maruyama Park's famous weeping cherry tree (shidare) still looked quite attractive but it has certainly lost some flowers. The park's somei yoshino trees were also losing flowers, but there was a mixture of trees that were still almost at full bloom and trees that were further advanced with fewer remaining flowers.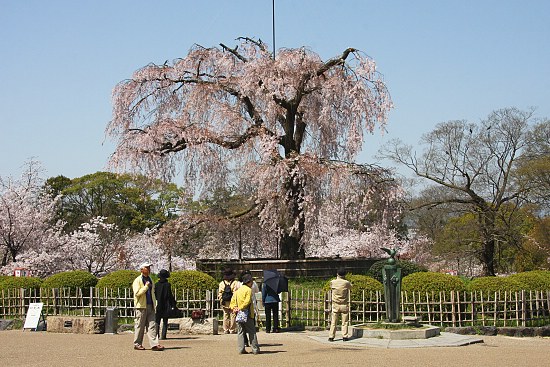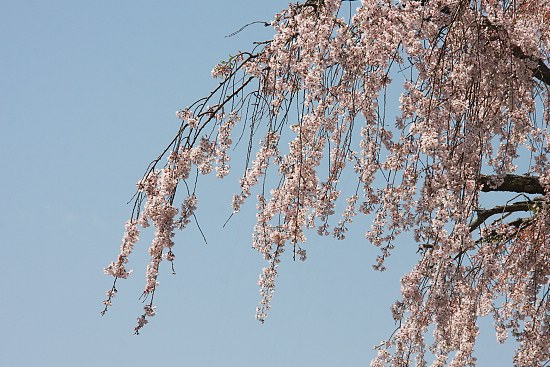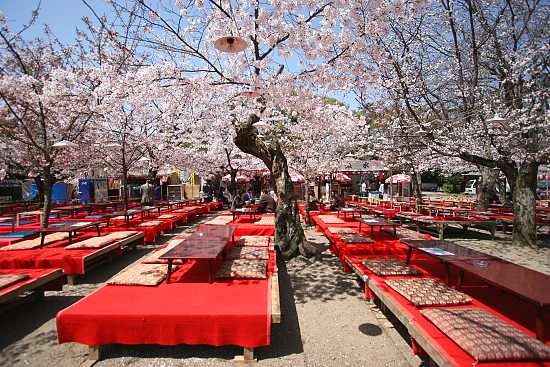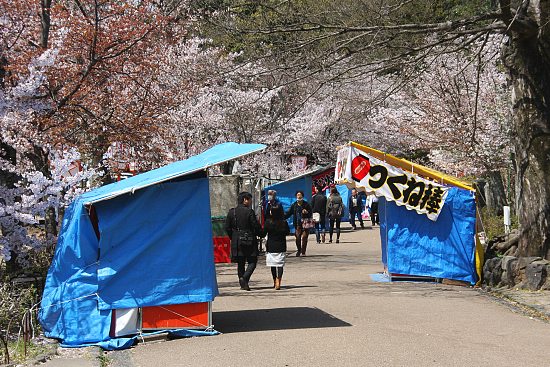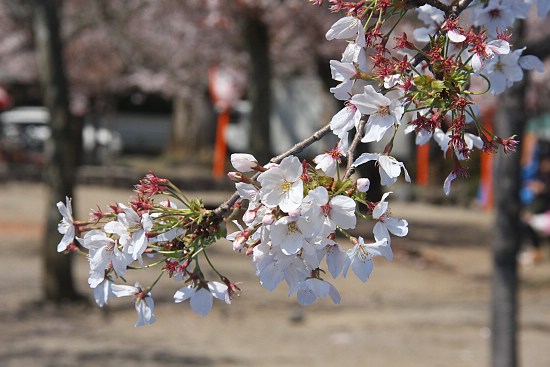 Keage Incline
April 12, 2011 - petals starting to fall
The Keage Incline is a slope that was used to transfer boats between canals, but in modern times it is more well known as a cherry blossom spot. Here as well the flowers were very attractive, but petals have begun to fall. In some spots the trees still seemed very much at full bloom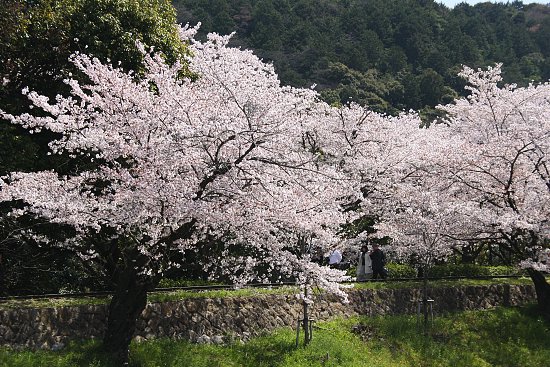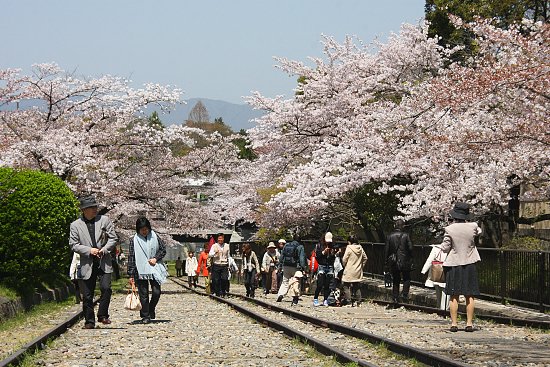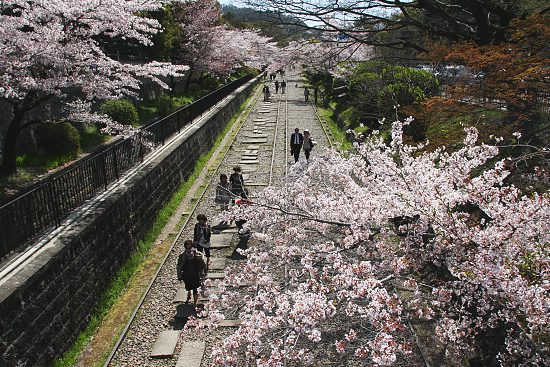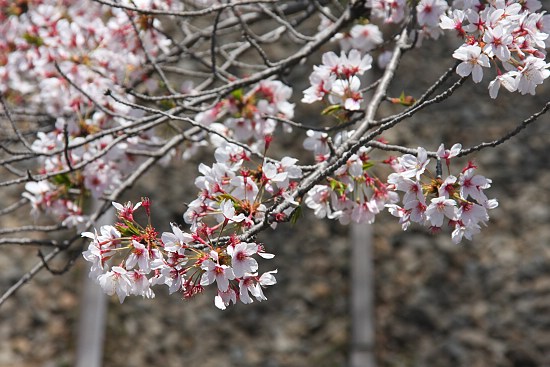 Okazaki Canal
April 12, 2011 - full bloom
The Keage Incline leads to the Okazaki Canal at the lower end, and the canal is also lined with cherry trees. The trees along the canal seem less advanced than those on the incline and were still at full bloom when I visited today. Boat rides along the canal are available for visitors until the beginning of next month.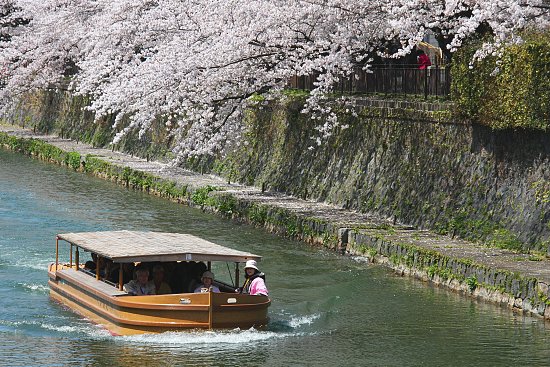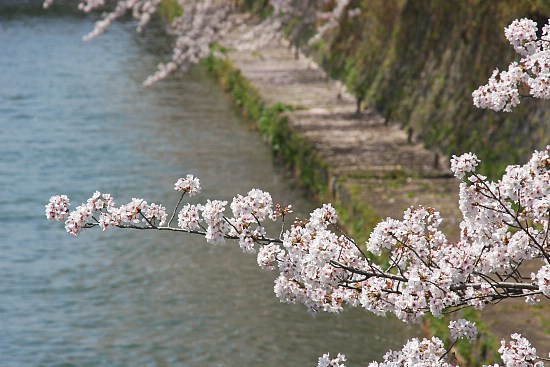 Heian Shrine
April 12, 2011 - approaching full bloom (50-80%) (yaebeni shidare)
In the vicinity of both the incline and the canal is Heian Shrine, which I visited next. There are a few different kinds of cherry trees spread out over the shrine grounds that were at different stages of development.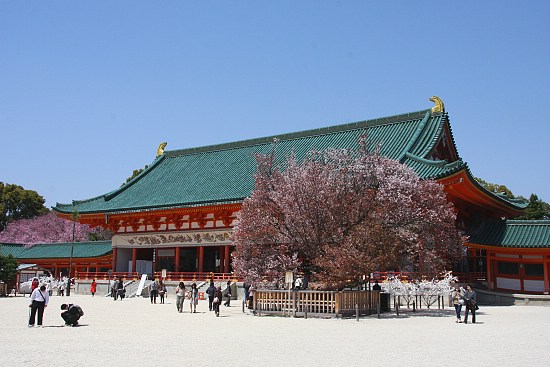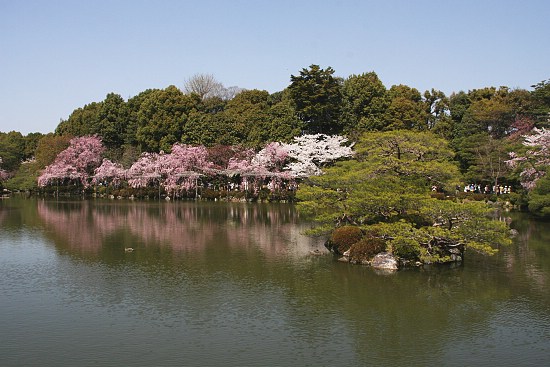 The most numerous trees at the shrine are the later blooming yaebeni shidare variety in the rear garden, which has a paid entrance of 600 yen. These weeping cherry trees were not quite at full bloom today but will likely be so tomorrow. There were still quite a few unopened buds on some trees and it seemed like only a few petals had fallen, so travelers who won't visit Kyoto until a few days from now should consider the shrine as one of the best spots to still find flowers.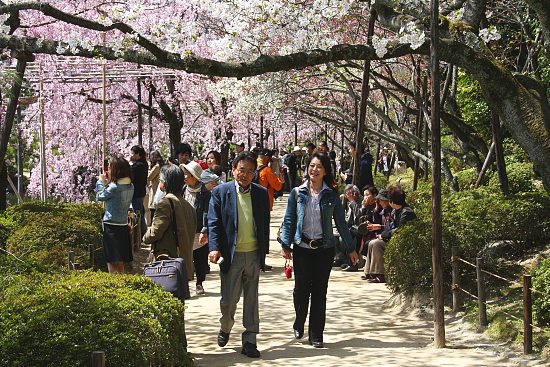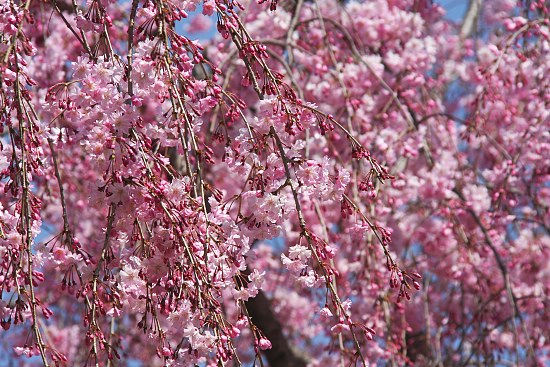 Ninnaji Temple
April 12, 2011 - about to open (omuro cherry)
Located in northern Kyoto, Ninnaji Temple is another popular spot to find later blooming cherry blossoms. The omuro cherry trees for which the temple is famous are considerably later blooming. The temple has a cherry blossom festival that begins in a couple days, so today most of the cherry tree grove area was inaccessible. Ninaji Temple will be a good place to visit even into next week. Today, there were a few scattered cherry trees of different varieties that were very attractive, but the temple's main attraction is its omuro cherry trees which are still unopened.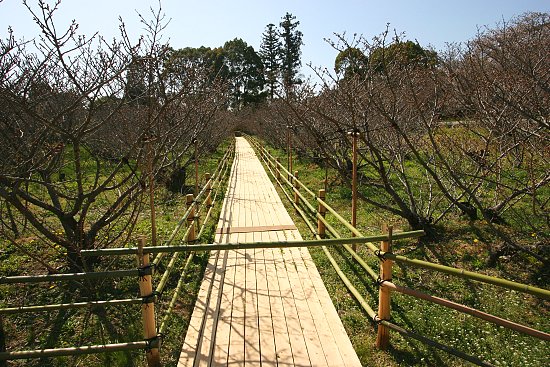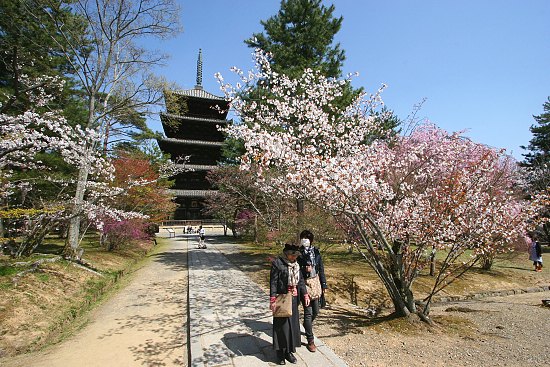 Kinkakuji Temple
April 12, 2011 - petals starting to fall (a single somei yoshino)
My last stop of the day was Kinkakuji Temple, which is not known as a popular cherry blossom spot. The golden pavilion is one of Kyoto's most iconic images, but it is little affected by the cherry blossom season. I only saw two cherry trees on the grounds, one of which could barely be seen in the distance behind the golden building. I wanted to validate the absence of Kinkakuji from our list of Kyoto's cherry blossom spots, and in that I was successful. Nonetheless, even without the aid of blooming cherry blossoms, the pavilion was very beautiful.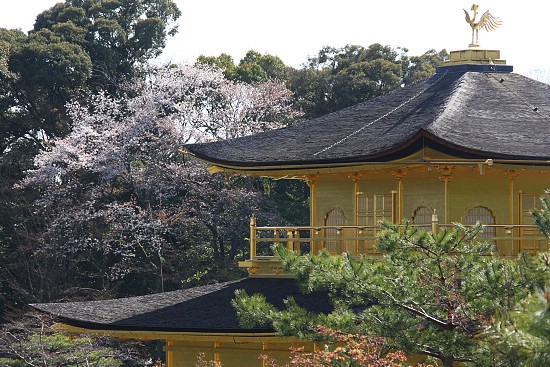 Questions? Ask in our forum.