Cherry Blossoms 2013: Kyoto Report (4/8)
Cherry Blossom Report 2013
Official cherry blossom reports by japan-guide.com
2013 Cherry Blossom Forecast - Schedule of upcoming reports - Popular cherry blossom spots
How to do hanami? - Cherry tree varieties - Post your own report
2013/04/08 - Kyoto Report
by sean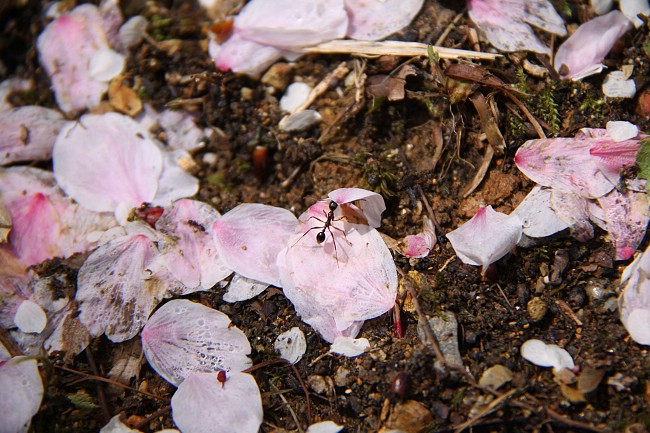 An ant carries a petal at Haradani-en
After a very wet and windy weekend that saw many petals fall prematurely, this week most of Japan will see much more sun. I set foot on Kyoto again, as the season approaches an end for the mainstream Somei Yoshino cherry blossoms. Apart from some cherry blossom spots that we frequent, today I also visited Ninnaji Temple and Haradani-en to check out some later blooming varieties of cherry blossoms.
Arashiyama
April 8, 2013 - end of season
My first stop for the day was at Arashiyama, where I last visited a week ago. Then, I predicted that the best views here would probably last until April 4th or 5th; indeed, by the time of my visit this morning most of the trees had shedded large numbers of petals.
Nevertheless, there was still quite some tourist activity going on around the photogenic Togetsukyo Bridge. The shopping streets at the north end of the bridge were as usual filled with scenes of gleaming shopkeepers tending to their patrons.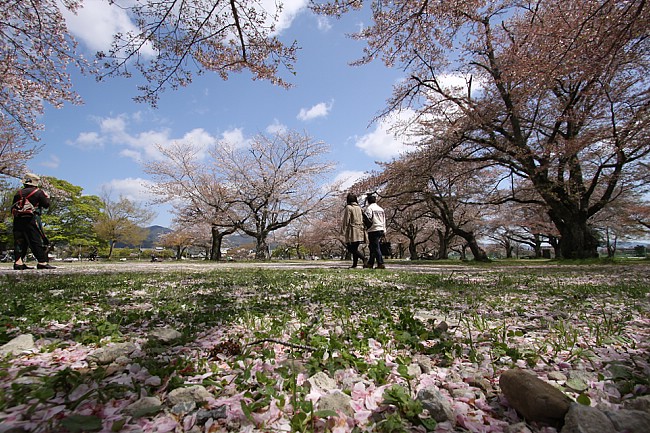 Fallen petals at Arashiyama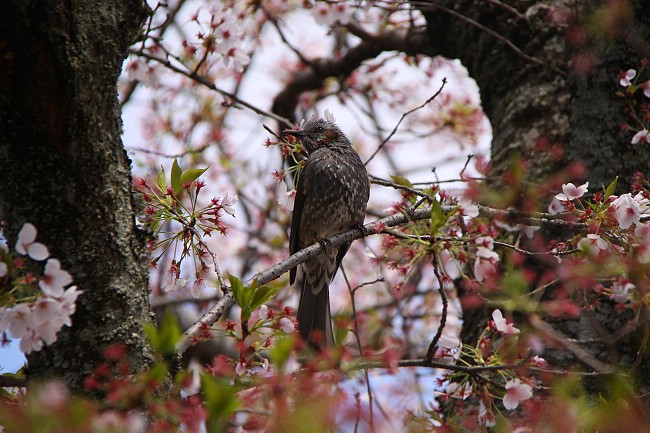 Bird looking on nostalgically as the last petals fall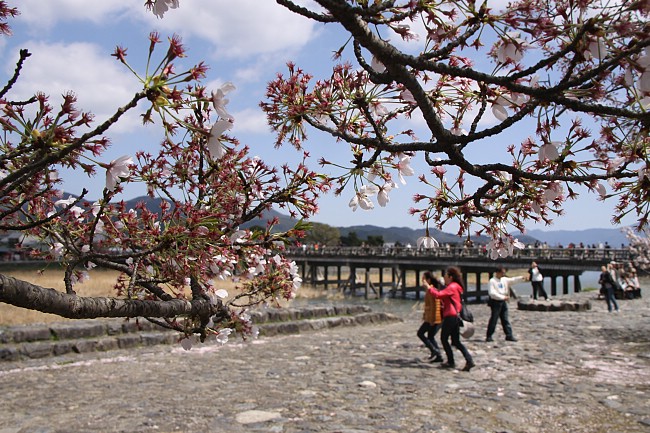 On the southern bank of the river at Arashiyama
Ninnaji Temple
April 8, 2013 - full bloom (Omuro Cherry Blossoms)
Ninnaji Temple is one of many locations in Kyoto listed as Unesco World Heritage Sites. It features graceful buildings that are connected by covered corridors, elegantly painted sliding doors (fusuma), and beautiful rock and pond gardens. Ninnaji is also famous for a grove of locally cultivated cherry trees called Omuro Cherries.
Omuro cherry blossoms usually flower later than the mainstream Somei Yoshino; mid April on an average year. This year, however, due to an early cherry blossom season, the Omuro cherry trees were already pretty much in bloom today. Many visitors were at the temple to enjoy the gorgeous views, which can be expected to continue till about Friday and hopefully beyond.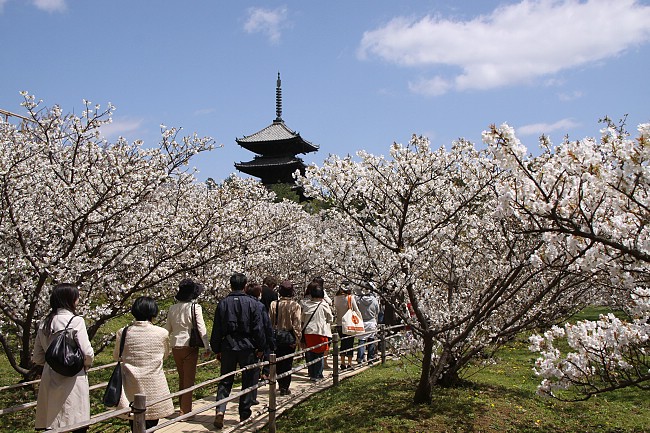 Ninnaji Temple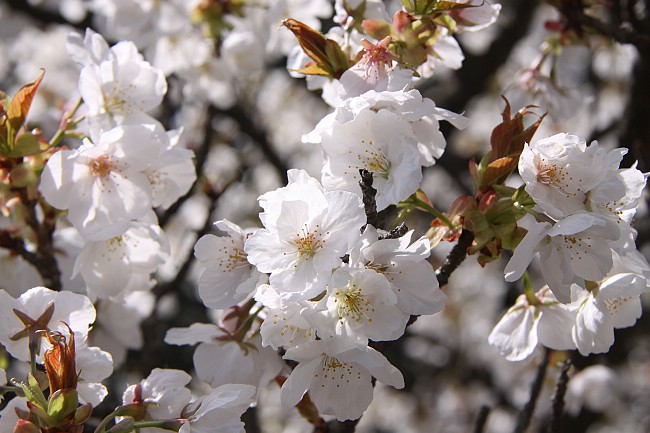 Omuro cherry blossoms
Haradani-en
April 8, 2013 - petals starting to fall (Weeping Cherry Trees)
It was my first time going to Haradani-en, which has a reputation for being a great spot to see weeping cherry trees (shidarezakura). The beautiful garden is located northwest of central Kyoto, about a 30 minute walk or 10-15 minute taxi ride from Ninnaji Temple (1500 yen).
Given the same conditions, Yaebeni weeping cherry trees - a type of shidarezakura with sweet pink blossoms, each with more than five petals - usually bloom a couple of days later than the mainstream Somei Yoshino. Today, the many Yaebeni Shidarezakura at Haradani-en were starting to shed petals, but views were still very close to being at the peak. In addition, the myriad of other flowers in bloom at the garden made it very attractive.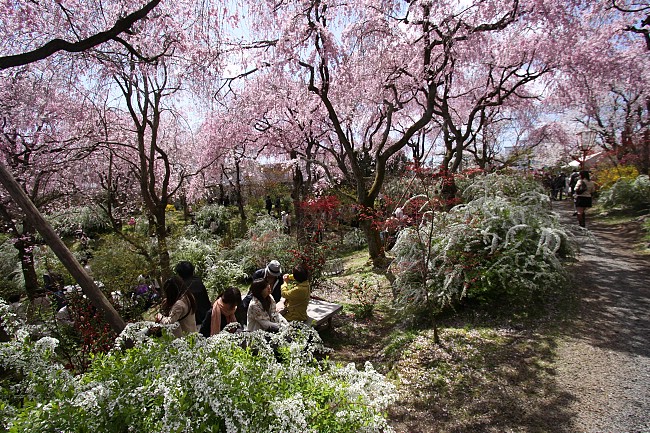 Many were out enjoying the flowers at Haradani-en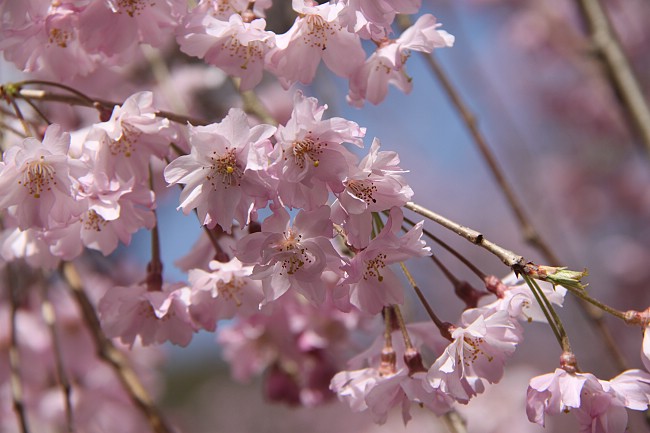 Pretty Yaebeni Shidarezakura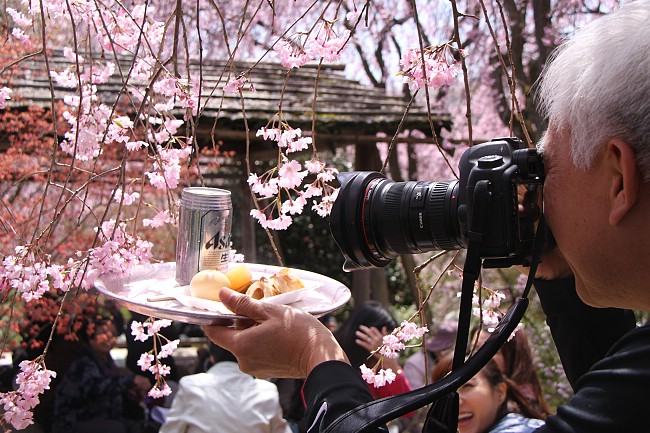 Man lines up his beer for an artistic shot
Philosopher's Path
April 8, 2013 - end of season
At the Philosopher's Path, the season was expectedly over with the cherry trees starting to show more nascent green leaves than flowers. A few late blooming varieties of cherry trees provided some much welcomed conviviality to the path.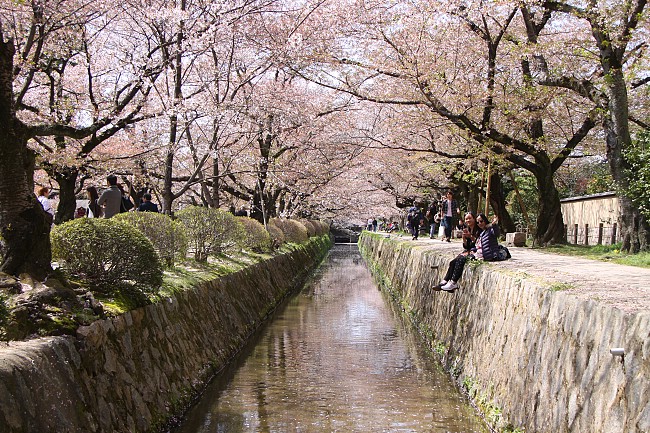 Friendly tourists wave
One of the most resilient blossoms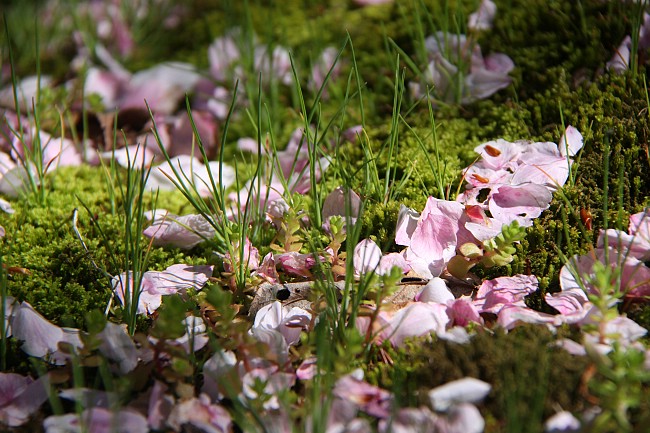 Fallen petals
Heian Shrine
April 8, 2013 - petals starting to fall (Weeping Cherry Trees)
Behind the main buildings of Heian Shrine is an attractive, paid garden with a variety of plants, ponds and traditional buildings. The garden's most striking feature is its many Yaebeni weeping cherry trees, which make it one of the best cherry blossom spots in Kyoto around the tail end of the season.
While views were still very pleasant today, it was evident that a substantial number of petals had fallen and were falling. Those intending to visit had better hurry, before those evanescent cherry blossoms are gone with the wind.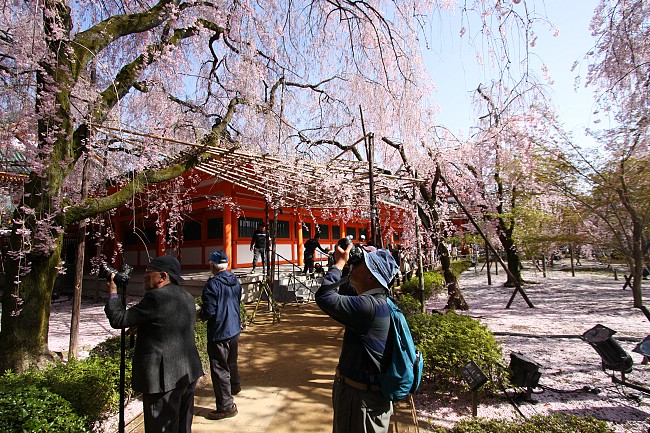 Garden at Heian Shrine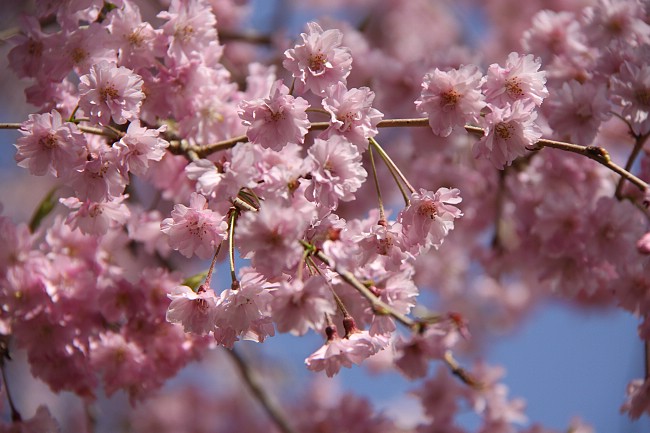 Still lovely Yaebeni Shidarezakura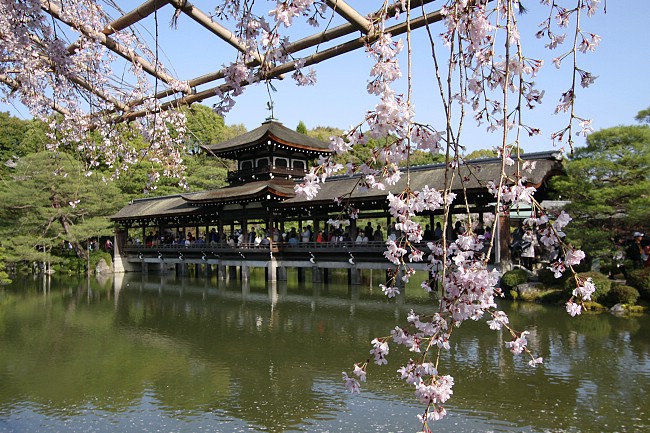 Questions? Ask in our forum.