Cherry Blossoms 2013: Kumamoto Report (3/22)
Cherry Blossom Report 2013
Official cherry blossom reports by japan-guide.com
2013 Cherry Blossom Forecast - Schedule of upcoming reports - Popular cherry blossom spots
How to do hanami? - Cherry tree varieties - Post your own report
2013/03/22 - Kumamoto Report
by scott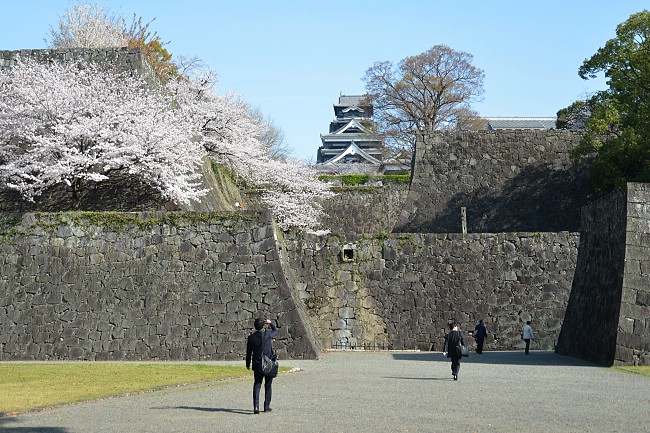 Kumamoto Castle
Today I stopped by Kumamoto as I made my way south across Kyushu. The blossoms here officially opened on March 16th, one week earlier than average, and were at a similar state as those around Fukuoka. The blossoms in both cities are quickly approaching full bloom and maintain a slight lead over the blossoms in Tokyo.
Suizenji Koen
March 22, 2013 - approaching full bloom (50-80%)
My first stop this morning was to Suizenji Koen, a beautiful landscape garden that reproduces in miniature the 53 post stations of the Tokaido, the historic road that connected Tokyo with Kyoto during the Edo Period. There are about 150 cherry trees spread out around the garden, and the blossoms can be enjoyed as you walk around the strolling path that encircles a large central pond. You cannot veer off the path, although picnicking is allowed in certain designated areas.
The cherry trees around the garden seemed to be quickly approaching full bloom early this morning, but weren't quite there just yet. They could reach full bloom at any moment, but considering this afternoon's cold and rainy weather, it probably won't be today. Tomorrow looks like great weather, though, so let's hope that the remaining blossoms will open in time for the weekend crowds to enjoy them.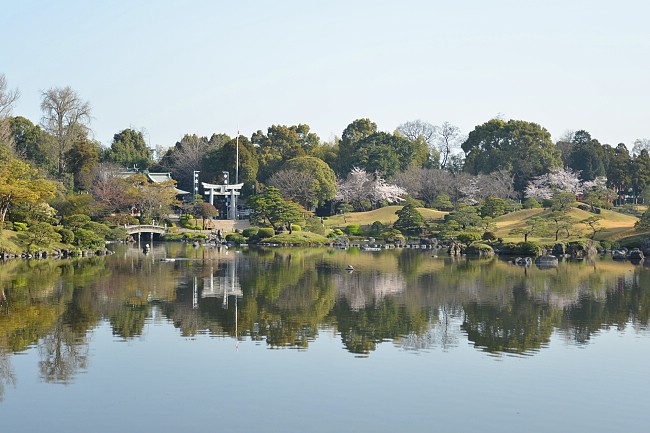 Suizenji Koen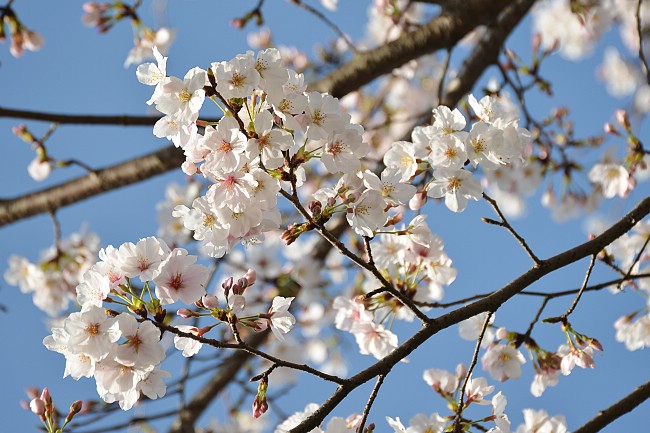 The blossoms are getting close to full bloom
Cherry blossoms with a miniature Mount Fuji in the background if you look closely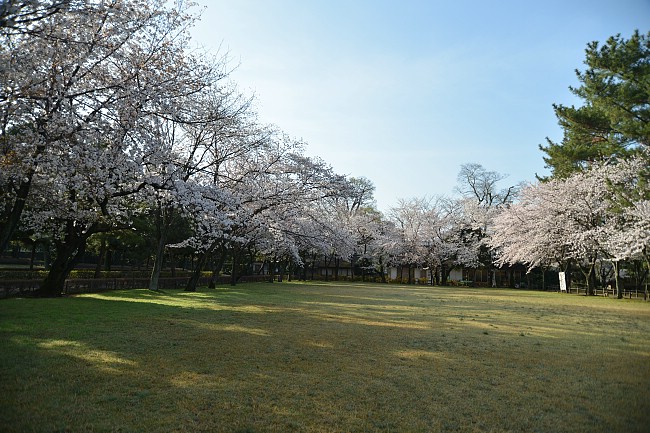 No one was picnicking yet (it was only 8:00 in the morning though)
Some parts of the garden are covered in earlier blooming varieties of cherry trees of which some were at full bloom and some have already dropped all of their petals.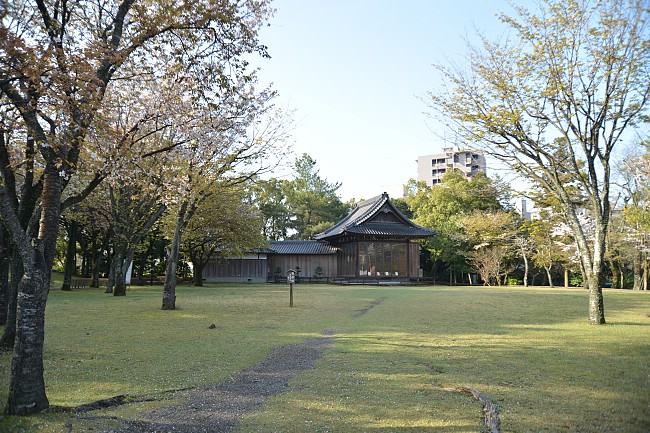 Many of these trees are early blooming cherries, and some of those have already dropped most of their petals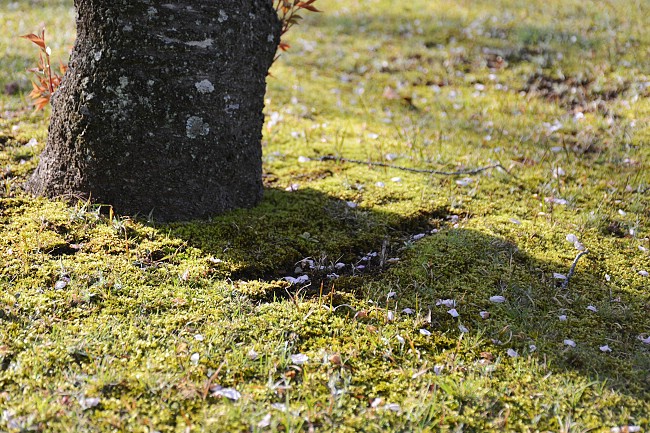 Fallen petals on moss
Kumamoto Castle
March 22, 2013 - approaching full bloom (50-80%)
From Suizenji Koen it is a short tram ride to Kumamoto Castle. The impressive castle keep and surrounding grounds are one of the best in Japan as well as one of my personal favorites. The castle is also the city's most popular cherry blossom spot with over 1000 trees planted around the grounds. Today their blossoms were similar to those at Suizenji Koen and were just not quite at full bloom yet. But the trees here actually opened four days earlier than Kumamoto's official reference tree on March 12th already, so its not so surprising that they looked even more advanced than those around the rest of the city. And I think it's a good chance that they reach full bloom as early as tomorrow.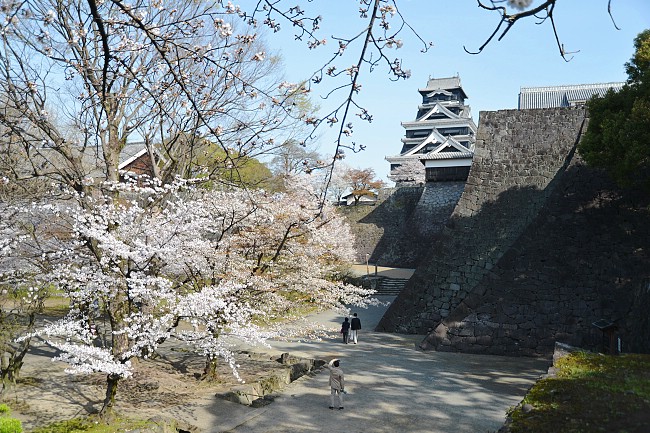 Kumamoto Castle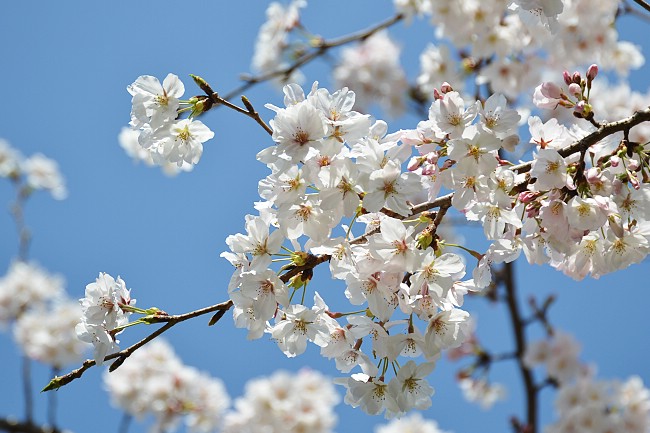 A close up of the blossoms
There were really only a handful of trees around the castle keep itself, while most of the large groupings were found along the lower walls and circles of defense (maru). The Takenomaru, along the outer southern wall, in particular should be a popular hanami party spot tomorrow.
Kumamoto Castle will also have a cherry blossom festival starting tomorrow (March 23). The celebration goes until April 7th and will have special events and performances throughout. The castle keep and grounds will also be illuminated in the evenings from 17:00 to 21:00 for the duration of the festival.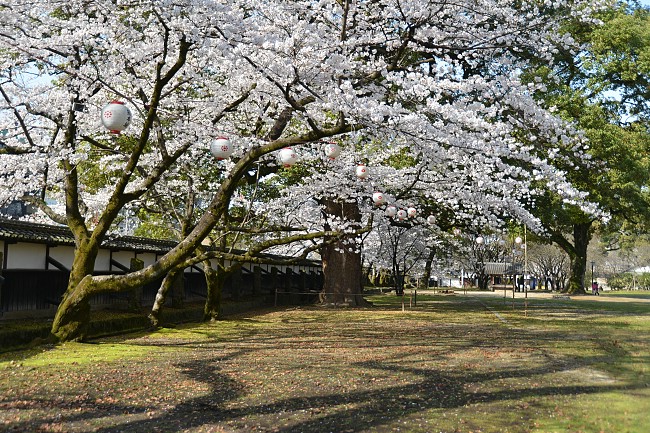 Takenomaru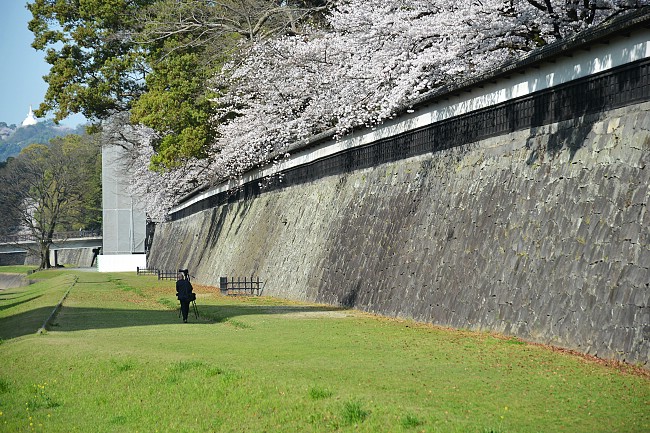 Along the moat that runs just outside the Nagabei Wall
Questions? Ask in our forum.