Cherry Blossoms 2015: Tokyo Report (4/6)
2015/04/06 - Tokyo Report
by raina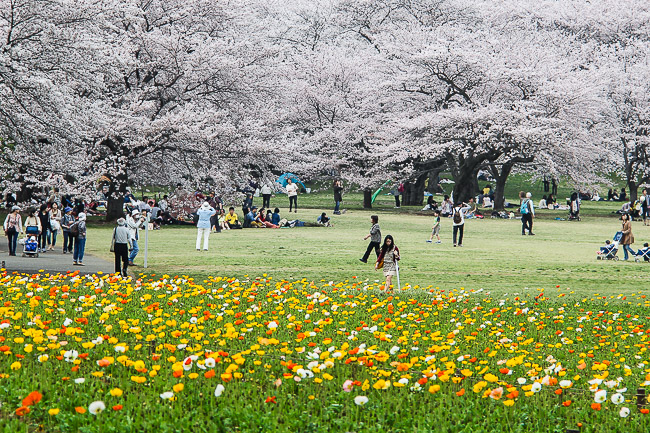 After spending about a week in the Kansai Region, I'm back in Tokyo today to bring you the latest cherry blossom update. Scott was in Kyoto today and reported that the petals are starting to fall. You can read his report here. While the cherry blossom season may be starting to come to a close in western and central Japan, those who are arriving later and want to see cherry blossoms should turn towards northern Japan where the season has barely started.
In Scott's last Tokyo report just four days ago, most of the cherry trees at the places he visited were at their peak except in Ueno Park, which is usually slightly ahead of the city average and had petals falling. Today, the petals were falling at all three places I visited, no thanks to the bad weather over the weekend past. Today's warm summery weather was probably the best day this whole week for a day out visiting parks and gardens, and having hanami parties, and I'm afraid that for those who arriving to Tokyo next week may not be able to see many cherry blossoms as the weather for the rest of this week is forecast to be cold and rainy. Many of the blossoms hanging on precariously may be lost in the next downpour or blown away.
Ueno Park
April 6, 2015 - beyond peak
My first stop for today was Ueno Park. Four days after Scott reported that petals were falling there, they have now dropped most of their petals and are beyond peak. There are a few trees with some blossoms hanging on, but most trees have lost most of their blossoms and are looking more pink than white and fluffy. I also went for a quick walk around Shinobazu Pond and found that while the trees there had slightly more blossoms, the petals were falling freely even without the slightest breeze. Tomorrow's rain forecast will not help the situation and I expect most of the petals to have fallen by the end of this week.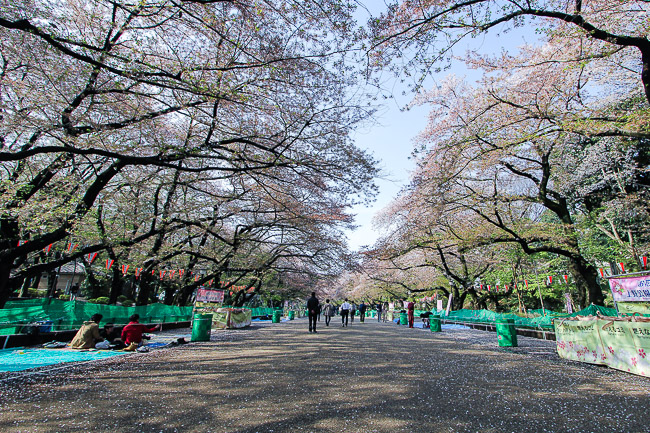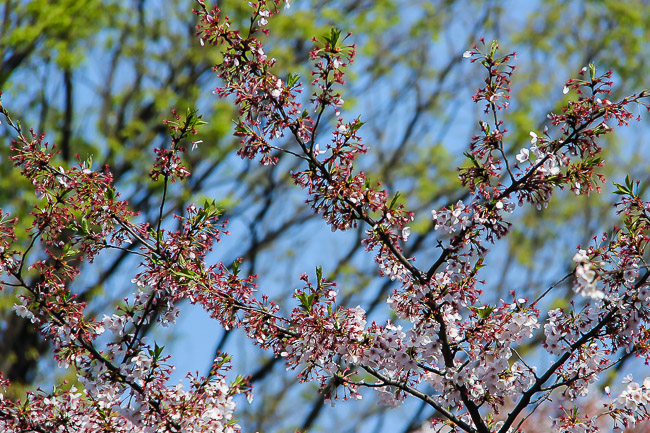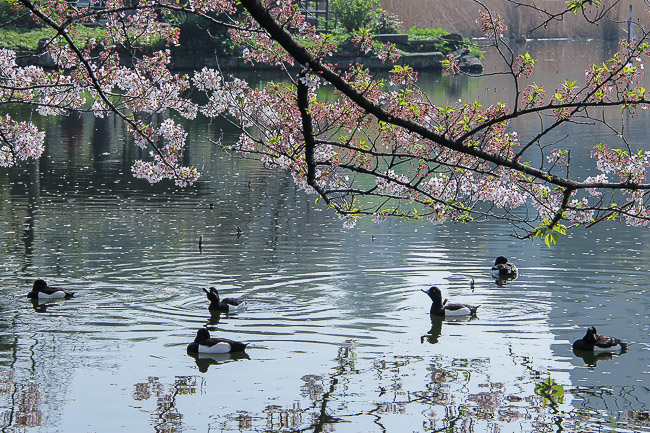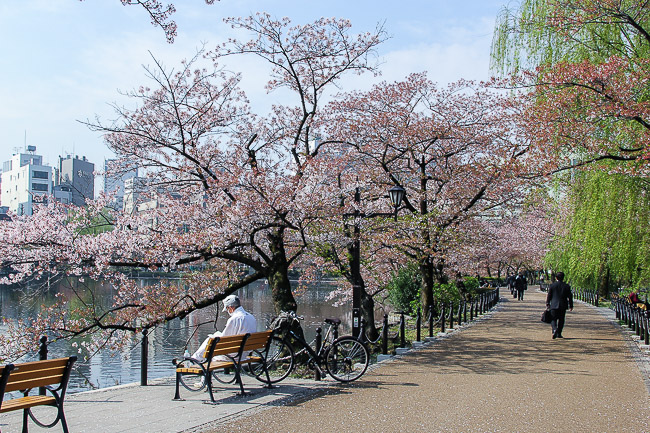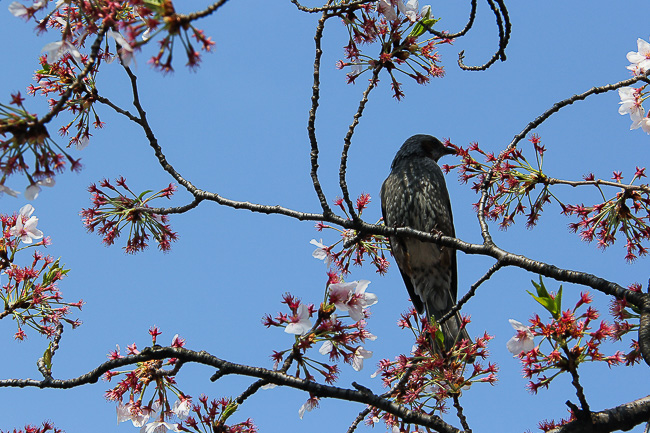 Shinjuku Gyoen
April 6, 2015 - petals starting to fall
April 6, 2015 - opening (10-50%) (late blooming varieties)
My next stop for the day was the popular Shinjuku Gyoen, one of Tokyo's most popular cherry blossom viewing spots. It was absolutely beautiful to be at the garden today and visitors were pouring in by the hundreds. Blue skies, sakura petal covered grounds, and the late blooming varieties at their different stages of flowering. There was plenty to see and enough for everyone at Shinjuku Gyoen. The most numerous and common cherry tree, Somei Yoshino, had petals falling and some trees were beyond peak, while the late blooming varieties like the ukon, kanzan and ichiyo, were just starting to open and I expect them to develop further over the next few days.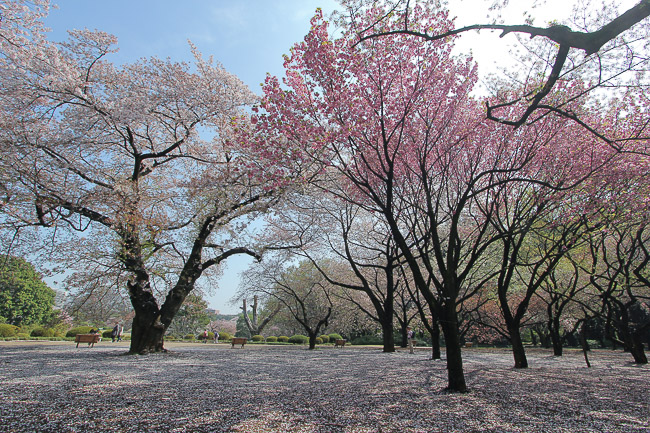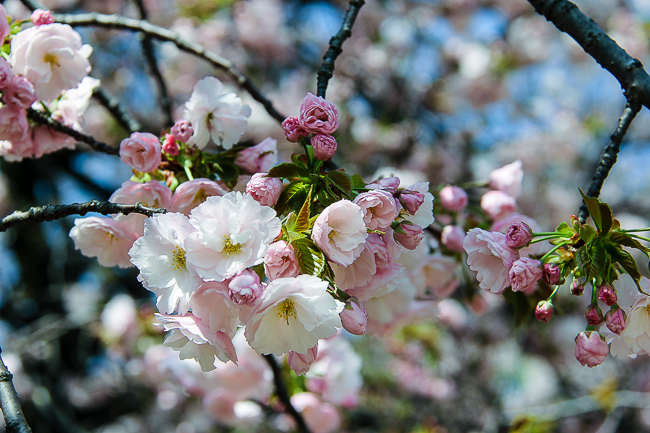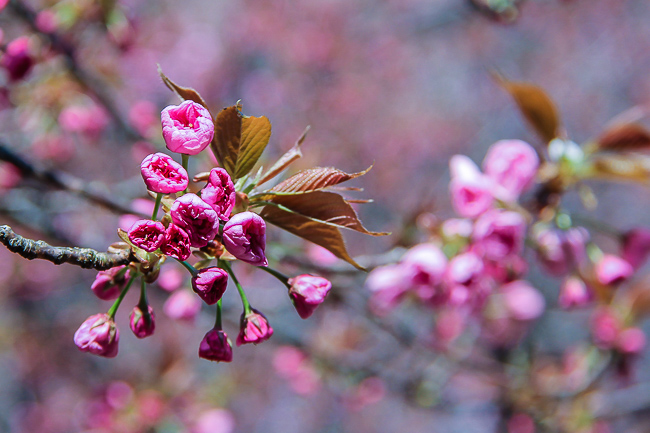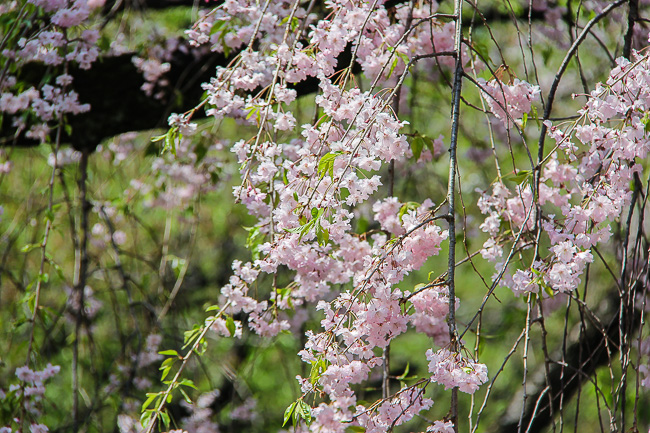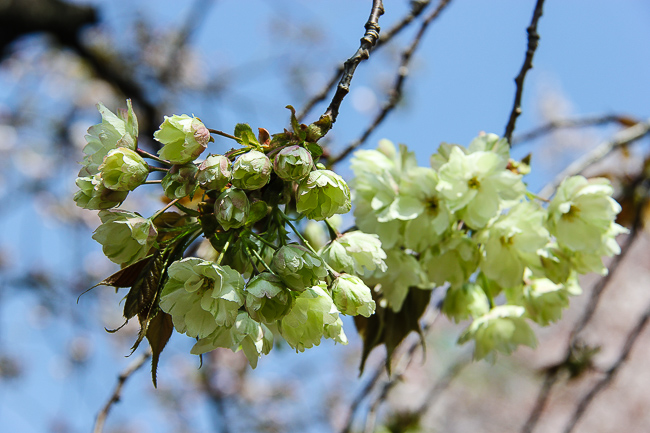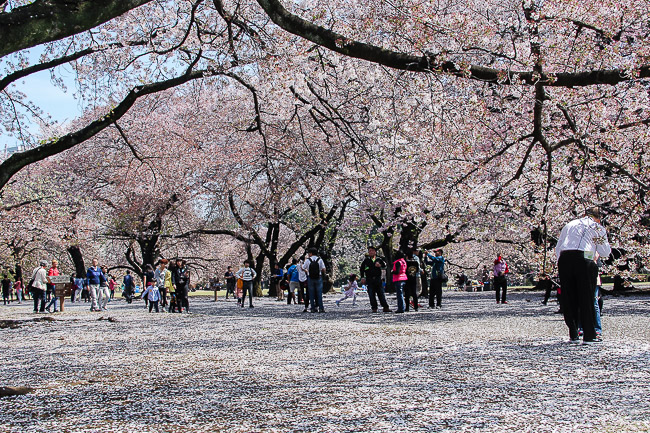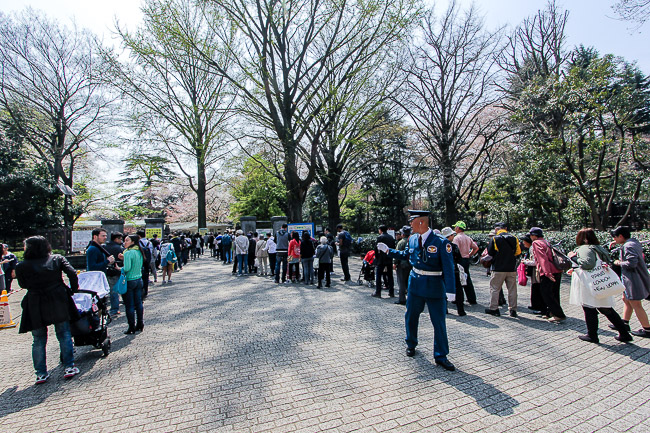 Showa Kinen Koen
April 6, 2015 - petals starting to fall
My final stop for today was Showa Kinen Koen, a popular hanami spot outside of central Tokyo. Located in the western suburbs of Tokyo, the park can be reached by a ten minute walk from Tachikawa Station or a short walk from Nishi Tachikawa Station. There are bicycle rentals (410 yen for three hours) at the park which make getting around very convenient. Note that cycling is only allowed on the cycling paths and bicycles have to be returned where you rented them. Walking around the park or taking the internal train are other ways of getting around the large park.
Showa Kinen Koen has about 1500 cherry trees planted around the park with a large number of them at the sakura garden. The blossoms at the park are typically a couple days slower than the city, and while the petals had started to fall, the trees still looked full and attractive unlike at Ueno Park and Shinjuku Gyoen. There was a flower festival when I was there that will carry on till May 24, featuring nanohana (rape blossoms), tulips, poppies and other flowers. There were lots of people at the park, zipping around on rental bicycles, lounging on mats under the cherry trees, playing games in the huge and spacious lawn, and of course, taking lots of pictures of and with the flowers.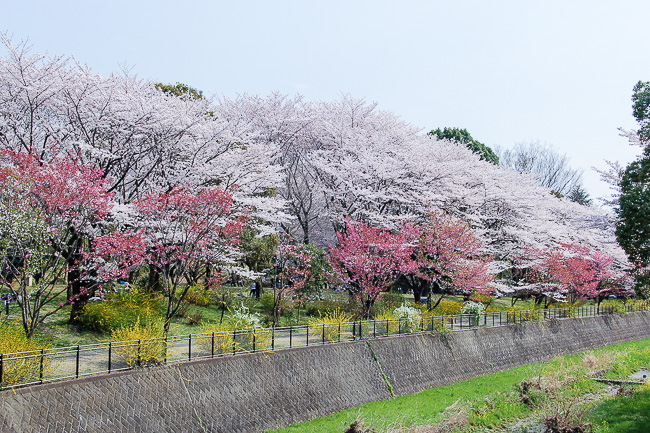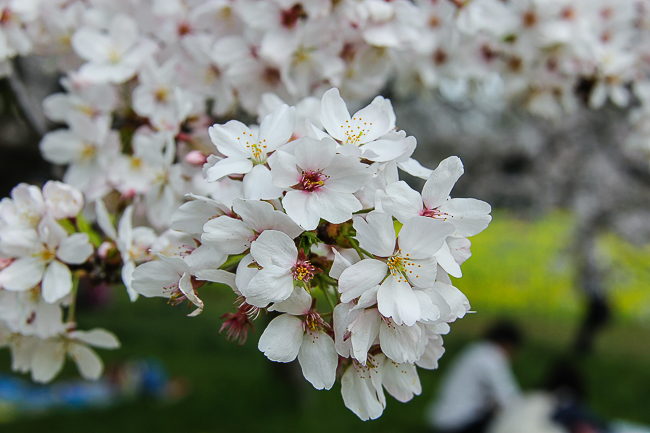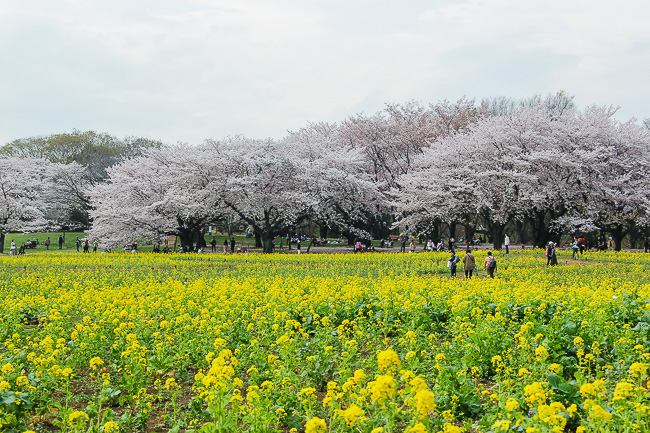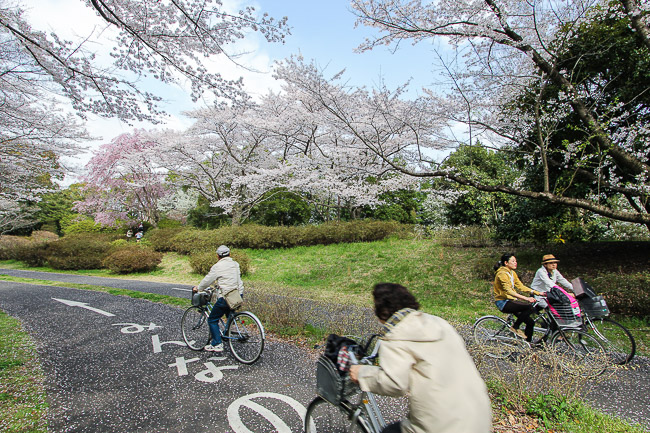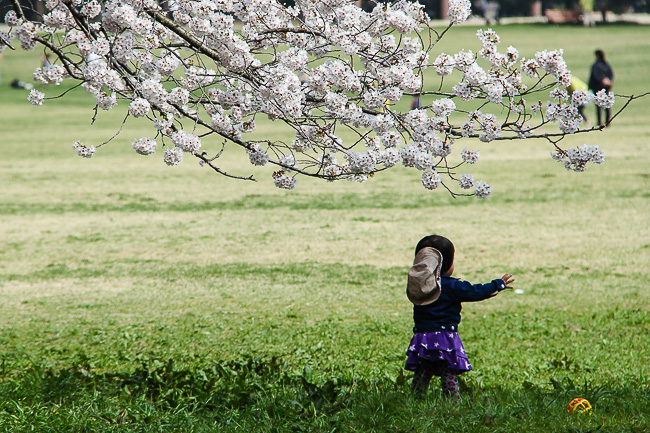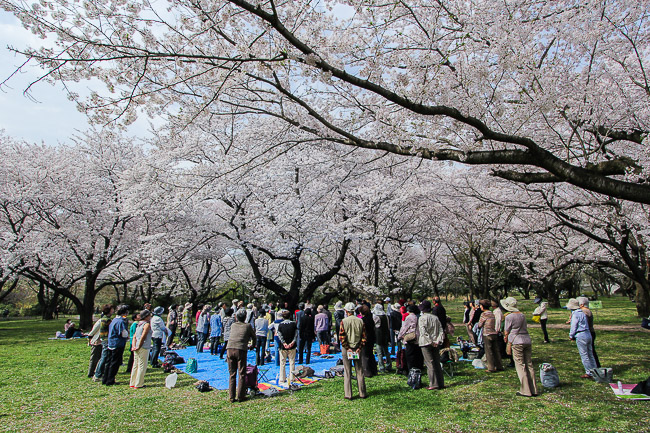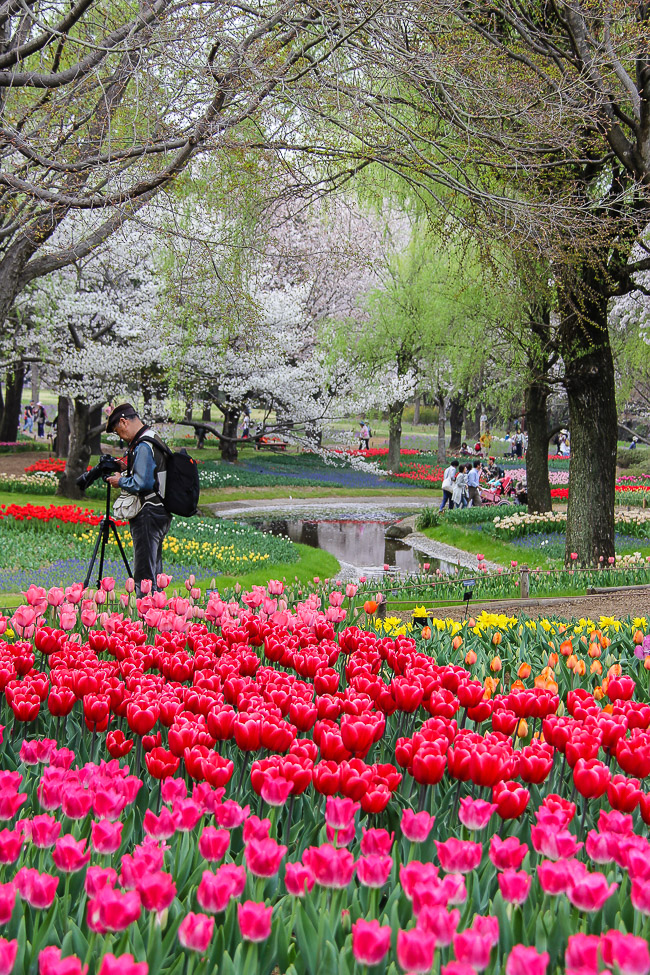 Questions? Ask in our forum.