Cherry Blossoms 2011: Hirosaki Report (5/1)
Cherry Blossom Report 2011
Official cherry blossom reports by japan-guide.com
This year's cherry blossom season will be overshadowed by the tremendous loss caused by the recent earthquake. However, we believe that the blossoms will serve as symbols of hope and resilience and a source of motivation along Japan's road to recovery. With this in mind, we never hesitated to go ahead with our annual reports in order to inform travelers in Japan and readers across the world about this year's cherry blossom season.
2011 Cherry Blossom Forecast - Schedule of upcoming reports - Post your own report
Popular cherry blossom spots - How to do hanami? - Cherry tree varieties
2011/05/01 - Hirosaki Report
by scott
Today we continued our Tohoku Region cherry blossom reporting with a visit to Hirosaki in southwestern Aomori Prefecture.
Hirosaki Castle
May 1, 2011 - full bloom (moats)
May 1, 2011 - approaching full bloom (50-80%) (castle grounds)
May 1, 2011 - opening (10-50%) (sakura tunnel)
May 1, 2011 - just opened (0-10%) (yaebeni shidarezakura)
Hirosaki Castle is another of Japan's Top 100 cherry blossom spots, and one of the three best hanami spots in the Tohoku Region together with Kitakami in Iwate, and Kakunodate in Akita. Unfortunately, the weather wasn't cooperating with us during our visit today and we were hampered by a light rain and cloudy skies all day.
The castle grounds form a large public park that has thousands of cherry trees planted around it. Because each area of the park has its own characteristics, and even different types of cherry trees, a visit to the castle is like visiting multiple cherry blossom spots in one. The castle was also in the midst of its cherry blossom festival today, so there were plenty of events, performances, and rows of food stands set up around the park that further added to the festive yet contrasting feel in each area.
The first area that we visited was the castle moats. Hundreds of somei yoshino trees are planted along both the inner and outer moats that surround the castle walls. The blossoms have just reached full bloom and looked strong and resilient despite the light rain we've had over the last couple of days. I would guess that they will continue to improve in the short term, and that they will remain at their peak for at least a few more days.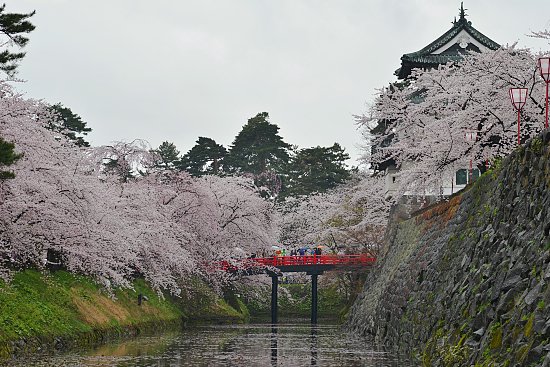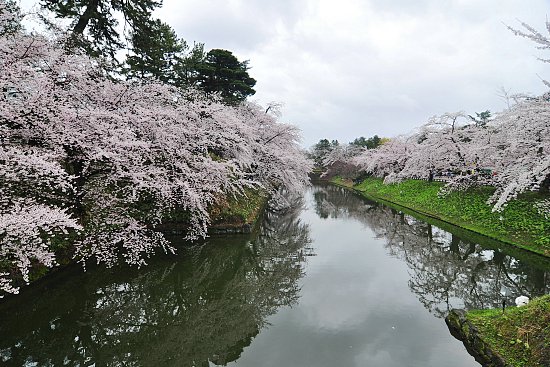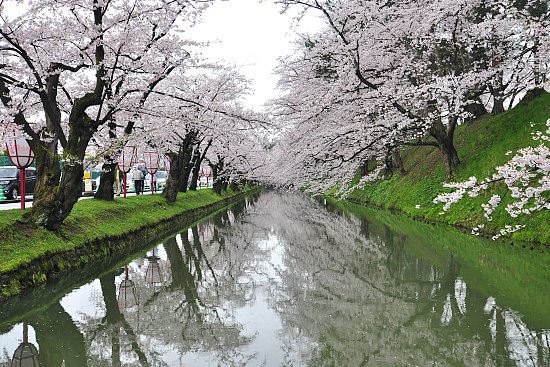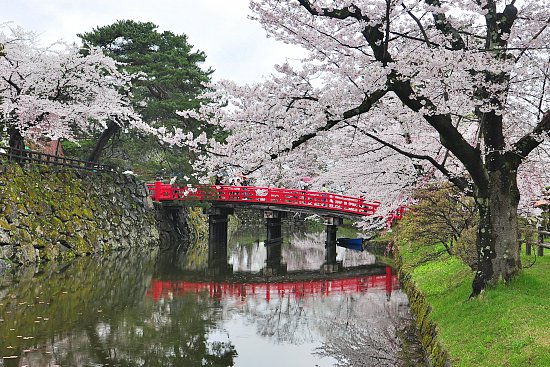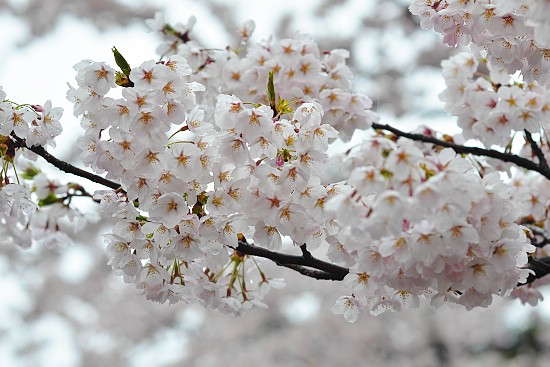 Next we headed to the honmaru, the main castle grounds, which is a paid area of the park where the relatively small castle keep is located. A large variety of cherry trees including somei yoshino, weeping cherry trees (shidarezakura), and a large number of late blooming yaebeni weeping cherry trees (yaebeni shidarezakura) are planted around the honmaru. The somei yoshino trees were a little behind the ones along the moats and are still approaching full bloom. It looks like they will reach their peak in the next few days.
The yaebeni shidarezakura, a dark pink variety of weeping cherry tree, on the other hand have only just begun to open. They will probably start to hit full bloom just as the somei yoshino are fading, which will nicely extend the viewing season at the castle.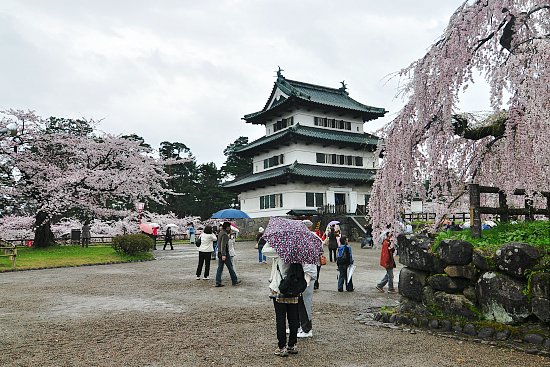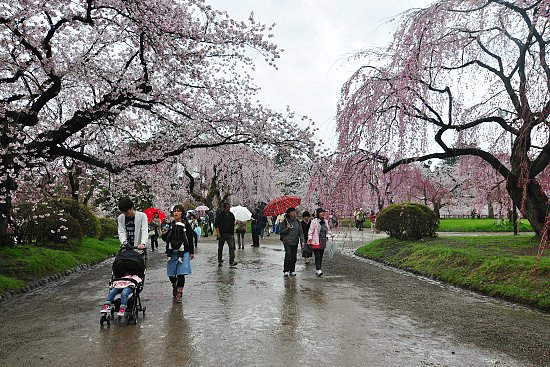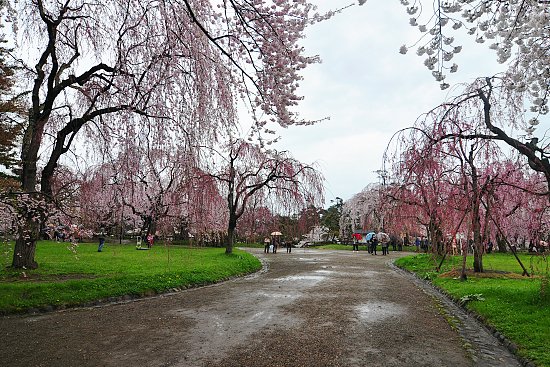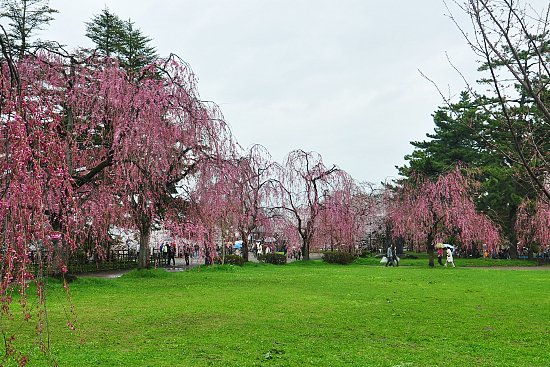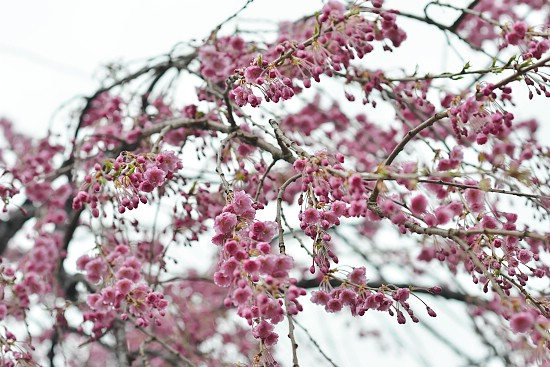 The final area that we visited was a stretch of trees planted along the western moat known as the cherry blossom tunnel. As its name suggests, the cherry trees in this area are planted along both sides of a path and form a nice tunnel of white blossoms when in full bloom. The trees along the tunnel are even more delayed than the rest of the park, however, and were only around 30% open today. It looked nice, but it will look even better in a few more days when the cherry blossom tunnel starts to reach its peak.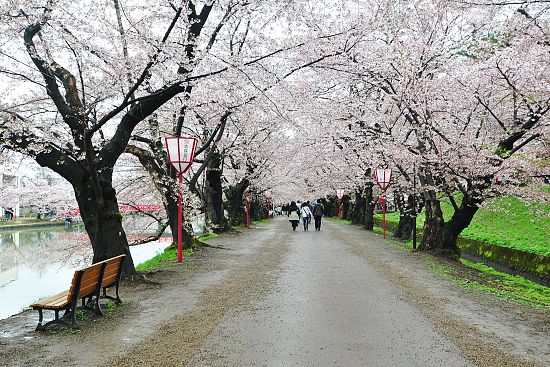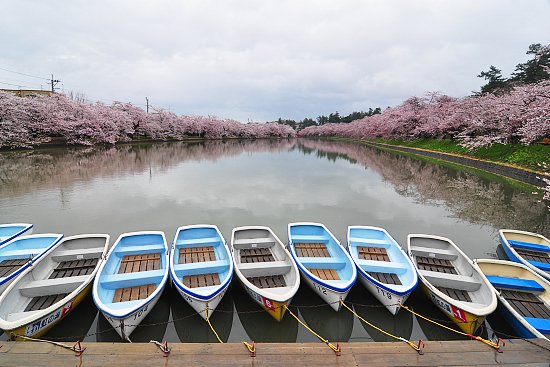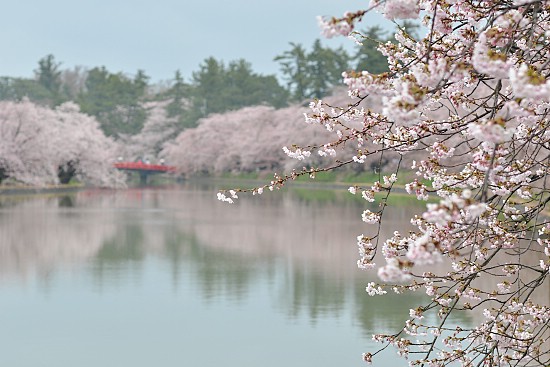 Questions? Ask in our forum.