Cherry Blossoms 2014: Yoshino Report (4/14)
Cherry Blossom Report 2014
Official cherry blossom reports by japan-guide.com
2014 Cherry Blossom Forecast - Schedule of upcoming reports - Popular cherry blossom spots
How to do hanami? - Cherry tree varieties - Post your own report
2014/04/14 - Yoshino Report
by raina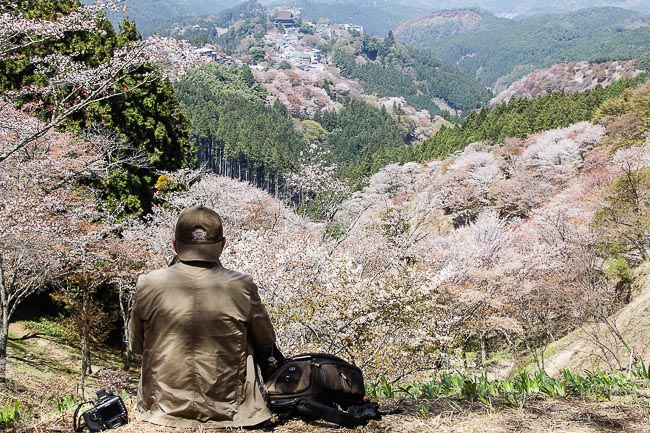 Taking a breather and enjoying the view
Sean went to Yoshinoyama four days ago and reported that while the blossom petals at the bottom of the mountain had started to fall, the flowers towards the top were 50-80% open. However, the real question for today is 'Did I have sakura cake for lunch too?' (Sean had sakura cake when he was there.)
I hopped on the Sakura Liner to Yoshino Station from Kintetsu Osaka Abenobashi Station. Osaka Abenobashi Station is located below the newly built Abeno Harukas building and across from JR Tennoji Station. Seats on the Sakura Liner must be reserved and are very popular during the cherry blossom season. I just managed to get the last seat available for my train and the journey took about 90 minutes.
Yoshino is in Nara Prefecture, and is a famous place to view cherry blossoms. There are walking trails for those who prefer not walking along the two-lane road. I saw visitors picnicking and enjoying the views. My favourite section in Yoshinoyama was just a little below the Hanayagura viewpoint, at the little community project area. It was high up enough and from there I could look down on the city, as well as see the cherry trees at full bloom.
Shimo Senbon
April 14, 2014 - petals starting to fall
Yoshino Station is in the Shimo Senbon area. There were lots of people waiting for the cable car towards Naka Senbon, as well as people waiting in line for the bus there. While it was a steep walk up to Naka Senbon, there were lots of trees providing shade and pretty good views of the cherry trees in the distance. It was a little difficult to judge the state of the blossoms here as some trees were losing their petals faster than others. But overall, the cherry trees have fewer blossoms than Naka Senbon.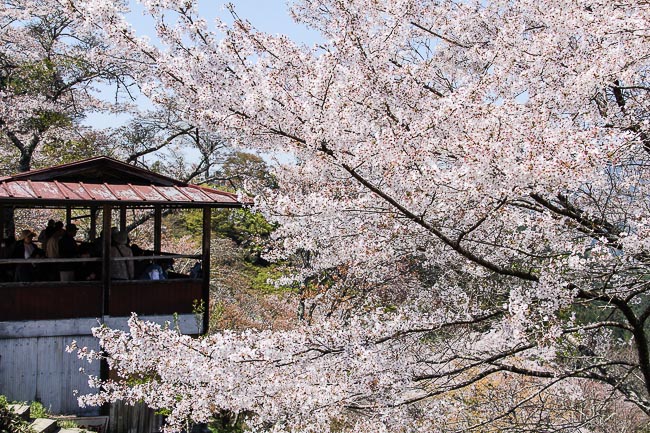 Cherry tree and a rest stop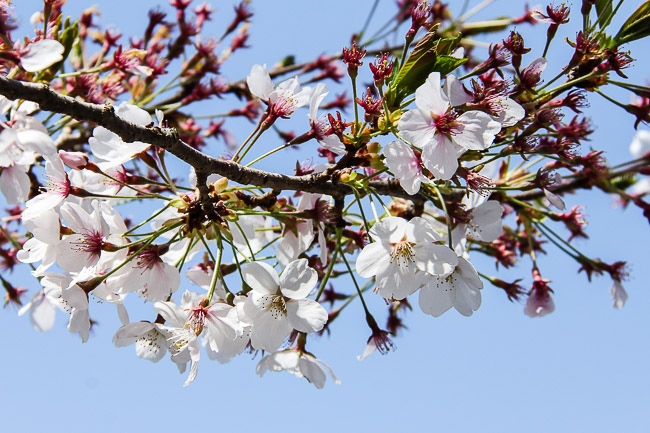 The blossoms are losing their petals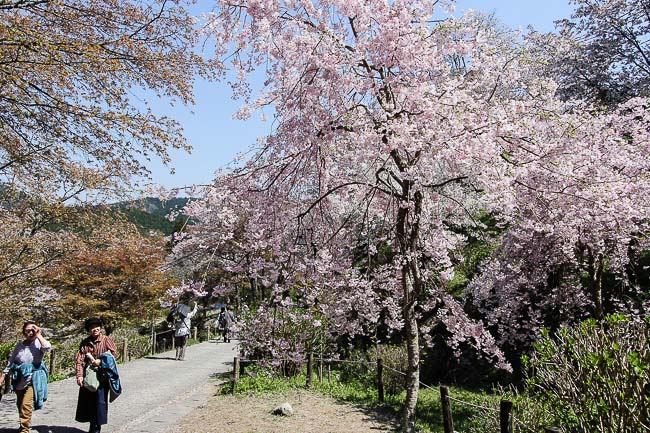 A weeping tree on the walk up towards Naka Senbon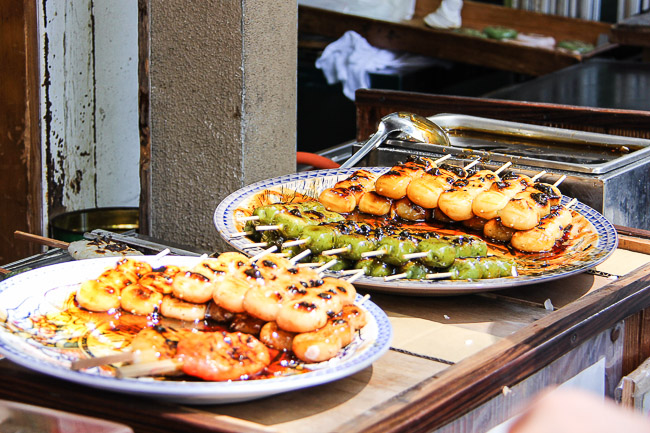 Dango being sold at most shops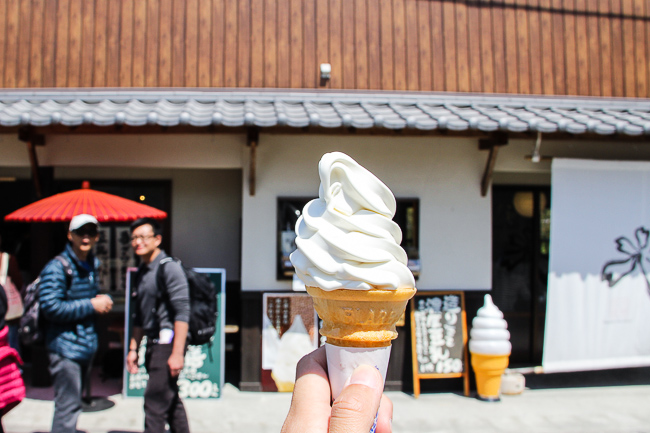 I had soy milk ice cream, not sakura cake
Naka Senbon
April 14, 2014 - petals starting to fall
The shopping street was closed to traffic and was crowded with visitors. I saw many tour groups marching through and headed towards various lookout points. There are more cherry trees along the side road than along the main shopping street. The crowd thinned out a little closer towards Kami Senbon and I had the opportunity to stand beneath a cherry tree and had a flurry of petals blow over me. It looked like it was snowing and I may or may not have breathed in a few petals that flew at my face. If that's what being in a snow globe feels like, I'd love to live in one!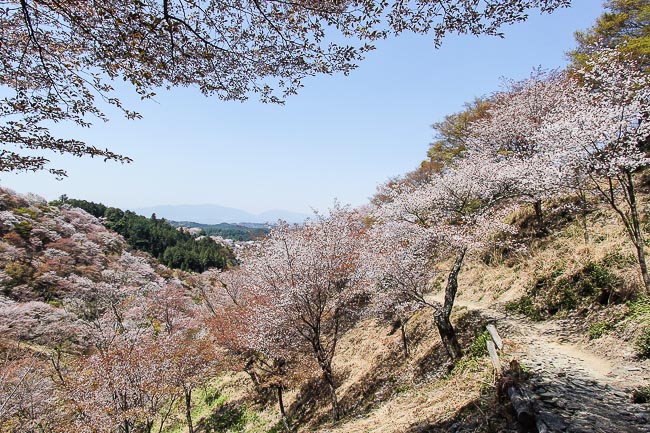 Walking down one of the trails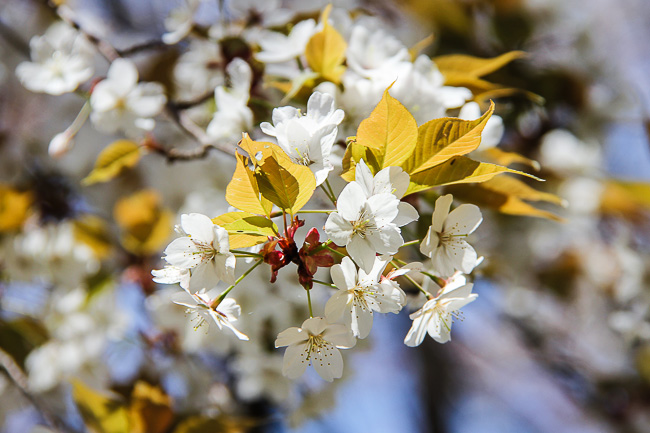 Close up of the blossoms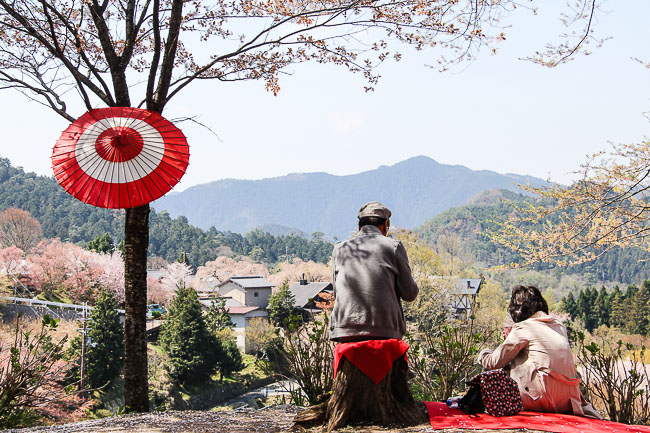 Having a snack in the shade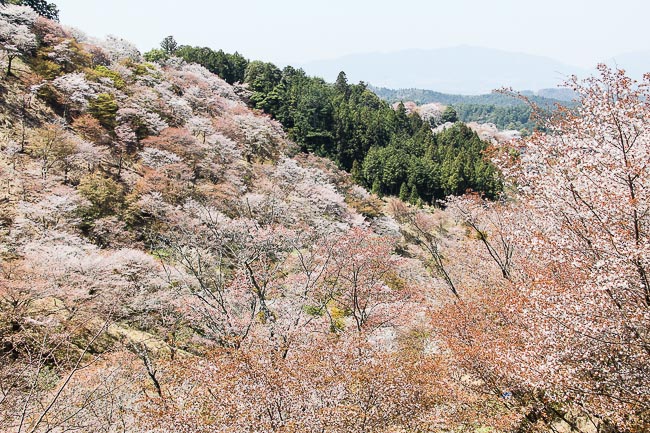 Walking along the trail lets you get up close with nature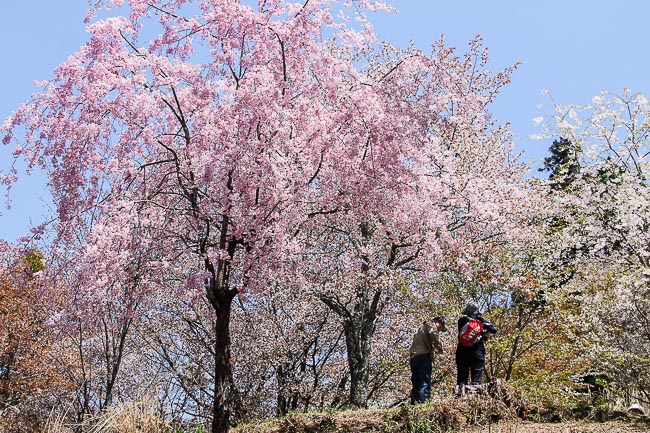 A weeping cherry tree along the way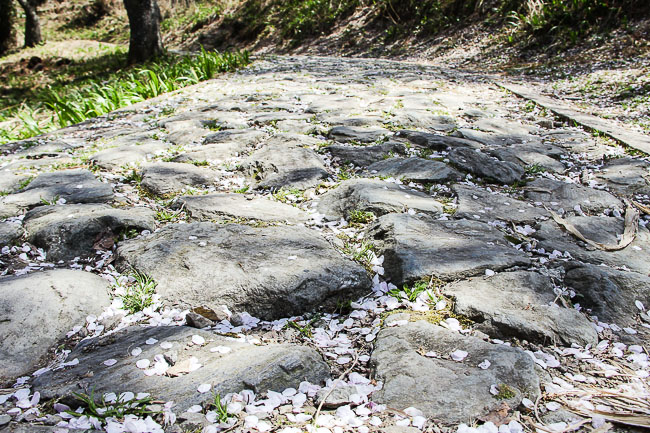 Petals on the ground
Walking along the road offers great views too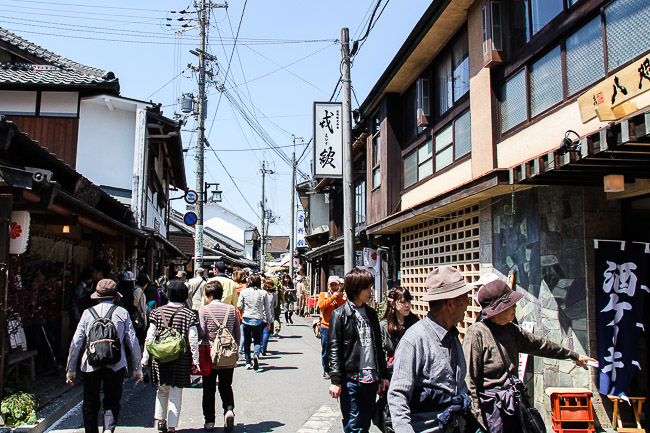 Along the upper part of the shopping street
Kami Senbon
April 14, 2014 - full bloom
The way up to Hanayagura viewpoint was a little steep and I marvelled at the elderly who were making their way up slowly. I'd be even more amazed if they had started walking from Yoshino Station. The view at Hanayagura was beautiful and worth the walk up. Everyone around me only had good things to say about the view. The walk up was well worth it after all. Lots of people were queueing patiently to have their picture taken as well as taking their own money shot of the blossoms at full bloom at Yoshinoyama.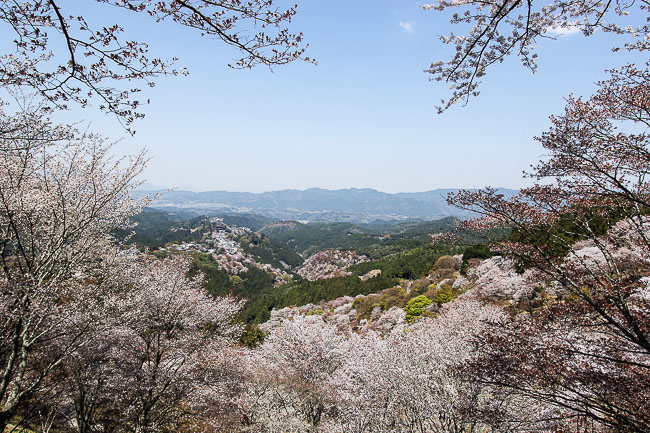 View from Hanayagura Viewpoint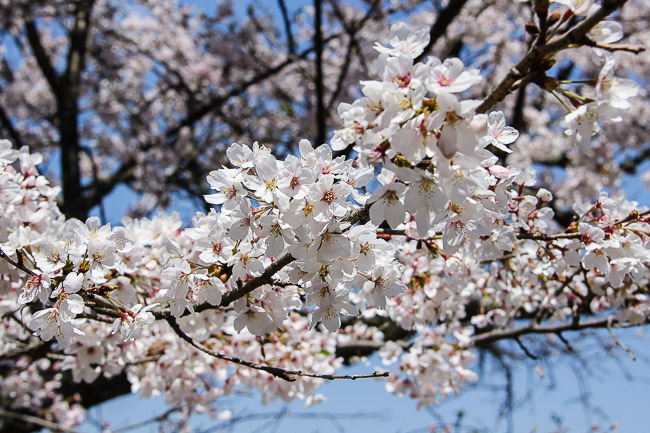 Sturdy flowers on the branches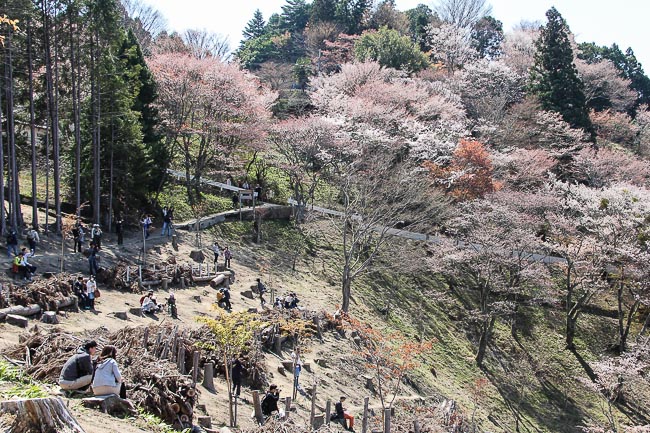 This community project area makes a good sunset viewpoint too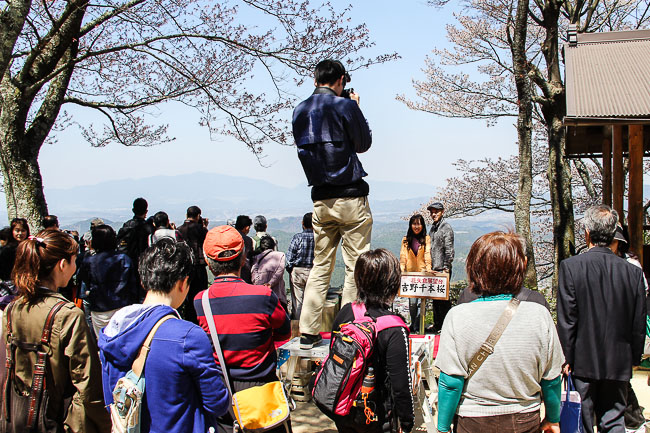 The 'Sakura Mankai!' photo point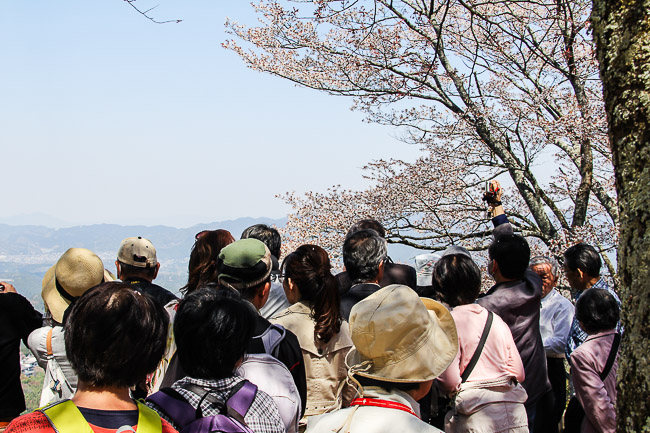 Everyone's waiting for their turn to be in front at the viewpoint/font>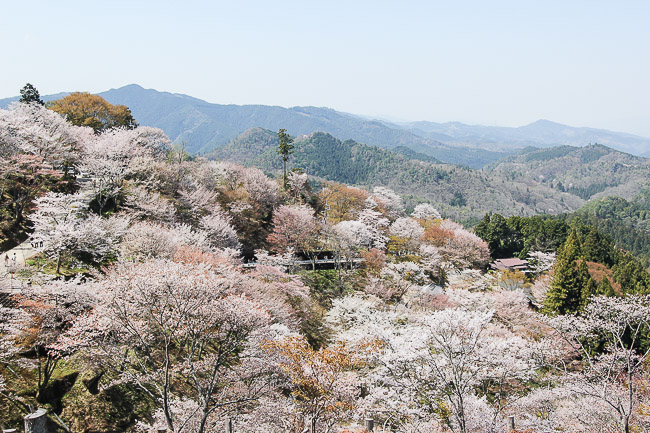 You can kind of make out where the road is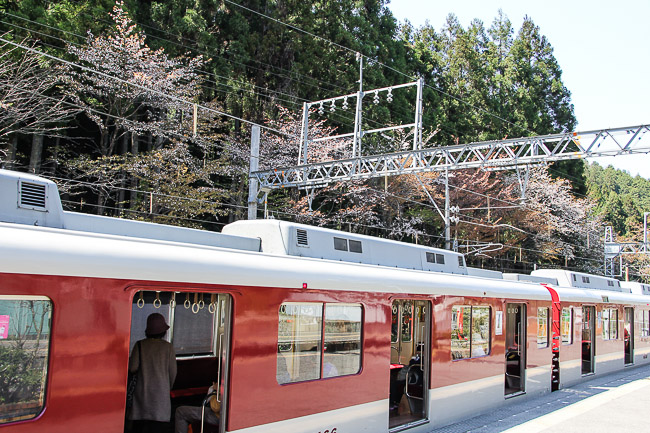 Train at Yoshino Station with cherry trees
Questions? Ask in our forum.