Cherry Blossoms 2012: Nagoya Report (4/6)
Cherry Blossom Report 2012
Official cherry blossom reports by japan-guide.com
2012 Cherry Blossom Forecast - Schedule of upcoming reports - Post your own report
Popular cherry blossom spots - How to do hanami? - Cherry tree varieties
2012/04/06 - Nagoya Report
by schauwecker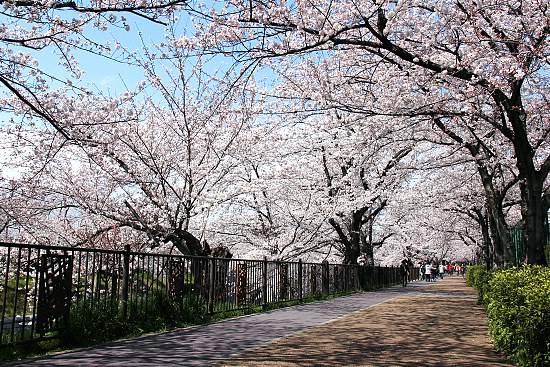 The cherry blossoms in Nagoya officially started opening one week ago on March 30, one day ahead of Tokyo (from where Scott is reporting today) and four days ahead of Kyoto (from where Sean will be reporting today).
The state of Nagoya's blossoms varied between the spots that I visited today from around 60% to full bloom. But the trees have generally proceeded into a very attractive state and will provide excellent hanami conditions for this weekend and into next week. If the weather cooperates, the blossoms could remain attractive in some spots into the weekend thereafter.
Nagoya Castle
April 6, 2012 - approaching full bloom (50-80%)
Nagoya Castle was the least advanced among the three spots visited today. The trees on the castle grounds have opened more than half of their blossoms, but most of them have not reached full bloom yet. I expect this to happen on Monday at the latest when temperatures are expected to rise considerably after a sunny but rather cold weekend. In any case, the trees were at a very attractive state today and surely justified a visit already.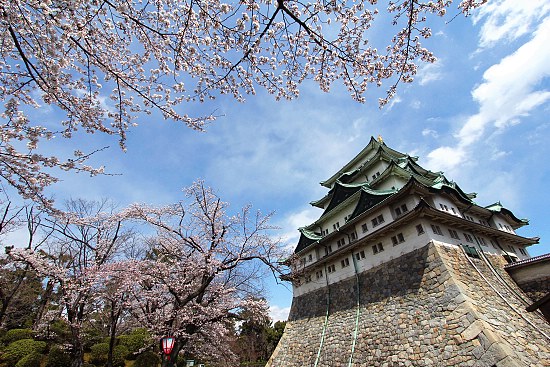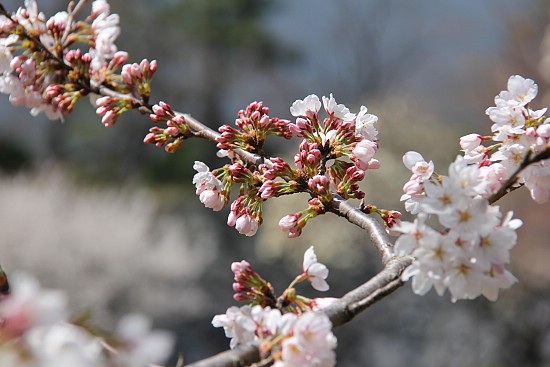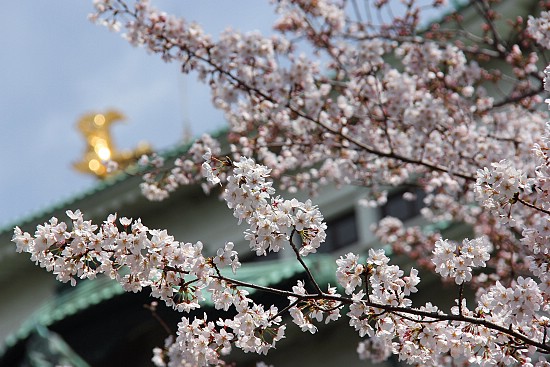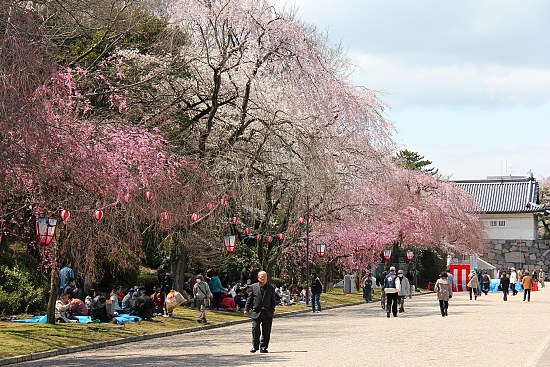 Re-construction of the castle's palace buildings, which were lost in the air raids of WW2, and renovation works on a turret are ongoing at Nagoya Castle and affected the visit somewhat more than last year. On the other hand, it is still possible for visitors to enter the re-construction site and observe the work (except on Tuesdays and Thursdays). The first section of the reconstructed palace is scheduled to open to the public in 2013 and the entire complex in 2018.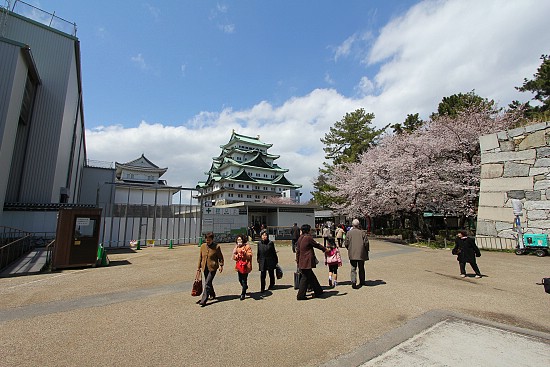 Yamazakigawa Riverside
April 6, 2012 - approaching full bloom (50-80%)
The Yamazakigawa Riverside near Mizuho Undojo Higashi Subway Station is lined by hundreds of cherry trees for nearly a kilometer. It is designated as one of Japan's Top 100 cherry blossom spots and is my personal favorite in Nagoya.
The trees along the river were on the verge of reaching full bloom with just under 80% open blossoms. They already made for a wonderful sight and should remain worth a visit for another week and possibly a few days longer.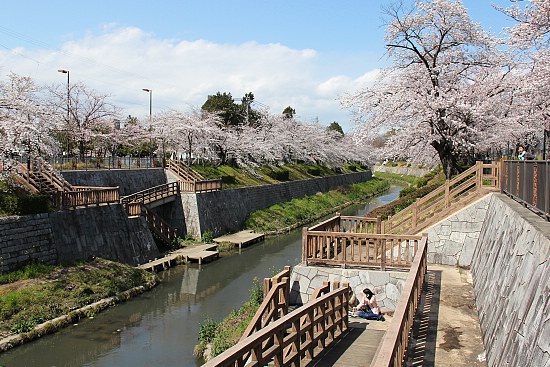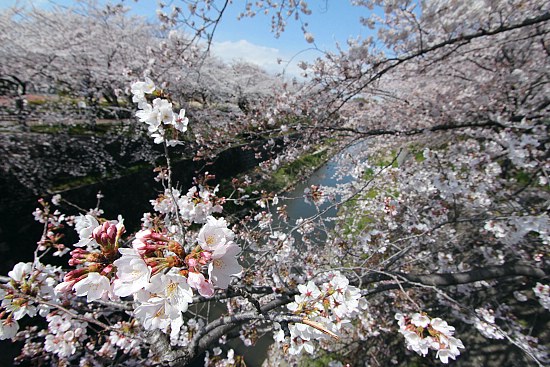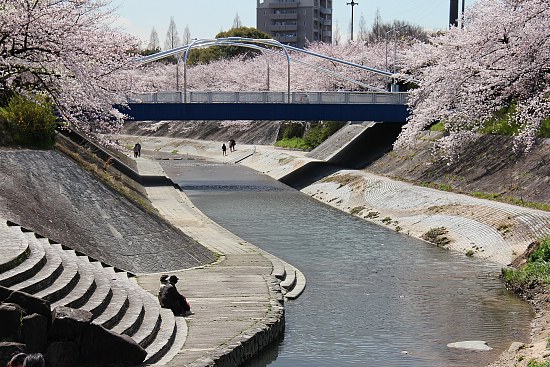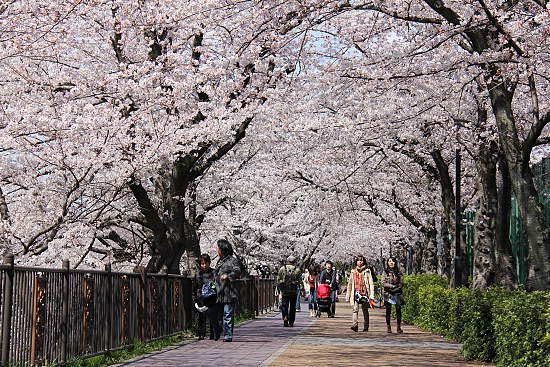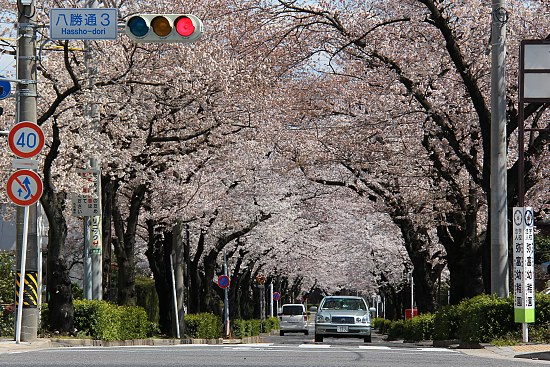 Tsuruma Park
April 6, 2012 - full bloom
Tsuruma Park next to Tsurumai Station (not a spelling mistake) is one of Nagoya's most popular public parks for hanami parties under the trees. The blossoms here are typically a couple of days ahead of the blossoms in other spots.
As expected, the park was the most advanced spot that I visited today, with most trees standing in full bloom already. Many people enjoyed the blossoms with picnics, and the large number of vacant, yet reserved picnic spots suggested that this evening will become a very busy one at Tsuruma Park. The blossoms still looked sturdy and should remain pretty for another week.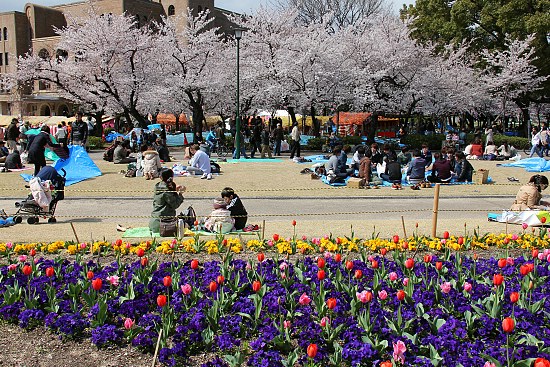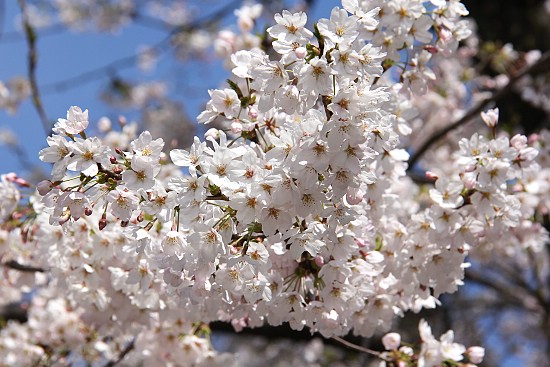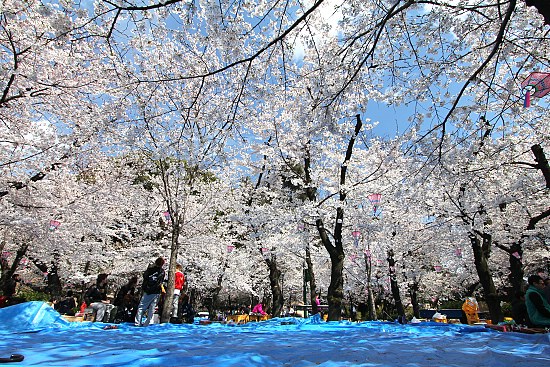 Questions? Ask in our forum.