Cherry Blossoms 2013: Kyoto Report (4/11)
Cherry Blossom Report 2013
Official cherry blossom reports by japan-guide.com
2013 Cherry Blossom Forecast - Schedule of upcoming reports - Popular cherry blossom spots
How to do hanami? - Cherry tree varieties - Post your own report
2013/04/11 - Kyoto Report
by sean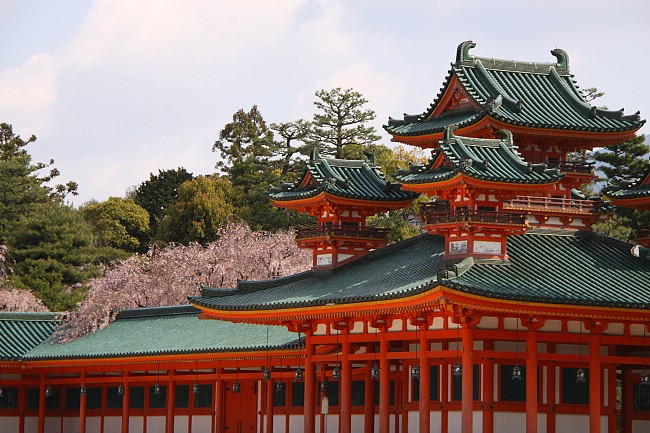 Heian Shrine
As the season comes to an end for the mainstream cherry blossoms (
Somei Yoshino
) in
Kyoto
, we bring to you our year's final
sakura
report from this
former capital
of Japan. A summary of happenings so far: the cherry trees started flowering early this year due to a warm start to March; some ensuing cold days slowed down progress a little, and peak was reached on April 4; by today almost all of the Somei Yoshino petals had fallen, but
later blooming varieties
of cherry blossoms are starting to reach their best.
Kiyomizudera Temple
April 11, 2013 - end of season
I arrived at Kiyomizudera Temple early today before the visitors arrived in numbers. The temple compound was looking green and fresh today, rejuvenated by the newly produced leaves. The cherry trees had lost almost all their petals. The maple trees, that play such an important role in making Kiyomizudera a great autumn color spot, had begun to flower; although the flowers were fairly inconspicuous due to their small size. It was great to feel the circle of life.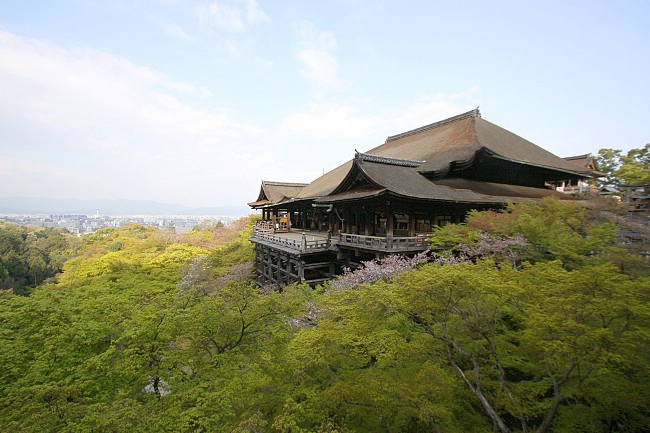 Kiyomizudera Temple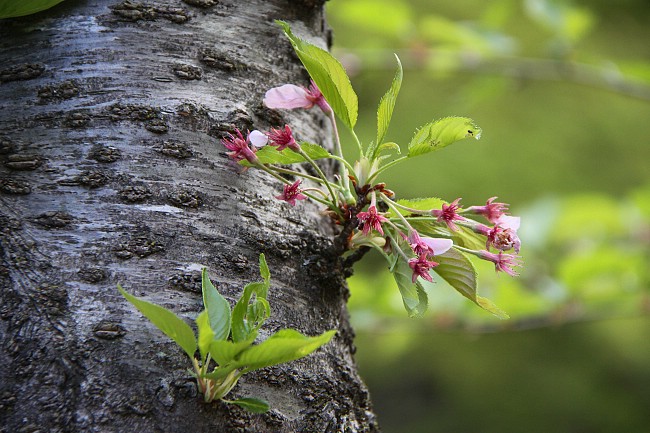 Remaining petals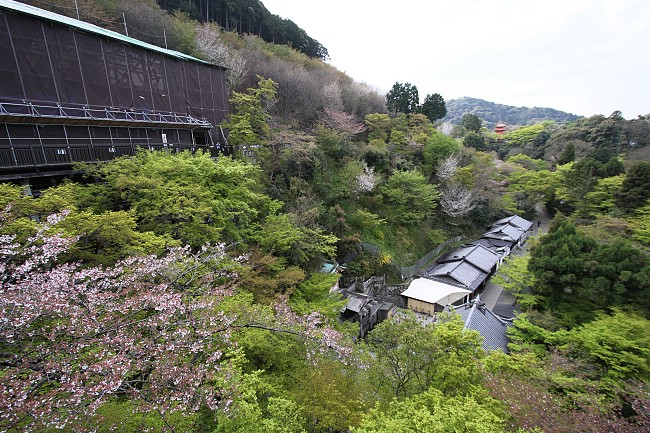 Amidado and Okunoin Halls (left) are undergoing repairs for a few years
Maruyama Park
April 11, 2013 - end of season
At Maruyama Park the season was similarly over, as all the Somei Yoshino and weeping cherry trees have nearly dropped all their petals. A few groups were still spotted having their cherry blossom watching (hanami) parties. Some others were taking pictures with the few late blooming Yaezakura (cherry trees whose blossoms have more than five petals) that the park has to offer.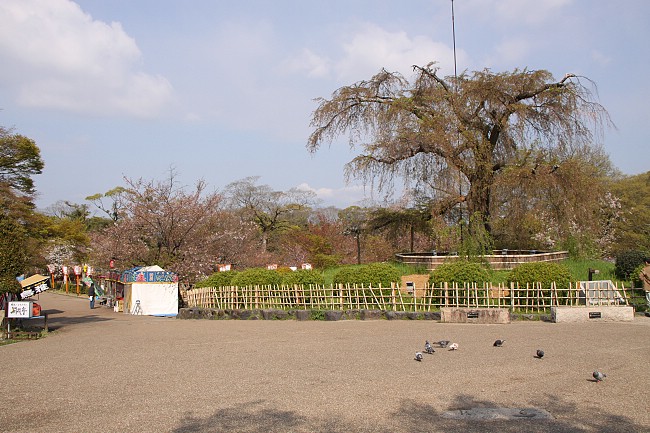 Maruyama Park and the great weeping cherry tree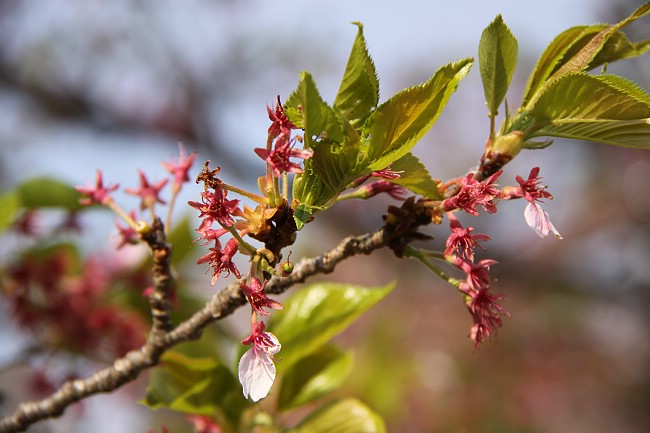 A Somei Yoshino branch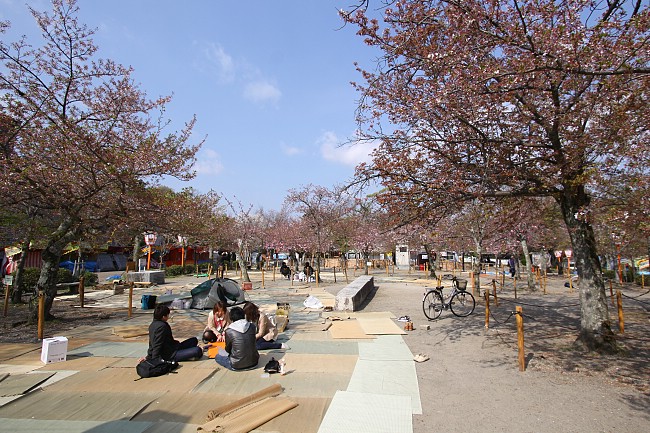 Hanami parties at this spot are decreasing
Heian Shrine
April 11, 2013 - end of season (Somei Yoshino)
April 11, 2013 - petals starting to fall (Yaebeni weeping cherries)
April 11, 2013 - opening (10-50%) (late blooming varieties)
At Heian Shrine, one of the best places to see Yaebeni weeping cherry trees (they typically flower a few days after the Somei Yoshino), the blossoms were also shedding their petals pretty fast. Views were still pleasant, but I would imagine in two or three days those who visit solely for the sake of seeing these weeping cherries might be slightly disappointed.
The shrine, though, has quite some late flowering Yaezakura trees, which were just on their way to the halfway mark today. This is good timing for visitors over the coming weekend, as the Yaezakura blossoms would provide a new source of lovely colors.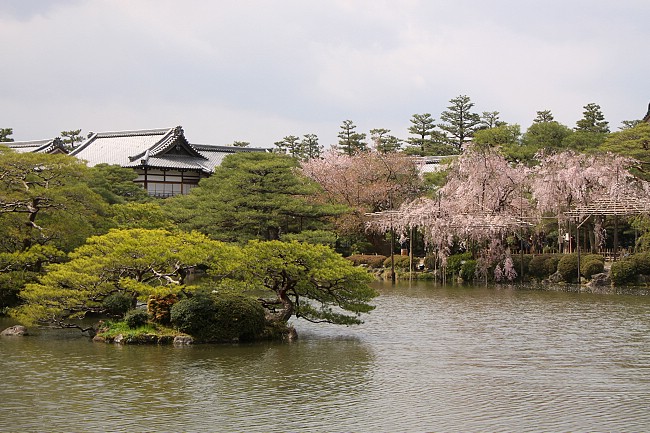 Pond at Heian Shrine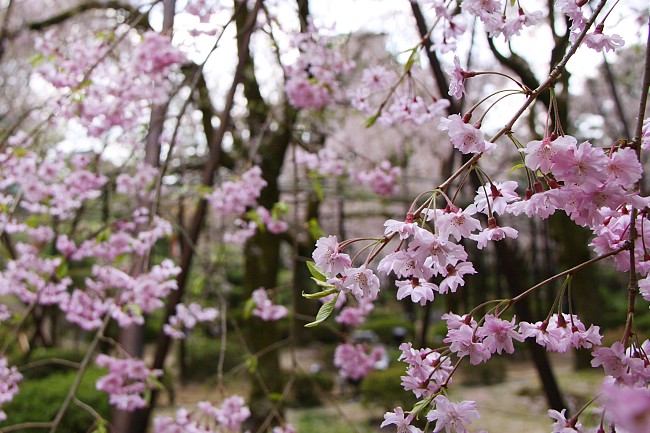 Some Yaebeni weeping cherry blossoms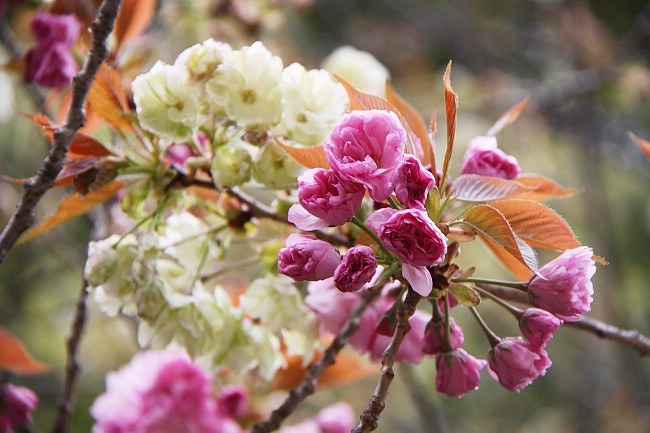 Yaezakura varieties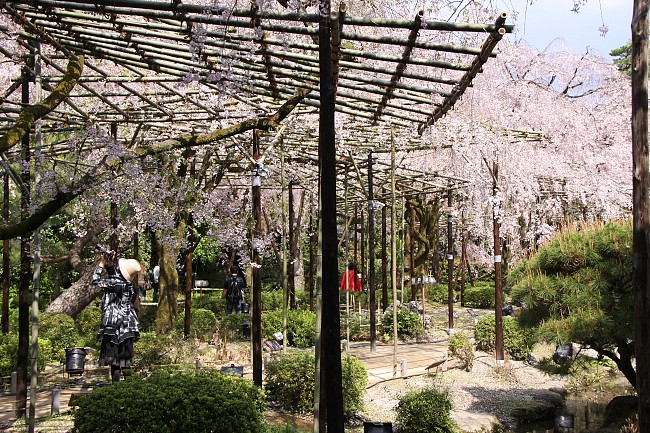 Garden at Heian Shrine
Nijojo Castle
April 11, 2013 - end of season (Somei Yoshino)
April 11, 2013 - beyond peak (Yaebeni weeping cherries)
April 11, 2013 - approaching full bloom (50-80%) (late blooming varieties)
Perhaps an even better place to see late blooming varieties of cherry blossoms is Nijojo Castle. The wide castle grounds has many types of cherry trees to offer, in addition to its Ninomaru Palace - which I consider a must-see for visitors to Kyoto. Illuminations will take place at the castle from 18:00 to 21:30 daily till April 21 (entry until 21:00).
Today the many Yaebeni weeping cherries at the castle were already past their best, but were still somewhat good-looking. On the other hand, the Yaezakura were approaching their peak, and produced some brilliant vibrant colors to delight. Hanami goes on this weekend at Kyoto, but the blossoms in the limelight this time would be the Yaezaura cherry blossoms.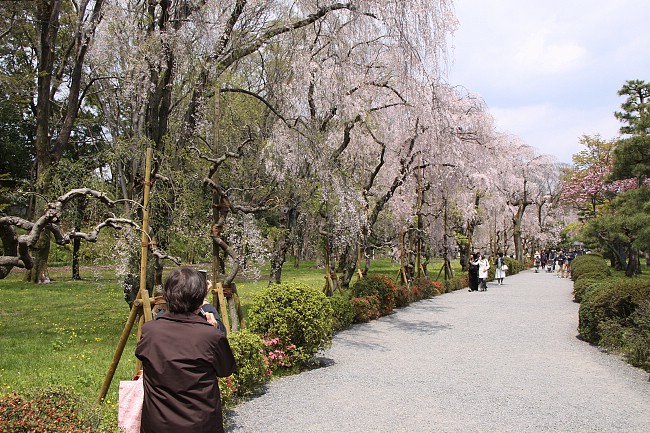 Weeping cherry trees at Nijojo Castle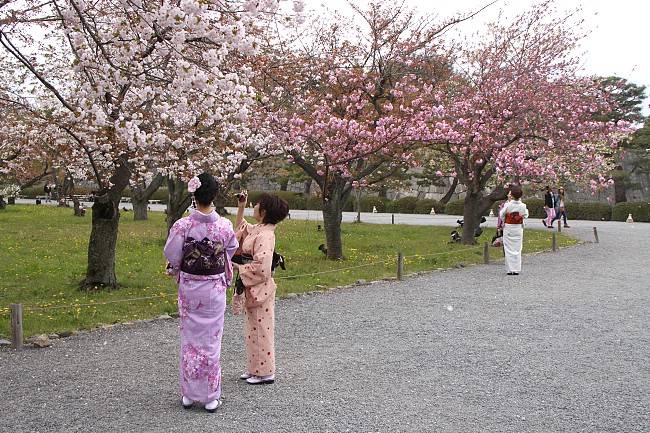 Yaezakura cherry tree grove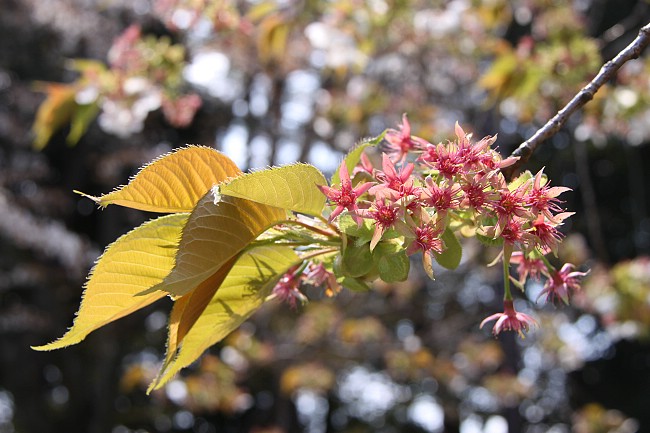 These blossoms have lost all their petals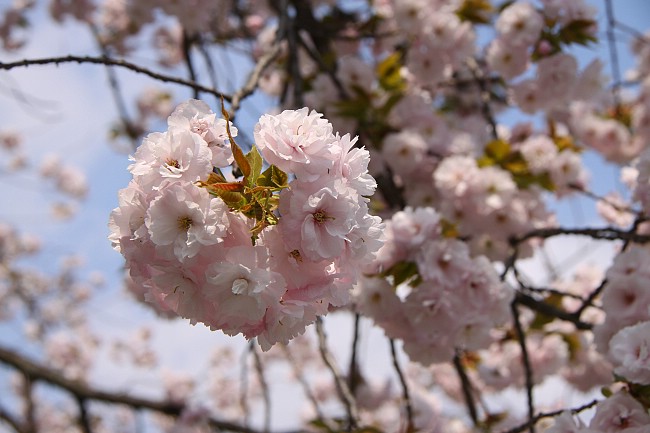 These were almost in full bloom
Questions? Ask in our forum.