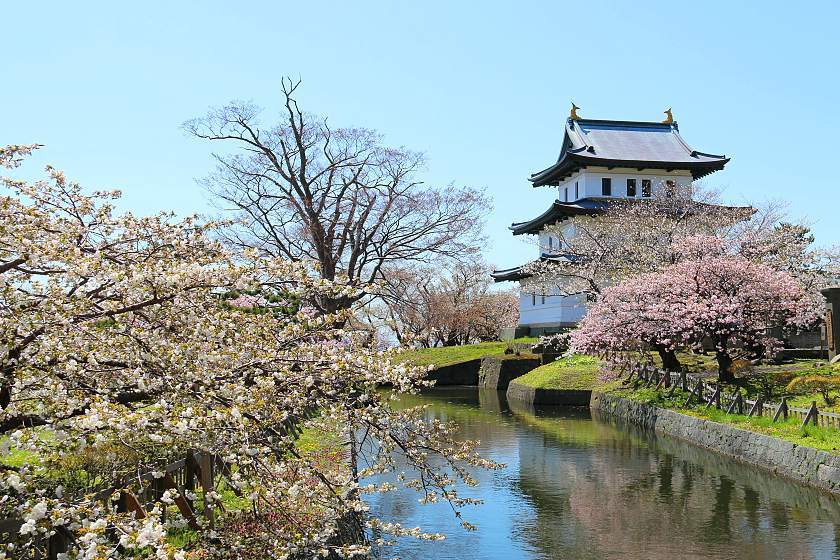 With this year's cherry blossom season having come to an end in all but the northernmost parts of Honshu, now Hokkaido takes center stage, with many locations on Japan's rugged, northern island entering their best viewing period. Accordingly, today I began an investigation into the state of the cherry blossoms in some of Hokkaido's most popular viewing spots, starting in Matsumae.
Situated near the southernmost tip of Hokkaido, Matsumae existed during the Edo Period as the only castle town on the otherwise wild island. Since then, the town has grown into a tourist hot spot, especially during the spring when visitors flock here to take in the cherry blossoms. The The city's best cherry blossom spot is undoubtedly Matsumae Park, which, boasting some ten thousand cherry trees of around 250 varieties, enjoys a longer blooming period than most other spots across the country, and is regarded as one of the top 100 cherry blossom-viewing spots in all of Japan.
I arrived at Matsumae Park around mid morning and was immediately met with a flurry of color around the main entrance and the castle keep. Among its many varieties of cherry tree, the park is home to some Somei Yoshino (Japan's most commonly found cherry tree variety), which were showing only slight signs of decline despite being battered by relatively strong winds over the last few days.
The real stars of the show today however were the Naden Zakura that are found all over the park. Especially in the park's lower levels, the Naden Zakura seem to have just arrived spectacularly in full bloom, but face the danger of more strong winds that are predicted to hit the area this weekend. Should the weather predictions prove correct, I expect that the Naden Zakura's time in the spotlight will be cut slightly short, but that the trees will remain looking great for around the next three days.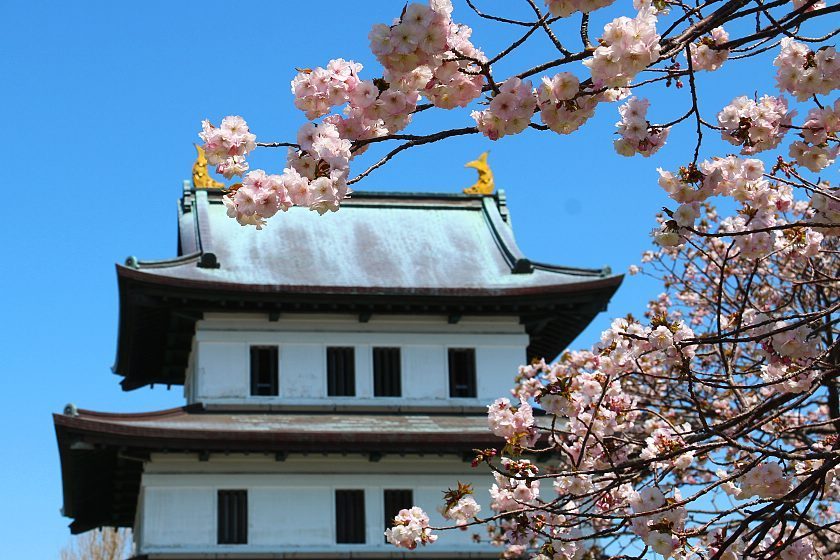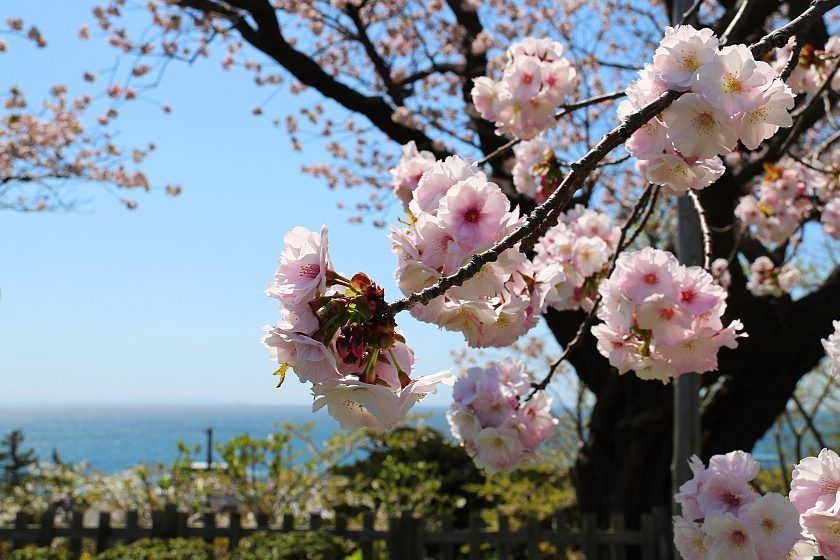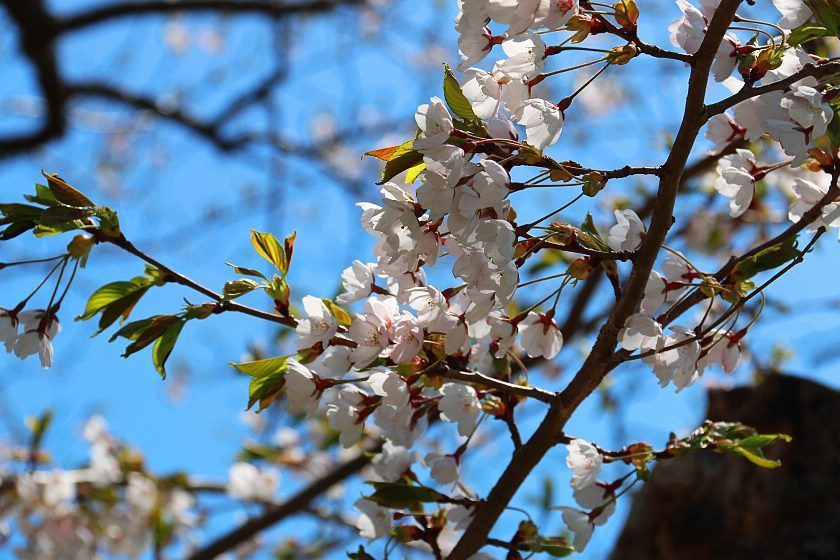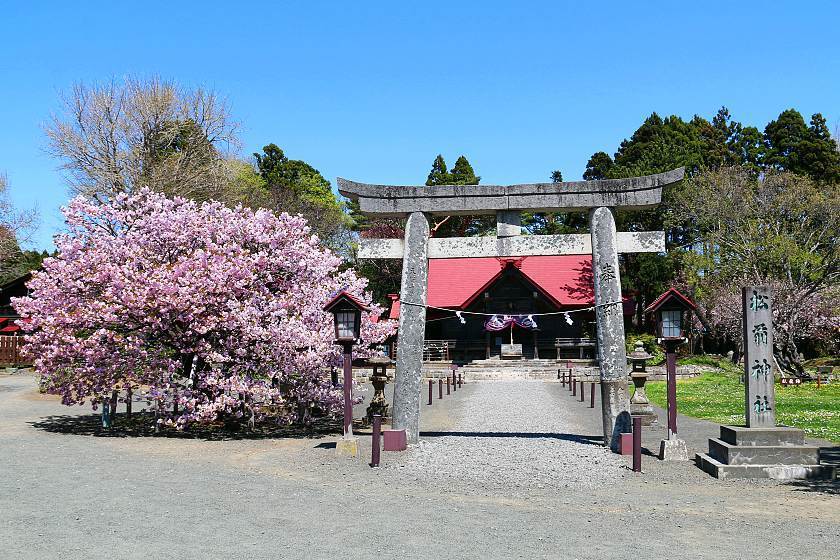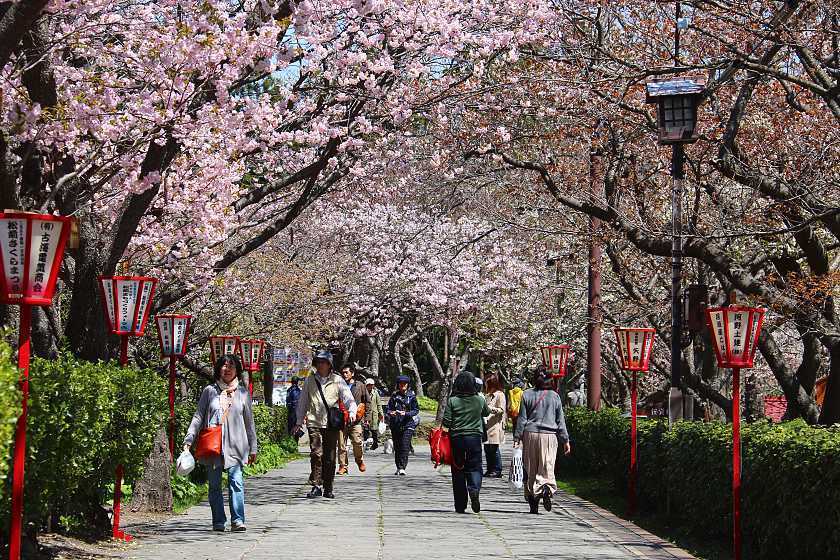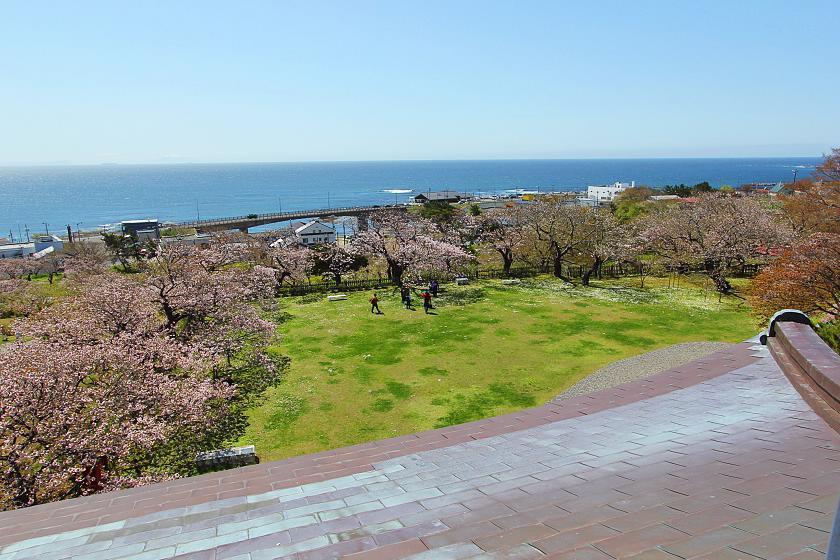 The upper levels of the park are a mixed bag, home to many different varieties of cherry tree at different stages of development. The blossoms on numerous trees still hadn't opened this morning, which means that the park has plenty more to offer in the way of cherry blossom displays as full bloom is seen by some trees typically into the middle of May. My final stop of the day was at Kozenji Temple, where the famous old Kechimyaku tree stands, said to be the parent tree of all Naden Zakura. I'm happy to report that, as with many of the Naden Zakura in the lower grounds, this tree is spectacularly in full bloom, making for quite the display.
Matsumae Park's cherry blossom festival will run until May 14, during which time there are an array of food stalls in the park, and nighttime illuminations for evening sakura viewing.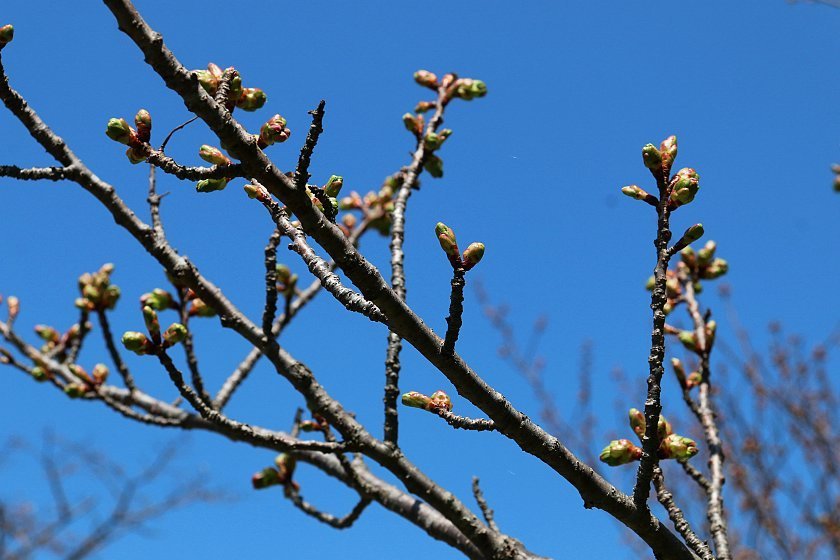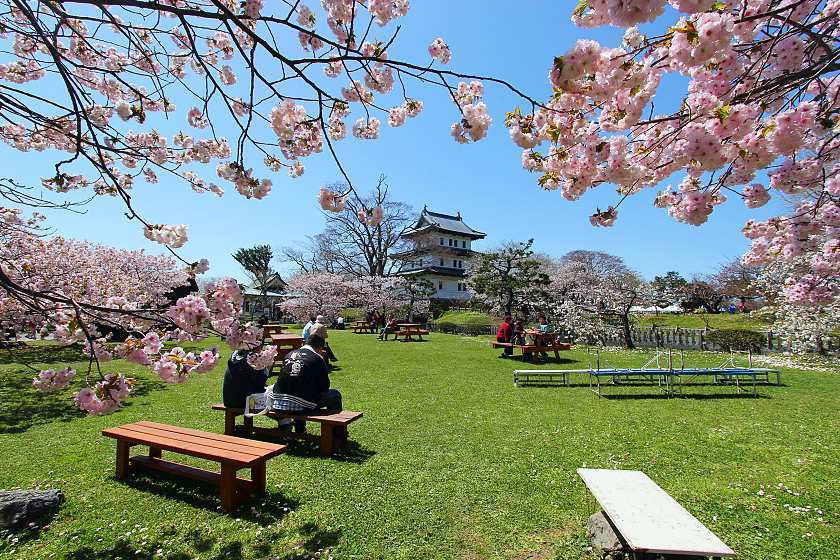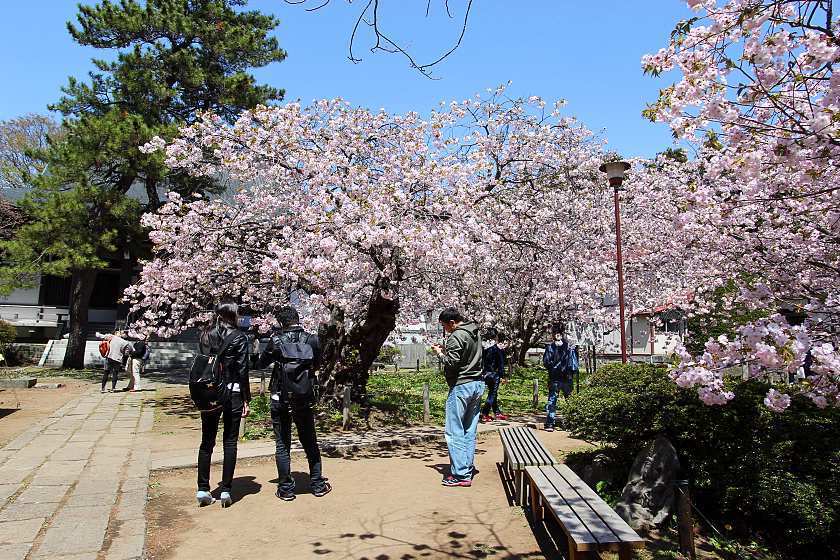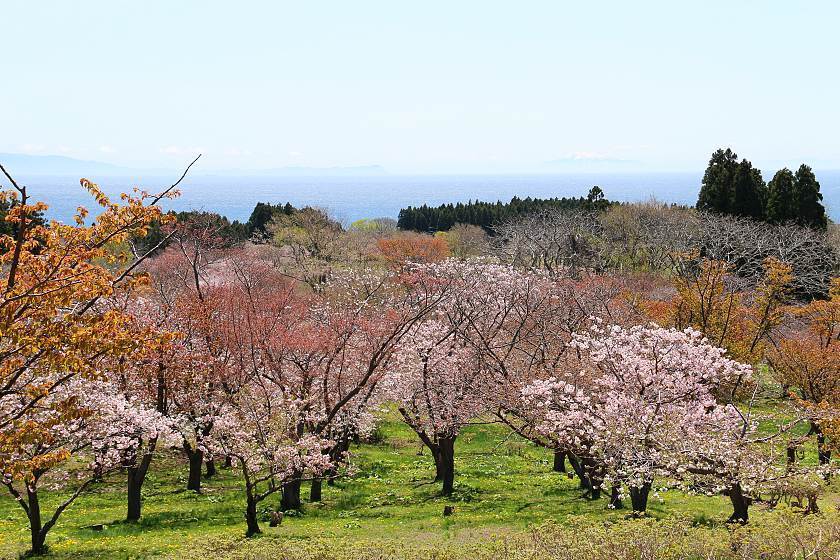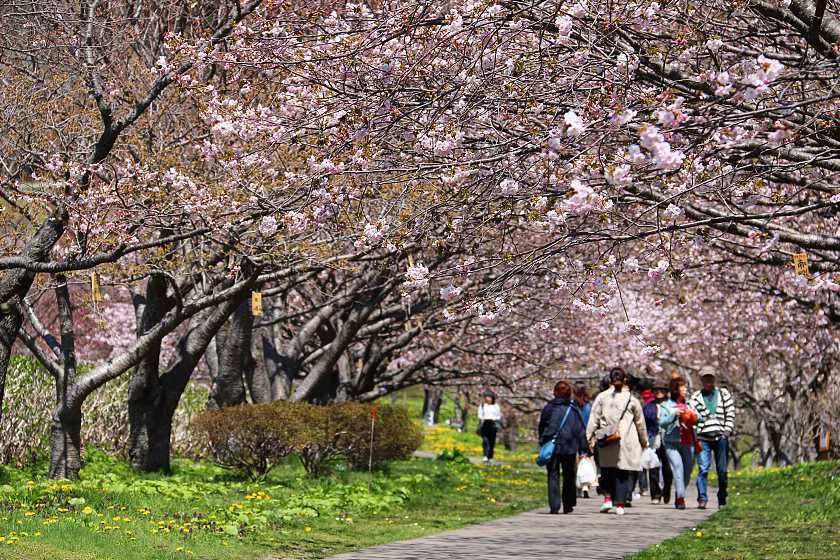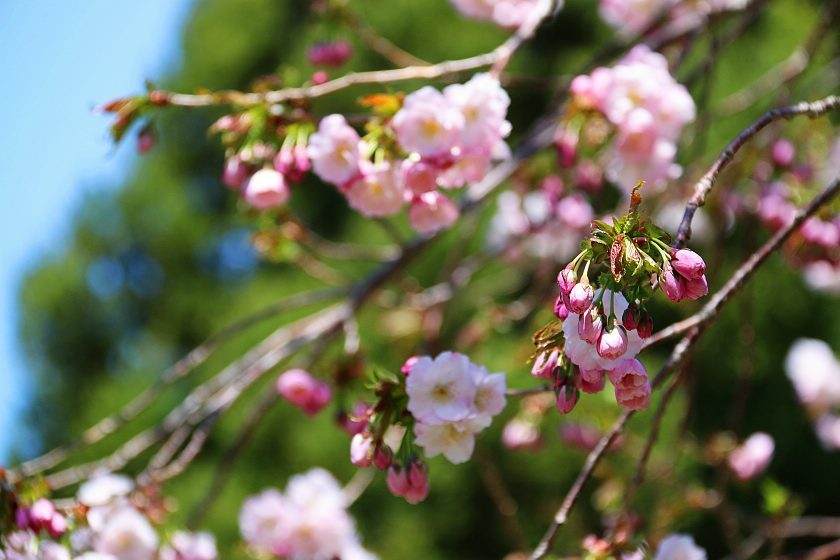 Questions? Ask in our forum.