Cherry Blossoms 2013: Kitakami Report (4/30)
Cherry Blossom Report 2013
Official cherry blossom reports by japan-guide.com
2013 Cherry Blossom Forecast - Schedule of upcoming reports - Popular cherry blossom spots
How to do hanami? - Cherry tree varieties - Post your own report
2013/04/30 - Kitakami Report
by sean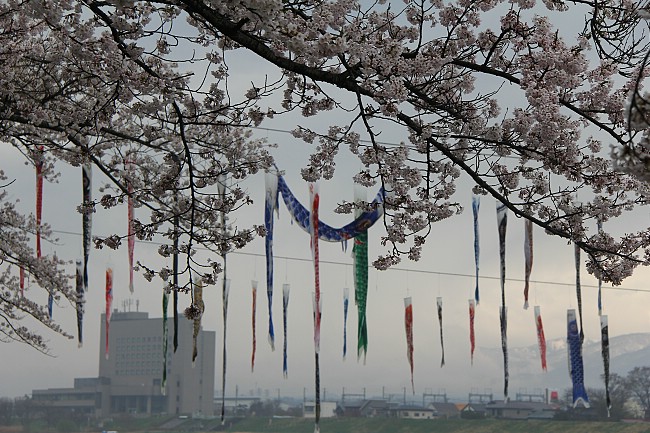 Koi Nobori decorations along Kitakami River
After a week's break in our cherry blossom reporting, today we resumed at the Tohoku Region. Compared to the average year, this year saw cherry blossoms blooming much earlier in the Kanto Region and Kyushu, and quite a bit earlier in the Kansai and Chubu regions. In the northern Tohoku Region, however, the sakura season is delayed by a few days due to below-average temperatures during the month of April.
The widely recognized best three cherry blossom spots in the Tohoku Region are Kitakami, Kakunodate and Hirosaki. After visiting Kitakami today, I will cover the two other locations over the next two days.
Tenshochi Park
April 30, 2013 - approaching full bloom (50-80%)
Tenshochi Park lies alongside Kitakami River, where more than 10,000 cherry trees line in rows stretching a couple of kilometers. The first cherry blossoms opened here on April 23rd this year. One week after, peak has yet to arrive at the park, due to not warm enough temperatures on four of the past seven days.
I reached the park under rainy skies this morning, and it felt somewhat gloomy not to have the usual crowds in company. However, with a stroke of fortune, the weather took a turn for the better about halfway into my visit, and tourists started to appear by the bus-loads. Before long, there was a much welcomed cherry blossom festival-like atmosphere at the park again.
Tomorrow and Thursday are expected to be slightly wet and chilly at Kitakami, which prompts me to guess that the cherry trees will hit peak only around Friday - although the mild temperatures for the rest of today could have encouraged many more blossoms to open already. Looking at the weather forecasts currently, this weekend seems perfect for a hanami (cherry blossom watching) outing to Kitakami.
The cherry blossom festival at Tenshochi Park will be until May 6th, during which there are many activities going on as illustrated with pictures below. Evening illuminations are from 18:00 to 21:00, but the lights will only be turned on when the cherry trees are in full bloom. A temporary booth has been set up outside Kitakami Station for baggage deposits (till May 5th, 10:00 to 17:00, 300 yen per piece).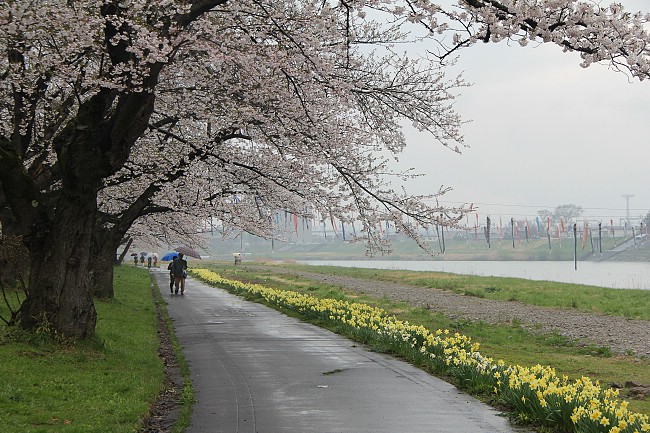 Rainy morning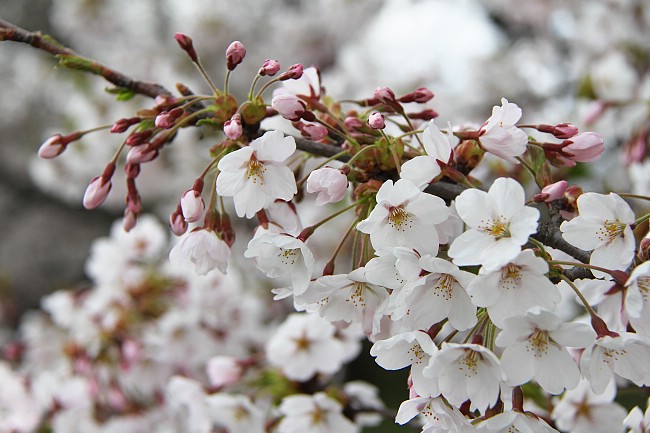 Almost at full bloom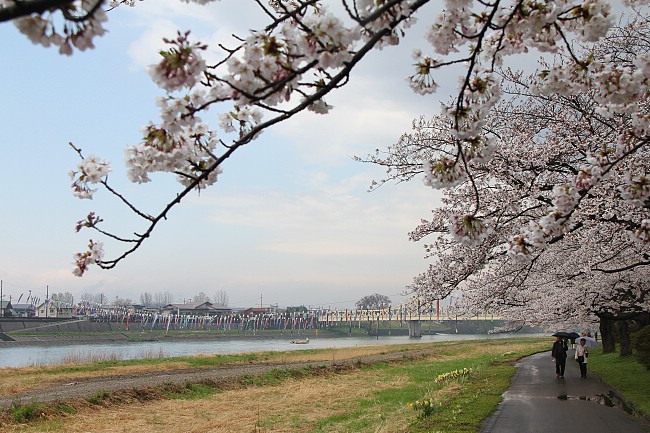 Sky starting to turn brighter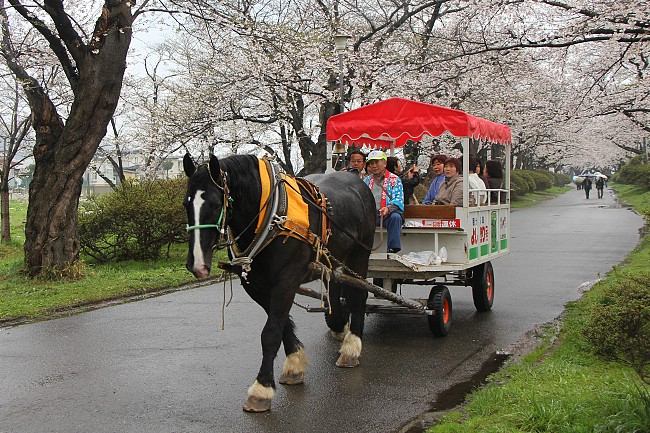 Horse carriage ride (10:00 to 16:00, 400 yen)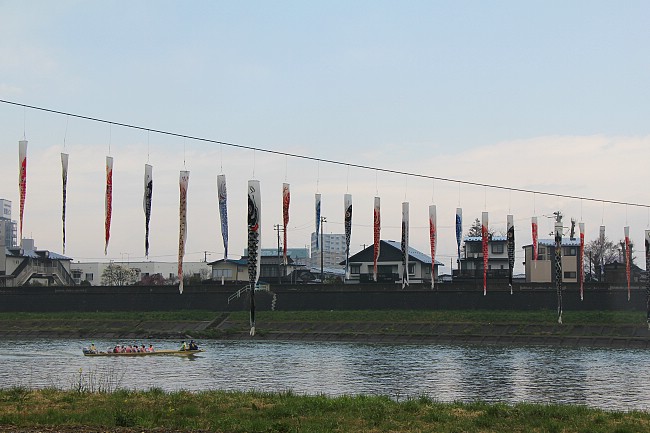 Leisure boat ride along Kitakami River (9:00 to 17:00, 30 minutes, 1000 yen)
Boat ride across the river to get to the station (9:00 to 16:30, 5 minutes, 300 yen)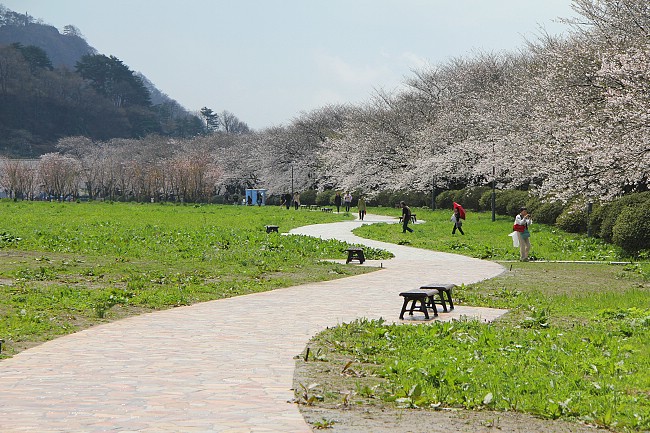 Lawns and benches for hanami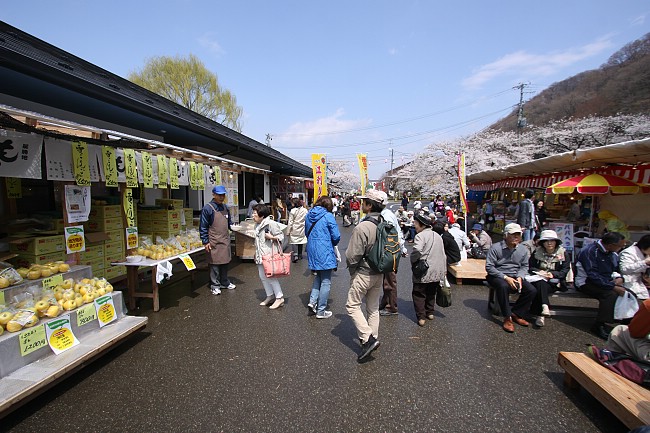 Festival food and game stalls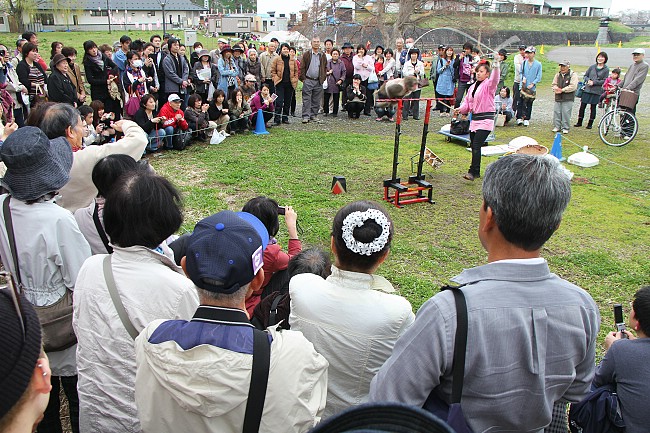 Periodical and varying performances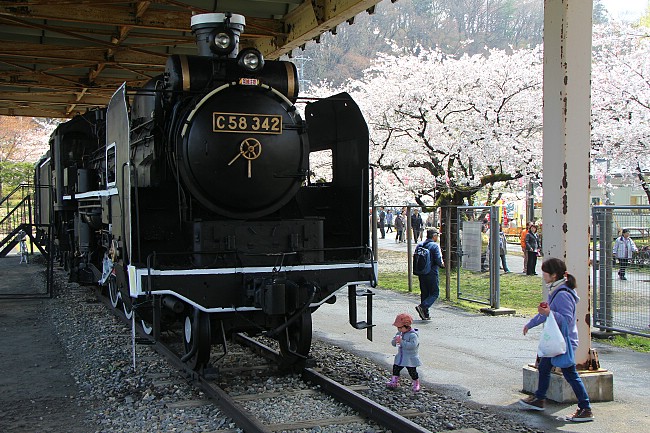 Decommissioned train open for entry (9:00 to 16:00, free)
There were some yaebeni weeping cherry trees which were only just starting to flower
Questions? Ask in our forum.