Cherry Blossoms 2010: Tokyo Report (3/26)
Cherry Blossom Report 2010
by japan-guide.com
This is the official japan-guide.com cherry blossom report for 2010. Please visit also our guide to cherry blossoms for more general information about cherry blossoms and this year's forecasts and our schedule of upcoming reports.
2010/03/26 - Tokyo Report
by scott
This is our second Tokyo cherry blossom report trip reporting on the early season state of the trees at Koishikawa Korakuen, Yasukuni Shrine, Chidorigafuchi, and Ueno Park.
Koishikawa Korakuen
March 26, 2010 - full bloom
Today's cherry blossom trip began with a visit to Koishikawa Korakuen, once the residence of an Edo Period feudal lord, it is now one of Tokyo's oldest and most beautiful landscape gardens.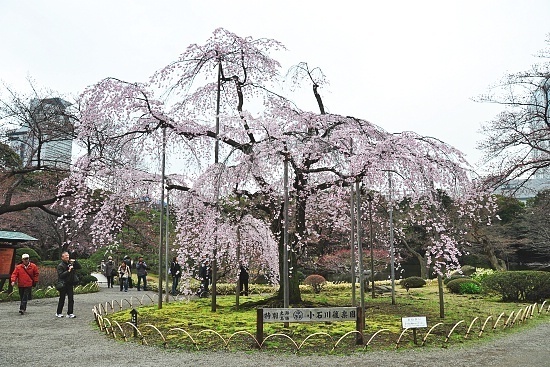 The main attraction of Koishikawa Korakuen is the weeping cherry trees found around the entrance to the garden. The most prominent, although surprisingly also one of the smaller trees, can be seen just as you enter the garden and has reached full bloom. The garden's other weeping cherry trees are a little bit farther behind schedule and are still approaching full bloom. While they are quite beautiful today, I imagine it will be really spectacular after a few more days of warm sunny weather.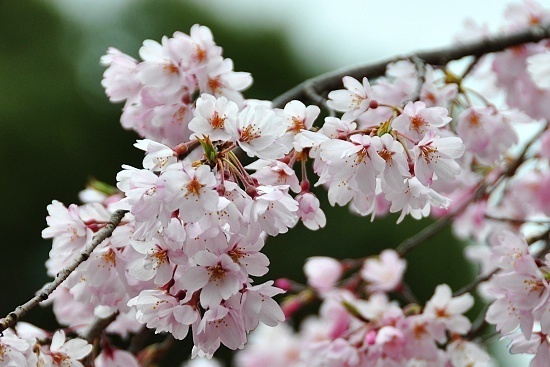 On the other hand, the iconic Somei Yoshino cherry trees that surround Koishikawa Korakuen's central pond are only just beginning to open and are still well below ten percent open.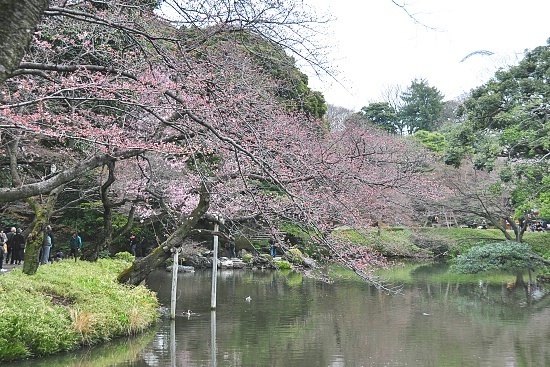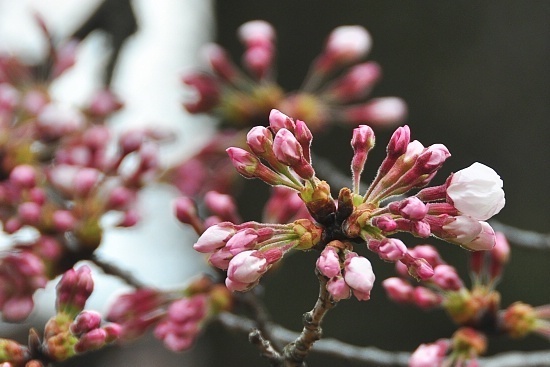 Yasukuni Shrine
March 26, 2010 - just opened (0-10%)
My second stop of the day was at Yasukuni Shrine just across the street from the grounds of the Tokyo Imperial Palace. The shrine has nearly 600 trees around its main buildings and along its lively approach, which during the cherry blossom season is packed with food vendors selling all sorts of festival food.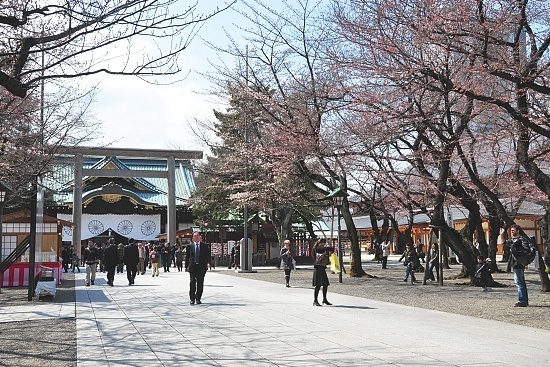 The blossoms around Yasukuni Shrine also appear to have only just opened and remain less than ten percent in bloom. A few early blooming types of cherry trees can also be found scattered around the shrine, some of which have reached full bloom. The food vendors are also out in full force, and once again I'm impressed with the variety of food that is being offered.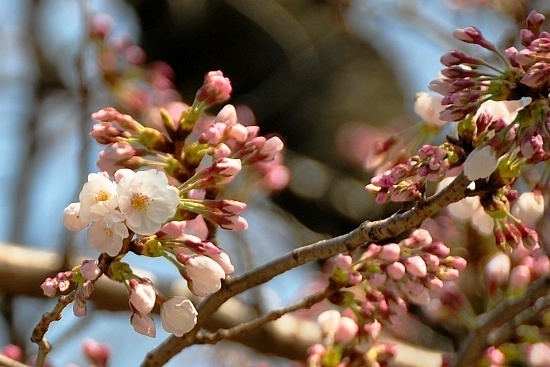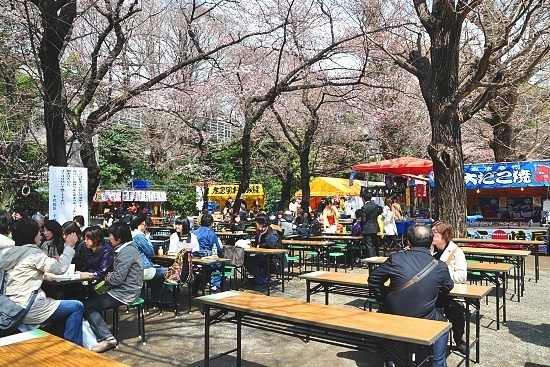 Chidorigafuchi
March 26, 2010 - just opened (0-10%)
I didn't need long to reach my next destination, Chidorigafuchi, which is just across the street from Yasukuni Shrine. Chidorigafuchi is the northern portion of the moat surrounding the Tokyo Imperial Palace with 1000 trees lining both banks of the moat. The trees can be enjoyed by strolling down a path along the outer bank, however cherry blossom viewing parties can only be held in the nearby Kitanomaru Park, where there unfortunately aren't views of the moat.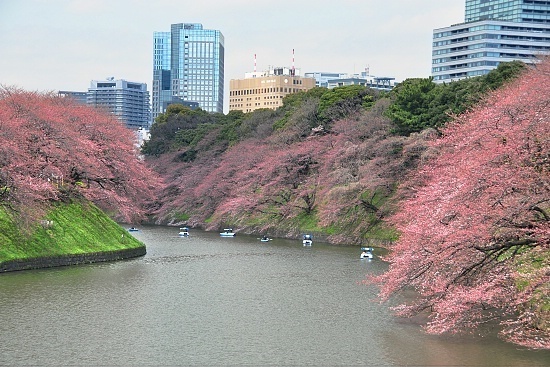 The trees along the moat are around the same state as nearby Yasukuni Shrine, with only around ten percent of the blossoms open. Since it is is still early in the season, the cherry blossom canopy over the walking path along Chidorigafuchi is not yet very dense. I would expect that it will start to reach its peak next week.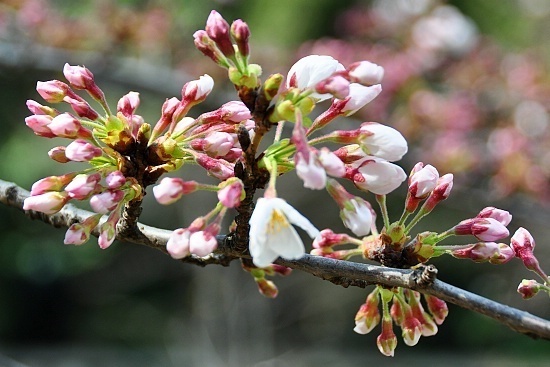 A popular way to view Chidorigafuchi's cherry blossoms is to rent a rowboat and view the trees from the water. A few people were paddling around today, however be aware that boat rentals can be suspended in case of high wind. Chidorigafuchi also has a nightly illumination from 18:30 to 22:00 on evenings in late March through early April.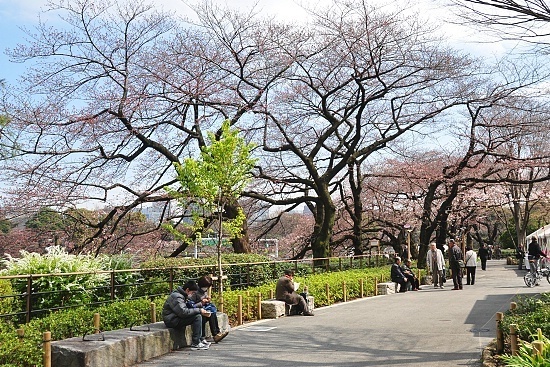 Ueno Park
March 26, 2010 - opening (10-50%)
On my previous visit to Ueno Park the blossoms were only just beginning to open. They have progressed nicely over the last few days and are around 20-30% open, although it is still early in the season.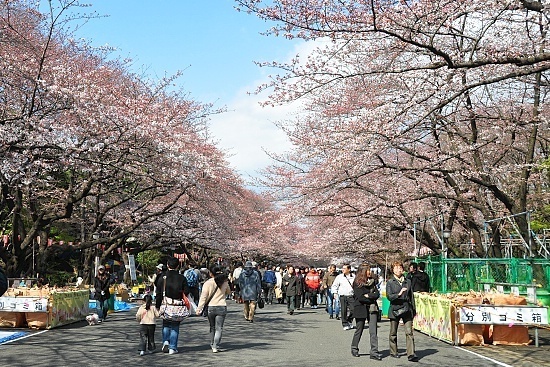 The mood of the park was quite different today and it was noticably more festive with cherry blossom viewing parties. The roped off areas for picnickers were starting to fill up today, but its not anywhere near as packed it will be once the trees reach full bloom. Additionally, Ueno Park will be lit up evenings until 20:00 from late march through early April.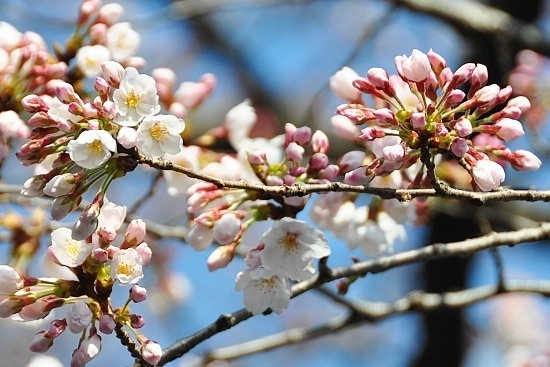 Questions? Ask in our forum.