Cherry Blossoms 2014: Kyoto Report (4/15)
Cherry Blossom Report 2014
Official cherry blossom reports by japan-guide.com
2014 Cherry Blossom Forecast - Schedule of upcoming reports - Popular cherry blossom spots
How to do hanami? - Cherry tree varieties - Post your own report
2014/04/15 - Kyoto Report
by raina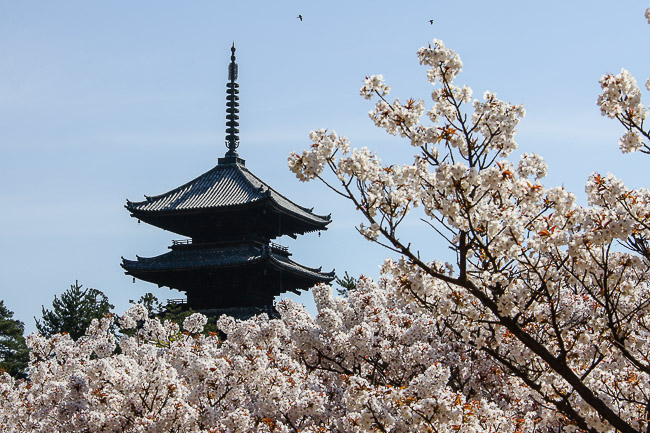 Cherry trees and the five-storied pagoda at Ninnaji
For my last report from the Kansai Region, I headed back to Kyoto today. Sean was at the Fuji Five Lakes region today, while Scott was in Fukushima. Head over here to read their reports.
As for the Kansai Region, the weather is looking to be good for the next few days. For those who are in the area over the next few days and are chasing cherry blossoms, there are a few options available. In Osaka, the late blooming cherry trees at Osaka Mint, where I went two days ago. In Nara, Yoshinoyama (especially the Naka and Kami Senbon areas) where I was yesterday. In Kyoto, Ninnaji Temple, Hirano Shrine and Heian Shrine.
Arashiyama
March 21, 2013 - end of season
It felt a little strange being in Arashiyama and not seeing crowds of visitors. Arashiyama felt a little wider and bigger than I remembered because of all the open space around me. Even with the cherry blossom season over, Arashiyama is still a beautiful place to stroll around and there're still lots to see.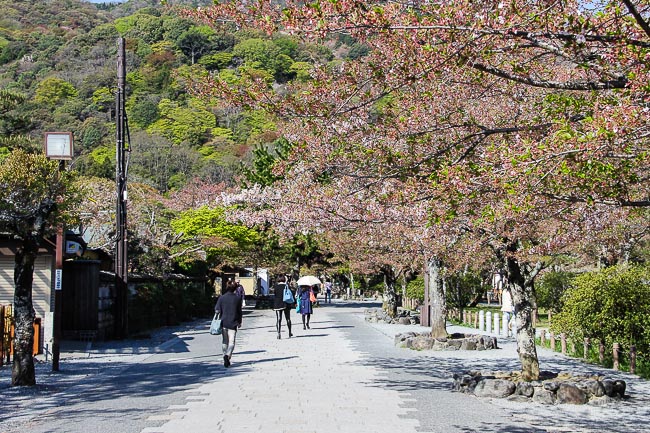 Arashiyama looking a tad empty and with almost no blossoms left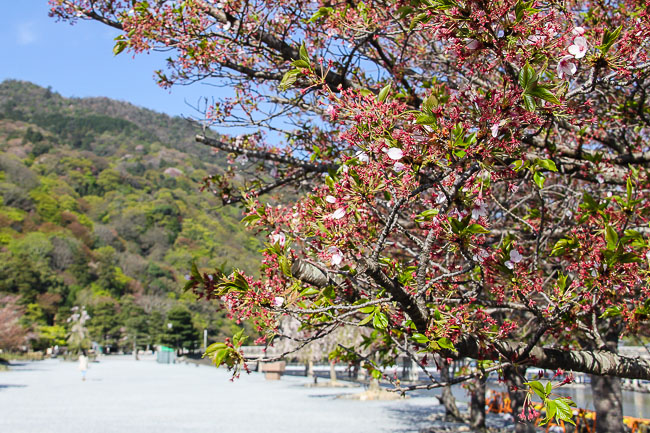 No more blossoms at Arashiyama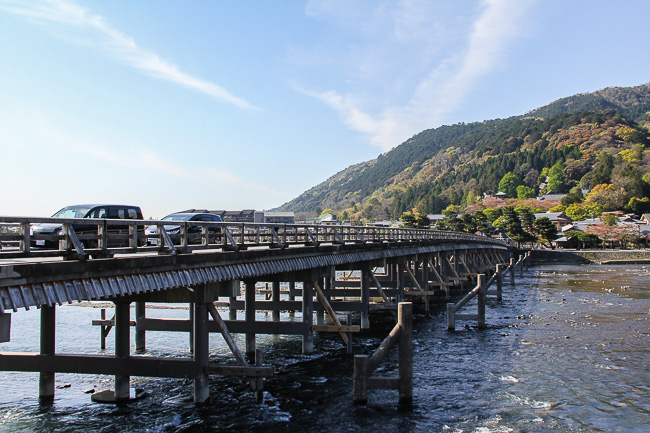 Togetsu Bridge
Ninnaji Temple
March 21, 2013 - petals starting to fall
From Arashiyama, I took the Keifuku Electric Railroad from Arashiyama Station to Omuro-Ninnaji Station. Ninnaji is famous for the Omuro Cherry Trees that bloom later than the Somei Yoshino variety. That's where I found my crowds of people in Kyoto. The petals have just started to fall but there are still many blossoms on the trees to look like it's still at full bloom. I left just as the temple was getting crowded with more visitors arriving by bus and train. I expect the cherry trees at Ninnaji to remain at this beautiful state for at least the next few days.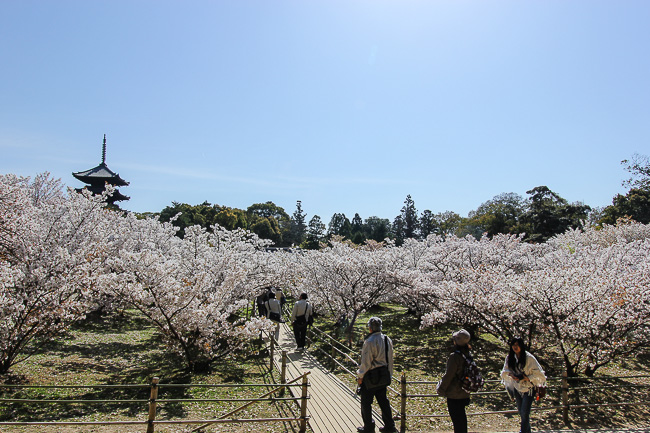 Omuro Cherry Trees at full bloom at Ninnaji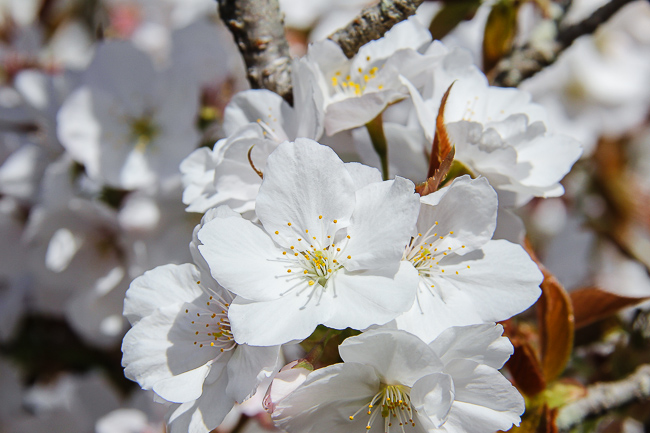 Hello cherry blossom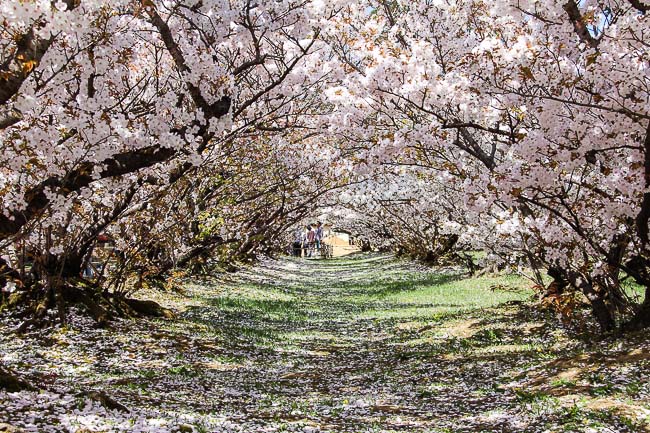 Down, down, down the cherry blossom tunnel
During the cherry blossom season, there are two ticket gates at the temple. One is for entry to the temple garden, the other (which is further down) is for entry to the cherry tree garden. The cherry tree garden is open from 09:00 to 17:00 (entry until 16:30) and entrance to the cherry tree garden costs 500 yen.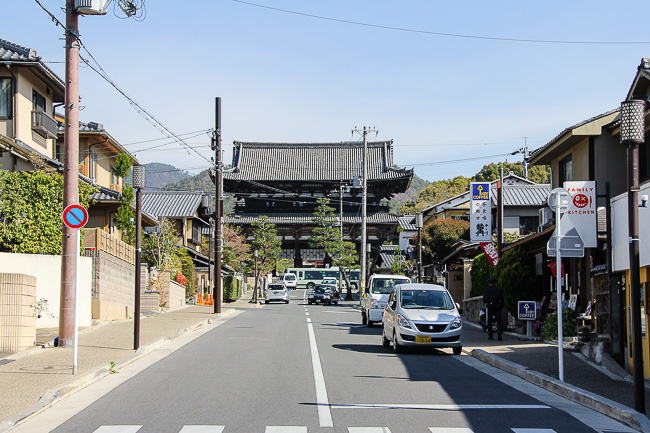 I took this picture of Ninnaji temple from Omuro-Ninnaji Station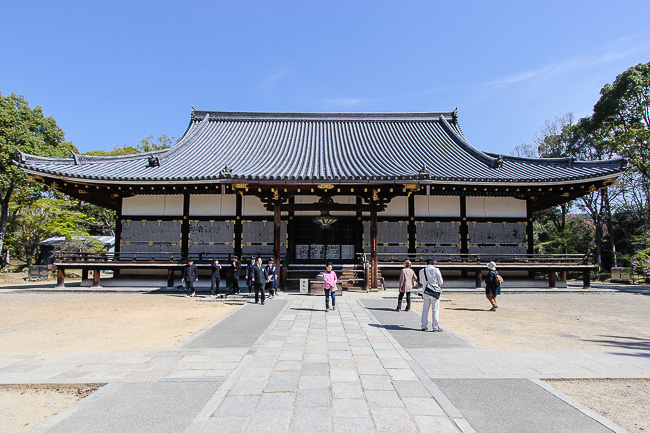 National Treasure, Kon-do
Hirano Shrine
March 21, 2013 - end of season (Somei Yoshino)
March 21, 2013 - approaching full bloom (50-80%) (late blooming varieties)
I hopped back on the Keifuku Electric Railroad and headed to the terminal stop, Kitano Hakubaicho Station. Hirano Shrine is just a short walk away from the station and that was where I headed. It was the end of season for the Somei Yoshino variety. Some cherry trees at Hirano Shrine had petals starting to fall, however most of the late blooming cherry trees were only approaching full bloom. There was also what looked like an art installation by the nearby elementary school's children in the cherry tree garden at Hirano Shrine.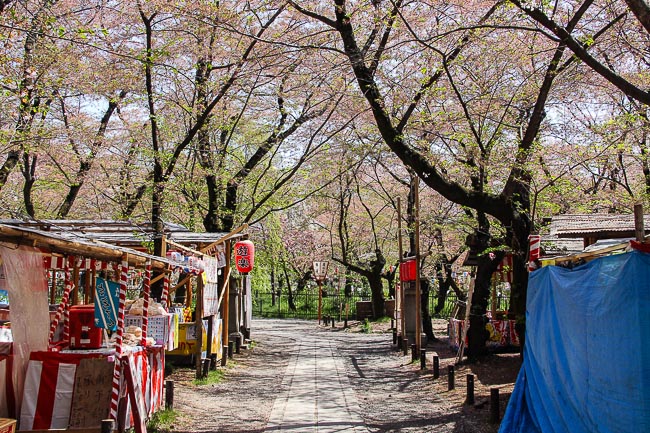 The season is over for the Somei Yoshino Variety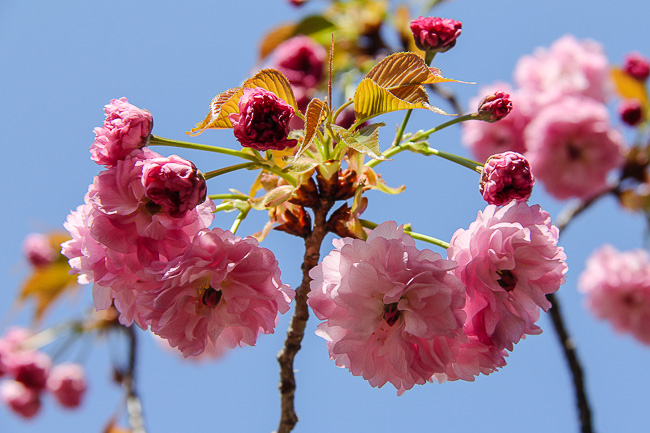 Late blooming cherry tree, Hirano Imose variety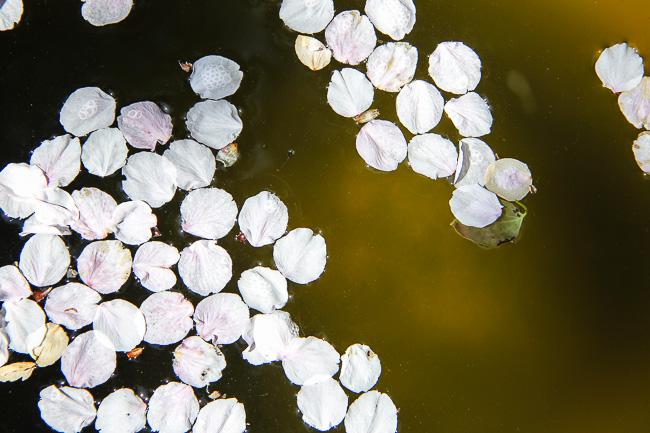 Some petals ended up in the water
There are many different cherry tree varieties here in Hirano Shrine. The late blooming cherry trees were at 50-80% bloom in area near the shrine. With good weather forecast for the next few days, these later blooming cherry trees are expected to reach full bloom soon. I also saw a Tachibana fruit tree in front of the shrine, definitely something different after seeing so many flowers.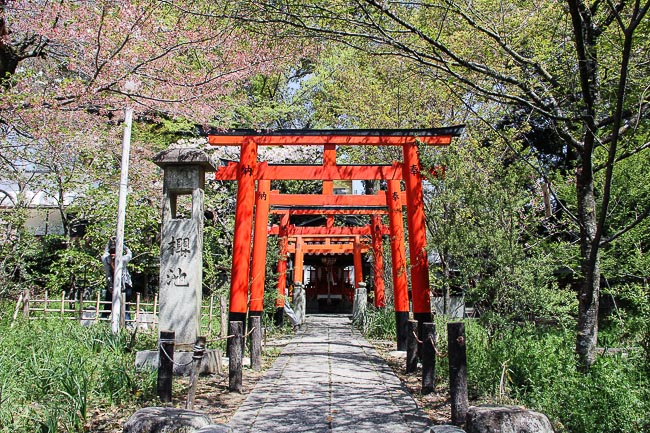 Inari shrine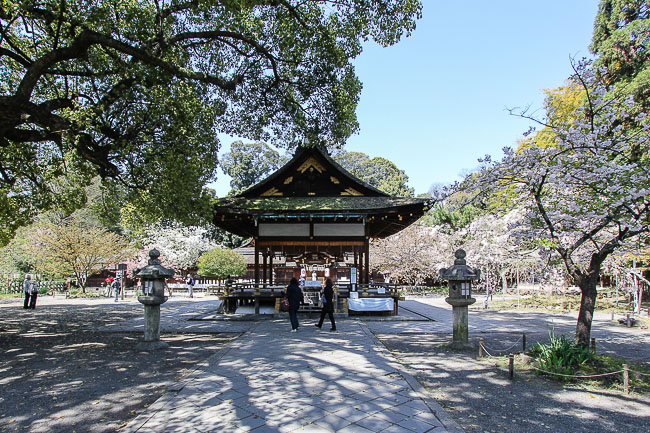 There're about 10 varieties of cherry trees here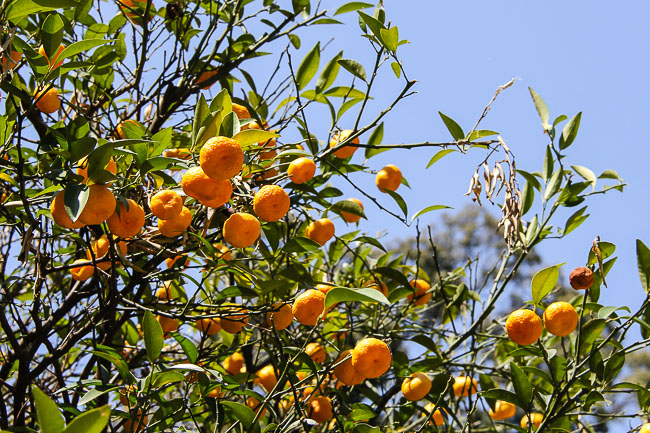 Tachibana fruit tree
Heian Shrine
March 21, 2013 - petals starting to fall (Weeping cherry trees)
My last stop for today was Heian Shrine. The garden is open from 08:30 till 17:30, and entrance costs 600 yen. The garden never fails to surprise me with its size as it doesn't look like a big garden from the outside. Each time I think I'm about to reach the exit, it opens up to another part of the garden. It seemed to me that the weeping cherry tree blossoms lost their pinkness and became whiter. Even so, they were still beautiful to see, albeit with petals falling. There were also some later blooming cherry trees that are 50-80% in bloom that are located near the bridge towards the exit. Their colors were more vibrant compared to the weeping cherry trees and with the good weather forecast, they are expected to reach full bloom within the next few days.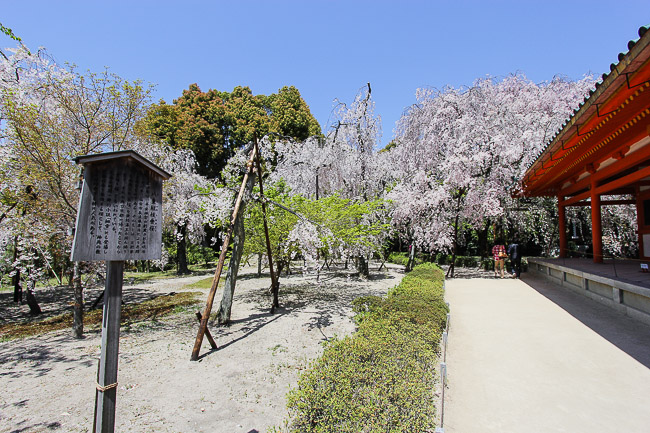 Greeted by weeping cherry trees at the entrance to the garden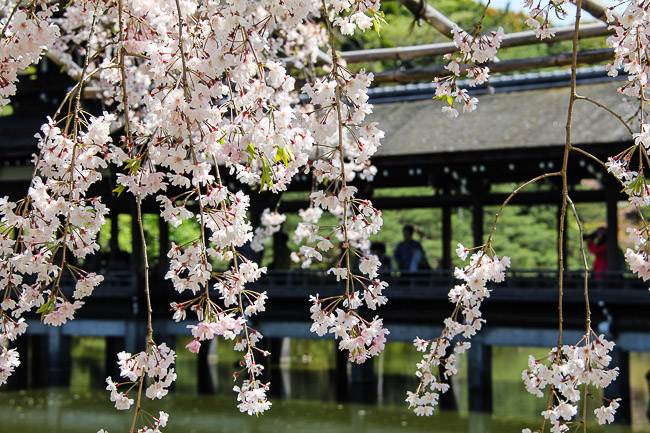 The weeping cherry blossoms had petals falling, but still beautiful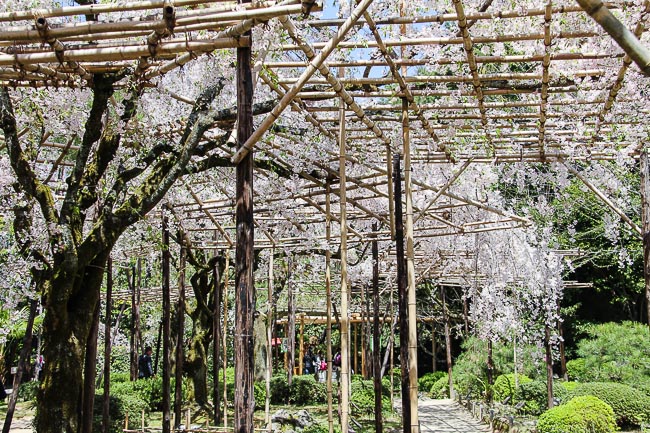 Weeping cherry tree support beams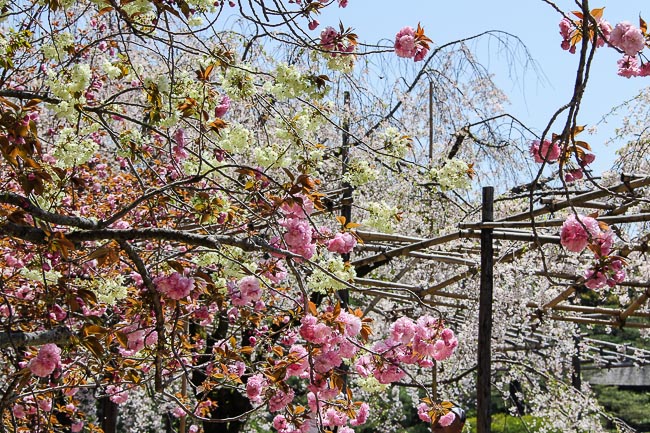 There are three different cherry tree varieties in this picture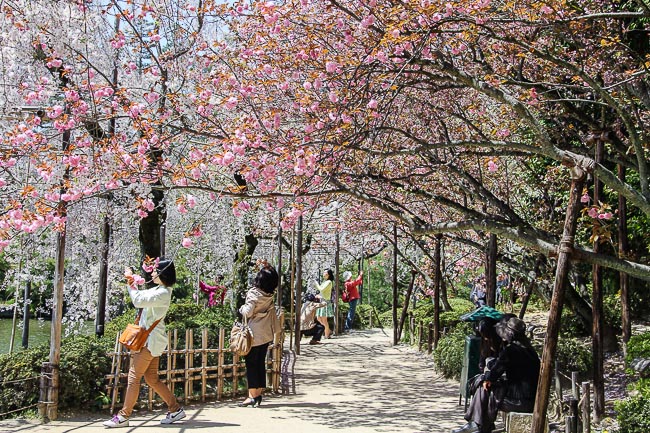 Part of the garden with more late blooming cherry trees
Questions? Ask in our forum.